Skiing near LA with Kids: Big Bear Lake and Snow Summit Ski Weekend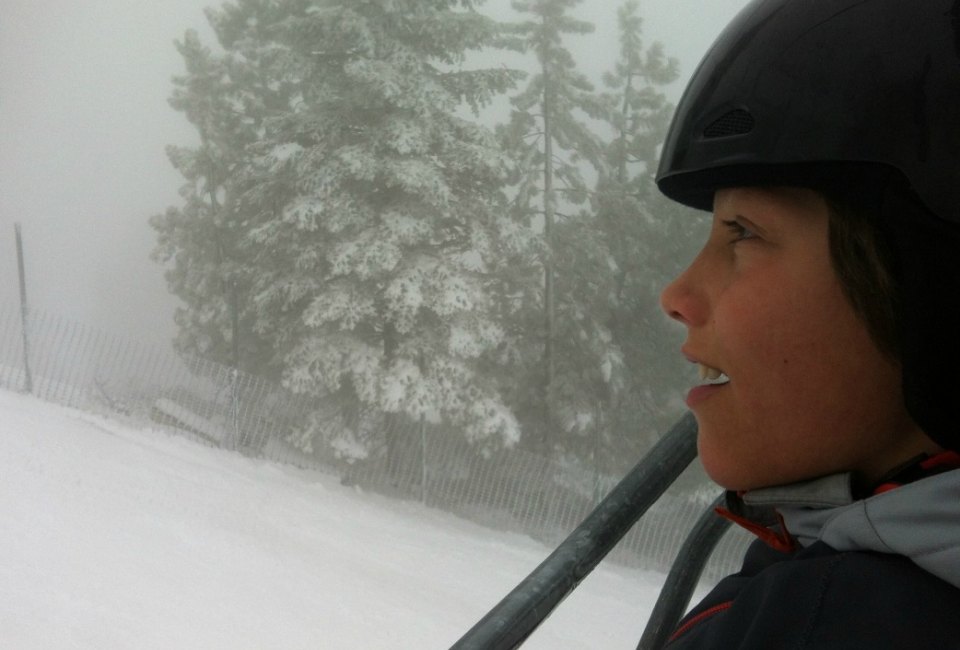 2/6/15
- By
Roberta B
Living in SoCal without ever visiting Big Bear would be like living in SoCal without ever going to Disneyland; and until this past weekend, I was guilty of that very sin. It was time for my family to take a ski trip that was more than a day trip and enjoy the beauty of the mountains around Big Bear Lake - a spot so peaceful and alpine that it's hard to imagine it's less than three hours from the Los Angeles area. But a place as popular as Disneyland needs a plan worthy of Disneyland; if you want to spend more time skiing than waiting, I urge you to read on.
Big Bear Lake is both a lake and a community, and one that boasts two top-tier ski resorts (we got to watch some Olympic trials from the ski lift during our weekend!). Snow Summit and Bear Mountain are sister resorts, meaning that one lift ticket covers both mountains, and skiers can hop a free shuttle between the two. My son and I are happiest skiing beginner and intermediate slopes, so we stuck with Snow Summit, which seemed to offer more variety at our skill level. Bear Mountain is a bigger draw for more advanced snowboarders and skiers. Both mountains have slopes for all skill levels, but Bear Mountain seems to have more of the steepest variety that I steer clear of. Not surprisingly, Bear Mountain is also the choice of more snowboarders.
What the two mountains have in common are breathtaking views, excellent snow coverage, and a wide variety of trails, lifts, and places to grab a bite. In short, everything one wants in a snow resort.
While traveling between the two mountains is quite simple, getting there in the first place can be trickier. I learned the hard way that Snow Summit's proximity to the main road is deceptive, because parking is so limited. I looked at the map and naively thought that staying at a hotel a mile from the slope meant we could get up at a civilised hour, enjoy a leisurely breakfast, and be on the slope within the hour. People were looking at me like I was crazy before I ever left the breakfast buffet. It turns out that to park in the main lot, or even the VIP lot (sold as available, on the day only), one needs to arrive before opening time. By the time the resport opens for the day on weekends, cars are already being diverted to one of three other lots in the community, or to street parking. The lots and some of the streets are serviced by trucks that shuttle visitors back up to the mountain, but the lines for these shuttles are long on the weekends.
So tip #1 is to either start your day very early, get dropped off by a non-skiing family member, start from a hotel with a shuttle service, or get a cabin along Summit Boulevard - much of which is walking distance to the slope. There is also some street parking on Summit Boulevard (though it goes quickly), and the parking lot shuttles stop to pick up skiers on this road. I even heard some people talking about using Uber to get the the slopes.
The next thing that can bog down the occasional skier is equipment rental. I was very impressed with the quality of rental gear at Snow Summit; our Rossignol skis were great, our helmets were in excellent condition, and my Nordica boots were flat-out the most comfortable I've ever worn. That said, renting at the mountain is invariably the slowest way to go. All of the staff I met in the series of lines were friendly and helpful, but renting definitely takes time. In fact, it was a sympathetic helper in the rental line who opened my eyes with the Disneyland metaphor; I had come to a SoCal vacation spot as popular as Disney without a well-researched plan.
So tip #2 is to rent equipment at one of the many establishments in the town of Big Bear Lake that can provide what you need without slowing you down. True, one forfeits the ability to swap something out if there is a problem halfway through the day, but it seems a gamble worth taking in return for the time saved.
If you're able to carry everything you need in the pocket of your ski pants, you're now ready to go. If, however, you brought kids with you, chances are you also brought a bag. After all, I do need this scarf, no I don't need that hat, yes I do want a fleece, no I never liked those gloves, yes I do want my sunglasses, no I don't want my sunglasses - you get the picture. So this brings us to lockers, since chances are your car is not close enough to walk to in ski boots. The most obvious lockers from the parking lot are small, awkward, and require coins every time you open them. Since one thing I know is that the moment I close a locker, someone is going to want his water bottle and then change his mind about his hat, I went in search of a more practical locker option.
Tip #3 is therefore to rent one of the lockers at Little Bear Lodge, just a few steps above the main patio area and opposite the All Mountain Express lift. These lockers are in a pleasant sitting room with plenty of space, are larger than the ones closer to the rentals, and take credit cards. You swipe your card at a central machine, choose your own combination, and the locker is yours for 24 hours. The smaller size costs $5 and fits an enormous amount of stuff, and the location makes it easy to stop for snacks and water or to dump extra clothing when the weather changes. Which it does.
Not to restate the obvious, but the weather at 7,000-8,000 feet up can be very unpredictable. We skied a weekend in late January and experienced one day of snow with fog so thick we couldn't see more than 20 feet ahead of us coming down the slope, and a second day of blazing sunshine with temperatures approaching 60. It was all fun, but it pays to be prepared.
The main trail for people finding their snow legs is a long, consistent trail called Summit Run. It's a fairly gentle trip down with no surprises (other than the loudspeaker reminding people to ski slowly). It's a nice long ride and accessible from both of the main lifts. The second day I found what turned out to be my favorite run: a quiet little trail called Skyline Creek which attracted far fewer people (and hardly any snowborders) accessible by a lift with minimal lines. The slope next to it, Sundown Family Fun Park, keeps kids and snowboarders happy with a variety of manageable starter jumps.
Food is available at multiple spots at both the bottom and top of the mountain; we ate both days at Summit Haus at the top of the All Mountain lift. There was no line to speak of, the food was reasonably priced, and the view couldn't be beat.
Our home base for the weekend was a delightful hotel / timeshare complex called Lagonita Lodge. Since the rooms are really built as timeshares, they are all essentially condos with bedrooms, living rooms, fully stocked kitchens, and irrestitible gas fireplaces. We had a back patio with a fantastic view of the lake and shared gas grills with the neighbors. And each night we came home to soak away the day's exertions in the jacuzzi and pool in the recreation room. We intended on dining out in the village, but in the end we couldn't resist getting dinner delivered so that we could enjoy it snuggled by the fire with our view of the lake.
Lagonita is a great place to stay for the family who has some members who don't want to ski or board. The lodge offers a daily schedule of events, with activites ranging from zoo trips and valley tours to bingo games and crafts. Although there is no shuttle to the slopes, a family divided could drop the skiers off and then enjoy the activities by the lake - so everyone wins.
And finally, tip #4: yes, you do need to bring chains when driving to Big Bear in the winter months. There are three different routes up, so with any luck you won't need to use them, but signs on the mountain roads remind us that they are required equipment for the drive. I recommend keeping the phone number of your hotel handy for last minute weather info. We had a snow storm predicted, but a call to the hotel when I reached the turn-off told me that the storm had passed them by, and I could safely take any road up without resorting to chains. That made for a less stressful drive.
But I indulged in that jacuzzi upon arrival just the same.
Places featured in this article:
---
Snow Summit Mountain Resort
Sign up for the Mommy Poppins Newsletter today!