The Coolest (Affordable) California Vacation Rentals for Families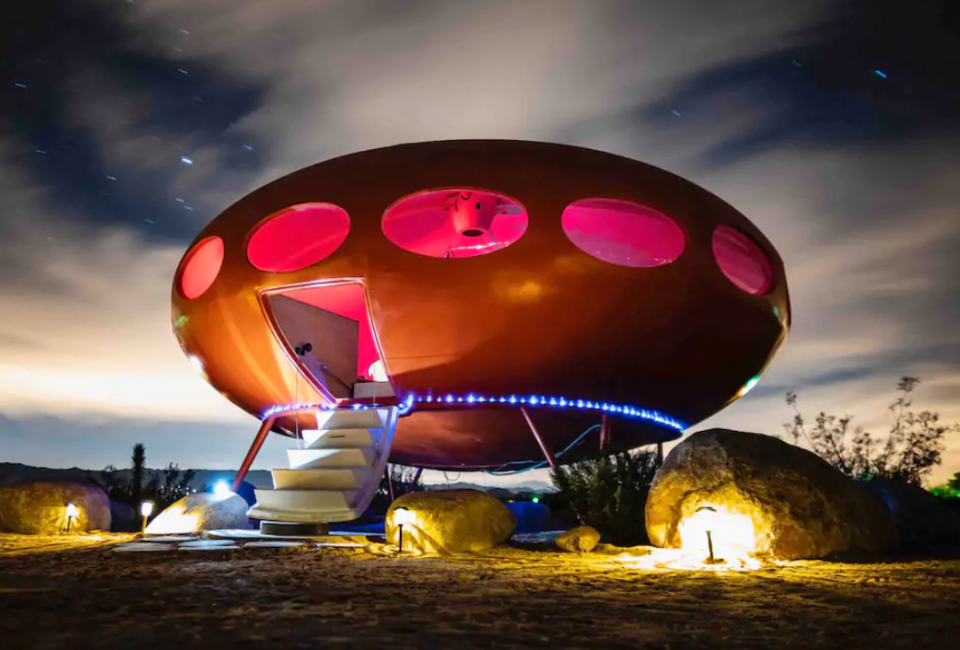 3/12/21
- By
Meghan Rose
Are you ready to get out of town and see some new scenery? Covid cases are falling (yay!) but it's probably still not the right time to book a flight to a favorite exotic resort or massive hotel. But a road trip to a vacation home rental somewhere in gorgeous, sunny California is just the ticket: meticulously cleaned before you arrive, no crowded spaces, and the chance to be someplace new, different, and fresh.
Since we're not traveling to packed tourist destinations, we wanted to find the best places to visit where the actual vacation rental was part of the attraction—so here are treehouses, a-frames, cabooses, and space ships (seriously) that are on the beach, in the mountains, in the city, or on alpaca farms. Read on to discover where in California your next family vacation will be.
This list is filled with vacation home rentals that are truly unique and cool places to stay that are kid-friendly, but also budget-friendly. There are plenty of $800 a night amazing vacation rental houses, but those are for dreaming more than doing. This means most spots aren't huge, and some include sleeping sofas as beds—but that's what kids and their non-aching backs are for.
Also keep in mind that many restrictions on travel remain, and for good reason. Please do not travel if you are sick. Please do wear a mask, and consult all local travel requirements and restrictions ahead of booking.
Southern California Coastal Vacation Rentals

Meet the alpacas at this artist's bungalow on a scenic ranch. Photo courtesy of Airbnb
Sleeps up to 4, no pets are allowed.
This 4-acre animal ranch hosts a menagerie of friendly animals, which makes this getaway great for kids. The animals on the ranch LOVE attention and the hosts are avid bicyclists and happy to set you up with some great bike routes. If you want to get out and explore the area, the ranch is just 15 miles from Oceanside Beach and 20 miles from Temecula Wine Country (and hot air balloon rides). If you're coming with a bigger group, or want Grandma and Grandpa (or older teens) to have their own space, the owners also have a vintage trailer on the property for rent.
Cabins sleep 3-5, floating cabins sleep 4. No pets allowed.
The 190‐acre park has seven beautiful recycled water lakes. While you can rent dockside cabins, the real treat is the three cabins that float right on the water on one of the lakes. It's a little more rustic and you'll need to bring your own linens (or sleeping bags), pillows, and towels. But once you're here, in addition to the delights of sleeping in a floating cabin, families can enjoy fishing, boating, playgrounds, walking trails, and birdwatching the hundreds of bird species on the property.
Sleeps up to 4, no pets are allowed.
La Jolla is one of my family's favorite low-key getaways. We never even make it to the big local attractions, beyond the Birch Aquarium at Scripps. From this little paradise, you can walk to the famous Windansea Beach, see sea lions, kayak the cove, and more. After a day out, come back to this Airbnb to fire up the grill, catch the sunset on the ocean view terrace, then soak it all away in the private hot tub. Boogie boards, beach towels and chairs, an umbrella, beach blankets, tote bags, and a cooler are all available to you, so no need to bring anything.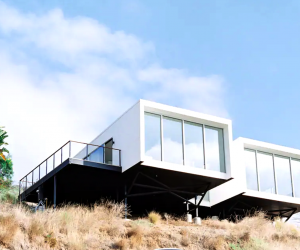 Views for miles plus hiking trails right out the front door at this Scandinavian haven. Photo courtesy of Airbnb
Sleeps up to 4, no pets are allowed.
This modern, light-filled, Scandinavian-inspired home is a beautiful base camp from which you can explore the magic of San Diego. The entire front of the house is glass with breathtaking views over the mountains and reservoir below. Watch the sunrise over the mountains before a day at Legoland or the San Diego Zoo. Then come back, tuck the kids in, and unwind in the two-person hot tub out in the back garden along the path overlooking the mountains. Hike or walk in the mountains right out the backdoor if you need a day off of exploring or just relax and unwind.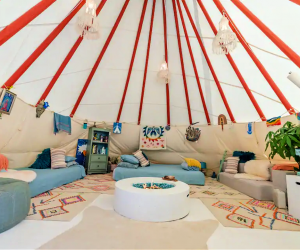 Wishing Well Mini Ranch has a 22' Tipi that you sleep in. Photo courtesy of Airbnb
Sleeps up to 4, no pets are allowed.
Ever wanted to sleep in a tipi? This little ranch has 3 Airbnb spaces one several acres, in case you want to come with family or friends. Kids can hang out with friendly farm animals like Nigerian dwarf milking goats, miniature horses, llamas, and chickens. Pick oranges right off the trees on the property and relax in the spa. It's more like glamping than a hotel, though the tipi has a bathroom, hot/cold shower, propane fire pit, fridge, mini kitchen, Wifi, 2 twin beds, and a queen bed.
Sleeps up to 4, pets are allowed, not suitable for kids under 2.
This dome house was originally built in 1967 as a project for local art students. Now it has been renovated and upgraded with Netflix and Hulu to keep modern kids happy. The views and open loft beds make it feel like sleeping in a treehouse. This small space is loads of fun, with the kitchen wall done in chalk paint for little artists to go to town while dinner's cooking. It's a cool and inexpensive (way less than a hotel!) base to use for exploring San Diego.
It's a cottage in the middle of the mountains, dripping with flowers and charm. Photo courtesy of Airbnb
Sleeps up to 4, no pets are allowed.
This honeysuckle and jasmine dripping charming 1907 cottage is nestled in the mountains, but minutes from the ocean. Kids can play by the seasonal creek and parents enjoy the flowers, herbs, vines, trees, and fabulous views. Topanga is a gorgeous little village with one of the most romantic restaurants (don't worry, it's super kid-friendly with a frog catching creek right by the tables), a fun vintage treasure trove shop, and other local stores to peruse. Mountain hiking trails, Native American caves, gorgeous vistas, and Topanga beach are all right nearby, and you're just 15 minutes from Malibu.
Sleeps up to 4, pets are allowed.
A city-adjacent getaway, this ranch is just 15 minutes from Pasadena and 25 minutes from LA. The house is an architectural wonder filled with art, literature, and beautiful objects. There is an indoor fireplace, as well as an outdoor fireplace and a beautiful saltwater pool. Hike right from the house and get to be friends with the goats and other animals living on the ranch. Note: you may see bees, as the owners keep hives on the far side of the property, which means they have organic raw honey available for purchase!
Southern California Mountain Vacation Home Rentals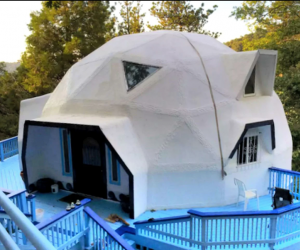 This three-level dome has a zen room and central spiral staircase. Photo courtesy of GlampingHub.com
Dome sleeps up to 10, no pets are allowed.
It's like sleeping in the Dome at the Arclight in Hollywood! This three-level dome is equipped with fun indoor entertainment such as karaoke, Apple TV, a DVD player, playing cards, games, and a reading table, so families can't go wrong when spending a day inside if you get tired of hiking (the Heart Rock Vortex is a 10-minute drive away, and gorgeous hiking trails surround the dome) or walking on the paths around Lake Gregory. The dome comes with a massage table and peaceful meditation corner for parents, and kids adore the spiral staircase in the center of the house.
Sleeps up to 4, no pets are allowed.
A white and airy cabin nestled in the woods with massive windows that bring the steaming sunshine into the house; this isn't a rustic spot cabin in the woods. It's clean and bright and modern, while still being tucked into the mountains and trees. With big porches, a hammock, and a grill, you never need to leave the property—but if you want to the cabin is just four miles from Bear Mountain Resort, with Snow Summit and the Village a little further.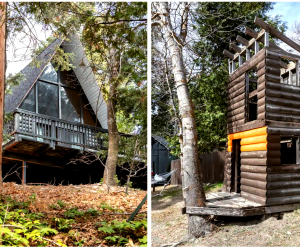 A modern cabin for parents in the front and a play cabin for kids in the back! Photo courtesy of Airbnb
Sleeps up to 4, pets are allowed.
This a-frame is a special favorite for families because it's perfect for kids. The expansive backyard has a gas grill and a fun (two-story!) timber fort for children—and you can watch them play while relaxing in the hammock. Take in the sylvan scenery from 2 large decks, with a fire pit for the evenings. There's a fireplace inside too, plus 3 Apple TVs with Netflix and Hulu, so no squabbling for siblings. You won't want to leave the cabin until you remember you're tucked away in the mountains between Lake Arrowhead and Lake Gregory and have boating, hiking, and tons more to do right at your fingertips.
Unique Family Vacation Rentals in the Desert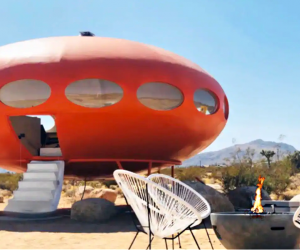 The Area 55 Futuro House looks ready for liftoff. Photo courtesy of Airbnb
Sleeps up to 4, pets are allowed.
Who hasn't wanted to sleep in a spaceship? This original Futuro house (one of only 19 in the US) has been fully restored and is available for more of a glamping experience than a full-service house/hotel stay. Take note: the house is off-grid and completely solar-powered. That means there's enough power to keep devices charged and power the in-house Bluetooth sound system and coffee maker, but kids can't play video games or stream movies all day. There's fresh water for hot outdoor showers and private restrooms, with an outdoor kitchen area with a propane grill island. Come forewarned that sleeping in a spaceship takes a little work, but it's also cool enough to make kids look forward to unplugging and getting off screens for a while.
Dome sleeps up to 10, no pets are allowed.
This is both a futuristic desert retreat and a bohemian getaway. Families can stay in the geodesic dome, or opt to stay in one of three air-conditioned trailers styled by local artists. The outdoor spaces are the best part of this rental, with a spacious pool to jump into on a hot afternoon. Relax in the hammock tree in the evenings, after a day of desert hiking, enjoy a long luxurious soak in the hot tub while gazing up at the stars.
Sleeps up to 4, no pets are allowed.
The Coyote House is a time machine to 1978 at the crossroads of Pioneer Town and Joshua Tree. Listen to records on the shag rug, lounge outside on the tiki furniture, and gaze at the stars in the hot tub. You can walk just a few blocks to get coffee and check out the fun vintage shops along 29 Palms Highway or drive just a few minutes to explore Pioneer Town. It's also just twenty minutes away from the entrance to Joshua Tree National Park.
The roof opens up for desert stargazing in Twenty-Nine Palms. Photo courtesy of Airbnb
Sleeps up to 6, no pets are allowed, and not suitable for kids under 2.
The roof opens up at this house in the middle of the desert and you can enjoy an amazing star-gazing night and wake up to an incredible cotton candy sunrise. This house isn't for everyone, but if an off-grid getaway in the middle of nature that is simple yet stylish, you'll be in heaven. There's a hammock and mountain views when you hang out by the house, and you're a short drive away from desert hiking or Palm Springs food and shopping.
Family Vacation Rental Homes in the Central Coast
Kids have free rein to roam at Ballard Hill Ranch in Los Olivos. Photo courtesy of Airbnb
Sleeps up to 6, pets are allowed.
Sleep on a horse ranch in wine country? Sign me up, I may never come home! Sleep on this historical horse ranch on 20 acres right in the middle of the Santa Ynez wine valley. Los Olivos and Solvang are only minutes away. They have boats you can rent for the day, and horses you can arrange to ride. Go wine tasting (several vineyards are family-friendly), or visit with the gregarious farm animals. Be sure to ask the hosts for some apples to feed the horses, and see the sights on a working family farm.
There are hundreds of animals, ponds, and dozens of hiking trails at Rancho Grande Ranch. Photo courtesy of Airbnb
Sleeps up to 4, pets are allowed, not suitable for kids under 2.
Founded in 1875, this Old West ranch is a remote feeling getaway that's minutes from the gorgeous artist retreat of Ojai. Hike forest trails with access from the property, walk around the two spring-fed ponds or creek, and interact with a wide variety of farm animals and wildlife. Guests are provided with a jeep to use during their stay to explore the hills and the scenic 200-acre grounds. It's the perfect mix of glamping, ranch life, and luxury touches. Pick eggs from the chicken coup and salad from the commercial greenhouse, canoe or paddleboat, swim or fish for catfish and bluegill. For an extra fee, guests can even enjoy a horseback ride, massage and facial services, or private yoga classes.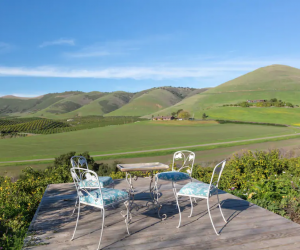 Peacocks roam free on the grounds at Peacock Hill Fruit Farm. Photo courtesy of Airbnb
Sleeps up to 5, pets are allowed
Stay in this spacious private apartment where you can pick citrus fruit from the trees, while being followed by beautiful peacocks, and watch horses run back and forth across a hill in the distance. Guests have access to the 50-acre property to hike, walk, and relax in Olympic size spa. Kids adore the Koi pond, aviary, chicken coop, and free roam peacocks. If you can make yourself leave this haven, it's close to beaches, restaurants, and wineries.
Sleeps up to 6, no pets are allowed.
One of the more expensive properties on our list, it's also one of the largest and right up the street from Oprah, Rob Lowe, and Harry & Meghan. This mid-century modern estate has a large yard chock-full of citrus and fruit trees, as well as a gorgeous garden with a firepit and great birdwatching. Explore Montecito (home of some of the best ice cream in California), or drive up the coast to Butterfly Beach in 5 minutes. The Santa Barbara Zoo is also minutes away.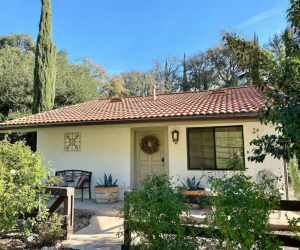 Wine, cookies, animals, and bikes await at Ohana Ranch Cottage. Photo courtesy of Airbnb
Sleeps up to 5, no pets are allowed.
Delicious cookies and local wine await you at check-in, but as much of a draw as cookies are, the best thing here are the animals: horses, cows, tiny donkeys, and dogs. Little animal lovers will be in heaven at this cottage on a 10-acre ranch estate. Beaches are nearby, hiking and biking trails (there's a carport with bikes and helmets) are accessible right outside the front gate and you can visit the ranch at feeding time to meet the animals. The local restaurants and wineries are perfect for dining onsite or get a bottle of wine to go and head back to the cottage to BBQ.
Cool Vacation Rentals in Northern California for Families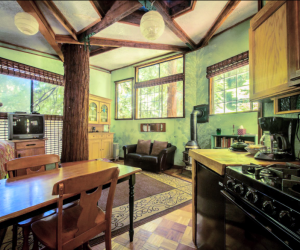 A tree grows in the middle of this treehouse in Watsonville. Photo courtesy of GlampingHub.com
Sleeps up to 4, pets are allowed.
It's a magical treehouse in the redwoods! Whether you prefer hiking in the redwood forests or strolling sandy beaches, this luxury treehouse near Monterey Bay is the place to be. There's even a private hot tub under the trees. Tree trunks growing through the living room and bathroom delight kids, as does the charming bridge entrance. In addition, there is a gas stove for cozy evenings and a TV and DVD player with a varied movie collection. The house kitty lives outside and loves to say hello.
Sleeps up to 4, no pets are allowed.
This a-frame with giant glass windows is nestled in the trees and has epic views of trees, deer, and Lake Shasta. This is hiker heaven, nestled between 3 beautiful National Parks (Lassen Volcanic, Redwood, and Crater Lake). The giant decks make it feel like staying in a treehouse, but far more spacious and accommodating for families.
Who hasn't wanted to sleep in a little red caboose? Photo courtesy of Airbnb
Sleeps up to 4, pets are allowed.
It's the little vacation that could! Kids will thrill to sleep in an actual caboose, nestled under giant redwood trees. With a fire pit, friendly animals (including chickens) roaming around outside, and lots of gorgeous local hikes, this is a truly unique stay and a must-do for anyone with train-lovers in the family.
Sleeps up to 4, no pets are allowed.
Yes, another cute A-frame cabin, nestled in a private little nook. There are hundreds of miles of biking, hiking, and fishing trails within a few blocks. On chilly nights enjoy the fireplace and grill on the deck; by day enjoy all that Lake Tahoe has to offer. The cabin is a short (kid-sized) walk to the lake or beautiful hiking trails, and skiing in the winter.
Sleeps up to 4, pets are allowed.
This cottage is stylish enough for a Nancy Meyers movie, but perfect for kids and pets, too. Rustic modern decor, hardwood floors, Spanish-tile, and high ceilings complete the sophisticated yet casual atmosphere. This haven of tranquility is just 30 seconds from the (dog-friendly) beach and a 5-minute walk to town. Gorgeous hiking trails are nearby. Surrounded by private decks and a fenced yard (with chaise lounges, a hammock, a hot-water shower, an outdoor dining table, and a gas grill), there are relaxing spots all over the property to chill with a book or hang out with family. You can see the ocean from the upstairs deck.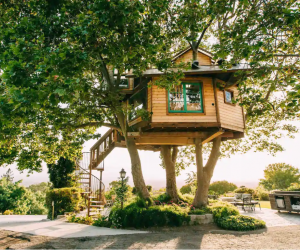 You need to be able to climb stairs to stay at this treehouse in San Jose. Photo courtesy of Airbnb
Sleeps up to 4, no pets are allowed.
This isn't a house that's kind of like a treehouse, this is a treehouse. Childhood fantasies complete, for kids and adults alike. A tiny 250 square foot treehouse with stairs leading to 2 lofts with beds will give you gorgeous views of Silicon Valley. The treehouse opens to a deck 14 feet high, nestled in between 3 sycamore trees. Bear in mind that there is a ladder leading up to the treehouse, so kids need to be able to climb up!
Sleeps up to 4, no pets are allowed, and it is not suitable for kids under 2.
What's a THOW? A Tiny House On Wheels. This little baby cabin is perfect for a family who doesn't quite want to drag out all the camping equipment (or go without a shower) but wants to stay in nature on a trip to Yosemite. 20 miles to Yosemite National Park's south entrance and across from River Creek Golf Course, you're really out in nature. The tiny luxe cabin has two lofts, each with a comfy queen bed. The kitchen has a small refrigerator, microwave, and stove—all the comforts of home, just little. Enjoy the fireplace and grill on the private patio. Spend the day hiking and exploring the mountains and the evenings sleeping in comfort.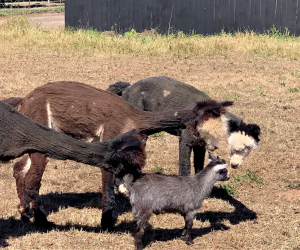 Meet the alpacas at the Alpaca Cottage. Photo courtesy of Airbnb
Sleeps up to 4, pets are allowed.
Nestled between walnut and cherry orchards, you'll be greeted at the cottage by Ella, Blu, Lola, and Lilly—a small herd of Huacaya Alpacas. They are inquisitive and love to play with people. The cottage is minutes away from Lodi's wine country as well as a state park for hiking and a river with kayaking, but you won't want to leave the property with the hot tub, fire pits, bocce court, boho swing set, and the amazing access to the alpacas! Guests report that this place has the toddler stamp of approval, and with an onsite sommelier, it also gets the nod from parents.
Sign up for the Mommy Poppins Newsletter today!
i