Hollywood With Kids: 36 Things To Do in Hollywood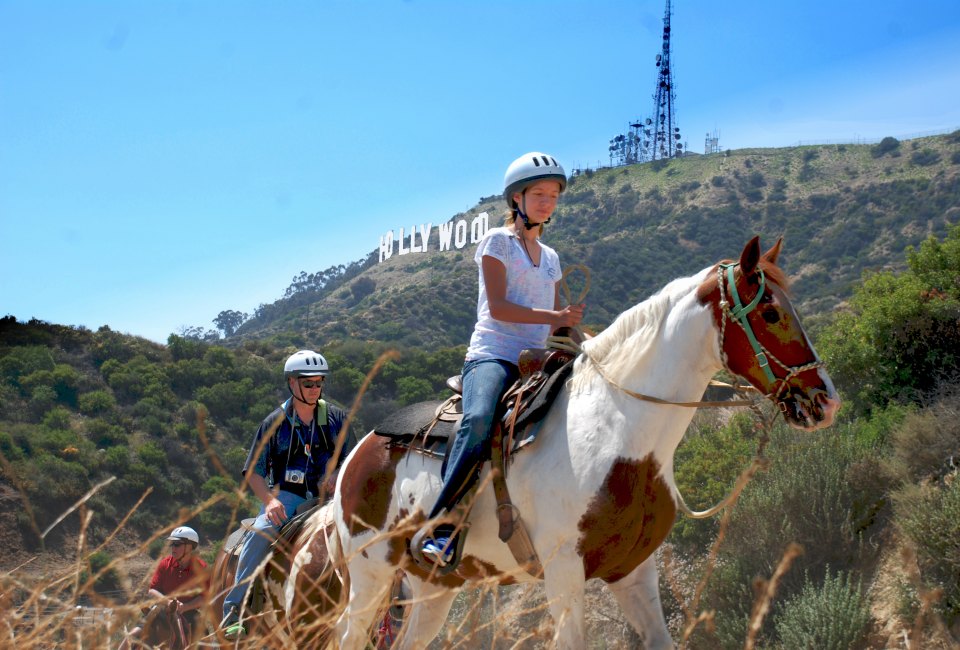 2/21/23
- By
Matt Matasci
Best Things To Do in Hollywood with Kids

You never know what or who you'll see. Photo courtesy of the Hollywood Walk of Fame Facebook page
Take a stroll along Hollywood Boulevard any morning or afternoon, and you'll be surprised at how much the most famous street in Los Angeles offers. Searching for a particular celebrity star along the sidewalk? You can find it easily. Want to wave at Spongebob, have a picture taken with Wonder Woman, or high-five Spiderman? The likes of them wander the area near the Hollywood and Highland Center, and the TCL Chinese Theater. There are souvenir shops, sunglasses stands, and fine shopping, not to mention countless other nearby attractions (many of which are listed below).
All ages are welcome here, and with ramps and bumpers available to line the lanes (and keep the balls from drifting into the pesky gutters), kids won't get discouraged. Reservations and walk-ins are accepted.
Formerly the Hollywood and Highland center, Ovation has become a Hollywood hub. Eat here, shop here, and be entertained here. Speaking of entertainment, the Academy Awards are held in the Dolby Theatre (housed here), and Lucky Strike bowling lanes (listed here) are on level one. The parking garage offers the best rate in town, with validation.
RELATED: Hiking in Los Angeles with Kids: The Best Hiking Trails for Families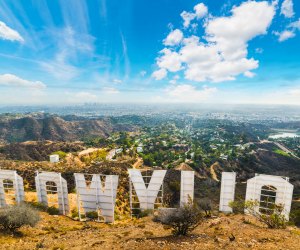 Up close and personal with the biggest Hollywood icon of all.
On a clear day, you see it from practically everywhere. And on a gray day, even if you can't make out the letters, you know that faint pail strip is none other than the infamous Hollywood Sign. We recommend taking a hike to get up closer.
Whether it's the famous Paul Smith "Pink" wall (8221 Melrose), the "Made in LA" wall (8025 Melrose), the angel wings (3rd and Orlando), or the "Hello" wall (8251 Melrose), older kids especially, can't get enough pictures at these colorful and iconic photo spots. These walls are conveniently located near shopping and tourist attractions, so visitors can usually hit up several Hollywood bucket list items with one trip.
RELATED: Drive-in Movie Theaters in and around Los Angeles for Outdoor Movie Nights with Kids

An outdoor movie in the Hollywood Forever Cemetery is an LA rite of passage. Photo courtesy of Cinespia
While it may seem ghoulish, the cemetery gives kids a chance to learn about Hollywood history (for decades, every celebrity was buried here). In summer, Cinespia holds extremely popular movie screenings, some of which are fun for kids (previous kid-friendly film showings have included Pee Wee's Big Adventure and The Muppet Movie).
Yet another glorious LA-area market, with rows and stalls of fresh, local produce, entertainment, and prepared foods. Check it out.
We know that walking can be overrated. So why not sit back and enjoy the ride as you breeze by the Hollywood sites, celebrity homes, and more on a tour bus? There are many options and routes from which to choose.
RELATED: Griffith Observatory: 10 Reasons to Visit Real Stars in Los Angeles

So much intergalactic fun at the Griffith Observatory. Photo courtesy of Griffith Observatory
Los Angeles is one of the few major cities to be completely split in half by a mountain range. Griffith Park is a massive urban park criss-crossed by miles of hiking trails at the very eastern edge of the Santa Monica Mountains. From hiking to horseback riding tours, there's so much to do at Griffith Park!
Sunset Ranch offers guided one or two hour horseback riding tours of the Griffith Park hills. Take in stunning views of Griffith Park, greater Los Angeles, and the Hollywood Sign like a posse of cowboys. Just be sure you bring plenty of water hiking because it can get very hot up on the mountains.
Outdoor enthusiasts can hike easier, flat paths, ideal for the younger set like Ferndell, to more rugged terrain. There's a recreational adventure for every age and ability.
And of course, one of the most noticeable landmarks in Los Angeles (besides the Hollywood sign) is the art deco Griffith Observatory. It's all things sky and space and the beyond here, so let your curiosity and imagination soar. A quick peak at the calendar reveals there is more than stellar city views, planetarium shows, and a fully stocked gift shop perched atop the hill overlooking Hollywood. Griffith Observatory is a must-see for adults and little ones. Weekends and sunsets draw large crowds meaning parking can be tricky, so plan accordingly.
It's a pocket park, meaning it's small and not staffed. But De Longpre Park is a lovely spot for a ride down the slide, a swing on the swing, and a picnic under the abundant shade trees. Dogs are welcome, too.
RELATED: Visiting Los Angeles with Kids: 3 Day Itinerary From a Local

Stacked with music history. Photo courtesy of Capitol Records
It was just a coincidence that this building looks like a stack of records, but what a great urban legend! The uniquely-shaped Capitol Records Building is at the heart of rock & roll history, with albums by the Beach Boys, Beatles, Carole King, Elliot Smith, Arcade Fire, and thousands of other artists recorded at the iconic studios. Another fun fact: the lights at the top of the building spell out "H-O-L-L-Y-W-O-O-D" in Morse code.
The Magic Castle on Franklin Avenue is notoriously exclusive, with a strict dress code and visitation only allowed for those with an invite from a member. However, there is one great workaround that's mostly for out-of-towners, though it might be worth a staycation for locals. If you stay at the Magic Castle Hotel, located right next door, you get access to the Magic Castle during your stay. The hotel is nothing fancy but gets great reviews, and it's hard to beat an automatic invite to LA's most mysterious exclusive club.
RELATED: Top Attractions in Los Angeles: To Do and See with Kids

An evening in Hollywood that the kids will never forget. Photo courtesy of the Hollywood Bowl
Maybe we're a little biased, but there's no better time or place to see live music than the Hollywood Bowl on a balmy summer evening. The Los Angeles Philharmonic teams up with KCRW to put on the World Fest, which features concerts from an eclectic range of artists. The best thing about these shows? You can bring your own food and drinks, and a picnic at the Bowl is a must-do LA experience. Throughout the year, private promoters put on other shows with stricter rules about food, so be sure to read the fine print before buying tickets. Not interested in forking over a pretty penny for a concert? The Bowl offers free viewing of rehearsals.
You can also learn about the history of this American icon at the Bowl Museum and take in impressive views at the Hollywood Bowl Overlook. Built in preparation to wow guests headed to the 1984 Summer Olympics, the Jerome C. Daniel Overlook still impresses visitors nearly 30 years later. Stunning views of the Hollywood Bowl, the Griffith Park Observatory, the San Fernando Valley, and on a clear day even Catalina Island abound. It's well worth a visit.
Just a few blocks from the intersection of Franklin and La Brea is Runyon Canyon. While it's certainly made plenty of cameos on TMZ, most people hiking the trails of Runyon Canyon are everyday people getting a little exercise and enjoying the sweeping city views. The main path is paved, so it's stroller-friendly and safe for energetic kids running down the hill.
RELATED: Universal Studios Hollywood: 10 Insider Tips for the Park and Wizarding World

Enter into a video game. Mario Kart courtesy of Universal Studios
Not to restate the obvious, but there's a theme park in our backyard. Scream and raise your arms on some rides, wave a wand in Harry Potter World, step into the action and gaming fun of Super Nintendo World, then take the original studio tour. Universal Studios Hollywood is fun-filled and action-packed, with a CityWalk to boot, offering food, movies, and even more entertainment.
This may be more appealing to grown-ups and retro-nerds who remember this as the location of Batman's lair, but there's still a chance kids might recognize the spot from more recent productions. Little kids will enjoy standing in a real cave, and it's an opportunity to explore the surrounding Griffith Park, too.
This enormous music store (which also hosts live performances by signed artists) survives against all odds as a reminder of how music used to be sold—just the place to take your pint-sized music fiend. Older kids and teens will love an afternoon of browsing vinyl and discovering new and old music.
Best Museums in Hollywood with Kids
Remember the paperback Guinness Book of World Records books with the sometimes old, creepy, black and white photos we looked at as kids (perhaps I'm dating myself)? The books are now large, hardcover, and full of digital color pics. Times have changed, but the intrigue of being a record holder hasn't. What kid doesn't want to grace the pages of a record book someday? Step into the museum and see some larger-than-life displays of the most bizarre to the most amazing. These family-friendly activities will engage the kids before you even set foot in the museum.
RELATED: 13 Kid-Friendly Always-Free Museums in Los Angeles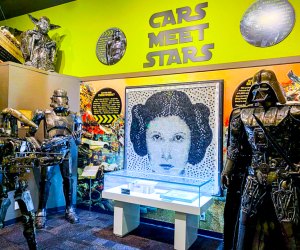 Explore the unusual. Photo courtesy of Ripley's Believe It or Not!
They call it an "Odditorium." Get it? Odditorium? And odd it is, so maybe it's not for the littlest ones in your crew (though kids four and under get in for free). But those with a curiosity about the bizarre, the unusual, and, yes, the unbelievable will find this Hollywood museum favorite enthralling. The dinosaur on the roof of Ripley's is itself, a Hollywood icon, and it's usually dressed up depending on the season or trending occasion.
What could be more Hollywood than a collection of Instagram-groomed photo ops? A museum might be a generous term for this attraction, but illusions are definitely what it's all about. Visitors come away with phones full of photos that look like everything from Titanic survivors to toilet divers. Exhibits offer displays that are upside down, up at great heights, star-studded, and melodramatic. It's a fun spot for a dose of Hollywood whimsy.
Travel back in time to the earliest days of Hollywood at the Lasky-DeMille Barn. This historic landmark will transport you back to when Hollywood was still a rural hamlet on the outskirts of Los Angeles, a dusty town that would one day be the entertainment center of the US.
Warning: There's a creep factor here. The Dungeon of Doom, for example, featuring Hannibal Lecter's actual movie prison cell (shudder), is not for little eyes. But Harry Potter's robe and wands are indeed a must-see in the Harry Potter exhibit. Special Exhibits include favorites such as Back to the Future, Ghostbusters, and Halloween: Dungeons of Doom.
Since this is LA, Madame Tussauds Hollywood is, of course, filled with wax celebrity look-alikes. Johnny Depp, Britney Spears, Beyonce, Justin Timberlake, Angelina Jolie? Yup, they're all here. So is a replicated scene from Star Trek, and wax mugs of western favorites. Oh, but there's so much more, and some so real-life looking that your little ones will be truly amazed.
Top Theaters in Hollywood
RELATED: Free Admission for Kids at 40+ Family Attractions, Museums, & Theme Parks in Los Angeles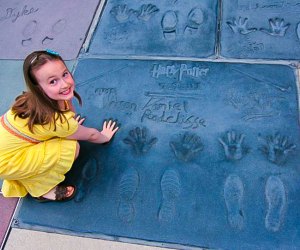 Step into Emma Watson's (or Hermione's) shoes at Grauman's Chinese Theater. Photo by Jeff Christiansen/CC BY 2.0
There are so many famous handprints out front we all forget there's a real movie theater inside. After you've squatted down and matched your hands to your favorite celebrities (or your boot print to John Wayne's), why not consider taking in a film?
Right across the street from the TCL Chinese Theatre is another themed movie house from Hollywood's Golden Era, the Egyptian Theatre. The theater is currently closed as it's being restored to its 1920s-era heyday by Netflix. Once open, the streaming giant will share programming duties with the previous owner, American Cinematheque. For the time being, you can walk around the outside of the cinema and revel in its ornate design.
Yes, Quentin Tarantino, the not-so-family-friendly movie creator, owns this theater. That said, there are plenty of kid-friendly films screened at this little theater on the west side of Hollywood. The last time we went, we caught a screening of The Parent Trap, the original one. Pair a trip to the movies with a stop at Pink's (see below), which is just a few blocks away from La Brea. We love that the concessions are still at 80s-era prices — don't miss the frozen Junior Mints!
We may not have Broadway, but here in LA, we have the Pantages. With a steady stream of musicals and light opera productions gracing its stage, the Pantages Theatre keeps adults and kids alike awash with musical and theatrical entertainment. Their season of touring companies usually includes family-friendly musicals.
With its refurbished 1926 decor and Wurlitzer organ playing music to entertain before the show, El Capitan Theatre is one of our favorite ways to see a movie. There is usually a live stage show before a first run of a Walt Disney movie, and there's nothing like the grand curtain that rises to reveal the stage and screen. The lobby generally has a display of props and costumes, and then there is that Ghirardelli sweet shop (usually giving samples) on the way out.
Best Kid-Friendly Restaurants in Hollywood
Sit outside at the Mel's West Hollywood location, and take in the sounds of bustling Sunset Boulevard. Or head over to the Mel's Hollywood joint located in the original Max Factor building, and imagine movie stars of yesteryear getting their glam on in the beauty salon that once graced that space. There are burgers, fries, shakes, and a full-on breakfast menu, at both locations.
RELATED: 16 Los Angeles Restaurants Where Kids Can Play While Parents Eat

One of the most famous places you can eat at in Hollywood. Photo courtesy of Pink's Hot Dogs
Pink's Hot Dogs has been a Hollywood landmark since 1939. Starting as a street pushcart, it evolved into an iconic Hollywood destination for locals and tourists. There's always a line at Pink's (but it tends to move fast), so be prepared to wait, but it's well worth it. For those family members who aren't into hot dogs, their menu also features burgers, onion rings, french fries, and cole slaw.
After chomping down on a hot dog from Pink's, head to the Milk Bar just down the street for dessert. You'll be tempted with delectable treats like cakes and cookies at this Melrose Boulevard flagship location.
This kid-friendly pizzeria is just steps from Hollywood Boulevard, but because it's located on the narrow, quiet McCadden Place, it feels miles away from the hustle and bustle. There's an impressive al fresco space and an adjacent paid parking garage.
RELATED: 17 Best Coffee Shops in Los Angeles to Bring Your Kids When You Need Caffeine

LA happens to be the donut capital of the US. Photo courtesy of Trejo's Coffee and Donuts
What's more Tinseltown than eating coffee and donuts from a celebrity-owned cafe? Danny Trejo is just about as "LA" as actors come, and the local legend has turned his gritty character-actor career into a successful restaurateur gig. While his taco shops have sprouted up around the city, Trejo's Coffee and Donuts shop at Santa Monica and Highland is a must-visit for its unique confections and of course, great coffee.
Some of LA's best restaurants and eateries are tucked away in unassuming strip malls, and Mashti Malone's is a perfect example. Touted as Los Angeles' most beloved ice cream shop, it has unique flavors like banana walnut, ginger rosewater and Persian cucumber mixed in among classics like vanilla and chocolate.
If you're from out of town, no LA trip is complete with out a stop at this legendary burger joint. Be sure to research the secret menu before visiting; there's nothing more delicious than a Double Double with a side of animal-style fries and a chocolate milkshake. Plus, you really can't beat the prices, which seem to have stayed fairly stable despite inflation.
While it's a bit pricey and touristy, the big draw for Yamashiro is its incredible views of the LA basin. Head here for dinner after dark or the night market, and take in all the glittering lights that make up the endless grid of Los Angeles.
Originally published October 22, 2013 with additional reporting by Martha Hall
Sign up for the Mommy Poppins Newsletter today!