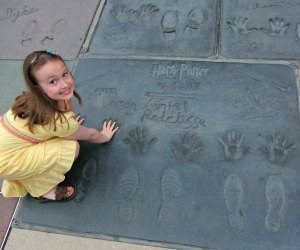 27 Fun Things in Hollywood that Kids Love To Do
We say, "Hooray for Hollywood!" because it offers more than just glitz and glam, celebrity hangouts, expensive T-shirt shops, and infamous nightclubs. Believe it or not, Hollywood is also a go-to destination with kids in tow—from hiking to the Hollywood sign to watching Wonder Woman get her Walk of Fame star. Feeling skeptical? Have a look at our 27 favorite things to do in and around Tinsel Town. And if you've got out-of-town guests looking for Hollywood movie sightseeing, we've got that covered, too.
(Thinking bigger than just Hollywood? Check out out list of 101 Things To Do in LA with Kids!)
1. El Capitan Theatre
6838 Hollywood Blvd.
Los Angeles, CA 90028
818.845.3110
With its refurbished 1926 decor and Wurlitzer organ playing music to entertain before the show, El Capitan Theatre is one of our favorite ways to see a movie. There is usually a live stage show before a first run Walt Disney movie, and there's nothing like the grand curtain that rises to reveal the stage and screen. The lobby generally has a display of props and costumes from the current movie, and then there is that Ghiradelli sweet shop on the way out...

2. Cake and Art
8709 Santa Monica Blvd.
West Hollywood, CA 90069
310.657.8694
Cake and Art not only provides fun and festive cakes for all occasions, it also offers cupcake decorating parties for kids. What could be more delicious than decorating cupcakes with a group of friends using tricks and tips typically reserved for professionals? Create 3D frosting flowers, use an airbrush machine, and dust your creation with edible gold.

3. De Longpre Park
1350 North Cherokee Ave.
Hollywood, CA 90028
213.847.3599
It's a pocket park, meaning it's small and not staffed. But De Longpre Park is a lovely spot for a ride down the slide, a swing on the swing, and a picnic under the ample shade trees. Dogs are welcome, too.

4. Duff's Cakemix
8302 Melrose Ave.
Los Angeles, CA 90069
323.650.5555
Once all the rage on the Food Network's Ace of Cakes, Duff Goldman—cake creator extraordinaire—has a shop in Hollywood, and if you're lucky, he might be there the day you come to visit. Choose a cake flavor, filling and frosting, and then have at it, making a decorated cake of your dreams. Reservations required.
5. BlueBird LA Kids
652 N. Larchmont
Los Angeles, CA 90004
323.466.0408
BlueBird is a kids' upscale consignment shop, meaning you'll find high-end clothing here (in good condition) at a reduced price. Sure, resale stores are hit or miss; but when you hit here, you score. Big time.

6. For Kids Only
723 1/2 N. Fairfax Ave.
Los Angeles, CA 90046
323.650.4885
Clothing for kids only, that is, and lots of it. European and American designer clothes galore, including imported Italian wool suits for boys (in case you're in the market for one). Voted "Best Children's Clothing and Shoe Store" multiple times by LA Magazine's Best of LA. Fantastico!
7. Griffith Observatory
2800 East Observatory Road
Los Angeles, CA 90027
213.473.0800
It's all things sky and space and the beyond here, so let your curiosity and imagination soar. A quick peak at the calendar reveals there is more than just stellar city views, planetarium shows, and a fully stocked gift shop perched here atop the hill overlooking Hollywood. Griffith Observatory is a must-see for adults and little ones. Weekends draw great crowds, which means parking can be tricky, so please plan accordingly.

8. Guinness Book of Records Museum
6764 Hollywood Blvd.
Los Angeles, CA 90028
323.463.6433
Remember the paperback Guinness Book of World Records books with the sometimes old, creepy, black & white photos we looked at as kids (perhaps I'm dating myself)? Now the books are large, hardcover, and full of digital color pics. Times have changed, but the intrigue of being a record holder hasn't. What kid doesn't want to someday grace the pages? Step into the museum and see some larger-than-life displays of the most bizarre to the most amazing. These family-friendly activities will engage the kids before you even set foot in the museum.

9. Hollywood Boulevard & Walk of Fame
Best parking is at Hollywood & Highland.
Sure it's a tad run down, attracts the tourist masses, and can be hot at noon on a summer day. But take a stroll along the boulevard on any given morning or afternoon and you'll be surprised at how much more the boulevard has to offer. Looking for a particular celebrity star along the sidewalk? You can find it easily. Want to wave at Spongebob, have a picture taken with Wonder Woman, high-five Spiderman? The likes of them are wandering the area near the Hollywood & Highland Center, and the TCL Chinese Theatre. There are souvenir shops, sunglasses stands, and fine shopping, not to mention the countless other attractions (many of which are listed here above and below).

10. Hollywood Bowl Overlook
7036 Mulholland Dr.
Los Angeles, CA 90068
Built in preparation to wow guests headed to the 1984 Summer Olympics, the Jerome C. Daniel Overlook still wows its visitors nearly 30 years later. Stunning views of the Hollywood Bowl, the Griffith Park Observatory, the San Fernando Valley, and on a clear day even Catalina Island abound. It's well worth a visit.

11. Hollywood Farmers Market
Ivar Ave. and Selma Ave.
Hollywood, CA 90028
Sundays, 8AM-1PM
Yet another glorious LA area market, with rows and stalls of fresh, local produce, entertainment, and prepared foods. Check it out.

12. Hollywood & Highland Center
6801 Hollywood Blvd.
Hollywood, CA 90028
323.817.0200
Eat here, shop here, be entertained here, even sleep here if you're making an overnight of it. Hollywood & Highland has become a Hollywood hub. The Academy Awards are held in the Dolby Theatre (housed here), and Lucky Strike bowling lanes (listed below) are on Level 1. The parking garage offers the best rate in town ($2 for up to 4 hours, with validation).

13. The Hollywood Museum
1660 N. Highland Ave.
Hollywood, CA 90028
310.464.7776
Warning: There's a creep factor here. The Dungeon of Doom, for example, featuring Hannibal Lecter's actual movie prison cell (shudder) is not for little eyes. But Harry Potter's robe and his wands are indeed a must see in the Harry Potter exhibit! The History of Hollywood in Pictures is also a draw, with more than 1,000 black-and-whites from Hollywood days gone by.

14. The Hollywood Sign
On a clear day you see it from practically everywhere. And on a grey day, even if you can't make out the letters, you know that faint pail strip is none other than the infamous Hollywood Sign. We recommend taking a hike to get up closer.

15. Hollywood Tours
We know, walking can be overrated. So why not sit back and enjoy the ride as you breeze by the Hollywood sites, celebrity homes, and more on a tour bus. There are many options and routes from which to choose.

16. Lucky Strike
6801 Hollywood Blvd.
Hollywood, CA 90028
323.467.7776
All ages are welcome here, and with ramps and bumpers available to line the lanes (and keep the balls from drifting into the pesky gutters) no kid will get discouraged. Reservations and walk-ins accepted.

17. Madame Tussauds Hollywood
6933 Hollywood Blvd.
Hollywood, CA 90028
This being LA, Madame Tussauds Hollywood is of course filled with wax celebrity look-alikes. Johnny Depp, Britney Spears, Beyonce, Justine Timberlake, Angelina Jolie? Yep, they're all here. So, too, is a replicated scene from Star Trek, as well as wax mugs of western favorites (yes, you can pose with the likes of John Wayne). Oh, but there's so much more, and some so real looking your little ones will be truly amazed.

18. Mel's Drive-In
1660 N. Highland
Hollywood, CA 90028
or
8585 Sunset Blvd.
W. Hollywood, CA 90069
Sit outside at Mel's West Hollywood location and take in the sounds of bustling Sunset Boulevard. Or head over to the Mel's Hollywood joint located in the original Max Factor building, and imagine movie stars of yesteryear getting their glam on in the beauty salon that once graced that space. At either location, there are burgers, fries, shakes, and a full-on breakfast menu.

19. Pantages Theatre
6233 Hollywood Blvd.
Los Angeles, CA 90028
323.468.1770
We may not have Broadway, but here in LA we have the Pantages. With a steady stream of musicals and light opera productions gracing its stage, the Pantages Theatre keeps adults and kids alike awash with musical and theatrical entertainment.

20. Ripley's Believe It Or Not
6780 Hollywood Blvd.
Hollywood, CA 90028
323.466.6335
They call it an "Odditorium." Get it? Odditorium? And odd it is, so maybe it's not for the littlest ones in your crew (though kids 4 and under do get in for free). But those with a curiosity about the bizarre, the unusual, and, yes, the unbelievable will be enthralled by this Hollywood museum favorite.

21. Sunset Ranch
3400 N. Beachwood Dr.
Los Angeles, CA 90068
323.469.5450
Ages 8+
Giddy up! Sunset Ranch offers guided one or two hour tours of the Griffith Park hills. Take in stunning views of Griffith Park, greater Los Angeles, and the Hollywood Sign.

22. TCL Chinese Theatre
6925 Hollywood Blvd.
Hollywood, CA 90028
323.465.4847
There are so many famous handprints out front we all forget there's actually a movie theater inside. After you're done squatting down and matching your hands to theirs (or your boot print to John Wayne's, or the side of your face to John Barrymore's), why not consider taking in a film?

23. Universal Studios Hollywood
100 Universal City Plaza
Universal City, CA 91608
800.864.8377
Not to restate the obvious, but there's a theme park in our own back yard. Scream and raise your arms on some rides, wave a wand in Harry Potter World, then take a studio tour. Universal Studios Hollywood is fun-filled and action-packed, with a CityWalk to boot, offering food, movies, and even more entertainment.
24. West Hollywood Library
625 N. San Vicente Blvd.
West Hollywood, CA 90069
310.652.5340
Newly renovated into a Certified Green Building boasting a LEED Silver rating, the West Hollywood Library (part of the County of Los Angeles Public Library System) is a sought after destination, even if you're not looking for a good book to read. Stunning views of the city from the large picture windows, a dreamy children's area and reading space, a children's theater, and story times peppered throughout the week. You could spend an entire day here.
25. Amoeba Music
6400 Sunset Boulevard
Los Angeles, CA 90028
323.245.6400
This enormous music store (which also hosts live performances by signed artists) survives against all odds as a reminder of how music used to be sold—just the place to take your pint-sized music fiend.
26. Bronson Cave
3200 Canyon Drive
Los Angeles, California, 90068
This may be more appealing to grown-ups and retro-nerds who remember this as the location of Batman's lair, but there's still a chance kids might recognize the spot from more recent productions. Little kids will enjoy standing in a real cave, and it's an opportunity to explore surrounding Griffith Park, too.
27. Hollywood Forever Cemetery
6000 Santa Monica Blvd.
Los Angeles, CA 90038
While it may seem ghoulish, the cemetery gives kids a chance to learn about Hollywood history (for decades, every celebrity was buried here) and in summer, Cinespia holds extremely popular movie screenings, some of which are fun for kids (previous films include Pee Wee's Big Adventure and The Muppet Movie).
Originally published October 22, 2013