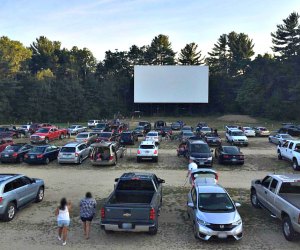 Drive-in Movie Theaters Open around LA: Family Movie Nights Make a Retro Comeback
The return of the drive-in movie is definitely on the pandemic silver lining list. Ticket sales are reportedly up at most of the nation's (freshly reopened) drive-in movie theaters; and pop-up drive-in movie events are beginning to, well, pop up all over. As summer activities cautiously start to open up around Los Angeles, watching a movie in your car may still be the only way to safely go out to the movies. Ticket prices are cheaper than a trip to a regular movie theater, and if that leaves you able to spend a little more, supporting the theater's concession stand helps these small businesses keep going. If not, one great thing about drive-ins is that you can BYO popcorn (and PJs)!
Although so far LA County has not yet reopened any movie theaters, the drive-in movie theaters listed below are all confirmed open as of the publication date. As other theaters reopen and pop-up drive-ins are added, we add them to this list.
Don't forget to bring masks for the bathroom and concession stands. These fun kids' face masks are just the ticket!