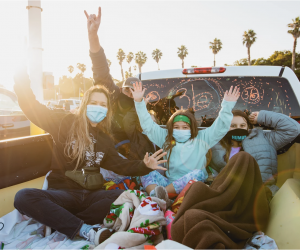 Drive-in Movie Theaters around LA: Family Movie Nights with Built-in Social Distance
The return of the drive-in movie is definitely on our pandemic silver lining list. Ticket sales are up at drive-in movie theaters across the country, and pop-up drive-in movie events are cropping up anywhere someone can fit a movie screen. Don't just think of these as summer activities; SoCal weather makes drive-ins great spring or fall events, which is no doubt why we keep finding new drive-in events every week. So BYO Popcorn and PJs, and pull over for an old-school family movie night!
Don't forget to bring masks for the bathroom and concession stands. These fun kids' face masks are just the ticket!