Boat Cinema: See a Movie From the Lake!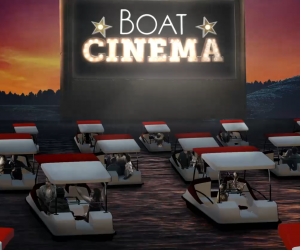 Have you heard about Boat Cinema? It's billed as a sort of floating drive-in, a float-in if you like, and it just might be the coolest way to experience movies this summer. With Boat Cinema, families in LA can watch movies on a big screen while lounging in small, family-sized boats.
Read on for the current lineup of movies! You can also see a movie at one of the local drive-in theaters in Los Angeles, or at an outdoor movie on a blanket in a park.
The basic idea is that family groups can lounge together in small boats and enjoy a movie on the big screen.
The screenings all take place on Castaic Lake Swim Beach every Friday, Saturday, and Sunday this summer. Boats are available to rent, or you can snag a seat on a blanket on the beach.
It's more than just a movie, and the venue promises food, drinks, and music. Tickets prices are per Electric Mini Boats that seat up to 5 people for $279 (a VIP reservation in the front row is $349). To save a little cash, families can see a movie on a blanket on the beach for just $20 a person. Pack a picnic (though you must pay a "bring your own picnic" corkage fee—which is kind of an odd term, as actual wine, or any alcohol at all is prohibited) or order concessions in advance and have it waiting for you when you arrive. Food options include fully prepared picnics (with vegan and vegetarian options) and artisan pizza delivered right to your boat.
Tickets are now available online. More details can be found on the Boat Cinema website.