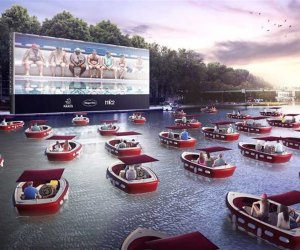 Floating Boat Cinema: Is It Coming Soon, or Is It the Next Fyre Festival?
Update: The events below have all been postponed, with new dates being promoted in January 2021.
Have you heard about Floating Boat Cinema? It's billed as a sort of floating drive-in, a float-in if you like, and it may be the absolute coolest thing to come out of this whole pandemic. Emphasis is on may be, because part of the mystique of Floating Boat Cinema is figuring out if it's really happening at all. If, as many news sources are reporting, it's for real, then families in six of our Mommy Poppins cities could soon get to watch movies on a big screen while lounging in small, family-sized boats—with free popcorn to boot. If not, this might be less of a water festival and more like a Fyre Festival...
The basic idea is that family groups of up to 8 people can lounge together in small boats and enjoy a movie on the big screen. The concept is modeled on an event created in Paris earlier this summer by organizer Elisha Karmitz, who offered a floating movie experience on the river Seine. Floating Boat Cinema here in the US is not connected with the French event, though AP footage from Paris has been featured in some news stories.
The US floating cinema is promoting events in the following cities in the coming weeks:
Los Angeles: September 2-6, 2020
Orlando: September 9-13, 2020
Chicago: September 9-13, 2020
Houston: September 9-13, 2020
New York: September 16-20, 2020
Philadelphia: September 23-27, 2020
So far, tickets are not on sale for these events; specific movie titles have not been announced, and locations have not been revealed. Anyone interested is invited to pre-register, to be one of the first to get information when tickets do go on sale. We will update the links above if and when more info is released.
With just a few short weeks to go before the first event, however, the lack of tickets seems odd, as does the silence around locations. Also concerning is the complete silence from event organizers. We have written repeatedly requesting more information, an interview, or even a press release, and have not had any response. There is no actual website for Floating Boat Cinema, and its Facebook page was created just two days ago. Though the floating movie events have been widely reported, some outlets have recently begun to express doubts.
Doubt seems a reasonable position for the time being, but we offer the links above so readers can make their own decisions. After all, if it's for real, we wouldn't want you to miss out! If the Floating Boat event is a con, then what you risk is your email address by "pre-registering."
We're happy to help limit your exposure: We will update the event listings linked above the moment new information is announced. That way you don't need to share your own email address to stay informed.
And if the events go forward, we vote for a screening of Titanic, for one excellent photo op!