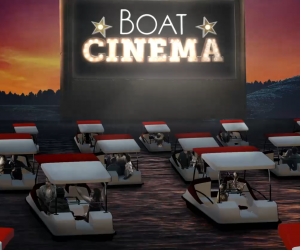 Boat Cinema: See a Movie From the Lake!
Have you heard about Boat Cinema? It's billed as a sort of floating drive-in, a float-in if you like, and with movie theaters closing right and left (RIP, Cinerama Dome and the whole Arclight family) this might be the coolest way to experience movies this summer. With Boat Cinema, this summer families in LA can watch movies on a big screen while lounging in small, family-sized boats.
The basic idea is that family groups of up to 8 people can lounge together in small boats and enjoy a movie on the big screen.
The screenings will take place on Castaic Lake Swim Beach every Friday, Saturday, and Sunday this summer from July through September. Boats are available to rent, or you can paddle over in your own canoe. This endeavor is in partnership with the County of Los Angeles and also the County of LA Department of Parks and Recreation, so we hope to find these cinemas popping up around the city...
It's more than just a movie, and the venue promises food, drinks, and music. Tickets prices range from Bring Your Own Boat for $69 all the way up to Electric Mini Boats that seat up to 5 people for $199 (a VIP reservation in the front row is $249). To save a little cash, families can rent an Inflatable Floating Island for up to six people for $89. Pack a picnic or use the unique Canoe Concessions boat side service to have anything from fully prepared picnics (with vegan and vegetarian options) to artisan pizza delivered right to your float.
Tickets are now on sale, and the screening schedule has been announced.
Here's the lineup:
Friday, July 2: Jaws
Saturday, July 3: Jaws
Sunday, July 4: Jaws
Friday, July 9: Pirates of The Carribean
Saturday, July 10: Tom & Jerry
Sunday, July 11: Into The Blue
Friday, July 16: Raya & The Last Dragon
Saturday, July 17: Raiders Of The Lost Ark - Indiana Jones
Sunday, July 18: Get Out
Friday, July 23: Furious 7
Saturday, July 24: Hunger Games - Catching Fire
Sunday, July 25: Finding Nemo
Friday, July 30: Godzilla v Kong
Saturday, July 31: Godzilla v Kong
Tickets are now available online. More details can be found on the Boat Cinema website.