Santa Anita Park Spring Carnival
Santa Anita Park

KidStock
Pretend City Children's Museum

Online Robotics Camp
Young Gates - Kids Online Personalized Classes
Sign up for our free newsletters.
Free Admission for Kids at 40+ Family Attractions, Museums, & Theme Parks in Los Angeles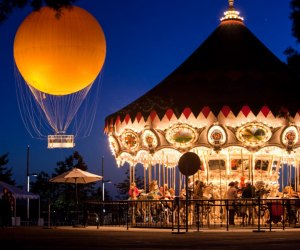 1/10/22
- By
Roberta B
Getting in free at Disneyland: it's one of those precious moments of childhood that if you blink, you miss. But unlike the ones you can't put a price on, this one is worth about $100. In other words, it's really worth keeping track of when those free admission deals for kids run out. If you're working your way down our Bucket List for Los Angeles Kids, you should probably coordinate with the cut-off ages below; some of the museums you can catch on their free admission days (and happily, some are free every day!), but the theme parks, museums, and other attractions listed below really drive home the bittersweet point that you're only young once.
Free Attractions in Los Angeles for Kids Under 2

Kids are free at the Page Museum before they turn 3! Photo courtesy of the Page Museum at La Brea Tar Pits
Free Attractions in Los Angeles for Kids Under 3
Free Attractions in Los Angeles for Kids Under 4
Free Attractions in Los Angeles for Kids Under 5

Kids 5 and under get in for free at the Grammy Museum. Photo courtesy of the Grammy Museum
Free Attractions in Los Angeles for Kids Under 6
Free Attractions in Los Angeles for Kids Under 12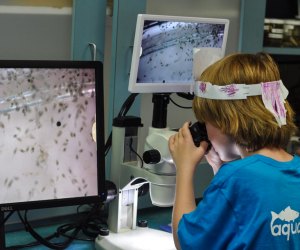 Fun interactive exhibits prioritize an environmental message at the Santa Monica Pier Aquarium. Photo courtesy of the aquarium
Free Attractions in Los Angeles for Kids Under 13

Check out the iconic Rosebud Sled from Citizen Kane. Photo courtesy of the Academy Museum of Motion Pictures
Free Attractions in Los Angeles for Kids Under 18
Free Attractions in Los Angeles for Kids Under 19
Originally published May 13, 2013