10 Reasons To Visit Orange County Great Park Today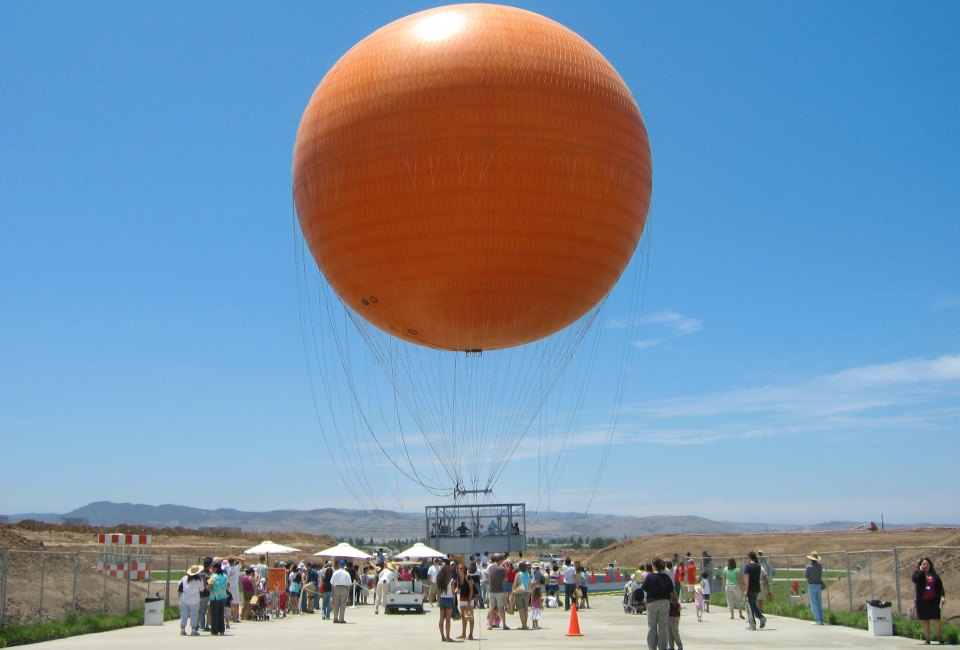 7/8/17
- By
Dana Zepeda
Some days call for adventure beyond the same old stomping grounds—like maybe taking a closer look at that intriguing giant balloon just off the 5 Freeway in Orange County. If your crew is primed for an outing beyond the local playground, head for Irvine to explore Orange County Great Park, home to so much more than a playground. Your day's adventure can include a carousel, exhibits, workshops, outdoor entertainment, and, of course, a ride up in the air on a giant, bucket-list-worthy, orange balloon.
Irvine's 200-acre Great Park was originally the site of the El Toro Airforce Base before developers remodeled it into a quiet oasis for the community in 2002. My family and I had a blast there recently, picnicking on the lawn, touring museums, and enjoying iconic rides. There are countless exhibits to visit, workshops to take, and free entertainment for the whole family. Here are my favorite features in this huge, kid-pleasing destination park. Be sure to check the park's website before you visit, as days and times can change.
1. Delight your kids by sailing off into the sunset together on the legendary Great Park Balloon, an enormous tethered helium balloon with a 25-person capacity viewing deck. The OC landmark offers unparalleled 360-degree views from 400 feet above ground on Thursdays through Sundays, weather permitting.
2. Indulge your inner child with a ride on the timeless Great Park Carousel. Tickets can be purchased individually, or as an all-day pass.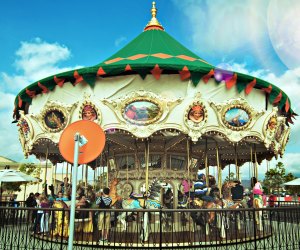 Why ride the carousel once, when you can ride all day?
3. Tour the Heritage and Aviation Exhibition for an up-close look at retired World War II airplanes and other historical displays and artifacts. Kids can also write letters to war veterans, thanking them for serving our country. Admission is free.
4. Hula hoop, jump rope, play Bocce ball, or toss a Frisbee around the lawn with free game rentals at the Visitors Center.
RELATED: Mommy Poppins Orange County Guide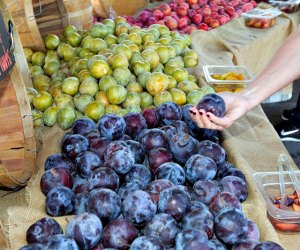 No need to pack a picnic if you start the day at the Farmers Market.
5. Shop for fresh fruit, vegetables, and flowers at the Sunday Farmers Market, where there is also a wide variety of breakfast and lunch items from gourmet food trucks.
6. Kids can enjoy Storytime in the Garden, a free story hour for little ones ages three to eight in the Farm + Food Lab's garden.

Farm + Food Lab is an outdoor classroom with everything from fruit and veggies to chickens and worms.
7. Let the kids get their hands dirty exploring the grounds at Creation Stations, which encourages little ones to do art, play blocks, and make new friends at the Great Park Artist Studios.
8. Take a free Children's Garden Workshop or learn to pickle homegrown vegetables at the Farm + Food Lab, an outdoor classroom with vegetable gardens, fruit trees, a working chicken coop, a worm compost bin, and solar- and wind-powered lights.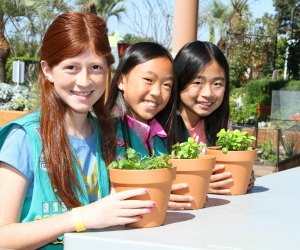 Stories and gardening projects meet at the monthly Children's Garden Workshops.
9. Pack a picnic and a blanket and eat dinner al fresco at Movies on the Lawn, which screen every Friday and Saturday night through early July, weather permitting. Admission is free. Missed the movies for the season? Friday nights for the remainder of the summer feature family lawn games.
10. No park visit would be complete without a trip to the playground! Check out the unique Kids Rock play area, which features a slide, artificial rock play area, misters, underground tunnels, and a row of picnic tables under the Great Park Balloon.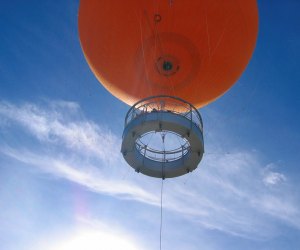 Lots of cities have parks, but only Irvine has the orange balloon. Photo by Eli Pousson/CC BY 2.0
Top photo by Ganeshk/CC BY-SA 2.5. All others courtesy of City of Irvine unless otherwise noted
Places featured in this article:
Sign up for the Mommy Poppins Newsletter today!