Descanso Gardens: An Insider's Guide to LA's Best Garden for Kids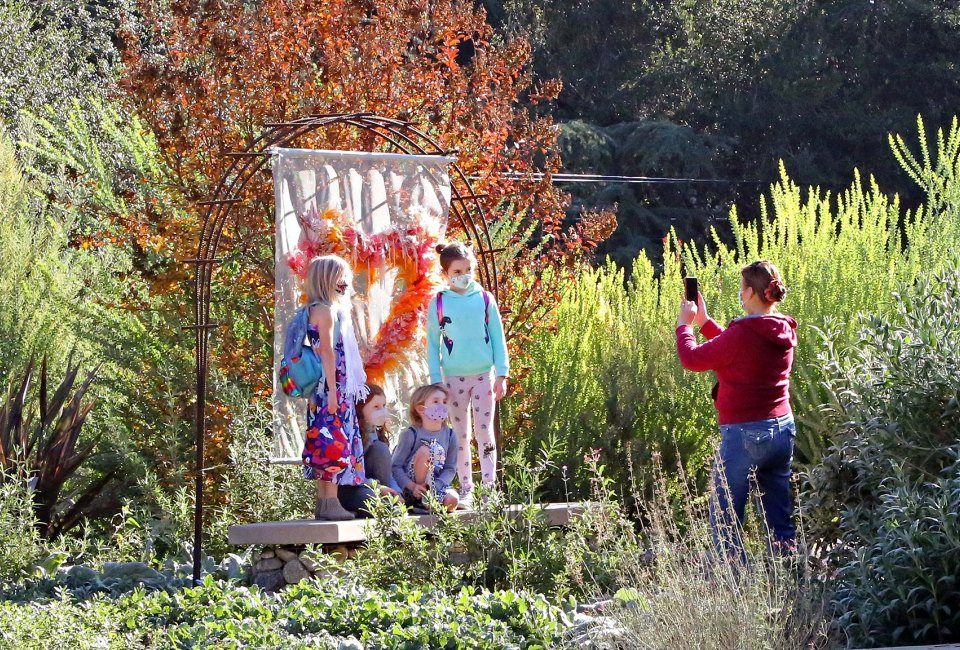 1/11/21
- By
Matt Matasci
La Cañada Flintridge​'s Descanso Gardens stands out as one of the best botanical gardens in LA, and in a city renowned for natural beauty, that's really saying something. Sure the paved and unpaved trails for little wanderers to explore and 150 acres that bloom continuously in winter, spring, summer, and fall contribute to making it great. But what makes it extra magical are the millions of hidden treasures for kids of all ages to discover, as well as the seasonal events and unique programming throughout the year.
Discover what makes Descanso Gardens such a special place for kids—and get some insider tips to making the most of every visit.
While we are trying to promote safer activities that occur outdoors or with social distancing guidelines in place, please keep your family and others safe by always wearing a mask and maintaining appropriate distance.
Safety Measures at Descanso Gardens
Because it's relatively easy to social distance in the gardens, Descanso Gardens has been open during the pandemic since May. There are restrictions and changes at the park during this period. Members can still enter the park at any time, but non-members must buy tickets online ahead of time—tickets currently aren't available on-site. Non-member tickets are released for purchase on the last Monday of the month but sell out quickly, so make a plan before going.
Guests must maintain six-foot social distancing with other households and wear a face covering when not eating or drinking. There is no eating allowed in the gardens (but that's one of the usual rules), though drinks are allowed. Remember to bring water because the drinking fountains are closed. The Kitchen at Descanso is open and takes cashless payments, and food can be enjoyed in the courtyard near the entrance.
All programming is currently postponed. The Stuart Haaga Gallery, Boddy House, and the Enchanted Railroad are currently closed. Other changes include a reconfigured entrance and exit, and hand sanitizing stations in the courtyard area. Restrooms are open and cleaned every half hour.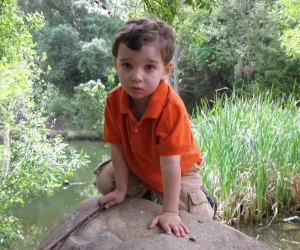 Rocks to climb, turtles to see, water to wander by—Descanso is a kiddo wonderland. Photo by Mommy Poppins
Exploring Descanso Garden with Kids
Descanso Gardens is gorgeous year-round, and there's something to enjoy here for kids of all ages (and even visiting Grandparents or teenage cousins).
Where to Go First?
When you start out at the Visitor Center it's a good idea to purchase Enchanted Railroad tickets in advance (when it's open) so you don't have to backtrack later. Also, be sure to get a map, to be sure not to miss anything.
The brilliantly-hued Center Circle serves as the gateway to Descanso Gardens. It's a roundabout that features new displays throughout the year using colorful plants that thrive in Southern California's unique climate. Each path that radiates from the roundabout leads to a different path of discovery and exploration. One of the best aspects of Descanso Gardens is that there's no wrong or right way to wander through the garden. It's a bit like a choose-your-own adventure—no two trips are the same.
Take a Ride on the Enchanted Railroad
First time visitors can get a quick, whimsical tour on the Enchanted Railroad, which gives a great overview of spaces to return to, all without walking. The 1/8th scale diesel train replica is one of Descanso's most recognizable attractions. To find the station, head right at the Center Circle and the station will be to the right. Riders must be 30" tall and able to sit on their own in order to ride the train.
The train is not running at the moment, and even when it's open the Enchanted Railroad has a very limited schedule. It is open Tuesday and Friday from 10am-noon and on weekends from 10am-4pm. These schedules can be altered by weather and availability, so if this is the highlight of the day, call ahead to make sure the train is running.
For a picturesque spot, the Japanese Garden can't be beat. Photo by Mommy Poppins
The Japanese Garden at Descanso
The Japanese Garden is a popular destination at Descanso Gardens because of its eye-catching beauty. It's landscaped exclusively with plants native to Asia like Japanese maples, azaleas, and black pines. My kids love exploring the garden's cobbled pathways, lush koi ponds, and wooden bridges arched over a gently burbling stream. Between March and early May, the cherry trees dotting the Japanese Garden burst into bright pink blooms, a visual wonder for visitors young and old. (Seriously, mark that calendar now, because this is a truly spectacular sight. And it's not exactly a secret, so lines waiting to get into the garden during the bloom can back up into the parking lot. This alone is a great reason to get a membership and skip the ticket line.)
The blue tile-roof Minka (a traditional Japanese tea room) is home to The Camellia Lounge (usually open on weekends, currently closed), with snacks like chips, cookies and fruit, drinks for kids like "color-changing lemonade" and adult beverages like the Camellia G&T. When the Camellia Lounge is closed, it's also a fabulous spot for kids to play pretend restaurant.
The Japanese Garden is also well-shaded, making it a great place to escape the heat during summer months—it can get very hot at Descanso Gardens from May to October.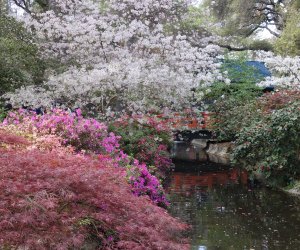 There's nothing like the splendor of the cherry blossoms blooming. Photo by Mommy Poppins
Winter Blooms in the Camellia Forest
For kids hoping to catch a glimpse of some Southern California wildlife, hang around the camellias. Descanso Gardens is home to the largest collection of camellia plants in the world, and deer just happen to love their sweet-tasting flower buds. The Camellias bloom from autumn until the spring, though they're at their most impressive during the winter months. Also in the Camellia Forest is the hidden Fibonacci spiral—see if kids can find it!
Lakeside Lookout at Descanso Gardens
There are many animals to see at Descanso including squirrels, ducks, turtles, and even bears and bobcats. The lake and its Lakeside Lookout is a great place to observe the wildlife that call Descanso Gardens home. It's located on the park's east side just past the Rose Garden. My kids love the Lakeside Lookout, which was recently rehabilitated, and beeline here as soon as we arrive. Improvements include a renovated Bird Observation Station and nest zone, two of my daughter's favorite features at Descanso. Other highlights of the Lakeside Lookout are a wildlife garden, waterfall, and a wetland garden that is home to frogs and birds. A pollinator garden has bug and bird-friendly plants that attract hummingbirds, butterflies, bees, and more. The park even offers a bird-watching checklist on its website for your budding ornithophile.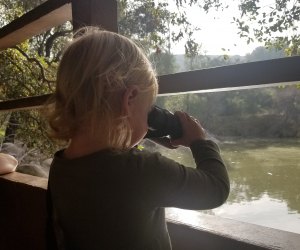 Play "I spy" with the local wildlife. Photo by the author
The Boddy House, Sturt Haaga Gallery, and Hope's Garden
At the southern corner of the property is the Boddy House, named for the founder of Descanso Gardens, E. Manchester Boddy. The historic, 22-room, Hollywood Regency-style home gives visitors a look at a distinct style of architecture and design. What used to be the living room of the house has easels, books, microscopes, and other ways for kids to explore and learn about plants and animals on the property.
Just a few feet from the Boddy House is the Sturt Haaga Gallery. This art gallery displays works highlighting the intersection of contemporary art and garden sciences. While my kids aren't into the art, the vertical gardens outside the gallery are a unique, eye-catching feature that my kids do find intriguing. Behind the Boddy House is a Mediterranean-themed "secret" garden called Hope's Garden. Set on a terrace, it has views of Descanso Gardens, the La Crescenta Valley, and the San Gabriel Mountains in the distance. Take a little hike up the hill to get the best view.
Why Descanso Gardens Is Awesome for Little Kids
With wide pathways and much to see and experience, Descanso Gardens is a great place for toddlers to test out newfound walking skills. Most of the main paths are paved; bringing a stroller is recommended for visitors with small children who may tire out from all of the walking.
The first place for parents with a toddler to visit (after the Enchanted Railroad) is the Rose Garden, located just north of The Promenade and park entrance. There kids can take in the awe-inspiring Mission Fountain. At the northern edge of the Rose Garden is a hedge maze dotted with stone animals that kids love to run through. Next up, head back down to the Japanese Garden. Its ponds and streams are home to turtles and koi, and little explorers happily play here for a long time. Adjacent to the Main Lawn is a large amphitheater that my kids love to visit, putting on impromptu plays and stand-up comedy routines.
There's something mesmerizing about the Mission Fountain. Photo by author
Planning Your Visit to Descanso Gardens with Kids
Everything you need to know about bringing kids (of any age) to Descanso Gardens.
Bathrooms
For those in the midst of potty-training, it's important to know bathroom locations ahead of time. Descanso Gardens has bathrooms in several locations: at the front entrance, in the Boddy House and nearby at the Stuart Haaga Gallery, at the Enchanted Railroad train stop, and in the Rose Pavilion within the Rose Garden. Because they're located furthest from any bathrooms, save the Oak Woodland, California Garden, Oak Grove, and lake areas to visit immediately after a potty trip.
Food
Food is not allowed in the gardens, unless it is purchased in the gardens (this includes food purchased at the cafe and restaurant). On special occasions, food is offered at the Camellia Lounge, by the lakeside, or by the stage. All other food must be eaten at the tables by the entrance. Currently the only food on site is offered to-go, which can be ordered in advance and picked up at the kiosk in the courtyard. Currently the only offerings are sandwiches, snacks (like hummus), pastries, and drinks (including hot chocolate and signature cocktails). In non-Covid times, the outdoor cafe offers a variety of kid-friendly foods and delicious salads at reasonable prices, and The Kitchen has gourmet brunches and meals worth planning a visit around.
Strollers
Not only are strollers allowed, they're advisable! Descanso spreads over 150 acres, and there's always more to see and do, so when coming with kids who tire easily, strollers are a boon. They're also a great way to tote around blankets, sunscreen, water, and snacks (to have back at the entrance) for picky kids (or frugal parents).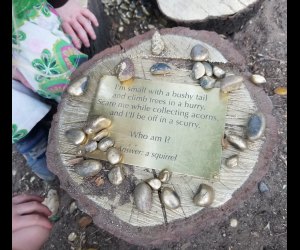 Find the poem riddles, and then search out the living answers in the trees. Photo by author
The Best Time To Visit Descanso Gardens
Any day is a good day to visit Descanso Gardens with your kids, but some seasons are better than others depending on what you most want to get out of your visit:
Fall: Carved is a Halloween spectacular featuring hundreds of carved pumpkins lining a one-mile path through the Camellia Garden. In addition to the intricate, expert-carved pumpkins Carved features carving demonstrations. Tickets for Carved are sold separately.
There's a nature display for every season of the year. Photo by Mommy Poppins
Winter: Enchanted: Forest of Light is the biggest draw of the year for Descanso Gardens. This winter spectacular features light and sound installations along a one-mile route through the park that takes about an hour and a half to experience. Many of the installations are hands-on, providing a sensory experience for all ages. February is when the cherry trees typically blossom, so keep an eye out for that (this handy guide to what's in bloom is worth bookmarking!).
Spring: The spring is the busiest time of the year at Descanso Gardens, with good reason. This is the most colorful time of the year at the park and flower lovers flock in droves to see them. If you're planning a trip to the park during the spring, take advantage of the Spring Bloom Walks (when offered).
Summer: Summer at Descanso Gardens can be sweltering. It's best to plan summer visits for the early morning hours because it can still be in the 90s even at closing time. Summer is also when Descanso typically offers amazing concerts and theater presentations for kids (and the whole family). They are truly special, and allow families to visit the gardens in the evening (and often picnic inside gardens, too). Keep an eye on the events calendar, as tickets for special presentations sell out fast.
Getting to Descanso Gardens
Descanso Gardens is located in La Cañada Flintridge between the soaring peaks of the San Gabriel and Verdugo Mountains, only a 20-minute drive from Downtown LA. It's easy to reach by car and parking is plentiful, though can be tight on special events and Free Tuesdays.
On the rare occasions the lot is full, there's ample street parking on Descanso Drive, but the walk from the street to the entrance is several hundred yards. There are limited public transportation options near Descanso Gardens. Metro's 90 and 91 bus lines and LADOT's 409 bus line run on nearby Foothill Boulevard, though the walk from the nearest station is about a half-mile.
Descanso Gardens is open from 9am to 5pm and allows members into the park until 4:30pm. On the third Tuesday of every month, tickets are offered for free and—no surprises here—sell out quickly. If you want to beat the crowds, the best times to visit are early in the morning or about an hour before closing.
Tickets are not terribly expensive (and kids under 5 are free), but if you're like my family, you'll come back so often that a membership quickly pays for itself. Plus, it gets you early access to all programs, members-only activities, and reciprocal admission at more than 250 other botanical gardens across the country.
Places featured in this article:
Sign up for the Mommy Poppins Newsletter today!
i