Enchanted: Forest of Light Is Descanso Gardens' Christmas Walk in the Woods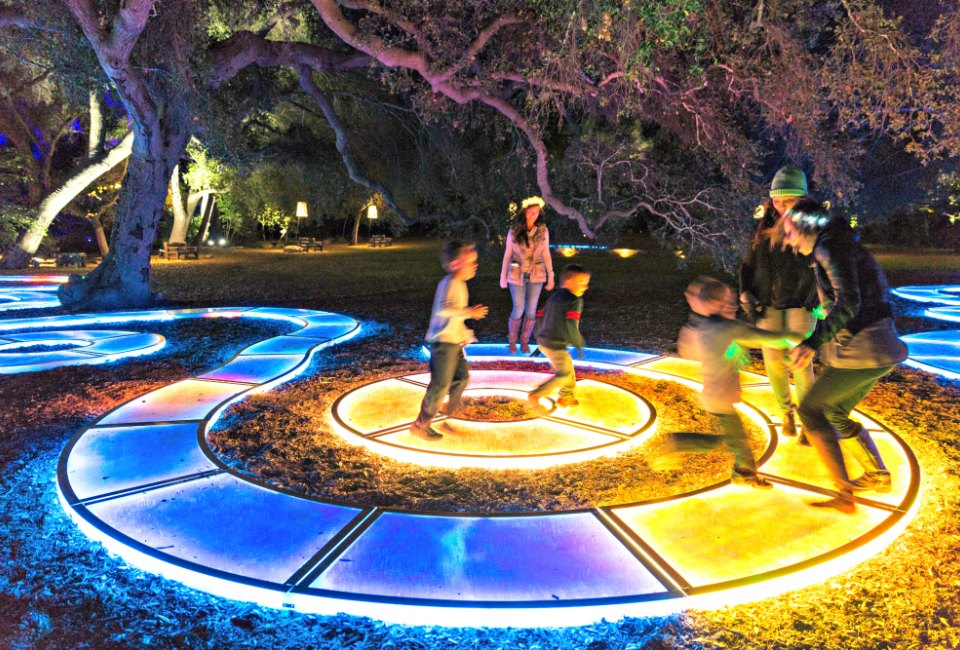 11/22/18
- By
Roberta B
If you are one of the many Angelenos whose paths rarely lead them through La Cañada-Flintridge, then perhaps you've never visited Descanso Gardens. It would be understandable; most of us need to drive a befuddling combination of highway numbers to get there. Well, 'tis the season to download Waze and get there, because Descanso's holiday light display, Enchanted: Forest of Light, is worth the drive and then some. Home holiday lights are lovely and cheery. Boat parades are delightful and so SoCal. But Descanso's holiday woodland light show is an experience unto itself and one to bundle up the kids and make time for.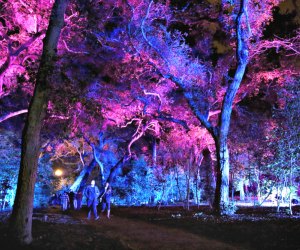 Moodlit groves evoke holidays with just a hint of Stranger Things. Photo courtesy of Descanso Gardens
Enchanted: Forest of Light is a mile-long walk through the woods on what is likely to be a chilly evening, making it one of the most Christmasy things this native New Englander has felt in a long time. Along the way are 10 hauntingly beautiful and serene works of light art: colored lights displayed in a surprising variety of ways, changing colors, reflecting, moving, seemingly dancing at times in the different themed groves of the gardens. Each display creates its own reality, with sounds worked in ranging from music, to subtle chimes, to hints of mystical creatures. Some areas are just for taking in, while others are interactive, allowing visitors to control where the lights move, when they change colors, etc. Some work with levers; some need to be jumped upon; others react to the lightest touch, and some feature performers—but always in a way that honors nature above all.
RELATED: Holiday Events Guide for LA Families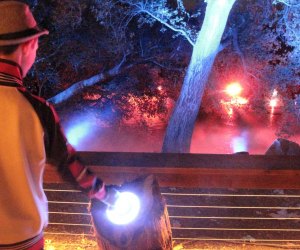 Controlling the lights at the Lightwave Lake
There are a few stops along the (stroller-friendly) path where a kid can get a cup of hot cocoa (and a parent can get something stronger). There are even one or two spots serving warm food (tacos, tamales, and snacks) and tables with heaters, as well as one indoor restaurant, so that a family could easily fit a dinner plan into the evening. This seems like a good idea with little ones, since the mile is a slow one and could easily take up to two hours to complete; even if you fill them up at home, the clamorings for churros and popcorn (and light-up cotton candy!) are going to be persistent. But it's all in a night's walk, and keeps energy going as you trek through the glowing woods.
RELATED: LA Zoo Lights Holiday Light Display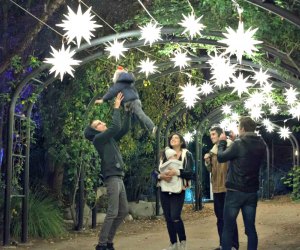 Yes, we were enchanted. Photo courtesy of Descanso Gardens
My words don't do this breathtaking arrangement of haunting lights on towering trees justice. My photos truly don't either. Enchanted Forest of Light is an all-senses-on experience that requires bundling up (did I say that already? Let me make sure: Bundle up!) and setting foot to forest floor to take part. Adults and children alike will thank you for bringing them.
Enchanted Forest of Light is open nightly (except Christmas Eve & Day) November 17, 2019 - January 5, 2020. Tickets are timed, should be purchased in advance, and cost $30 most nights. When purchasing online, e-tickets is the preferable option, as the line for Will Call tends to be quite long all evening. Parking is free.
Originally published November 22, 2017
Places featured in this article:
Sign up for the Mommy Poppins Newsletter today!