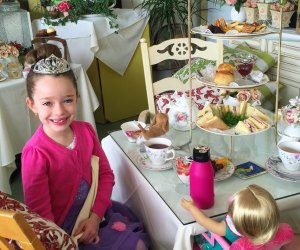 10 Reasons to Explore La Crescenta and La Cañada Flintridge
Most LA parents know that Pasadena has loads to offer families, but far fewer have discovered nearby La Crescenta and La Cañada Flintridge. These quiet suburban enclaves remain two of the San Gabriel Valley's best-kept secrets, boasting an outdoorsy, family-friendly appeal, with bucolic highlights like Descanso Gardens and its unique Enchanted Forest of Light. These communities are just a short drive up the 2 freeway yet feel like a world away from Los Angeles' big-city bustle.
Here are 10 awesome reasons to visit La Crescenta and La Cañada Flintridge.
La Crescenta-Montrose and La Crescenta Valley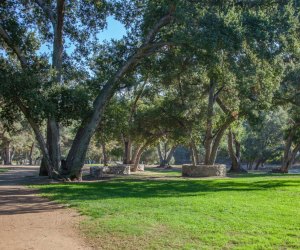 Crescenta Valley Park. Photo by Lindsay Halladay
1. Crescenta Valley Park
3901 Dunsmore Avenue La Crescenta, CA 91214
818.249.5940
Whether you just want a quiet day at the park or (let's be honest) some ways to wear out the kids, this park has a little something for everyone. Quiet and shaded by picturesque oak trees. CV Park boasts running/walking trails, a semi-shaded dog park, an excellent skate park, and three separate play areas including climbing walls, two baseball diamonds, and a basketball court. If you want to stay for a while, there are picnic areas with tables and outdoor grills, plus a multi-purpose community center. There are also lots of adult, family, and after-school programs available to explore.
2. Deukmejian Wilderness Park
3429 Markridge Road La Crescenta, CA 91214
818.548.3795
The land here was originally used as a vineyard and grape storage. Now, the park encompasses over 700 acres of hiking trails, all of them offering breathtaking views of Crescenta Valley and the Los Angeles basin. The grounds include 12 acres of walking paths, picnic areas, and the historic Le Mesnager Barn. There's even a gateway to the top of Mt. Lukens, the highest peak in LA, but proceed with caution; it's a long, tough hike that is likely to be too much for little ones. Older kids and grown-ups with a taste for adventure, though, will love it.
3. Montrose Harvest Market and Marketplace
Honolulu Avenue Montrose, CA 91020
There is no shortage of farmers markets in the greater LA area, but this one is so small-town quaint you'll want to add it to your regular rotation. Open every Sunday from 9am to 2pm along a short stretch of the Montrose Shopping Park, this market highlights local farms, foods, and artisans along with family-friendly crafts. Don't worry—little ones don't have to limit themselves to admiring the produce. There's also an adorable petting zoo and pony rides.
4. Montrose Shopping Park
Honolulu Avenue Montrose, CA 91020
When your family is done with the farmers market, check out all the shopping along Honolulu Avenue, where there are more than a few stops to appeal to grown-ups as well as kids. Tom's Toys is a great brick-and-mortar shop featuring European as well as classic American kids' toys. Kids and adults may both want to stop at the Color Me Mine pottery painting spot or the independent children's bookstore Once Upon a Time. There's also Bellies, Babies & Bosoms for infant gear and everything an expectant mama might need. The community is always hosting seasonal events here, so check out their site for more information. The Old Town Christmas event and the seasonal tree lighting are must-sees.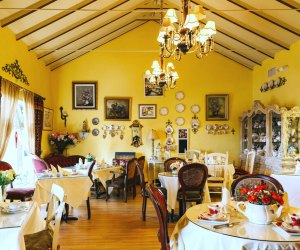 Photo courtesy of The T Room
5. High Tea at The T Room
2405 Honolulu Avenue Montrose, CA 91020
818.249.6677
Also located in the Montrose Shopping Park is this authentic British tea parlor, a perfect place for a sophisticated afternoon with your little ones. The tea room hosts a Prince & Princess Tea for the kiddos in its sunny yellow main dining room, and you'll want to remember this spot for future events and baby showers.
La Cañada Flintridge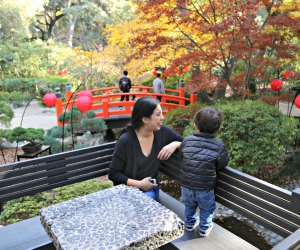 Fall color at Descanso Gardens: Photo courtesy of Descanso Gardens
6. Descanso Gardens
1418 Descanso Drive La Cañada Flintridge, CA 91011
818.949.4200
A spectacular display of botanical gardens and horticultural displays, Descanso Gardens is always hosting seasonal events and experiences that are perfect outdoor adventures for families. Little ones can take a miniature train ride through the grounds (tickets are available at the front gate for an additional fee), though older kids might appreciate the restored Boddy House and art gallery. A dreamy rose garden and Japanese garden are romantic destinations for parents, too. And the holiday evening Enchanted: Forest of Light is not to be missed.
7. Flint Wash hiking trail
4170 Hampstead Road La Cañada Flintridge, CA 91011
An approximately two-mile hiking trail running through the developed neighborhoods in La Cañada, this trail is shaded by oak and sycamore trees and offers parents a chance to swoon over the local real estate. Pick up the trail from one of the residential streets for the most stroller friendly section.
8. La Cañada Memorial Park
1301 Foothill Boulevard La Cañada Flintridge, CA 91011
A great little park along Foothill Boulevard, La Cañada Memorial Park has a playground, gazebo, walking paths, and a wide open lawn perfect for flying a kite, playing catch, or a game of tag. Visit the farmers market on Saturday and then walk across to the park for an afternoon picnic.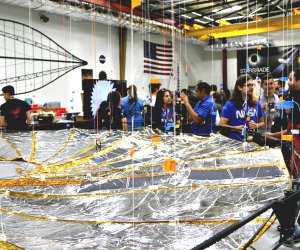 JPL tour. Photo courtesy of NASA/JPL-Caltech
9. The Jet Propulsion Laboratory (JPL)
4800 Oak Grove Drive La Cañada Flintridge, CA 91011
818.354.4321
Tours here book up fast, so book a reservation sooner rather than later. Even if you have to wait, though, this NASA national research facility is a must-see for any science-minded kids (and adults will probably be impressed, too). JPL hosts public lectures twice a month, as well as regional competitions for high school students in the areas of math, science, and engineering. It's most famous event of the year, however, is its annual open house, when the community is invited to see and talk to scientists about all of the exciting developments taking place on the campus. Be sure to subscribe to our newsletter so we can remind you when the date to get free tickets is approaching!
10. Flintridge Riding Club
4625 Oak Grove Drive La Cañada Flintridge, CA 91011
818.952.1233
Primarily a private riding club, this gorgeous facility has some impressive history—it's been operating for 95 years. The club offers riding memberships for families and individuals (both children and adults), but if you're not ready for such a major commitment, take heart; the club hosts major horse shows that are open to the public. Visitors can even dine ringside while watching the action.
RELATED: 35 Things To Do in Pasadena with Kids
Top photo courtesy of The T Room