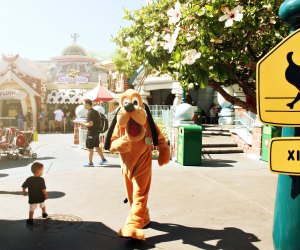 Disneyland Tips: 12 Hacks You Need To Know
Whether you're a Disneyland passholder who can collect Fastpasses in your sleep or a hanger back who hasn't visited the park since there were E Tickets, there's always more you can learn about making the Happiest Place on Earth easier to navigate. And speaking of E tickets, this summer is a particularly great time for nostalgia buffs to pay a visit to The Mouse, as the old Main Street Electrical Parade stages a return. I'm no pushover, but I confess I grinned from ear to ear throughout the delightful display of throwback light-up floats.
It's a lot easier to grin, of course, when you have a game plan, so here are a dozen tips you might not know that can make a day in Disney a whole lot happier. And if you're looking to eat outside the park, check out these 8 restaurants near Disneyland, but not in it.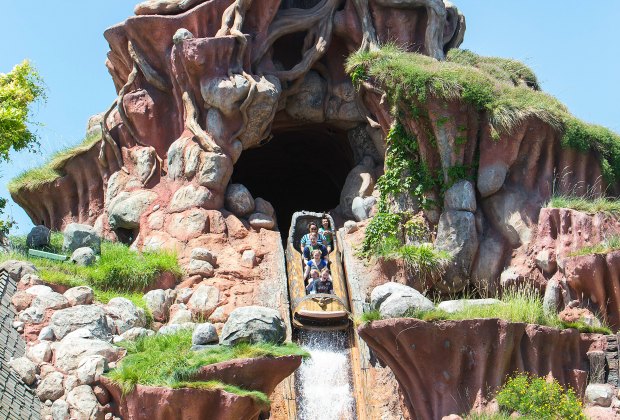 Splash Mountain. Photo by Paul Hiffmeyer courtesy of Disneyland
One Key Reason to Start at World of Disney
Before entering the park, almost at the end of the Downtown Disney shopping district, is the enormous World of Disney store. Your first instinct might be to avoid the temptation of toys, costumes, and paraphernalia for sale, but think again: this spacious store has some of the nicest, least crowded bathrooms in Disneyland. It's a handy spot to start and finish your day!
Strollers: To Rent or Not To Rent?
On my first parenting trip to Disney, I had lots of friends advising me to to rent a park stroller, because apparently stroller theft can be an issue. What I discovered, though, is that renting creates a problem at the end of the day. Unless you're prepared to pull your half sleeping child out of a stroller and coax him into walking long distances, I'd recommend bringing your own, roll-right-up-to-the-car model.
RELATED: Disneyland with Baby: The 12 Point Survival Guide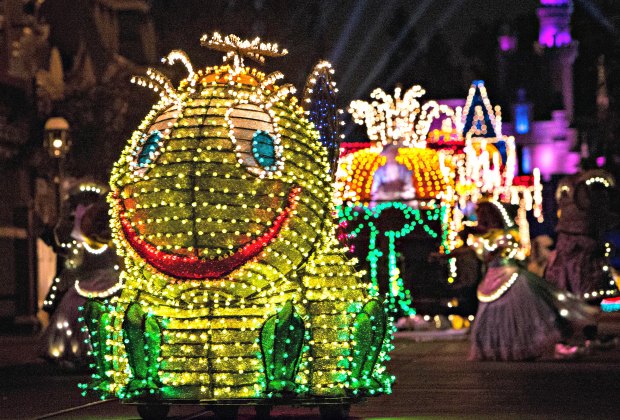 Photo by Scott Brinegar courtesy of Disneyland
Fastpass collection
I believe there are whole websites devoted to the science of collecting Fastpasses (those free front-of-line tickets available for the most popular rides). Over the years, many of the techniques people have sworn by for gaming the system have stopped working. What is still important to know, though, is that—while you can only hold one Fastpass at a time—you can simultaneously hold a Fastpass from each park, Disneyland and California Adventure. That means that when you arrive, you should choose your favorite of the popular rides in each park, go collect your ride times, and build your day from there.
Early Admission with Breakfast
Want to get a headstart on your day? Make reservations for an early Minne & Friends breakfast at the Plaza Inn on Main Street and you can get into the park half an hour before everyone else—a great way to make the most out of one day in the park.
RELATED: Free Admission for Kids at SoCal's Biggest Family Attractions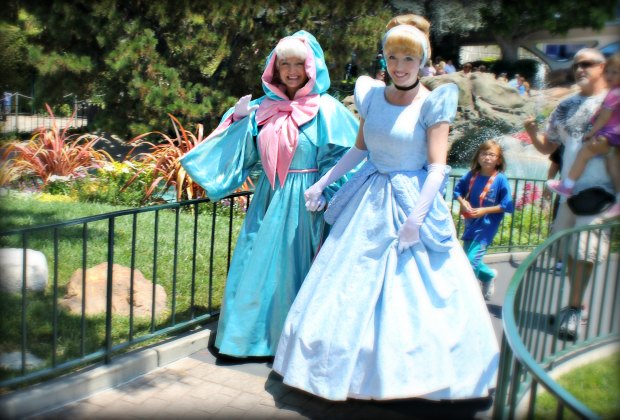 Cinderella and her Fairy Godmother stroll hand-in-hand near Pixie Hollow. Photo by Loren Javier/CC BY 2.0
Character Encounters at Ariel's Grotto or Goofy's Kitchen
Speaking of food, a meal at Ariel's Grotto or Goofy's Kitchen can take care of your kids' entire character encounter wish list. Sometimes finding and getting face time with your little one's favorite character can be challenging (I remember chasing Winnie the Pooh across the park once, only to be told by the handler that Winnie wasn't seeing anymore fans). Have a meal at Ariel's or Goofy's, and the characters come to you, while you sit and eat.
Storytellers Cafe at the Grand Californian
One more food related tip: sometimes the perfect meal is a break from the hype, and the Storytellers Cafe offers that. Technically, you leave the park when you walk into the Grand Californian from California Adventure, and the effect is noticeable. You can sit down at a calm restaurant, away from the crowds, without a reservation, and enjoy a tasty meal and reasonably priced children's menu. It's a great way to recuperate midday.
RELATED: 25 Things To Do in Anaheim with Kids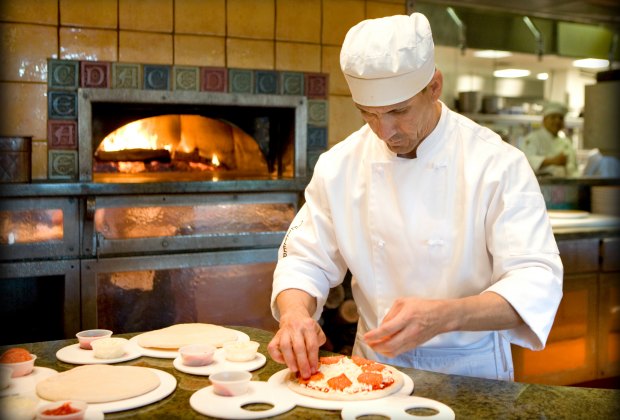 Making flatbreads at the Storytellers Café. Photo by Paul Hiffmeyer courtesy of Disney
Single Rider Line
Most rides have a single rider line, which can make for much shorter wait times. Of course, your kids need to be old enough to ride without you to take advantage of this option, but when you get to the front of the line you may be able to ride together anyway. On Radiator Springs Racers we actually found it to be an extra advantage, as our kids were seated in competing cars and raced each other—twice in rapid succession.
Closed Rides
If there is any ride that is a deal breaker for your family, be sure to check the website in advance to see if it's currently closed. At any given time, half a dozen rides may be closed for refurbishment, so you may want to plan around that.
Charging devices
Let's be honest—our phones are our lifelines, whether it's for photos, or because we're trying to rejoin our families over the course of the day. Running out of juice can be a big source of stress, so knowing places to charge is a huge help. The simplest solution costs $2/hour, which is a charging locker at Main Street Lockers (these lockers even have cables). But there are free spots to charge, too. You can use an outlet at the nursing area at the Baby Care Center, if you've got a little one. Some restaurants have outlets, too, including the Edleweiss Snack Shop, the Plaza Inn, the Hungry Bear Restaurant, and the Golden Horseshoe. Of course, the best plan is to bring an external battery.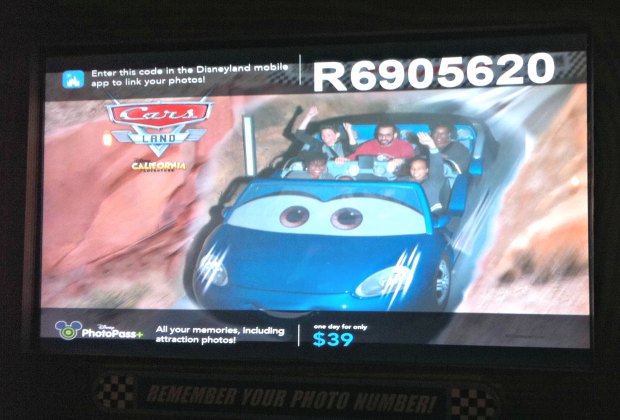 A guilt-free memory from Cars Land—Photo by author
Yes, you can take photos of the photos.
Unlike most other amusement parks, where signs strictly forbid this sort of thing, Disney does allow guests to take photos of the commercial photos snapped on the rides. Buying a photo pass package to collect all of the photos you're offered isn't unreasonable, but if you're trying to cut corners, it is allowable to take out a phone and snap a photo of the screen that shows your family screaming through the Matterhorn.
Don't get cut off by the parade.
Speaking of planning on rides, if It's a Small World is an important part of your visit (and how could it not be?), be careful to time your ride around the Main Street Parade. Once the parade begins, access to It's a Small World is cut off. When this happens, of course, the lines become more manageable; you just need to watch the schedule and make sure you're the right side of the parade to make it to the ride.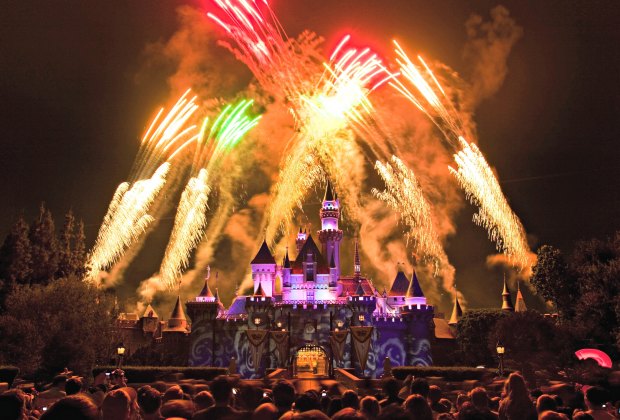 Fireworks give a great day a super finale. Photo by Scott Brinegar courtesy of Disneyland
Fireworks in the Main Plaza
We all want to finish the night with fireworks—but the problem is that we all want to finish the night with fireworks. The rush for the gate afterward can be crazy. The view of the fireworks is just as wonderful, though, from the Main Plaza, outside the gate. Placing yourselves out there in time to watch allows you to be the first in line for the trams afterwards. And as a note for another day: you can always come back and have dinner in Downtown Disney, outside the gate, and watch the fireworks without paying park admission.
Have more Disneyland tips to share? Let us know on our Facebook page!
Top photo: Pluto cruising through Toontown. Photo by J Etzel/CC BY 2.0