Disneyland for Halloween: Oogie Boogie Bash, Trick-or-Treating, and More Magic at Halloween Time
9/4/22
- By
Roberta B
It's a tough call which kids love more, Disneyland or Halloween—so giving them Halloween and Disneyland together is the ultimate parenting slam dunk. With anything Disney, of course, getting the most out of the experience takes some planning ahead. What's right for your family? Halloween Time in Disneyland, the super-popular Oogie Boogie Bash at Disney California Adventure, or a combination of the two? Since the Oogie Boogie nighttime extravaganza sells out months in advance, if you're reading this in September your decision is partially made up—though it's never too early to start a plan for next year!
Read on to find out everything that is special about a trip to Disneyland Resort at Halloween time, and all the ways that Halloween makes the happiest place on Earth even happier.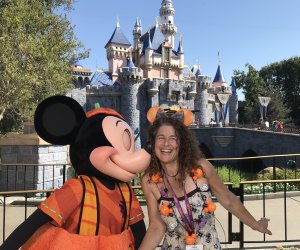 Mickey and Halloween are the perfect combination. Photo by the author
First, let's clarify that there are two different options for celebrating Halloween with Mickey and friends. The Disneyland park gets a complete make-over at this time of year, all of which can be enjoyed as part of a normal Halloween time visit to Disneyland, day and night. Disney California Adventure also gets a festive Halloween upgrade that can be enjoyed during normal park hours, but the big draw at California Adventure is the some-nights-only, specially ticketed event billed as the Oogie Boogie Bash. Figuring out whether one or both is right for your Disney-loving crew is key.
Halloween Time in Disneyland
Kids of all ages have treats in store on a Disneyland visit in September or October. The whole park is decorated up to its jack o'lantern eyeballs, with pumpkin-filled photo ops and Jack Skellington moments. Dress kids in their favorite Disney costumes or pick up a pair of pumpkin-y Mouse ears for top-notch holiday photos in the early autumn light.
The usual cavalcade of characters makes its way down Main Street several times daily, accompanied by the Disneyland band, but during Halloween Time Mickey's pals are all in costume—meaning Goofy dressed as a tree, Donald as a candy corn, and all the rest of our favorite Disney characters decked out for Halloween and ready to trick-or-treat. It's a great way to introduce very young kids to the fun they have coming for Halloween, or to rev up the excitement bigger kids are already primed for.
RELATED: Disneyland with Baby: The 12 Point Survival Guide

The Haunted Mansion is more haunted at this time of year.
Some of the rides have holiday make-overs as well: in particlar you won't want to miss the complete Halloween overhaul the Haunted Mansion gets each year, giving it the full-on Nightmare Before Christmas treatment with enchanting spirits and Jack Skellington everywhere you look. Of course, this is still Disneyland, not Universal Horror Nights, so no need to worry about it being too scary for anyone. We brought a pair of preschoolers who had no problem enjoying the spookier version of the Haunted Mansion. There were cries of "More rides!" all around.
If your kids can take a touch more excitement in a Halloween ride, use your park hopper to hop on over to the Guardians of the Galaxy ride in Disney California Adventure, where the Halloween Time re-do is Monsters After Dark, featuring a thrilling race to save Groot from a variety of menacing beasts. While still not a serious haunted house, this Halloween make-over might be a little loud or scary for very little ones—but a whole lot of fun for Marvel fans!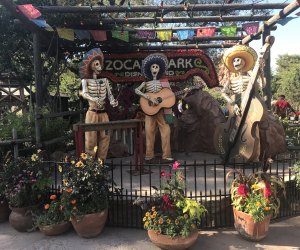 Día de los Muertos is part of the celebration, too.
Other bonus content in the park includes a celebration of Día de los Muertos in Zocalo Park at Disneyland and Plaza de la Familia at Disney California Adventure, with live entertainment, crafts, Day of the Dead altars, and beautiful decorations. Plaza de la Familia features a delightful Día de los Muertos live show a few times per day, with a live action Coco dancing and singing and greeting kids.
And of course, on the topic of decor, Disneyland transforms into one big Halloween family photo op, from the moment you approach the gate throughout the entire visit. Mickey and friends are dressed up in Halloween finery and excited to see kids do the same. Bring extra battery power, because your shutter finger will be working overtime with all of the irresistible Halloween visuals.
RELATED: Free Admission for Kids at SoCal's Biggest Family Attractions



Now we know where Minnie Mouse lives!
Halloween Time is also a great time to stay after dark for the light shows that no one does better than Disney. The fireworks show at this time of year is naturally thrilling, but you don't have to come on fireworks nights to get a nighttime light display. The seasonal lightshow Halloween Screams takes place nightly (running straight into fireworks on some nights) with a witching theme that takes over Main Street and lights up facades and the sky from the train station to the castle. The show is hosted by Jack Skellington and features guest light appearances by Ursula, Maleficent, and other Disney villains. Stand anywhere along the route to see the projections and sing along to the Halloween medley.
If you time things right, you could not only catch Halloween Screams but also the long-awaited return of Fantasmic, the breathtaking light show and boat parade on the Rivers of America by New Orleans Square. This show includes live action characters, light projections, floats, a pirate ship alight with a live stunt show, and a spectacular grand finale with Mickey steering the river boat.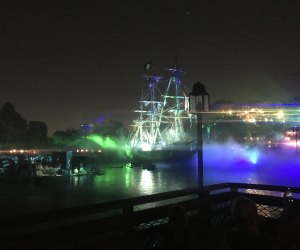 Fantasmic is back! Photo by the author
Of course, for those who love Disney swag, there are signature bags, hats, and must-have ears with Halloween themes, plus some cool light-up Skellington souvenirs and Haloween light-up necklaces that will make a great addition to Halloween night. The whole holiday experience is a treat for Disneyland fans of any age. If your kids are young, Disney's Halloween Time experience is probably all the Halloween excitement they could possibly wish for.

Disneyland at Halloween Time is non-stop photo ops. Photo by the author
Halloween at Disney California Adventure: Oogie Boogie Bash
For bigger kids (and adult kids) who crave more Halloween thrills than Mickey and his pals can offer, but still aren't looking for chainsaw-wielding zombies, there is Disney's Oogie Boogie Bash at California Adventure. This is a nighttime event that requires separate tickets—and a separate game plan that we will explain—on certain evenings during the Halloween season. And it definitely takes planning well in advance.
RELATED: 8 Restaurants near Disneyland, But Not in It

The California Adventure begins...
Like Disneyland, Disney California Adventure is decked out for the holiday, and a daytime visit anytime in September or October brings plenty of Halloween excitement, with spirited decorations and extras like Halloween-themed shows in Cars Land and at the new Avengers Campus. Pumpkins, Halloween treats, and all the Jack Skellington fixings leave no question what time of year this is.
On Tuesday, Thursday, and Sunday nights, however, things turn Oogie Boogie after 6pm. That means that everyone who doesn't hold a special Oogie Boogie event ticket needs to leave the park, and the haunting excitement begins for the select few who booked ahead. So what's all the hype about?
For starters, there is the Frightfully Fun Parade. This Halloween version of the Disney parade starts with the Headless Horseman cruising through town, followed by dancing zombies, extravagant witches, and Mickey and Minnie wearing, well, slightly spookier outfits than usual. The parade features lots of purple lights, more than a few villains, and plenty of cameos by Jack Skellington and pals, culminating in the Oogie Boogie monster himself.

Agatha may be a scary witch to WandaVision fans, but Moana's not scared!
In fact, speaking of monsters, the nighttime event leverages every villain Disney has ever created; expect to see everyone from Cruella Deville to the Wicked Queen to (brace yourselves, Marvel fans) Wanda and Vision's evil next-door neighbor in full witch glory. Many of these characters can be spotted at the spooky walk-through Villains Grove, which is a family-friendly haunt at the Redwood Challenge Trail. There are a few different Trick-or-Treat Trails throughout the park, and each features different haunting celebrities; catching them all would be pretty tricky, since lines for these trails get long, but visiting more than one is worth going for.
RELATED: 25 Things To Do in Anaheim with Kids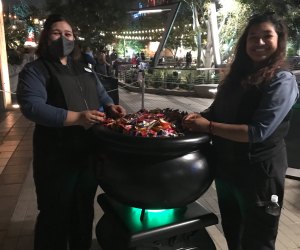 No one leaves with an empty trick-or-treat bag.
Speaking of lines, most of the normal rides are open for the evening, which is particularly good news for those hoping to catch extra popular rides like the Web Slingers Spiderman ride. Because the Oogie Boogie Bash is a limited capacity event, lines for popular rides become more manageable; the night we were there no one was waiting longer than 30 minutes or so, and no Lightning Lane reservations were necessary.
Tips for a Better Oogie Boogie Bash

Some Disney moms are practically perfect in every way!
If you do book tickets to the Oogie Boogie Bash, here are 10 important pointers to get the most out of your evening:
Reserve early—very early. Oogie Boogie tickets generally go on sale in July and sell out fast.
Staying over at a Disneyland Resort hotel makes the whole evening even better, since the party goes 'til 11pm. With a room, parents won't have to drive home (and Cozy Cone does have that Vodka & Pomegranate Limeade...). It also means kids of different ages can have different bed times—so one parent can enjoy the luxury of a Disney hotel while the other hits EVERY trick-or-treat trail!
Buy a daytime ticket as well, if you can. This allows you to be inside the park before the Oogie Boogie crowds arrive.
If you have a Park Hopper ticket, hopping early is a good idea. If you buy a single park ticket, you're allowed to move over to California Adventure starting at 3pm without that counting as a hop—and you should. The thing you want to avoid is entering the park between 5pm-6pm; guests who only have Oogie Boogie tickets aren't allowed in until 6pm, and the mob starts early. We found that by 5:30pm people weren't allowed to enter California Adventure at all, as crowds were held back for the 6pm opening.
A key piece of logistics we didn't fully understand: in addition to the ticket for admission, all ticketed Oogie Boogiers need to pick up a wristband once inside the park. This allows you to stay when the daytime visitors get herded out. Wristbands are available at two locations: one just inside the gate, and another at the Blue Sky Cellar. Both locations have sizeable lines by 6pm. We waited an hour to get wristbands before we could do anything; if we had picked them up at 3pm, we could have been trick-or-treating while everyone else was in line.
Although crowds at the Bash are limited, the Trick-or-Treat Trails are everyone's must-do activity, so that's where the lines are the longest. Our best tip for trick-or-treating is to pick a treat trail far from the parade and head for it as the parade starts (7pm and 10pm most nights). The trails on the parade route close until the parade finishes, but the ones in other locations are slightly less busy.
The good news for kids who can't handle waiting in line for candy is that they do get a trick-or-treat experience on the way out of the park; no one leaves with an empty trick-or-treat bag!
Food sales mostly take place in the app; if you want to buy a churro, you have to order and pay for it in the app, then wait to be called to the window. Download and learn to use that app before leaving home, so you aren't trying to figure it out while someone is screaming for a drink!
A PhotoPass is included with your event ticket, which you need to link in the app. Once you do that, all of the photos are free; simply show your code to photographers who snap your photo, and find your photos on the app or at Disneyland.com/PhotoPass.
In case it isn't obvious, wear costumes! Deck out the stroller! Don't miss this chance to show off your Disney best.
All photos by the author
Places featured in this article:
Sign up for the Mommy Poppins Newsletter today!