See Disney California Adventure Park Like a Local: Inside Tips for a Great Visit with Kids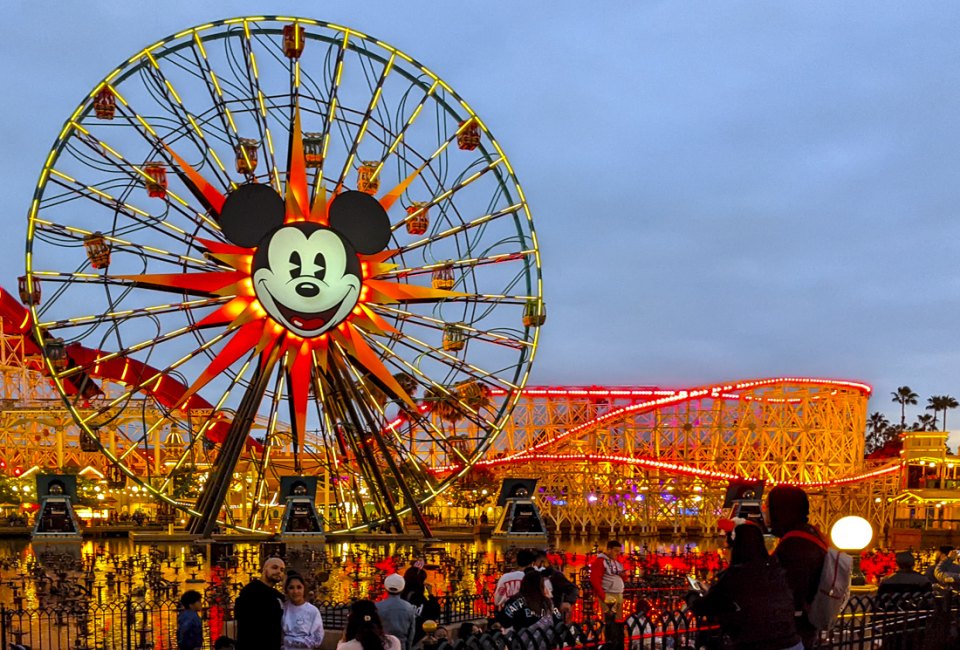 7/8/22
- By
Jean Kuo Lee
When you say Disney in LA, you're really talking about two parks: Disneyland and Disney California Adventure Park. They are right next to each other, and when most people think about Disney, they think about the original Disneyland Park. However, I recently enjoyed a full day at Disney California Adventure Park with my family and I have to say, this sometimes overlooked park is a blast with kids. With Pixar Pier, Grizzly Peak, Avengers Campus, and Cars Land, this may be blasphemy, but I find California Adventure Park easily as much fun as Disneyland!
Read on for tips on what to see and where to eat at Disney California Adventure Park. For more theme park fun for kids of all ages, from the newest of them all for toddlers—Sesame Place San Diego—to the most thrilling—Six Flags Magic Mountain—we've got the scoop on all of SoCal's favorite amusement parks in our SoCal Theme and Water Parks Guide.
Before You Go: Disneyland App and the New Genie Service
First, I recommend downloading the most recent Disneyland app. You won't be able to use its interactive map or access the new Genie Service until you've connected your purchased tickets and checked into the park on the day of your reservation. Next, figure out the new Genie Service, which can be a little complicated. It's part of the Disneyland app, and it helps to watch the videos online to figure out how to use the service before you visit the park. It will help you build an itinerary and make recommendations based on what your family likes to do. It's worth it, because you must have the app to purchase Genie+ or make reservations for nighttime spectaculars like the World of Color at Pixar Pier.
The app also lets you order food online and tells you when to pick it up. Not only that, it has real-time data on wait times for the rides on your wish list—a must-have for maximizing your time at the park! So, be sure to have your app all set up before the day of your visit.
Next, determine if Lightning Lane or Genie+ is worth it for you. When we went, our top requested ride was down for the weekend, and my kids aren't big thrill ride fans. So we went without purchasing Genie+ or Lightning Lane and opted to wait in normal queues for a handful of our favorite rides. But if you know you want to do it all, I highly recommend Genie+ which allows you to bypass the normal lines on select rides. If you already know you want to skip the lines at only a few popular rides, like Web Slinger and Radiator Springs Racer, then consider purchasing Lightning Lane, which allows you to skip the lines for specific rides through the app.
Whew! With the apps taken care of, now you can read on for my tips on top attractions and how to have the best time at the park itself...
RELATED: See Knott's Berry Farm Like a Local: Inside Tips for a Great Visit with Kids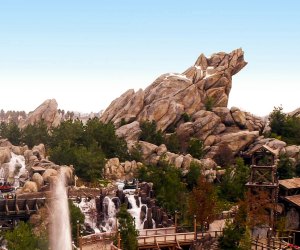 ​
Start here! Photo courtesy of Disney's California Adventure Park
What To Do at Disney California Adventure Park
Grizzly Peak
Modeled after the California National Parks, Grizzly Peak is right at the entrance after walking in through Buena Vista Street. Soarin' Around the World is one of our favorite rides. Family-friendly and immersive, it takes you on a birds-eye-view tour through key monuments and landscapes of the world, like the Great Wall, Taj Mahal, Eiffel Tower, and Egyptian Pyramids. It's easily my favorite ride in the whole park! Close by is the Grizzly River Run which simulates a river rapids adventure. Take a tip from a local: If it's a cold day, bring a set of clothes or a plastic waterproof cape, because you will get soaked.
Paradise Gardens Park
As you leave the forested Grizzly Peak behind, you come into Paradise Gardens Park. The most notable ride here is Little Mermaid: Ariel's Undersea Adventure. However, you might be completely distracted by Pixar Pier. My tip is to come back to Paradise Gardens Park in the late afternoon for the Little Mermaid and first explore Pixar Pier and all it has to offer. However, before you leave Paradise Gardens Park behind, make a mental note to join the World of Color virtual queue exactly at noon. As it gets dark, Pixar Pier lights up into a gorgeous waterfront environment, with the biggest spectacular water and lights show at 9pm. However, you have to reserve standing-room-only, front-row spots through the Disney app to see the 9pm show at Paradise Gardens Park. The World of Color has a second showing at 10:15pm, which is much less crowded, but late for littles. The virtual queue fills up quickly, so have your app open at noon if you want to see the 9pm show.
Pixar Pier
Moving on to Pixar Pier, our two favorite rides here are Pal-A-Round (Mickey's Ferris wheel), which offers a bird's-eye-view of Anaheim as well as swinging carts. Close by is the Incredicoaster, one of the few high-speed, aggressive coasters at the park, with its one elegant upside-down loop in front of the Pixar Pier sign. Lines can be long, but keep in mind that Incredicoaster has a single rider line that allows thrill seekers who are ok with riding alone to bypass the normal queue for a quick zip on the coaster. In the meantime, you can take your younger ones to the nearby Inside Out Emotional Rollercoaster or Jessie's Critter Carousel for a tamer ride.
RELATED: Disneyland Tips and Hacks You Need to Know
Cars Land is cool to play in by day, but don't miss walking through it again at night!
Cars Land
Following Pixar Pier, Cars Land might be one of my favorite lands at Disney California Adventure. Not only is it fun to walk through Radiator Springs, with its amazing desert mountain backdrop, but Radiator Springs Racer is one of the coolest rides at California Adventure. Racing against another car through red rock formations is something you don't want to miss. Nor do you want to miss seeing Cars Land at night, with the town lit up. My tip is to walk through Cars Land as you exit the park after the World of Color show. Another thing to note: lines for Radiator Springs Racer can get very long (Genie+ access is not available). However, Lightning Lane entry is available for purchase on the app if you're short on time and don't want to miss this ride.
RELATED: How To Have a Blast at Magic Mountain with Kids of All Ages

Lines are long at Avengers Campus rides, so plan accordingly. Photo courtesy of Disney's California Adventure Park
Avengers Campus
Next up is the Avengers Campus. The most popular rides are Web Slingers and Guardians of the Galaxy. They're vastly different, one is a 3D web-shooting game against spider bots while the other includes being dropped several stories over and over in a broken elevator. Take note that lines are long for both rides, so purchasing Genie+ or Lightning Lane will dramatically shorten wait times and increase the chances that you'll have time to do both rides.
RELATED: Legoland's Water Park Keeps It Even Cooler in the Summer
If you need a little quiet time, Hollywood Land is usually less crowded.
Hollywood Land
Even our favorite attractions in Hollywood Land are not absolute must-sees. If you're short on time, this is the land I recommend you skip. But if you have the time, Monsters, Inc. is a fun little ride. The Animation Academy is also a nice change of pace for a day of overstimulation from the rides. Take your budding artists inside for a short animation class and learn simple techniques for drawing popular Disney characters. You can also visit The Sorcerer's Workshop and The Beast's Library to continue the hands-on fun in a less crowded environment.
RELATED: Anaheim Restaurants Near Disneyland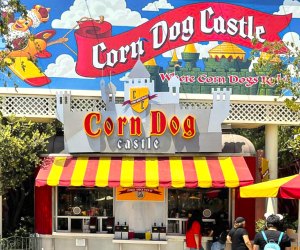 Kids. Love. Corn Dogs. Photo courtesy of the Disney Food Blog
Where To Eat at Disney California Adventure Park
Lamplight Lounge
Located in Pixar Pier, this restaurant serves brunch, lunch, and dinner with panoramic waterfront views! The kids can enjoy burgers, grilled tenders, or pasta while the adults indulge in Al Pastor Pork Chops or Lobster Nachos. Beware, this restaurant requires reservations days —or even weeks—ahead of time.
Paradise Garden Grill
If you need to grab a quick bite in Paradise Gardens Park, stop by the counter for mouthwatering BBQ, Poblano Mac and Cheese, and Jalapeno-Cheddar Cornbread. Family Picnic Platters serving 2-4 are also available.
Corn Dog Castle
This is where to get delicious hot-link corn dogs, right in Paradise Gardens Park!
Boardwalk Pizza and Pasta
Located in Paradise Gardens Park is this pizza place that's sure to please everyone. Kid-sized pizzas are available, as are turkey meatball sandwiches, 5-cheese ravioli, and chicken Caesar salad. Dine in the arcade-style seating area or the open-air patio.
Flo's V8
This Route 66-inspired diner serves classic American comfort food in an unbeatable environment—especially at night when the lights go on in Cars Land. Order fried chicken, a Spicy Guacamole Bacon Cheeseburger, or a classic milkshake through the Disney app. The app will tell you when to pick up your order!
Carthay Circle Restaurant
For special table service in this plush, retro movie palace, make sure to reserve a table days ahead. Fine dining is excellent inside the theatre as well as outside on the open-air terraces overlooking Buena Vista Street. Kids' dinner options range from pasta to chicken skewers, while the adults can enjoy a rib-eye steak, braised beef pot roast, or a fish of the day. This restaurant is open for dinner only.
RELATED: The Best Anaheim Hotels Near Disneyland for Families
If you think Disney California Adventure is fun during the day, just wait until night!
Special Events & Programs at Disney California Adventure Park
Disneyland After Dark
During this 4-hour after-hours park access, expect evening events, themed entertainment, and other unique attractions filled with magic. You'll want to check the calendar so you don't miss the opportunity to dress up in costume, see fireworks, listen to live music, speed through rides, and eat specially-themed food. Check the calendar as dates take place throughout the year.
Each fall sees the return of spooky monsters in Guardians of the Galaxy, a headless horseman, decorations along Buena Vista Street, and a haunted takeover of the park. See Radiator Springs transform into Radiator "Screams."
Witness the Buena Vista Street holiday tree lighting during the Christmas holiday season. See Mater's Jingle Jamboree festively decorated junkyard in Cars Land, and Luigi's Rollickin' Roadsters also gets a seasonal transformation. Disney characters dress in their holiday best while various performing groups celebrate in multicultural and unique ways.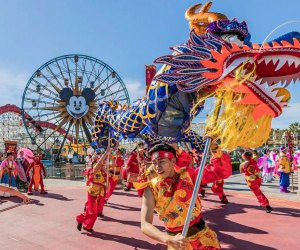 ​Special events, like Lunar New Year, are a great time to visit. Photo courtesy of Disney's California Adventure Park
See Mulan's Lunar New Year procession as Disney characters dress up in their finest attire. Celebrate with delicious Asian cuisine.
Quinceañeras at the Disneyland Resort
Have a fairytale, once-in-a-lifetime quinceañera event at Disney California Adventure Park. Planners help with décor and entertainment. The guest of honor can even arrive at the ball in Cinderella's enchanted coach!
Birthdays at the Disneyland Resort
Book a magical dining experience at your child's favorite California Adventure restaurant and celebrate with a character dining experience. You can reserve the experience for the birthday child up to 60 days before your visit.
Know Before You Go
You must reserve a spot on Disney's calendar before purchasing tickets. Reservations book up fast, so plan ahead.
Likewise, restaurants like Lamplight Lounge also book up fast. Make the reservation weeks ahead.
Make sure to reserve the 9pm World of Color spectacular right at noon by joining the virtual queue. Otherwise, wait for the 10:15pm showing.
For thrill-seeking family members, have them use the single rider lines which go really fast. Single rider lines are available on the following rides: Incredicoaster, Web Slingers, Radiator Springs Racer, Goofy's Sky School, and Grizzly River Run.
California residents can buy specially priced tickets at select times, so check the website!
Disney California Adventure Park is located at 1313 Disneyland Drive in Anaheim. It is open seven days a week year-round, including major holidays. Hours change with the season, so be sure to check the website for hours. You must reserve a spot on the calendar before purchasing tickets. Tickets and reservations are available online.
All photos by the author, unless otherwise noted.
Places featured in this article:
---
Disney California Adventure Park
t Click Here to Sign Up!