The Best Anaheim Hotels near Disneyland for Families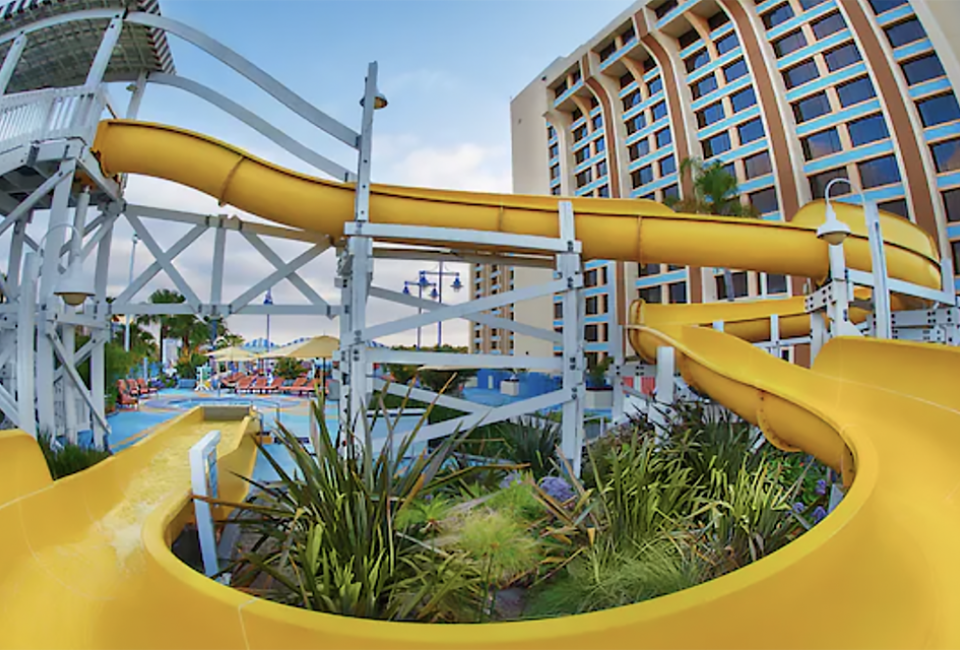 3/12/22
- By
Kristen Schrass
Most family trips to Anaheim mean enjoying a couple or more days with the mouse at the happiest place on Earth, the Disneyland Resort. Therefore, finding the perfect place to stay either on Disneyland property, within walking distance, or a short shuttle ride away is essential. We've compiled a list of 10 great Anaheim hotels near Disneyland that will comfortably help you rest those tired feet between rides, enjoy some pool time with the kids, and perhaps even take in a hotel-balcony fireworks show after a long, memory-filled day at Disneyland with your family.
Be sure to check out our Guide to Orange County for all of our local recommendations, from 25 Things To Do in Anaheim With Kids to Great Family-Friendly Restaurants Near Disneyland, and even a guide to visiting Disneyland with your baby.
Anaheim Hotels on Disneyland Resort Property
Staying at one of the Anaheim hotels on property will certainly add a bit of extra magic to your Disneyland Resort visit, but it will come at a higher price tag. Here are your options:
From the beginning, Walt Disney was convinced the success of his park was dependent on having an upscale hotel next to Disneyland. Thus in October 1955, the Disneyland Hotel was born. For over six decades, visitors have enjoyed its family-friendly amenities including two pool water slides, Disney-themed family suites, Sleeping Beauty light-up headboards, and the famous Goofy's Kitchen breakfast complete with surprise character visits. It is a family vacation dream come true.
This craftsman-style hotel transports guests to Northern California's wine county with modern, amenity-filled rooms with delightful details like a mural of an orange tree with Chip 'n Dale mischievously playing in its branches. There are three themed pools for the family and the Tenaya Stone Spa for adults in need of pampering. For the princess in all of us, there are the Disney Princess Breakfast Adventures at the Napa Rose restaurant, featuring Disney princesses themselves and princess-themed activities. They don't call it "grand" for nothing, though, as this resort comes with a higher nightly price tag.
RELATED: The Best Restaurants Near Disneyland

Disney's Paradise Pier Hotel is located right on Disneyland Resort property.
Though it is often the more affordable of the three Disneyland Resort hotels, this California 1920s seaside-themed resort does not skimp on Disney fun. The rooftop features a pool, a kiddie pool, and a scream-worthy water slide. Plus, parents looking to unwind a bit from all the theme park fun can enjoy a delicious blended drink in the paradise spa whirlpool. Sign us up!
RELATED: Splash Pads and Water Playgrounds in Orange County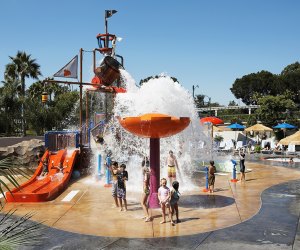 Kids will love the pirate-themed water playground at the Howard Johnson: Anaheim Hotel.
Anaheim Hotels Within Walking Distance of Disneyland
An eight-minute walk from the Disneyland Resort, this hotel may be tough for your kids to leave with its pirate-themed family water playground, Castaway Cove. The hotel also features many newly renovated rooms, free WiFi access, and premium Keurig coffee makers. No wonder this hotel is a six-time winner of TripAdvisor's Top 25 Hotels for Families in the United States.
Enjoy a colorful stay at this contemporary, mid-century modern hotel that proudly boasts the largest pool in the Anaheim Resort District. Plus, it is also across the street from the Disneyland Resort. Just imagine all the magic of taking in a Disneyland fireworks show from the comfort or your private hotel balcony and not standing shoulder to shoulder in a sweaty crowd. Maybe dreams really do come true!
RELATED: 10 Best Beaches Near Disneyland, for a Break from Mouse Madness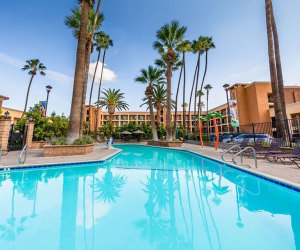 The Grand Legacy is only a short walk from Disneyland.
Located virtually across the street (less than a five-minute walk) from the Disneyland Resort, this hotel also caters to family fun. Its pool has water cannons and waterfall palm trees. Large families will love taking advantage of the hotel's spacious, suite-style rooms. And its rooftop restaurant, The Fifth, features views of Disneyland Park and California Adventure.
Located just two blocks from the Disneyland Resort, Hotel Lulu is inspired by modern California living. Its pool area features cabanas, fire pits, and tables for al fresco dining. The hotel also offers a unique service: It will arrange a professional local photographer for families (via Flytography) at 25 percent off the cost of the session to capture vacation memories. Thanks to Hotel Lulu, Mom might actually get a photo of herself that she likes this vacation! Despite its proximity to Disneyland, the hotel also offers free shuttle rides to the parks.
RELATED: 10 Reasons to Visit Orange County Great Park Today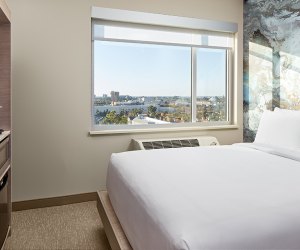 From an outdoor movie house to a water park, Cambria Hotel & Suites has it all.
Anaheim Hotels a Short Shuttle Ride From Disneyland
With a water park, an outdoor movie house, and a sports court, this hotel has it all for kids. But their parents aren't forgotten, as there's also a lobby restaurant, a bar, a patio, and a gym for those concerned they didn't get enough steps in at Disneyland. That means you may have to remind your children (and yourself) that you paid a few dollars to go to that other amusement park a shuttle ride away!
Travel via shuttle—or "Dream Machine," as the Majestic has coined it—from drawbridge to drawbridge in this Fantasyland-style castle hotel. The castle comes complete with a magic show on select dates, lawn movies nights from June through October, a family game room, and even a princess of its own, Princess Corinne, who you can book a visit with. Adults will enjoy the hotel dining options and accommodations close to not just the Disneyland Resort, but all that Anaheim has to offer.
RELATED: Top Attractions in Los Angeles: Best Things To Do and See with Kids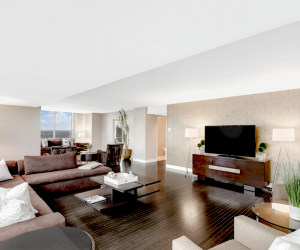 If you want to be a little farther from the theme-park hustle and bustle, try the Hilton Anaheim.
If you have rewards points to spare (or even if you don't), this hotel one mile from the Disneyland Resort is a great option. Parents can have their Starbucks in hand before they even leave the hotel for a day at the park, and kids will enjoy the resort-style pool, the kiddie pool, and the splash pad. Plus, if you ever plan to travel for Disney's famous D23 Expo, it is held at the Anaheim Convention Center right next door.
All photos courtesy of the hotels
Click Here to Sign Up!
i