10 Best Beaches near Disneyland, for a Break from Mouse Madness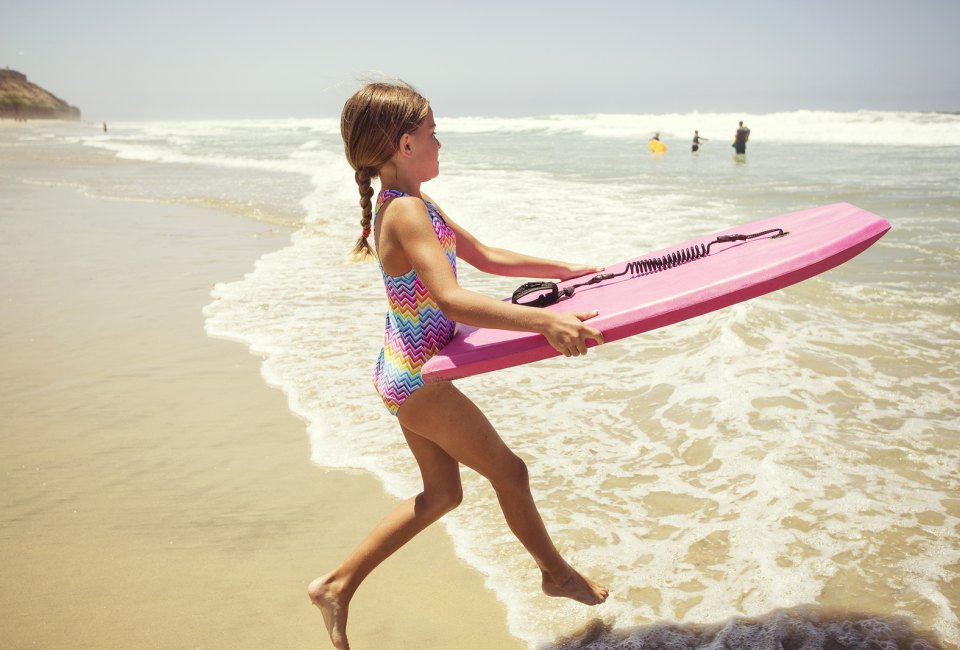 3/25/18
- By
Dana Zepeda
Disneyland may be the happiest place on earth, but eventually even the most enthusiastic Disney fans need a break from crowded shows, long lines, and sugary treats. When your little princess or prince melts down for the third day in a row because the line to meet Cinderella is longer than your trip home, it may be time to take a breather on the beach.
Thankfully, Disneyland is just a stone's throw away from the Pacific Ocean, so ditch the Mickey ears for flip-flops one afternoon and head for the beautiful sea.
Pacific Coast Highway
Sunset Beach, CA
714.834.2400
Free parking
This hidden gem is a local favorite, thanks to easy access, free street parking, and picturesque views that could rival any postcard. And thanks to its out-of-the-way location in front of a private gated community, it's almost never crowded, making it the perfect place to wiggle your toes in the sand. There are also plenty of seashells and sea glass buried in the sand, so be sure to bring a sand bucket for your little treasure hunters to store their loot.
RELATED: Disneyland with Baby: All you Need To Know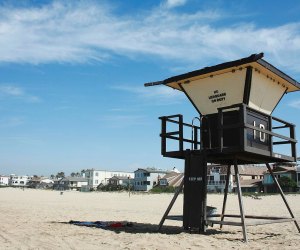 Lifeguard station #10 at Sunset Beach. Photo by Regular Daddy via Wikimedia Commons/CC BY-SA 3.0
Pacific Coast Hwy & Ocean Ave.
Laguna Beach, CA 92651
Celebrate summer all year long at this family friendly stretch of sand which boasts beautiful views, basketball courts, and a beachfront playground. Although parking is an issue (the nearest lot is ¼ mile away), it's worth ponying up a few extra dollars on a parking meter to spend the day watching hermit crabs, exploring tide pools, and frolicking in the gentle surf at this kid-friendly cove. Restrooms and showers are also available.
8471 Pacific Coast Hwy
Laguna Beach, CA 92651
949.494.3539
You'll need to hike down a steep trail to get from the parking lot to the beach, so don't forget to pack sneakers for the entire family. But, once you arrive at your destination, you'll immediately understand why Crystal Cove is one of the most famous beaches in Southern California. Kids have a blast exploring the abundant tide pools filled with anemones, sea urchins, fish, mussels, and starfish. Don't forget to swing by Ruby's Shake Shack on your way home for one of those world-class milkshakes.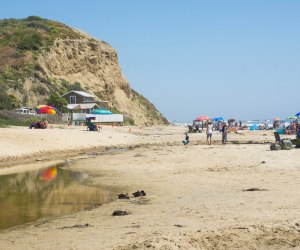 Crystal Cove State Park. Photo by Dana/CC BY 2.0
Iris St. & Ocean Blvd.
Corona del Mar, CA 92625
949.644.3151
Spend the day boating, fishing, or watching seals swim by at this peaceful spot in South Orange County. Pack a picnic or enjoy lunch outside at the Tackle Box, a sandwich shop located a few steps from the beach. There are also volleyball courts, rocky bluffs, and tide pools to keep the kids entertained all day long. Finish your day with s'mores at sunset by one of the plentiful fire pits, but in summer arrive early to stake your claim; spots go fast during warm weather months.
3001 Ocean Blvd.
Newport Beach, CA 92625
Your kids will love shouting "Ahoy matey!" as they climb and explore the pirate tower perched against the rocks on this small beach. There is a staircase leading down a cliff to the sand, so be sure to pack good shoes along with your flip-flops. Luckily, it's worth all of the trouble to see kids channel their inner swashbucklers building sandcastles and catching waves.
Pacific Coast Hwy between Beach Blvd. and Seapoint Ave.
Huntington Beach, CA 92647
714.969.3492
Ever heard of Surf City USA? There's a good reason why Huntington Beach earned its nickname, in large part because it is one of the best surf spots in Orange County. But you don't need to know how to hang ten to have a great time at this sandy beach, located just south of Beach Boulevard. Enjoy swimming, biking, playing volleyball, or strolling on the pier along this 3.5-mile stretch of sand. Or just sit back, relax, and enjoy the view.
RELATED: 8 Family-Friendly Restaurants Near Disneyland, Not in It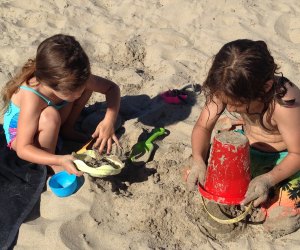 Digging it at Corona del Mar! Photo by author
33333 S. Pacific Coast Hwy
Dana Point, CA 92629
949.923.2280
Tire out your kids and pups on the big grassy hill high above the beach, or leave Fido at home and take the kids downstairs to the surf (no four-legged friends allowed on the sand) to frolic in the waves. Later relax at one of the picnic tables, grab lunch at the seasonal snack shack, or explore the grounds at the nearby Ritz-Carlton. Metered parking is available across the street for just $1/ hour.
2713 Victoria Dr.
Laguna Beach, CA 92651
Kids of all ages love exploring the "pirate tower" hidden behind a rock structure at this secret beach. Your crew won't be able to resist climbing, but the rocks are slippery so make sure the kiddos are wearing shoes. Parking can be difficult, so park on PCH to avoid a traffic jam in this small residential neighborhood.
24300 Dana Point Harbor Dr.
Dana Point, CA 92629
The name really does say it all. This spot is perfect for little ones still getting their sea legs. Not only is the water incredibly calm, there are also plenty of picnic tables, showers, and clean bathrooms right by the sand. There's even a grassy area with grills if you want to host an impromptu barbeque. To make a day of it, check out the recreation center adjacent to the restrooms.
31131 S. Pacific Coast Hwy.
Laguna Beach, CA 92652
949.923.2280
This quaint beach is as good as it gets. Parking is literally steps from the shore at a private, designated parking lot for $1/ hour. There are also fire pits for a sunset bonfire and a playground to explore if your kids decide they need a break from the water.
Top photo via Bigstock
Sign up for the Mommy Poppins Newsletter today!