Disneyland with Baby? All You Need Is This Game Plan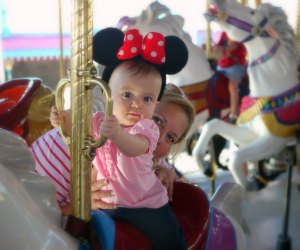 Disneyland is free for kids under the age of three, but can you and your baby enjoy it? I've taken my 15-month-old daughter at least nine times, allowing me to hone my baby strategy. For many, Disneyland is a once-in-a-lifetime trip. For locals it's different; while the House of Mouse has temporarily suspended SoCal resident passes, Southern California families can still take advantage of the Resident Select Pass and visit Disneyland more often than the dentist. Parents of little ones will discover the park is the ultimate in family-friendly fun, no matter what your age. Here are twelve tips to have a more magical day with your baby.
1. GO IN THE MIDDLE OF THE WEEK
Disneyland is experiencing record crowds, so there isn't a day when the park will be "empty." Still, Tuesday, Wednesday, and Thursday remain the best days to go to avoid crushing crowds, especially in January and February. Go as early in the day as possible, and that's doubly true with a baby in a stroller. The park gets progressively more packed after noon. Check entry times, and plan to arrive a half hour before the park opens. It will take at least that long to feed and change the baby at your car, make the quest through bag check security (now located at the parking lot before you get on the tram), wait in line for a tram, then walk to the gate. If the tram or security lines are already long, just follow the signs for the walking path to Downtown Disney. It will say it's 15 minutes, but it's more like ten. Once there, take the monorail near Rainforest Cafe, and arrive in the heart of Tomorrowland. Plus, your baby will love riding on what I call the "future space train." Pro tips: The farthest left lanes at the parking garage entrance usually have shorter lines, and look for the tree planted close to one of the entrances at the center gate to find a shorter line.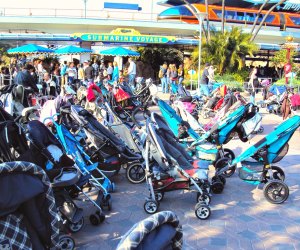 There's no valet at this parking lot. Photo by Katie King/CC BY 2.0
2. FORGET THE STROLLER
Think twice about bringing a stroller if you can wear your tyke in an Ergo or Baby Bjorn around the park. Bypassing a stroller saves having to fold it up to board rides, trains, or the monorail. But if your child loves the stroller and can nap in it, consider a smaller umbrella stroller instead. The rental strollers are often unwieldy and an additional expense.

3. USE THE BABY CENTER
Both parks have baby centers that are usually empty, since many people don't know about them. They are the most comfortable place to change or breastfeed your baby. They also have basic medicines, formula, baby food, and diapers. At Disneyland, look for the center at the end of Main Street, near the corn dog stand. In California Adventure, the center is near the Ghirardelli ice cream shop on the wharf.

4. TAKE A FLIGHT
While little ones are too small for Space Mountain, there are many rides without height requirements. If you're worried, be reassured that Disney is famous for its safety standards. Stop at Peter Pan's Flight first—even before it was refurbished, the ride had one of the longest lines that didn't offer a FastPass. A wait that's less than 40 minutes is a major score, and while it's a dark ride, it's not too scary. Though it barely leaves the ground, this ride gives the illusion of flight. Most importantly, it's only two minutes, so even if your little one is frightened, it's over in a flash.

5. SAVE FASTPASSES FOR OLDER KIDS
Download the Disneyland app to manage your visit. The wait times are accurate, and you can also download Mousewait to compare—both are free. While you now have the option to pay $10 per ticket to get MaxPass, giving you FastPasses on the app, the standard FastPass rules apply (you can only get one per park every two hours). If you have older kids, it is well worth it and lets you get a FastPass to a California Adventure ride without leaving Disneyland. But if it's just you and baby, don't worry about FastPasses. They only apply to big kid rides like Radiator Springs Racers and Space Mountain.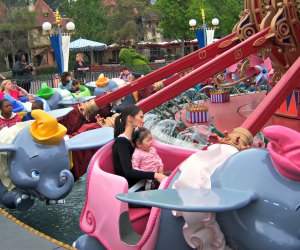 Dumbo is a reliable tot-pleaser. Photo by Loren Javier/CC BY 2.0
6. PICK BABY-APPROVED DISNEYLAND RIDES
Beyond Peter Pan's Flight, the rest of Fantasyland also has some treats for tykes. Mr. Toad's Wild Ride can be fun; Snow White is even a little scary for grown-ups so use your judgment, and definitely do the carousel. Your baby will love it. Grab one of the benches, or if your little one is old enough put him or her on a horse and stand by the side. It's a blast. Next, if your kid liked Peter Pan's Flight, try Dumbo the Flying Elephant. My little one has loved the breeze in her hair since she was six months old. Then, walk to the Storybook Island Canal Boats. While the languid pace may lull tired adults to sleep, kids love it. From there, head to It's A Small World. The second I saw my baby's face light up, it was totally worth the song's infamous earworm. I also recommend Jungle Cruise, The Many Adventures of Winnie the Pooh, the Grand Circle Tour train ride (surprisingly hilarious), and the Mark Twain Riverboat (nice place for a tired parent to sit).
7. MEET MICKEY AND HIS FRIENDS
No visit to Disneyland is complete without meeting Mickey, but skip all the meet n' greets near Main Street and head to Toontown. Mickey's house may not look cozy from the outside, but thanks to Imagineering pixie dust, inside it's huge and adorably detailed. More importantly, it's out of the sun and air-conditioned. While waiting in line your little one will find lots of things to play with, and the final waiting room plays some of the new Mickey Mouse cartoon shorts. Finally, one meets the Mouse himself in a private, personal encounter. My daughter can't get enough of grabbing his nose. While in Toontown you can walk to Goofy and Donald's houses to meet them, too. Find the Winnie-the-Pooh experience in Critter Country, and the Anna and Elsa meeting at the Hall of Animation in California Adventure.
8. CATCH A SHOW
In Disneyland, check out Mickey and the Magical Map. My future musical theater fan loved the singing and dancing, lights, and colors. No need to stake out a seat early—arrive right before the show so you can sit in the back in case you need to duck out with a crying toddler. In California Adventure, the musical version of Frozen is a hot ticket, so get into line with the baby at least an hour ahead of show time to get good seats; but if it's just you and baby, wait till the line dies down right before the show, then take the elevator all the way to the top balcony. You still get a great view of the massive stage, and your baby probably won't make it all the way through the show, so sit by the aisle to escape down the elevator.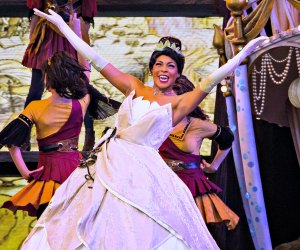 You'll love the singing and dancing at Mickey and the Magical Map. Photo by Anna Fox/CC BY 2.0

9. FIND THE QUIET SPOTS
Disneyland can be an overwhelming and crowded place, so Tom Sawyer Island is a great spot to get away from the crowds and enjoy a little peace and quiet (and breastfeed the baby without him getting distracted.) Just take the ferry near Haunted Mansion. It's also a perfect location for a picnic lunch, and the bathrooms there are empty and clean. Between It's A Small World and the Matterhorn there is a food stand that sells burritos, and next to it is a sitting area that juts out over a small body of water. It's usually empty except for some ducks, making it a great spot to breastfeed away from the crowds. The bathroom near Autopia is a little tucked away, so I normally find it to be emptier as well. At California Adventure, head over to the Hall of Animation (between Carthay Circle restaurant and the Frozen show). It's a huge room that is usually pretty empty (other than the line of families waiting for the Anna and Elsa meet-and-greet). There are big couches and benches to sit on. My little girl loves the chance to run around on the carpet, and I love the chance to sit and watch her.
10. DON'T SKIP CALIFORNIA ADVENTURE
By noon-ish my baby is usually napping, so I take that moment to walk over to California Adventure. Although often pegged as the more "adult" side of Disneyland, partly because there are fewer rides for little kids and partly because of the booze (hey, Mom and Dad—go ahead and have a margarita), there's still fun to be had by little ones. An underrated attraction is Turtle Talk with Crush. Show times are every half hour or so, and even though my little girl can't ask Crush a question, she loves watching him swim around and answer other kids' queries. If your toddler wants to toddle, across from Grizzly River Rapids is a whole playground and adventure course area designed for just that. Still, the best spot for little ones in this park is the Bug's Life area. The show "It's Tough to be a Bug" is great for older kids, but a little loud and intense for the little ones. Instead, infants and toddlers will enjoy Heimlich's Chew Chew Train. It's a perfect baby step to take before trying bigger rides. Warning: on a sunny day be aware that the train is entirely outdoors and not shaded. There's also a super cute splash pad area. It's a fun way to keep spirits up on a hot day—as long as you have a swim diaper, swimsuit, or a change of clothes for baby. While The Little Mermaid ride has a slightly scary moment with Ursula the witch, the black light fun will blow your baby's mind. Cars Land is unfortunately mostly for older kids and too rough for kids under three.

11. EAT LUNCH AT CALIFORNIA ADVENTURE
I find the food in California Adventure better than Disneyland. For quick service, go to Flo's in Cars Land. It's a cute, retro diner menu with lots of options for different eaters. Grab a spot outside and you and baby can watch Radiator springs racers zoom by. If you are a little parked-out, use the exit near Grizzly River Run to the Grand Californian Hotel. Turn left and find Whitewater Snacks for fun nachos or turn right to Storyteller's Cafe, a great buffet. If you have more time and want something a little fancier, try Carthay Circle. It's farm-to-table, elevated fare, but it's still Disney so they don't mind if your little one makes a mess. Also, the Chefs at many of the sit-down restaurants are happy to make a healthy vegetable puree for baby; just ask your server.

12. LEAVE EARLY
If you live in Los Angeles, leave the park at 2:30pm, get to the parking garage and onto the 5 North by 3pm to beat traffic. Depending on your little one's bedtime, the other option is to wait until 7pm, when traffic clears up again. Just don't leave between 4pm and 7pm; your day will seem a lot less magical with a little miracle screaming in the backseat while you fight commuters for the carpool lane. Either way, I'd recommend leaving before the fireworks. Most babies don't enjoy the loud music and explosions nearly as much as they enjoy an early bedtime. You'll make it home in time to start winding them down from their fun half-day at Disneyland.