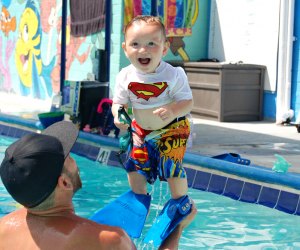 23 Things To Do with Your Los Angeles Baby in Summer
Baby's first summer is a collection of memories waiting to happen—for Mom and Dad, anyway. Of course, Los Angeles summer runs the gamut from chilly June gloom to days so scorching hot you could make grilled cheese on the sidewalk, so entertaining baby means being ready for anything. Here are some fun ways to beat the heat and introduce your little Angeleno to the joys of SoCal summer.
Water Play
1. The Beach
It's a no-brainer that an LA baby's first summer needs a trip to the beach, but bringing an infant (and all their accompanying swag) to a hot, sandy environment far from bathrooms can be daunting. Luckily, not all beaches are created equal; try the Annenberg for its great facilities and stroller-friendly boardwalk to the shore, Orange County's gentle Baby Beach, or one of these other kid-friendly beaches. I'll admit that my little one's first "beach" trip was mostly spent in the Annenberg pool instead!
2. The Huntington
Tucked away in the sumptuous grounds of The Huntington is a little children's garden with fountains and water misters to appeal to kids of all ages. The museums and libraries are wonderfully cool, spacious areas for taking a break from the sun. Bonus for parents: the cafes have recently been overhauled by Susan Feniger and Mary Sue Milliken of Border Grill and Blue Window's Kajsa Alger. Enjoy top-notch cuisine in a cafeteria setting where no one will blink an eye if your baby covers themselves in guacamole (as my daughter did).
3. Swimming
Start getting baby used to the water by signing her up for inexpensive group classes or private lessons, or check out this list of mommy and me swim classes. We did The Rose Bowl aquatic center, but most LA county pools offer classes as well. If you're not up for cannon-balling in and getting your hair wet, check out a neighborhood splash pad.

Babies love the beach! Photo by the author
Fun Outdoors for Babies
4. Griffith Park
Babies force us to slow down and enjoy the wonders of nature close to home, and that includes Griffith Park. Ride Walt Disney's favorite carousel, enjoy one of the city's largest universal access playgrounds, snap photos of your bundle of joy on a pony, ride a train together—or just enjoy a picnic far from the maddening crowd.
5. LA Zoo
While at Griffith Park, why not hop over to the LA Zoo? Even the tiniest tots get a kick out of the seal shows, meerkats and monkeys, but my little weirdo's favorite was the geese. Make sure to bring a stroller with shade, as there are sunny patches. If you plan on going more than once, a membership is a great deal. Unfortunately, you can't jump in the otter play area to join the fun (I asked). But LA has more than one zoo to check out as well.
6. Adventure City
This theme park bills itself as "a little theme park that's big on fun," which is a perfect description of this old-fashioned amusement park nestled between Disneyland and Knott's Berry Farm. Babies 12 months and younger are admitted free; otherwise general admission is the same price for all ages and is under $20. The park has quite a few rides gentle enough for a baby to enjoy, (accompanied by an adult, of course). The scale of everything is small, and the Adventure City Express Train that circles the park is a great first ride for babies. There is also a carousel, Thomas the Tank Engine play area, and a petting zoo. Toddlers have even more options. Big kids won't find much to thrill them, except maybe for the best caramel apple I've ever had. (Babies are allowed their own food and formula; no other outside food is allowed).
7. Disneyland
Babies get in free, and there are plenty of fun ways to entertain them, from It's A Small World to their first Dole Whip at the Enchanted Tiki Room. Check out our game plan for more details on baby's first trips to the Magic Kingdom.
8. Farmers Markets
Even if your baby is still on a liquid diet, one way to get them used to a diet of fruits and vegetables is to start them young. Our local farmers markets are stimulating places for wee ones, too. Many vendors offer samples, making this a great way to get a baby to try something new. In addition to the many markets throughout the city, remember "the" Farmer's Market; is still at 3rd and Fairfax.
9. Stables
One day, completely out of ideas, I took my kid down to the Rose Bowl Riders in Hahamonga Watershed. Not only did we get to watch big kids ride, we got to meet and pet a ton more incredibly sweet horses who didn't seem to mind when my daughter yelled "NEIGH!" at them. It turned out to be a pretty good free show and a petting zoo.
10. Walk in a Gardens
The LA Arboretum, Descanso Gardens, and the aforementioned Huntington are all great, shady places with paved sidewalks to push a stroller and enjoy the sunshine! Flower gardens are where I taught my daughter to "Sniff the flowers"- which I use as a way to get her to breathe and regulate when she's having big feelings.
11. Underwood Farms
Pick a day that isn't crazy hot for this outing, and then harvest the joy of pulling your little one around a farm in a wagon (available at the farm) while you pick a variety of healthy treats for Baby to taste before bringing home for a fresh, farm-grown meal. Everyone under age two gets in free, so now is a great time to introduce the pick-your-own idea. And the petting zoo makes a nice stop when the wagon loses its charms.
12. Take a Hike
If you're feeling a bit more adventurous, strap baby on and go for one of LA's many wonderful hike. I particularly recommend Eaton Canyon nature center, which has a couple shallow waterfall/ small pool areas for baby to dip their piggies in too, or drive up the Angeles Crest Highway and check out Switzer Falls. (Just make sure to bring plenty of water for both of you, of course.)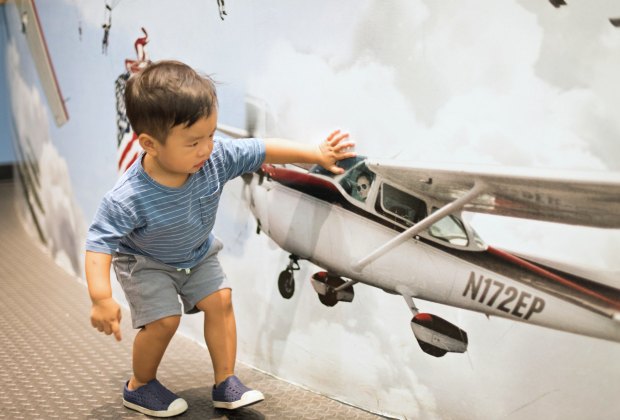 Museums have air conditioning... Photo by Elaine Lee Photography
Indoor (Air-conditioned!) Fun for Babies
13. Kids' Museums
While LA has museums that are great for children of all ages, Santa Monica's new Cayton Children's Museum (formerly the Zimmer) is specifically for kids 8 and under. Parents love that there's no need to worry about big kids knocking down little ones or monopolizing the exhibits. Babies can explore miniature versions of vehicles, buildings, and other grown-up fun at their own pace. There is also a water play area, dress-up, story time, and weekly family programs. On the Eastside check out Kidpsace, which has a wonderfully padded baby room, with the most absurdly safe slide I've ever seen. There is also a music time, story time, a fun "Wonder box time," plus much more for all ages—including water play areas, a MUD area (great for hot days), and animal time where a staff member introduces kids to a creepy crawly critter. Also worth a day is the Southern California Children's Museum—but don't stop at museums specifically for kids; LACMA has a children's area, too!
14. Libraries and Bookstore Story Time
Most libraries have story times, and some bookstores do, too. I love the ones at Vroman's and Once Upon a Time. All libraries have a children's section, and a lot of them even have toys and activities. Our Altadena Main Library has baskets full of stacking cups, blocks, crayons, chalk, etc, but it's not the only one; we made a list of the 10 best library play areas around LA. And, of course, it's wonderful to sit down and read to your child at any age.
15. Pet Stores
Whether or not you have a pet, on a hot day pet stores can be fun places to push baby around in a shopping cart in some blessed A.C. looking at fish swimming, colorful birds, weird rodents, and usually a few dogs to meet and pet. One of my simple joys has always been sitting in front of the grooming window holding my daughter, eating animal crackers and watching dogs get haircuts. If your kid likes fish like mine does, try the big aquarium too!
16. Baby's First Haircut
Summer is possibly the perfect time for this rite of passage. There is nothing like trimming the locks to prepare for warm weather. A Beverly Hills institution since 1971, Tipperary's motto, hand painted on a wood board decorated with daisies, is "Through these arches pass the most beautiful children in the world." Back in the day, the walls were covered in whimsical murals and head shots; the floor was filled with baby toys, and the pinball was free. Tipperary is now on S. Robertson, still a kids' salon, but with a hipper, more sophisticated vibe. Nowadays, of course, there are several places that specialize in first cuts, including various locations of the Yellow Balloon.
17. A trip to the Fire House
Babies love fire engines. They are red. They are shiny. They have gleaming chrome accessories, and firemen wear really cool outfits. Fire stations always welcome young visitors; it's actually part of the department's directive to educate little ones about fire safety and help them to feel comfortable with potential rescuers. The fire station by Clover Park in Santa Monica will deputize your baby and hand him or her a bright plastic firefighter's hat.
18. Playgrounds, Indoor and Outdoor
When the weather is nice, it's great to be outside, for sure. Sometimes, however, it's too hot, or you just want to be somewhere easy and confined. If baby has an older sibling, it's nice to head somewhere that suits both kids. Under the Sea is a favorite for its multiple Southland locations, which offer both small activities for babies and bouncers for bigger kids. On the Eastside check out The Magical Playground. Or really any of these 30+ wonderful indoor playgrounds.
19. Music Class
We have been attending Lovebug and Me music classes since my daughter was three months old. Even though she couldn't sing or stand or dance, her eyes would light up being surrounded by music and other kids. Their instructors are fantastic, the class sizes are small and well organized. And every week there would be new toys and instruments introduced. She'd shake maracas and bang on drums, and since I introduced her at such a young age, it remains one of our favorite things to do together. But there's lots of classes all over town, and most will give you a free trial class to find the one right for you.
20. Shopping with Baby
The Americana and The Grove both have big expansive areas for those just learning to walk to figure it out (plus Kids Club entertainment once a week). The Americana also has fantastic changing/ breastfeeding areas for moms, as well as kid-friendly restaurants and stores. There were many summer days at the Americana I grabbed some Shake Shack, bought the baby something irresistibly cute from Disney Baby, then headed up to the kids floor of Barnes and Noble to read to her. Or went to a Monday Morning Mommy Movie at Pacific—speaking of which...
21. Mommy Movies
Don't forget to treat yourself to a movie. First time parents have a hard time believing this (I know I did), but you can do more with your baby now than in a few months when they are a running screaming bundle of toddler fury. So go out to eat, go to movies (check out outdoor screenings too) and get your baby used to sleeping in the stroller while you enjoy some last hurrahs of adult-ness! All too soon, your little one will be focusing on the big screen and asking embarrassing questions about what George Clooney is doing. Make sure you get to see some fun summer blockbusters before all your movies have talking animals.
Finally, Fun at Home
22. Splash Time
We can recommend a whole bunch of backyard water games (or sidewalk, if you're in apartment land) to cool everyone off on those hottest of summer days. Sometimes the best solutions are the simplest ones—especially for someone enjoying his or her first summer.
23. Backyard Beach
Fill up the back yard with beach balls and let the babies run around. Beach balls are inexpensive and come in all sizes- including bigger than most kids. Add a few cheap baby pools from your local drug store and some sprinklers from the hardware store and you've practically got a water park in your own back yard. Your thirsty plants will thank you too. If you really want to blow baby's mind, bubble machines are cheap ways to keep them entertained while you take a well-deserved break from all this summer fun.
Originally published June 25, 2018