33 Things To Do with Los Angeles Babies Before They Turn 1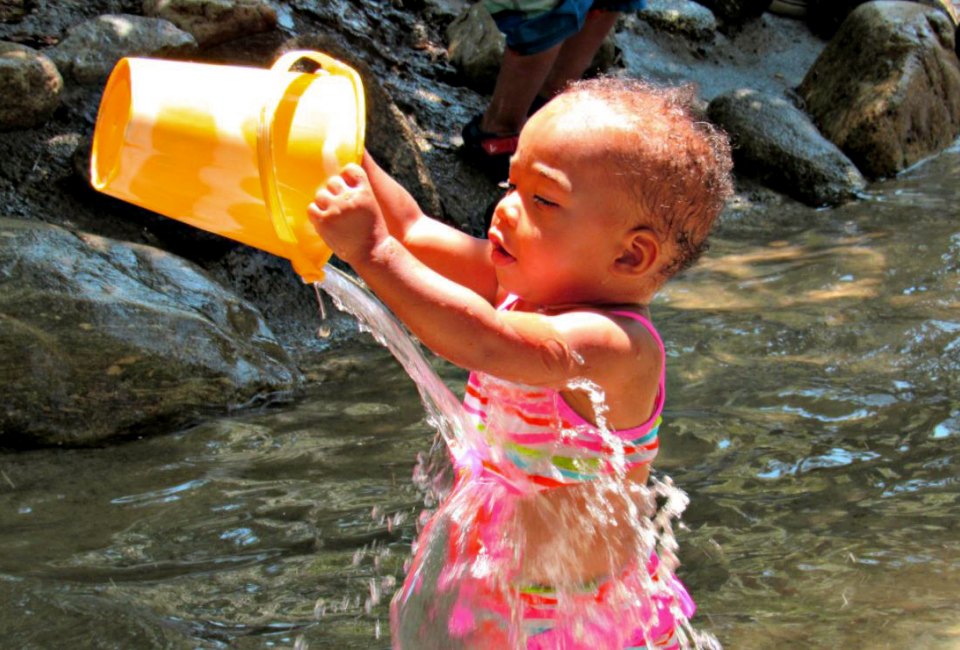 5/14/23
- By
Mike Anderson
Los Angeles babies get places like Hollywood, Santa Monica, Long Beach, and Beverly Hills as their playgrounds from the first moment the little starlet is born. On the topic of firsts', a baby's first year is a collection of memories waiting to happen—for Mom and Dad, anyway!
Los Angeles is the best place on earth to raise kids, and it's filled with magical moments and places you can enjoy with children. World-class museums, restaurants, and entertainment will make your kiddo quite the cultured connoisseur from a very young age. Plus, living in LA means (almost) never being trapped indoors with a fussy baby. Here are our favorite ways to introduce your little Angeleno to the joys of SoCal living. Pack a diaper bag, sling a stroller in the back of the car, keep this checklist handy, and explore LA, baby-style.
From baby classes to baby stores, we've got baby's whole first year covered and then some in our Los Angeles baby guide.
Outdoor Activities for Babies in Los Angeles
Babies force us to slow down and enjoy the wonders of nature close to home, and that includes Griffith Park. Ride Walt Disney's favorite carousel, enjoy one of the city's largest universal access playgrounds, ride a train together, or enjoy a picnic far from the madding crowd.
While at Griffith Park, why not hop over to the LA Zoo? Even the tiniest tots get a kick out of the seal shows, meerkats, and monkeys, but my little weirdo's favorite was the geese. Make sure to bring a stroller with shade, as there are sunny patches. If you plan on going more than once, a membership is a great deal. Unfortunately, you can't jump into the otter play area to join the fun (I asked).
This theme park bills itself as "a little theme park that's big on fun," which is a perfect description of this old-fashioned amusement park nestled between Disneyland and Knott's Berry Farm. Babies 12 months and younger are admitted free. The park has quite a few rides gentle enough for a baby to enjoy (accompanied by an adult, of course).
The scale of everything is small, and the Adventure City Express Train that circles the park is a great first ride for babies. There is also a carousel, Thomas the Tank Engine play area, and a petting zoo. Toddlers have even more options. Big kids won't find much to thrill them, except maybe for the best caramel apple I've ever had. (Babies are allowed their own food and formula; no other outside food is allowed).
RELATED: Best Amusement Parks near Los Angeles for Preschoolers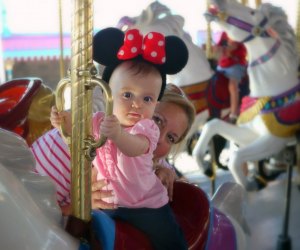 You can resist the mouse ears on a baby? Photo by Eduardo Merille/CC BY 2.0
Once you've dipped your toes into the theme park waters, you might be ready for the granddaddy of all theme parks. Here's why it's a blast with babes in arms: Babies get in free, and there are plenty of fun ways to entertain them, from It's A Small World to their first lick of a first Dole Whip at the Enchanted Tiki Room. Plus, you will treasure that picture of your little one wearing their first mouse ears. Check out our game plan for more details on baby's first trip to the Magic Kingdom.
Even if your baby is still on a liquid diet, one way to get them used to a diet of fruits and vegetables is to start them young. LA farmers' markets are stimulating places for wee ones, too. Many vendors offer samples, making this a great way to get a baby to try something new or to stock up on fresh, local, and organic goods to turn into baby food at home. In addition to the many markets throughout the city, remember "the" Farmers Market is still at 3rd and Fairfax.
One day, completely out of ideas, I took my kid to the Rose Bowl Riders in Hahamonga Watershed. Not only did we get to watch big kids ride, but we also got to meet and pet a ton more incredibly sweet horses who didn't seem to mind when my daughter yelled "NEIGH!" at them. It turned out to be a pretty good free show and a petting zoo. Speaking of petting zoos, there are several great ones near Los Angeles where even babies can get up close and personal with furry friends.
Descanso Gardens, and The Huntington, to name a few of many botanical gardens in Los Angeles, are enjoyable, shady places with paved sidewalks to push a stroller and take in the sunshine. Look out for free garden days at favorite flora spots.
Flower gardens are where I taught my daughter to "sniff the flowers"—which I use as a way to get her to breathe and regulate when she's having big feelings. Tucked away in the sumptuous grounds of The Huntington is a little children's garden with fountains and water misters to appeal to kids of all ages. Be sure to bring a change of clothes if you've got a new walker, as kids tend to get wet.
Pick a day that isn't crazy hot for this outing, and then harvest the joy of pulling your little one around a farm in a wagon while you pick a variety of healthy treats for Baby to taste before bringing home for a fresh, farm-grown meal. While there are loads of farms within easy driving distance, my favorite is Underwood Farms.
Here, everyone under age two gets in for free, and the petting zoo makes a nice stop when the wagon loses its charms. Underwood has fun seasonal events, making it a great spot to get baby's first holiday photo-ops. Check our calendar for details.
If you're feeling adventurous, strap baby on and go for one of LA's many wonderful hikes. I particularly recommend Eaton Canyon Nature Center, which has a couple of shallow waterfall/small pool areas for babies to dip their piggies in. Lake Hollywood Reservoir, and Fern Dell in Griffith Park, are also excellent stroller-friendly options in iconic Los Angeles spots.
RELATED: 10 Toddler-Friendly Hikes and Nature Walks in and around Los Angeles

Reason #12,495 to love LA: you can go to a playground every day. Photo by Alexander Balandin, Pexels
When the weather is nice (which is almost always in Los Angeles), it's great to be outside and playing, climbing, and exploring. Baby swings are a must for the little one's first year. These favorite playgrounds cater to the smaller set, and you'll feel safe knowing your tiny teetering one won't get knocked over by big kids. While baby is not yet mobile, pack a picnic, and take it along to a park for some fresh air for the whole family.
You can probably save visiting the inside of the Natural History Museum until your child is over the age 1. However, kids of all ages will be entranced by the butterflies flying about the Butterfly Pavilion in the summer and by the spiders and their webs at the Spider Pavilion in the fall. Because this is a no-touching space, it's best to bring babies in their carriers or just hold your little wiggle worm in your arms.
12. Deck baby out in fan gear for a game
Whether you want to show your allegiance to the Trojans or the Bruins, the Dodgers or the Angels, the Rams or the Chargers—or any other local sports team—it's good to start them rooting for the right home team at a young age.
RELATED: Best Baby Stores in Los Angeles: Hip Baby Boutiques for your LA Kid

Seriously, kids can never get enough of water play. Photo courtesy of pretendcity.org
Indoor Activities for Babies in Los Angeles
While LA has museums that are great for children of all ages, Santa Monica's Cayton Children's Museum is specifically for kids 8 and under. In fact, the Launch Your area is an enclosed cushioned section surrounded by mirrors for babies under 2, making this a fun choice for newly mobile little ones.
On the Eastside, check out Kidspace, which has a wonderfully padded baby room, with the most absurdly safe slide I've ever seen. Also worth a day is the Southern California Children's Museum. Oh, and Pretend City has special events just for babies under 18 months (and their parents). There are so many fantastic indoor museums in LA for your youngest explorer.
14. Visit grownup museums
Don't limit yourself to museums specifically for kids! While there are kids' areas at some museums (like LACMA), most family or children rooms are intended for older kids. But babies in strollers or carriers are at the perfect age to bring to your favorite museum. The art and people-watching are entrancing to babies, and you're beginning a lifetime of modeling the importance of art to your children.
RELATED: Kid-Friendly Always-Free Museums in Los Angeles
There are so many things for even tiny tots to explore at the Science Center. Photo courtesy of the California Science Center
So much to see, even for tiny babies. While they'll be mesmerized by the sharks in the tank in the Kelp Forest, you can also take little ones to watch chicks hatch, feel the ice wall, and play in one of several Family Discovery Rooms.
16. Go shopping
With next level family lounges and a pirate ship in the play area, Westfield Century City is the perfect place to push baby around in a stroller while completing your shopping list. If you want to shop locally for baby, or second-hand, browse these Los Angeles baby boutiques.
The Americana and The Grove both have big expansive areas where those just learning to walk can figure it out (plus Kids Club entertainment once a week).
17. Browse a pet store
Whether or not you have a pet, pet stores can be fun places to push babies around to look at fish swimming, colorful birds, weird rodents, and usually a few cats or dogs to meet and pet. One of my simple joys has always been sitting in front of the grooming window, holding my daughter, eating animal crackers, and watching dogs get haircuts.
Annenberg PetSpace also has animals available for adoption, if you want another way to meet and greet some animals. If your kid likes fish like mine does, try the big aquarium in Long Beach or the smaller Heal the Bay aquarium at the Santa Monica Pier.
18. Get baby's first haircut
This is an exciting rite of passage. There is nothing like trimming that first little curl. A Beverly Hills institution since 1971, kids' salon Tipperary is on S. Robertson and has a hip, sophisticated vibe. There are several places that specialize in first cuts, including various locations of The Yellow Balloon.
19. Take a trip to the firehouse
Babies love fire engines. They are red. They are shiny. They have gleaming chrome accessories, and firefighters wear cool outfits. Fire stations always welcome young visitors; it's part of the department's directive to educate little ones about fire safety and help them to feel comfortable with potential rescuers.
Many fire stations will deputize your baby and hand them a bright plastic firefighter hat. (Hello, amazing photo-op!)
When the weather is nice, it's great to be outside. Sometimes, however, it's too hot, or you just want to be somewhere easy and confined. If your little one has an older sibling, it's nice to head somewhere that suits both kids. Under the Sea is a favorite on the Westside, with small activities for babies and bouncers for bigger kids. On the Eastside, check out PlayLab. In the Valley, we love My Little Paris.
RELATED: Los Angeles Restaurants Where Kids Can Play While Parents Eat

Waiting for the other parachute to drop... Photo by the author
Classes and Storytime for Babies in Los Angeles
Start getting baby used to the water by signing her up for inexpensive group classes or private lessons. We did The Rose Bowl aquatic center, but most LA county pools offer classes. SoCal kids need to get water safe as early as possible, as there are so many beach and pool parties in their future. (Lucky kids!)
We started attending Lovebug and Me music classes since my daughter was three months old. Even though she couldn't sing or stand or dance, her eyes would light up being surrounded by music and other kids. Since I introduced her at such a young age, it remains one of our favorite things to do together.
There are loads of classes all over town, and most will give you a free trial class to find the one right for you. In addition to music classes, Los Angeles has movement, yoga, sensory, and pretty much any class for babies you could dream up.
23. Hear a story at your local library or bookstore
Most libraries have storytime, and some bookstores do, too. I love the ones at Vroman's and Once Upon a Time. Libraries have a children's section, and a lot even have toys and activities. Our Altadena Main Library has baskets full of stacking cups, blocks, crayons, chalk, etc, but it's not the only one—we made a list of the 10 best library play areas around LA.
RELATED: Griffith Observatory: Reasons to Visit with Kids
The Observatory is an iconic spot. Photo courtesy of Tiffany Anne
Classic LA Photo Ops for Babies
Snap photos yourself, or set up a photoshoot with a professional photographer (they grow on trees in Los Angeles for the booming actor headshot business!) so the whole family can be in the pictures.
24. Hollywood sign
Hold your baby up with the Hollywood sign as a backdrop. You'll want this for their baby book, for sure. Don't act like a tourist and block neighborhood traffic in Beachwood Canyon. You can get a great picture from the hiking paths at Griffith Observatory or Lake Hollywood Park.
25. Rodeo Drive
Another iconic spot where you can easily navigate the street with your stroller in Beverly Hills, peek in the windows, and even have breakfast at (or near) Tiffany's.
Stars are born in Hollywood, and your little one already gets the limelight, so allow them to share the spotlight with other famous starlets.
Yay, you've made it through that crazy but amazing first year! Celebrate with a first birthday party you'll both appreciate. We have endless ideas in our LA Party Guide from bakeries that can whip up a stunning, photo-worthy cake to fun DIY options you can bake at home, plus LA parks that make for a great party backdrop.
RELATED: Best Beaches for Kids and Families in Los Angeles & Orange County

Pretty much every day is a beach day when you live in LA. Photo by the author
Seasonal Fun for Los Angeles Babies
Is your baby too young to remember these adventures? Probably. But, not only will you enjoy adorable pictures from holiday outings, these visits can become the cornerstone for traditions that will last throughout their childhoods. Find a favorite Santa, the perfect pumpkin patch, and everything kids will clamor for year after year. (It's also easy to see how much they grow when you have pictures in the same setting each year.)
It's a no-brainer that a first summer for Los Angeles babies have to visit the beach. Bringing an infant (and all their accompanying swag) to a hot, sandy environment far from bathrooms can be daunting. Luckily, not all beaches are created equal.
Try the Annenberg for its great facilities and stroller-friendly boardwalk to the shore, Orange County's gentle Baby Beach, or one of these other kid-friendly beaches. I'll admit that my little one's first "beach" trip was mostly spent in the Annenberg pool, not on the sand!
Everyone needs a picture of their little pumpkin in the middle of a patch. There are loads of pre-picked pumpkin patches all over town, with bales of hay and other fall decor just waiting to be the background for your photo op. And if you want to take the kids to an actual patch, where they can sit among the still-growing gourds, you'll find that at farms like Tanaka and Underwood.
RELATED: Halloween Trains near Los Angeles: Trainspookulars and Pumpkin Express Trains

Who says there's not autumn in LA? (Or at least near LA.) Photo courtesy Tatiana Syrikova
30. Sit them in a pile of leaves
While Los Angeles doesn't boast the variety of fall foliage you'll find in Vermont, there are plenty of drives you can take to find fall leaves. But with a baby, you might not want to take a long drive. Instead, head to a local park (the leaves turn stunning shades of yellow at Lacy Park in San Marino) or one of the botanic gardens mentioned above.
Rake up a mini pile of colorful leaves (with your hands) and let your babe explore. Kids love the crunch of the leaves, and you'll love the colorful picture.
31. See snow!
Yes, you can see snow in the morning and be back by the beach for sunset. Peruse our list of easy day drives where you can see snow, or visit one of the local museums or events that cart snow into the heart of the city, like the annual Snow Days at Kidspace. (Who says we don't get snow in LA? It's the city of movie magic, and we can get anything we want!)
LA has Santas of all stripes. You'll find a classic Santa at The Huntington, Mrs. Claus in Beverly Hills, and Surfing Santa by the beach. Just do a little research and pick the perfect Santa for your family. Then try to return to this same Santa year after year.
Most locations that host a seasonal Santa also have an Easter Bunny that will pose for pictures in the spring. For more than a mall bunny, take a trip to Irvine, where the Easter Bunny will greet little ones on the train at Irvine Park Railroad.
Originally published June 25, 2018
Sign up for the Mommy Poppins Newsletter today!