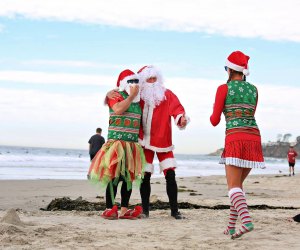 Photos with Santa Claus the LA Way: 14 Unusual Christmas Photo Ops for Angeleno Kids
Mall Santa photos have a special place in many of our hearts at Christmas time, and holiday activities really aren't complete without that Santa Claus in Miracle on 34th Street. Still, we're raising Southern California babies, not little Manhattanites, and that calls for an outside-the-box kind of Santa Claus photo. If you're in search of quantity, Santa can be found in every mall, at every Christmas tree lighting, and at any number of holiday shopping events. But for a real Angeleno Christmas photo, snap a selfie with Santa at one of these fun, funky, and totally LA Father Christmas experiences.
November 23-24, 2019
If Santa in a rip curl is what you want on your Christmas card, this pre-Thanksgiving event in Orange County is the one to hit. Dress like Santa and enter the charitable competition, or just hang on the beach and watch Father Christmas hang ten. FREE to view
November 14-December 29, 2019
Fillmore and Western Railway offers two different train ride experiences with Santa - either to visit his polar workshop, or to ride the Sugar Plum Express to a holiday village.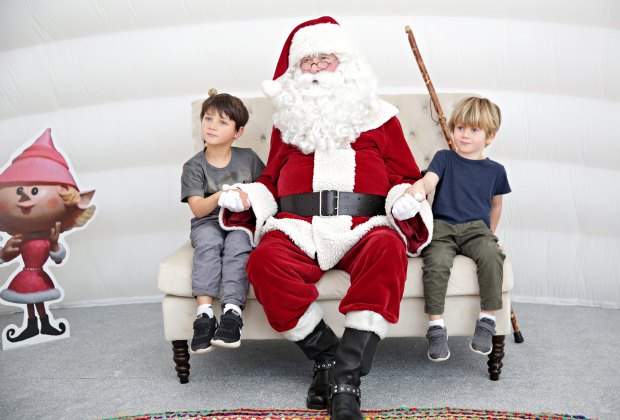 There's a picture perfect Santa at Paley Land. Photo by Brian To/The Paley Center for Media
November 30-December 22, 2019
As if he weren't busy enough, Santa is spending his weekends through Christmas Eve at the Paley Center (how does he do it?), while holiday television classics screen for free all day Wednesday through Sunday. FREE
November 29-December 13, 2019
Santa takes time out of his schedule to bring some down-home holiday cheer to the nice folks on Rodeo Drive in this only-in-LA experience. FREE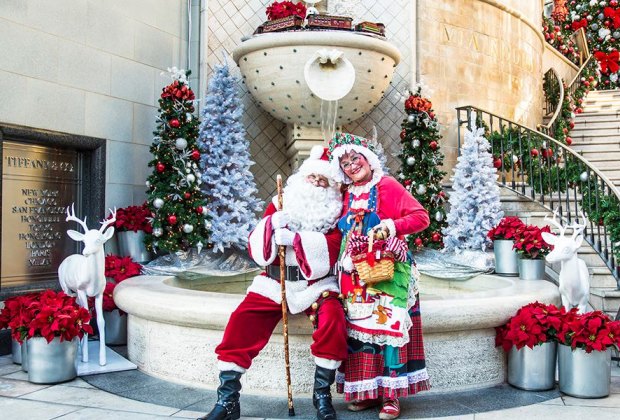 Photo courtesy of Beverly Hills Conference & Visitors Bureau
December 8, 2019
The Route 66 sign makes a great backdrop for a selfie with Santa and his longboard. FREE
December 7-8, 2019
An afternoon boat ride aboard the Dana Pride is a fine chance to get the full attention of the man in red. You might even get to see some dolphins along the way; what could be more SoCal?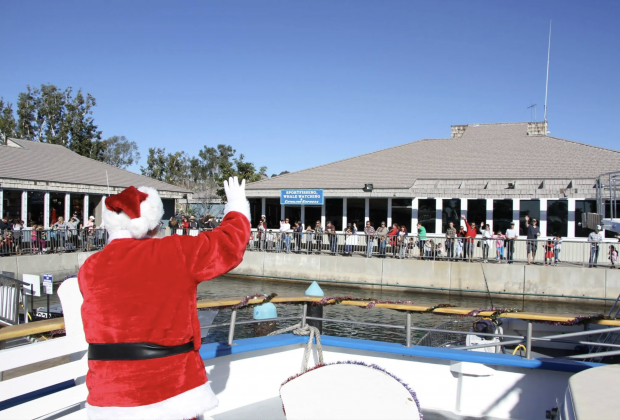 Anchors away, Santa! Photo courtesy of Dana Wharf
December 7-8 & 14-15, 2019
Who loves Santa? Who loves baby goats? Is there anything more lovable than putting the two together? Underwood Farms hosts the man of the hour for two weekends at its annual Christmas Tree lot.
December 7-8, 2019
Santa dives in among the underwater critters at the Aquarium of the Pacific to bring them some Christmas treats, and guests can pose for photos from the dry side of the glass.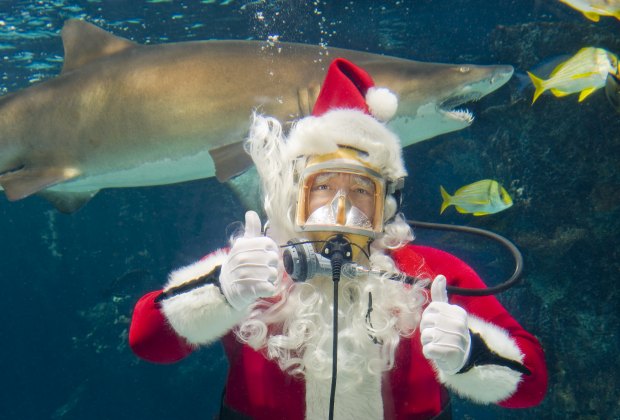 Look out behind you, Santa! (​Photo credit: prweb)
December 14, 2019
At Hermosa Beach Pier's Great Santa Stroll, everyone can be Santa, and part of a world competition for the most Santas gathered in one location. The admission price includes a five-piece Santa suit.
December 14, 2019
Too obvious? Even if it is, our LA kids need to be photographed with Santa and his surfboard at least once in their lifetimes. Redondo Pier offers its annual opportunity. FREE
December 14-23, 2019
Nothing succeeds like excess, right? Candy Cane Lane offers an excess of holiday lights, with Santa's sleigh parked in the middle of it all, for photo ops during certain hours. FREE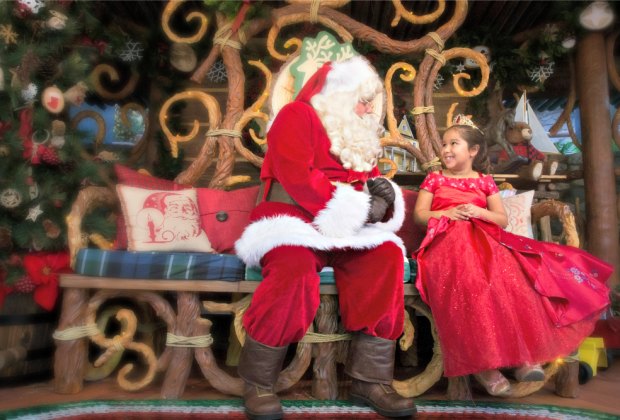 St. Nick is at Disney's California Adventure for Santa's Holiday Visit. Photo by Scott Brinegar/Disneyland Resort
December 15, 2019
Mountain High's annual Santa Sunday offers two equally great options: come to the resort dressed as Santa Claus and get a free lift ticket (with a $20 donation to a climate change advocacy group) or just come to the resort to ski with 100 or so Santas all day. Either way, it's a great photo op, with the bonus of a great day on the slopes.
December 21, 2019
Stand enough Santas up on paddle boards, and you could call it a school of Santas—or maybe a pod? Whatever you call it, the competition for most SoCal Santa gets pretty stiff in Ventura Harbor during the annual Santa Paddle.
This is a pretty traditional Santa Claus, and the visit is not remotely free, but what could be more SoCal than hanging with the happiest dude on earth at the happiest place on earth? The King of Christmas can be found at the Redwood Creek Challenge Trail in California Adventure, where his elves have some outdoor games set up, and he takes photos with fans, through Christmas Eve. If your preference is for something more uniquely Disney, Santa Goofy is at Ahwahnee Camp Circle posing for photos and signing autographs from December 25, 2018-January 6, 2019.
And finally, if you're game for an only-in-SoCal holiday photo op without Santa, don't miss Hermosa Beach's annual Sand Snowman Contest!)
You can find more holiday activities in our Holiday Fun Guide; and subscribing to our weekly newsletter will help make sure you don't miss a thing!
Originally published November 28, 2013