Skypark at Santa's Village: Christmas Spirit Returns to the SoCal Mountains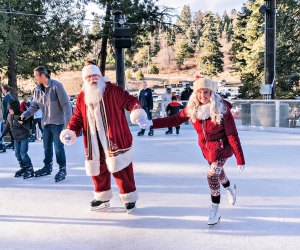 There's nothing like a winter day in LA, when you can see the snowy mountaintops from the traffic on the Santa Monica Freeway. It makes you want to grab a sled and head for the hills. This season brings back another way to get up there and enjoy the snow: Skypark at Santa's Village in Lake Arrowhead. Christmases may come and go, but Santa's sleigh bells keep on ringing year-round at this 230-acre, holiday-themed amusement park, which recently reopened its doors after nearly 20 years. And don't let the name fool you; while Christmas is a wonderful time of year to visit, outdoor adventures from ziplining to archery make Skypark worth the drive at any time of year.
Skypark at Santa's Village has received a major facelift since its heyday in the early 1970s and '80s. According to my husband – who visited when he was a child – the nostalgia of the original park is still firmly intact. However, owner Bill Johnson has updated the attraction with a pint-sized rock-climbing wall, an ice-skating rink, a Polar Express train, and a Strider balance bike trail, perfect for today's active families.
My kids were wide-eyed on our visit, from the moment we stepped inside until the moment we left this wintry wonderland. They were greeted at the entrance by one of Santa's elves, who offered to give them a quick tour of the kitsch surroundings. Although they declined, they practically skipped through the snow to meet the big man himself at Santa's House. This was no-holds-barred the BEST Santa I have ever seen. Not only did he shut the door to give each child his undivided attention; he also cracked jokes and had in-depth conversations about his elves. More importantly, he slyly gave each kid a gentle warning – with a wink at parents – to behave well because he keeps track of who's naughty and nice all year long, not just at Christmas. After letting my munchkins tug on his beard to prove he was the "real" St. Nick, Santa gave each of them candy cane and sent them on their way.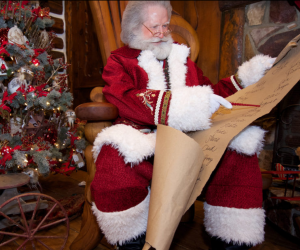 Yeah, he checks the list. Photo courtesy of Skypark at Santa's Village
Despite the chilly temperatures, they couldn't wait to check out the rest of the park. My husband and I were equally excited, especially when we stopped to watch the kids enthusiastically pan for real gems at Santa's Village Mining Co. The kiddos also had a blast coloring wolf masks at Santa's Workshop, meeting and greeting woodland characters, and watching gingerbread made at a Gingerbread House inspired bakery. Soon, though, they were ready to relax at K's Kandyshoppe and Confectionary, an old-fashioned sweet shop filled with fudge, ten-foot candy bars, and, of course, a wide array of candy canes.
There's also an old-fashioned pub, two restaurants, and a coffee shop on site, just in case you need a quick pick-me-up while dashing through the snow to check out the small playground, playing with oversized dump trucks or testing your Spidey skills on the ever-popular rock climbing wall. The Magic Tree Bouldering Room – a padded room filled with floor-to-ceiling climbing grips – was one of our last stops before heading into Lake Arrowhead Village. The room was packed with tykes (literally!) climbing the wall. My three-year-old and six-year-old both loved it; the scaled down size allowed them to climb to their heart's content without belays or special shoes. There was also a small TV playing rock climbing videos for inspiration, while their dad and I took a much-needed time out.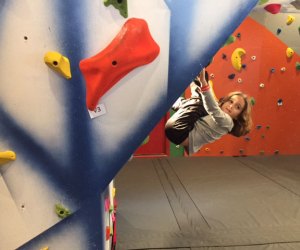 Climbing off some steam indoors on the tot-friendly climbing wall
Last, but not least, we boarded Arrow's Adventure, an old-fashioned pedal car ride in which the entire family pedals into a magic cave to find the magic key to start Santa's sleigh, so that Santa can deliver presents on Christmas Eve. This ride was cute for younger kids even if it lacked the wow factor of established amusement parks like Disneyland or California Adventure.
Still, all in all, Skypark is a perfect way to keep the holiday spirit alive 365 days a year. The drive is about 90 minutes from most parts of LA and Orange County; be sure to have chains in the trunk in case of snow (the park's website can tell you if you're likely to need them). The theme park is open from 10am to 6pm—weather permitting—every day except, ironically, Christmas Day.
Full price, high season admission is $59 for adults and $49 for kids (ages 4 to 12), but discounted tickets are usually available in advance online. This post-Christmas season is known as WinterWonderland, with prices down to $29 for adults and $19 for kids. Annual passes are also available.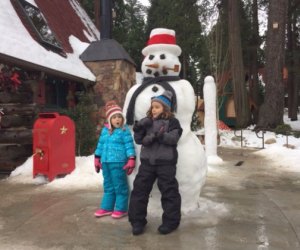 Do you wanna build a snowman?
Photos by the author unless otherwise noted