LEGO, American Girl, and CAMP Stores Make Westfield Century City Best LA Mall for Kids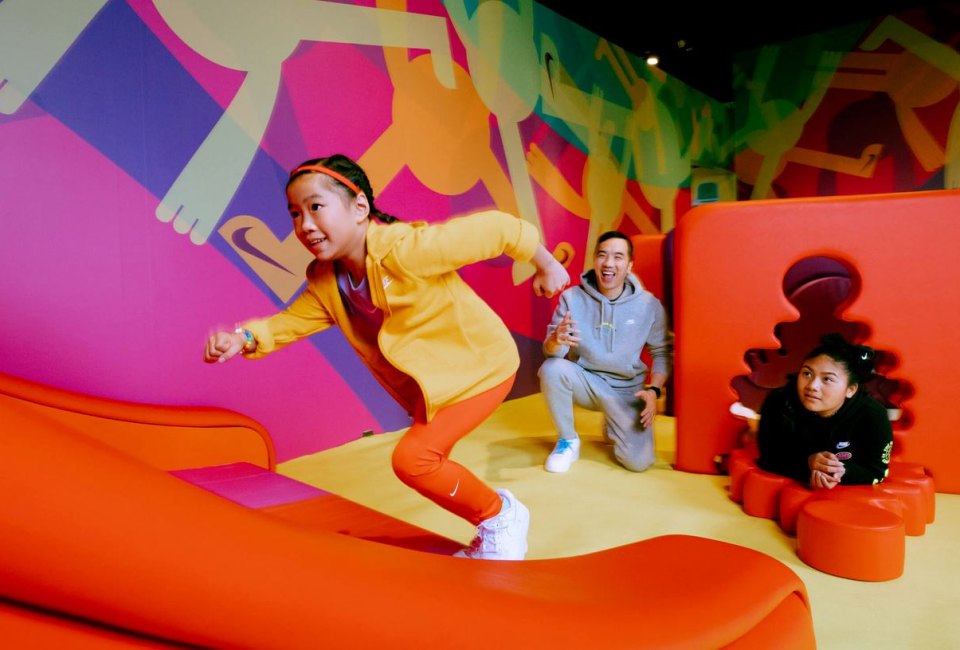 2/12/23
- By
Gina Ragland
The Westfield Century City mall in Los Angeles is hands down the best mall in LA for kids. And it is only getting better this year, as the new LEGO Store opened in late January, and the new Flagship American Girl store is opening there this summer.
This attractive outdoor shopping mall and celebrity hot spot (we're looking at you, J-Lo, and J-Law) make it feel like you arrived at a luxury vacation spot in the middle of the city. From swanky family lounges to interactive stores, special holiday events, a movie theater, and even an escape room, it's easy to spend several hours discovering all the family-friendly pockets. We're here to help guide you through the hidden spots, like the pirate ship in the play space, amid the cacti feng shui.
Shop beyond the mall at the best baby stores and black-owned businesses, and browse our restaurant guide for Los Angeles and Orange County families for other favorite spots to dine with kids (besides Eataly and other favorite noshes at the Westfield Century City mall!).
Family-Friendly Stores at the Westfield Century City Mall

So many LEGO sets to choose from. Photo courtesy of Lego
Find It: Second Floor
The LEGO store opened on January 20, 2023, adding a brand-new shopping experience to an already stacked mall in Los Angeles. This specific LEGO store comes with the unique component of a LEGO Minifigure Factory, where a minifigure torso can be personalized and printed, all within a few minutes. The LEGO sets for purchase in the store range for all ages, like toddler-appropriate DUPLO building blocks, Harry Potter-themed LEGO sets, detailed replicas of boutique hotels, haunted houses, and even a foosball table.
Find It: First Floor
The American Girl store has gone through quite an evolution in Los Angeles. The store was originally at The Grove and has since closed up shop and relocated into the Westfield Century City mall. A fitting new home for fashionable dolls. The iconic life-like dolls can currently be purchased on the first floor, a temporary pop-up shop of the mall, directly below the LEGO store. While the pop-up shop houses a decent collection of dolls, it's just a short solution until the doll's permanent home in the mall officially opens in the summer of 2023.
The new, permanent, and expansive store will open for business on the second floor, next door to the LEGO store. It will be quite the experience offering a girl & doll salon, parties, and full-service dining options. The first-floor pop-up shop will close when the doll's permanent home is ready for move-in.
RELATED: Camping near Los Angeles: 17 Great Campgrounds for Tent Camping with Kids

It's pretty much likte attending summer camp in the mall. Photo courtesy of CAMP
Find It: Second Floor
CAMP understands the themed assignment, and early outdoor enthusiasts will want to stay in the store and literally camp out for a while. Friendly CAMP counselors welcome you and tell you about the secret and magical door (hint: everything good always involves the candy jars). There's also a large Jeep in the middle of the floor and books, puzzles, and games to peruse.
You never know what will be found behind the magic door as the experience rotates every few months. So, there will always be a reason to keep going back. CAMP also hosts in-store interactive activities like Signature Schmutz BootCAMP. With essentially arts and crafts and something new to continually explore, it's like taking the kids to summer camp in the middle of a mall.
Experiences for Kids at the Westfield Century City Mall
Find It: First Floor
Of course, this marvelous mall has an outdoor play space for kids, and it's a next level play space on the first floor near Zara. There is even a list of rules at this play space, such as no shoes allowed, which makes sense since there's a gigantic, netted climbing structure for the kids to ascend through. There's also a fun pirate ship to explore and activity panels on the walls.
​RELATED: 30 Best Indoor Playgrounds and Play Spaces in Los Angeles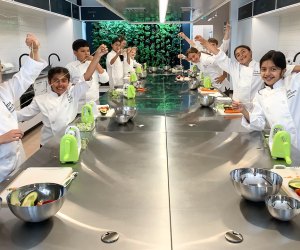 Future culinary stars can cook their hearts out. Photo courtesy of Little Kitchen Academy
Find It: Second Floor
If the little ones are showing an early interest in cooking (fingers crossed that they can take over some of the cooking one day!), then the Little Kitchen Academy is the perfect place to help nourish early culinary skills and senses. With programming for ages three to 13+, this Montessori-inspired cooking academy teaches kids about healthy eating choices and focuses on locally-sourced ingredients. There's even a Living Food Wall, an in-house garden in the Little Kitchen Academy. Who knows? Maybe your future culinary star will have a restaurant in the Westfield Century City mall one day.
Kid-Friendly Entertainment at the Westfield Century City Mall
Find It: Second Floor
There's an easy way to entice older kids to join you for an afternoon at the mall, and it comes in the form of a 60-minute escape game adventure. The Escape Game LA provides four experiences to choose from: The Heist, Prison Break, Special Ops: Mysterious Market, and The Depths. The entire family can get in on the fun for this one.
RELATED: The New Jurassic World Ride at Universal: Is it as Good as Jurassic Park?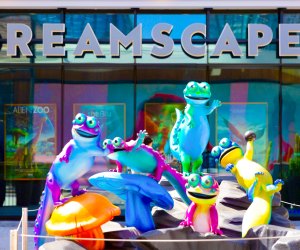 Step into a sci-fi scene. Photo courtesy of the Westfield Century City Mall Facebook page.
Find It: Second Floor
A ticketed VR adventure is on the second floor near Eataly. There's a selection of sci-fi VR experiences that last approximately 35 minutes. Older kids will probably enjoy the Dreamscape virtual experiences between dumplings at Din Tai Fung and deciding on which LEGO set to conquer.
Find It: First and Second Floor
This two-floor movie theater is conveniently inside the mall. With comfy seats, large screens, and snack options, catching a movie might be the perfect way to unwind after a long day of shopping.
Must-Know Family Spots at the Westfield Century City Mall
RELATED: Why Legoland is My Favorite SoCal Theme Park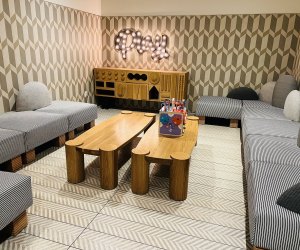 These family lounges are swanky and we're not complaining. Photo courtesy of Gina Ragland
Find It: First and Second Floor
You won't know what a family lounge should look like in a public place until you've seen the ones at the Westfield Century City mall with your own eyes. Simply follow the family restroom signs to be led to the nicest public family restroom and lounge ever. They are swanky, to say the least, and as parents, we could not be more appreciative of the comfort and cleanliness that is offered in these relaxing respites.
There are two family lounges - one on each floor of the mall. They contain comfy couches and chairs, toilets for small children, gated areas separate from sinks and changing tables, and even some activity panels and cubes. Something we absolutely love is that there are even nursing areas for new moms. Large spaces have cozy chairs and pillows that are cordoned off with curtains for privacy.
It can be a hassle to quickly change or feed a baby in a public place, or to give young kids a much-needed quiet retreat. These family lounges provide a serene breathing space and a secluded spot to take care of the needs of little ones.
Find It: Second Floor
Working parents have a convenient childcare option at the mall, thanks to BumoWork. This co-working space offers flexible, membership-based childcare options centered on education and play for children six months to 6 years old.
Exercise
Sometimes you need to get out of the house after having a baby. Since the Westfield Century City mall is outdoors, it's the perfect place to take your infant, or young child, for a stroller-friendly walk through this aesthetically pleasing 1.3 million-square-foot mall. You and your little one will get some fresh air and exercise, and while you're already out, you can squeeze in some shopping.
Best Food for Kids at the Westfield Century City Mall
Angelenos trek to the Westfield Century City mall just for the world-class dining and vast food choices. Indulge in artisanal Belgian waffles and fancy french toast. Tons of kid-friendly restaurants and dining options include Chipotle, Shake Shack, Din Tai Fung, Mochinut, and Tocaya, to name a few.
RELATED: Visiting the Original Farmer's Market with Kids: 27 Top Things to Eat, See, & Do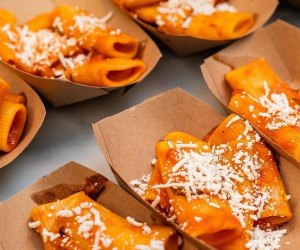 Grab some Italian ingredients, and maybe spot some celebs? Photo courtesy of Eataly
Eataly is a must-visit staple that even has some programming for kids. During Halloween, they had pumpkin decorating. If you've still got energy after a jam-packed day at the mall, pick up some ingredients from this beloved Italian marketplace for dinner. On the topic of stamina, there are many coffee shops in the mall. We know caffeine might be necessary between all the kid-fueled experiences and activities.
Holiday Events at the Westfield Century City Mall
LA knows how to dress up for the holidays, and the Westfield Century City mall is no exception. The mall goes all out during the holiday season with an elevated experience for kids to meet Santa in his backyard, visit his magical carriage, and take photos with Mrs. Claus in her bakery, where kids even get to take home a sweet treat from the North Pole.
Easter is another celebrated holiday at the mall that usually includes a traditional Easter egg hunt and other fun interactive activities.
Parking at the Westfield Century City Mall
There's a large multi-level parking garage with abundant spaces and several entrances at the Westfield Century City mall. A smart parking option sign-up is also available for ticketless entry and exit. Parking can add up in the garage, especially if you plan to do many things at the mall that increases the length of time spent there.
Tip: park near Gelson's and spend $10 in the store on groceries to receive parking validation. In addition to Gelson's, the AMC movie theater (if you have a movie stub) is the only other location in the mall that provides parking validation.
Places featured in this article:
Sign up for the Mommy Poppins Newsletter today!
i