Camping near Los Angeles: 17 Great Campgrounds for Tent Camping with Kids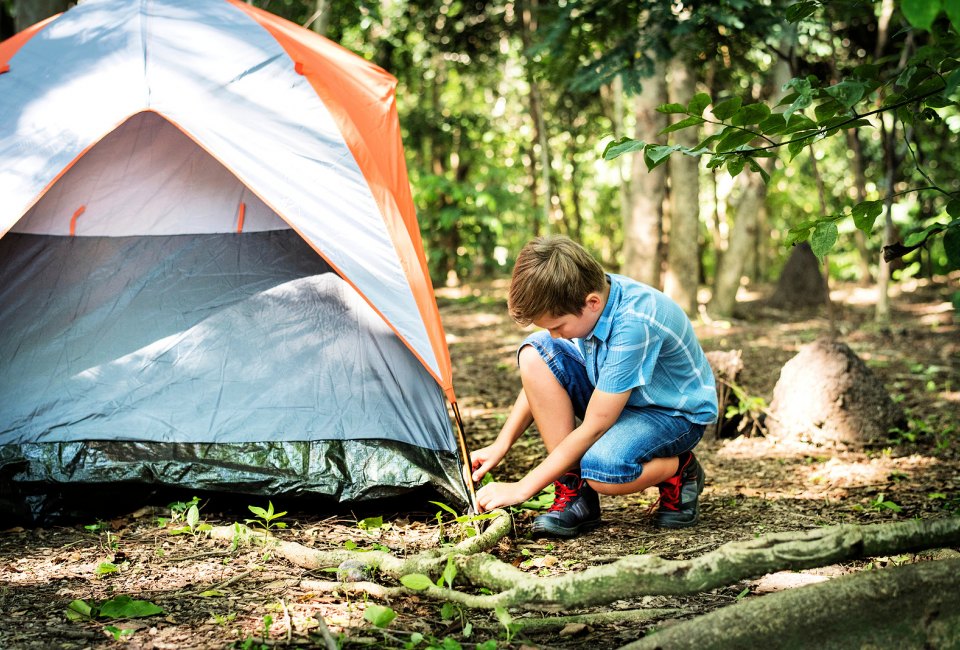 4/16/23
- By
Martha Hall
Camping season is upon us. And thankfully, if you want to go camping near Los Angeles, you don't need to go far to enjoy a night or two under the stars. A weekend without electronics, breathing fresh air, and enjoying meals over the campfire: all this can be yours without driving more than an hour or two—in some cases even less! Read on to find a fabulous local campground for you and your happy campers.
If you're looking for a spot with a little extra entertainment for the kids, we know just where to go. And if the campground you had your eye on is full this weekend, check out these last-minute campgrounds. To get all our recommendations for great campgrounds, glamping spots, and hiking trails in Los Angeles, visit our Hiking and Camping Guide for Los Angeles Families.

Note that the California State Parks no longer use Reserve America. All state parks now use Reserve California.
You don't often hear the words "camping" and "resort" used together, but this little-known spot in the San Gabriel Mountains above LA pulls the two concepts together quite nicely. All campsites are riverfront—allowing for fishing from right in front of the tents—plus, kids can pan for gold, go on bird walks, or take a walk to the camp store. And, of course, the hot showers and flush toilets count as a "resort" in camping circles.
All this is within easy reach of the city: a person could even run back to town for a Dodger game before sleeping under the stars. The Camp Williams Café and General Store is open on weekends for last-minute needs or a break from campsite cooking.
Looking for a different sort of terrain? Camping lakeside in the mountains is the stuff that movie camping scenes are made of (just don't let anyone smear honey and string around your tent!). Lake Hemet delivers on all fronts, not only offering lovely spots to pitch a tent but even offering to rent you a tent and have it pitched and waiting for you if such is your preference.
Onsite facilities (apart from the gorgeous, inviting lake) include a camp store and a kids' fishing area. For most of the year, swimming in Lake Hemet is prohibited, but in the summer, the Splashing Eagle Swim Zone gives guests exclusive access to the water. Boats of different types are available for rental, some large enough to fit large groups for a full day of picnicking and relaxing on the water. Cabins are available, too, if anyone in your family can't be convinced to sleep without walls. Make your reservation online.
RELATED: Campgrounds near Los Angeles with Entertainment for Kids

Families can set up a tent at Lake Hemet right by the lake. Photo by Mommy Poppins
Trout fishing, anyone? You can do it here in nearby Green Valley Lake. But if you don't fish, no worries. Enjoy hiking through the pine-filled San Bernardino Forest, taking a swim in the lake, or renting a kayak or paddle boat. The campground is between Lake Arrowhead and Big Bear Lake, meaning a short drive gives you even more to do and see.
A small nearby camp store sells firewood and other supplies. There are flush toilets (always nice) but no showers available. Some sites are available on a first come, first serve basis, while other sites can be booked online.
If camping in Big Bear strikes your fancy, this campground is the most popular spot up there. Campers enjoy sleeping under tall trees that are walking distance from the lake, with campground amenities that include flush toilets, showers, and drinking water. The town is very close for anyone who likes easy access to creature comforts or dinner out. And just a few steps from the campground, visitors can rent kayaks and paddle boards to enjoy the lake.
One more thing to check in advance is campfire status; during the driest part of the year, the park sometimes issues a ban on campfires. You can make reservations online.
RELATED: Discover Hip Glamping in the Desert at AutoCamp Joshua Tree

Serrano Campground at Big Bear Lake. Photo courtesy of Recreation.gov
If you can nab a space here, you're in for a treat. The campground is located on Palomar Mountain, which overlooks the nearly 10,000 acre La Jolla Band of Luiseno Indians reservation. Much of the surrounding land is untouched and graced with sage, wildflowers, and oak trees—the latter was once a major food source of this tribe. Enjoy hiking and river tubing during your stay. Showers are available from 8am-6pm. A new reservation system is now online.
Carpinteria is another great spot for camping by the water. Many sites here have ocean views and sounds (not just select sites), and swimming, surfing, and tide pooling are all within reach. Sea lion and seal spotting is common from December through May. And all this is just south of Carpinteria, the host of the California Avocado Festival every October.
A little lore: Carpinteria was named for the large "carpentry shop" run by the local Chumash, who once made canoes and other sea vessels in the area. The Chumash chose this spot because of naturally occurring tar, which they used to seal the boats. (Like other area beaches, tar is still sometimes present in the sand here. Don't let this deter you. Tar is easily removable from feet, hands, etc., by rubbing it with olive oil and other cooking oils or Vaseline.) Dogs are not allowed on the beach. Make your reservations online!
RELATED: Huttopia Paradise Springs is Mountain Glamping near Los Angeles

Two Harbors Campground on Catalina Island. Photo courtesy of VisitCatalinaIsland.com
Catalina Island is a little island with a big selection. Choose from six camping options (including boat-in camping for those with watercraft). The best bet for families is Hermit Gulch. (What's not to like? It offers showers, flush toilets, and rangers who sell firewood! Ah, luxury.) Downtown Avalon is just a mile downhill, and the Wrigley Memorial and Botanic Garden are even closer. This campground also rents out camping equipment and offers tent cabins.
Other Catalina camping options include Little Harbor Campground (there are showers here, too, and easy access to the beach) and Two Harbors Campground, where you can pitch your tent or sleep in one of their tent cabins complete with cots. Be sure to read the camping guidelines before you head out (good to know, for example, that you need an easily obtainable camping permit on the island). And consider your ferry ride options, too. Dogs are not allowed at most campgrounds. You can book a campsite online or call 310.510.4205.
Rustic and woodsy, it's not. But Campland on the Bay has lots of appeals. Enjoy all that the shores of Mission Bay have to offer, including the proximity to Sesame Place San Diego, SeaWorld, and the San Diego Zoo. At the campground choose from swimming, volleyball, bike rentals, arcade games, sandcastle competitions, and movies, to name but a few activities.
The facility offers a range of camping options, from tent sites to full RV hookups. Flush toilets and showers are available. Added bonus? Restaurants are nearby for those who tire of charred hotdogs and cold cereal. Make reservations online. Prices vary widely depending on the site; see the full rate schedule.
RELATED: The Best Beach Camping Sites on the West Coast
Splash in the creek right by your campsite at Wheeler Gorge. Photo by Mommy Poppins
Oh, to wake up to the sound of a babbling creek! If this sounds like bliss to you, stay at Wheeler Gorge Campground. Streams actually run through the campground, meaning you don't need to go far to enjoy a splash and some wet and rocky exploring (and to find some frogs). Nearby trails offer miles of walking or hiking. All this is just 15 miles outside of downtown Ojai.
A two-night minimum stay is required on weekends and a three-night minimum on holiday weekends. Dogs are allowed but must be on leashes at all times. The Wheeler Gorge Visitor Center is open on weekends and hosts great programs all summer long. Nine sites are available on a first-come, first-served basis, all other sites can be booked online.
Run by the local Parks and Rec department, Hesperia Lake Park offers a playground, soccer field, camp store, and a private, duck-filled little lake that requires no fishing license (but charges per person to fish). It's not exactly getting away from it all, but this camping trip leaves no room for boredom. Dogs are allowed, and there is even an equestrian center if you were hoping to bring your horse.
Reservations are only by phone and pretty laid back, so no need to master the complicated and stressful reservation systems of some state and national parks. Hesperia Lake is less than two hours from pretty much anywhere in Los Angeles. Restrooms and showers are available at no extra charge. Make reservations by phone: 760.244.5951.
RELATED: RV Camping and Campgrounds for Families

Camping in LA is an almost year-round activity. Photo by Mommy Poppins
Malibu Creek is a hop and a skip away from the Westside or the Valley, with so many quiet trails (except for bunnies and birds and the occasional snake), many of which are stream-side. Enjoy gorgeous meandering fields, often with deer foraging in the distance. M*A*S*H was filmed here, as were scenes from Planet of the Apes, so you might recognize the terrain.
Make sure to take a dip (at least your toes) at the rock pool. And if you're daring (and perhaps your kids are older), have a leap off of the large rocks into the refreshing water below. The group site is rather slanted but nicely secluded from the rest of the camping public. Dogs on leashes are allowed at the campground but are not allowed on the backcountry trails or dirt roads. Make reservations online or call 888.444.7275.
Just 28 miles north of Santa Monica, Leo Carrillo is a simple getaway destination, especially for those on the westside. Campsites are tucked away from PCH but with easy access to hiking trails, the beach, and tide pools. The camping area offers coin-operated showers and flush toilets, as well as a great camp store. (The camp store motto is, "If we don't have it, you don't need it.") Regulars warn about pesky squirrels but otherwise rave about this pleasant little spot. Reserve early! Spots fill up quickly.​ Make your reservation online or call 888.444.7275.
RELATED: Your Guide To Backyard Camping with Kids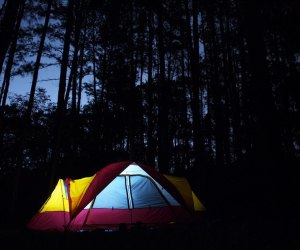 Oh say can you see by the tent's little light? Photo by avhell/CC BY-SA 2.0
Just a few miles beyond Leo Carrillo, Point Mugu is another great spot for a first tent camping experience. Easy to get to, easy to enjoy. There are two campgrounds here: Thornhill Broome is directly on the beach and offers outside showers and chemical toilets. The beach is rocky, and the wind can be chilly, but you can't camp closer to the waves. Big Sycamore Canyon (also called Sycamore Canyon) is on the inland side of PCH and offers a more mountainous retreat with a short hike back to the beach. There is lots of shade at Sycamore (unlike Thornhill Broome) and easy access to miles of hiking trails.
Sycamore Cove Beach is accessed via a trail that goes under PCH, and the route may be flooded during high tide. The surf here can be a bit rough, but this is balanced by barbecues and picnic tables on the beach. Driving to the beach is also an option; a parking pass from any campground in Point Mugu is good at the Sycamore Cove Beach lot. Wood is generally available for purchase at the ranger booth. Make reservations online.
2023 update: El Capitan State Beach Campground is closed until further notice due to flood damage.
If you're willing to drive a bit farther, head to El Capitan, about 20 miles north of Santa Barbara, just off the 101. Here you'll find beach surf, tide pools, hiking and biking trails, and rustling trees. Many sites even have an ocean view. The park provides restrooms and pay showers, but there are no trailer hookups, and no disposal station. Dogs are allowed at the campground—on a leash—but are not allowed on the beach at all.
What's not to like? Well, some campers dislike the proximity to the Amtrak train tracks, though most say the sound of the nearby waves balances the occasional sound of the trains. You can reserve your campsite online.
If camping with an ocean view sounds like heaven, Crystal Cove can take you there. The campsites on the bluffs come with the perk of pleasant, recently built amenities at one of the state's newest state parks. (And yes, that means hot showers and restrooms.) The beach is a steep walk down, or there are hikes in the hills. The ocean view campsites are half RV, half tents only, with 58 in total. Primitive backcountry hike-in sites are also available for die-hard campers.
The coastal walk from the campground leads through wooded canyons to tide pools, sandy beaches, and plenty of flowers in the spring. Park staff and docents usually conduct interpretive programs year-round, including guided hikes, tide pool walks, and geology talks. Make your reservation online.
Wait. Is this place in Southern California? Though swimming is not allowed (the lake is a drinking water supply), boating and fishing are more than welcome. Largemouth bass and rainbow trout are two of the many species that call this place home—lucky little guys. Look around as you walk or bike along a trail on the eastern side of the lake. Tents, tent trailers, campers, and RVs are all welcome at the campground.
Playgrounds for the kids and warm showers round out this splendid place to pitch your tent. Dry storage space is available for kayaks, RVs, and canoes. Dogs are allowed but must be on 6' max. leashes at all times. Campsites usually open in early May for the summer season. Water Adventure, a family-friendly water park, typically opens for the summer starting on Memorial Day Weekend, with reservations available starting in mid-April. You can make reservations online.
Make your reservations early, for these spots fill up quickly. And it's no wonder. Campsites are at sea level, meaning no stairs to climb up or down to the beach. Enjoy nearby kayaking, surfing, windsurfing, fishing, and biking at the spot voted "Best Camp Site" 18 years in a row by The Orange County Register. Flush toilets and showers are available (bring quarters for the showers). Pay attention to festival times throughout the peak season, which may mean larger than normal crowds, loud music, and increased traffic.
This article was originally published on March 28, 2012
With additional reporting by Matt Matasci
Sign up for the Mommy Poppins Newsletter today!