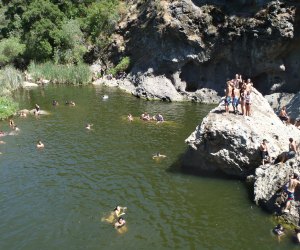 10 Swimming Lakes Near Los Angeles You Need to Discover
Los Angeles kids grow up swimming at some of the country's most iconic beaches, not to mention an array of flat-out awesome public swimming pools. But wait—there's more! Did you know that there are some wonderful swimming lakes within spitting distance of LA? And if you're willing to drive a little farther, lake options get even more plentiful.
Whether you want to take a dip in a secluded swimming hole, or join the masses at a lavish lake resort, here are some of the best spots to take a swim out in nature.
Note that in the 2020 season, the lakes below are almost all closed during the social distancing phase of the coronavirus pandemic. Try cooling off on a waterfall hike instead!
​Distance: 30 miles from Hollywood
Cost: All day – $12 per car, per day
Bathrooms: No
Parking: At entrance to 3 miles hike from trailhead to swimming hole
Situated under a canopy of sycamore trees, this peaceful watering hole is the perfect place to cool off after enjoying the hiking trails with the family. Whether you want to have a picnic or take a dip, the kids will surely love the adventure of discovering this hidden gem. There's even a steep gorge with porous rock walls just upstream, but be warned that park rangers are known to give tickets out to overenthusiastic climbers. For the less adventurous, be sure to take a picture in front of the Planet of the Apes Wall along the trail—so named because the movie was filmed there.
Distance: 30 miles from Hollywood
Cost: $10 per car
Bathrooms: Yes
Parking: on-site
This 70-acre lake is perfect for the family that wants to pull up, unpack, and hit the water. With lifeguards monitoring the five-acre chlorinated swimming beach (and separate Water Play Area), you can be sure the family is safe and satisfied. Expect crowds, though, because this favorite swimming lake draws them on hot summer days for boating, swimming, and its gargantuan picnic area. The earlier you start your day, the better.
Distance: 33 miles from Hollywood
Cost: $10 per car
Bathrooms: Yes
Parking: on-site
This is another spot that takes the fuss out of your swim-cation. Clean, with a full compliment of lifeguards and miles of public beaches, this regional park ensures the only thing you have to do is enjoy the water. And unlike some other SoCal swimming lakes, this beach is open all week from July through Labor Day. If you have a boat, bring it along, because you can motor it right up to the swimming area and take a dip.
Distance: 82 miles from Hollywood
Cost: Free
Bathrooms: Yes
Parking: on-site
This modest beach offers a healthy mix of everything you want from a lake outing. From wildlife to lifeguards, clean bathrooms to sandy beaches, you can enjoy nature here without having to rough it. With camping nearby, you can even take the whole weekend to enjoy all this lake has to offer. Note: There have been issues with some toxic algae over the years, so be sure to check that the beach is open before you pack up the whole family.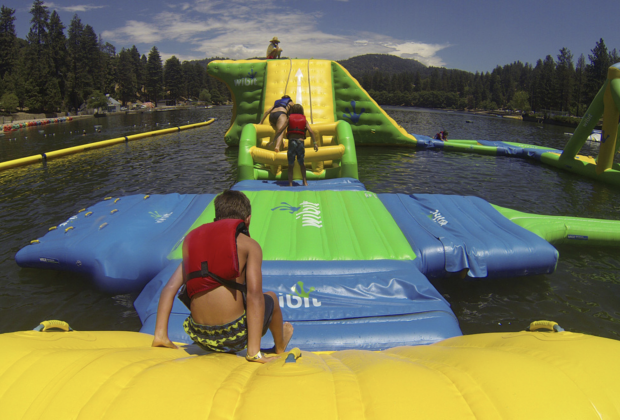 Lake Gregory even has a water park. Photo courtesy of Lake Gregory
Distance: 86 miles from Hollywood
Cost: $10 per car, $10 per person for beach area (kids under 5 are free), additional fees for water park
Bathrooms: Yes
Parking: on-site
Lake Gregory is where you go to mix all the fun of a raucous water park with the natural beauty lake life. The big draw is an inflated water park, plus float-a-boats by the hour, and a full beach, there's something for everyone here. But be warned, with separate fees for most of the activities, it's not cheap. Still, for the family that wants to a little taste of theme park in their lake excursion, this is the place for you. Note, kids under 7 aren't allowed in the water park.
Distance: 98 miles from Hollywood
Cost: $5 per car
Bathrooms: No
Parking: 1.3 miles hike from swimming hole
This scenic swimming hole, with a 40 foot cliff dive, can be too much of a good thing, because it tends to draw a crowd. Still, if you want to wade in some cool water, take in a beautiful waterfall, or just get in a good hike, you can't do better than this oasis tucked into the San Bernardino Mountains. There's a $5 parking fee at Splinter's Cabin Trailhead, unless you have a California Adventure Pass or Interagency Pass.

Aztec Falls. Photo by Jonathan/CC BY 2.0
7. Big Bear Lake - San Bernardino National Forest
Distance: 108 miles from Hollywood
Cost: Varies
Bathrooms: Varies
Parking: Varies
A vacation destination for families statewide, this 7-mile long lake offers an endless supply of water sports that'll keep the whole family busy. With a variety of beaches to choose from, chances are you'll be able to find a stretch of sand to call your own. If you tire of wading in the water, there's everything from paddle boarding and kayaking to boating and fishing. With top-notch cabins and hotels nearby, this is an ideal large swimming lake to take some time visiting.
Distance: 161 miles from Hollywood
Cost: Permit - $10.00
Bathrooms: No
Parking: A dozen spots, or street parking at entrance to 5-mile hike
This former San Diego party spot has thankfully been tamed by a newly-instituted demand for permits before you can enter, leaving it less crowded and more tranquil. A 5-mile hike, round trip, will connect you to the flowing waterfall of Cedar Creek with a crystal clear pool at its base. If you're hiking in summer, be sure to bring lots of water and sunscreen, as it can get hot. This is a great excursion for a little adventure, combining a solid workout, beautiful nature, and a pristine spot for a dip. It's not exactly a shocker why this is such a popular spot.
Distance: 250 miles from Hollywood
Cost: Free
Bathrooms: Pit toilet
Parking: Parking lot
No motorized boats are allowed on this popular swimming lake, leaving it clean and serene for some family fun. With various sandy beaches and coves, there's sure to be a spot to enjoy some lounging, a picnic or a dip in the water. And if swimming isn't your thing, kayaking, fishing, hiking, and camping are also available in the area.
10. Bass Lake - Sierra National Forest
Distance: 270 miles from Hollywood
Cost: Free
Bathrooms: Yes
Parking: Parking lot
A short drive from Yosemite National Park, Bass Lake is teeming with activities​ for the fam. From local markets to boat rentals, popular restaurants to water skiing, you could spend a week on its sandy shores and still not do everything this swimming lake has to offer. Still, for the swimming inclined, park at The Pines Resort and enjoy the public beach out back. And when you get hungry, there's a whole town mere steps away to enjoy.