The Best Swimming Lakes near Los Angeles You Need to Discover
4/21/23
- By
Brian Steele
Since Los Angeles is a city, there aren't a lot of swimming lakes in the heart of town. So, we have listed these swimming lakes in order of distance from Hollywood, which is geographically the middle(ish) of the city. The list starts with easy half-day trips to well-worth-it drives to weekend getaways at cabins or campgrounds by beautiful swimming lakes.
Swimming Lakes That Are an Easy Day Trip from LA
​Distance: 30 miles from Hollywood
Cost: $12 per car, per day
Bathrooms: No
Parking: At the entrance, in a lot. It's a 3 miles hike from trailhead to swimming hole
Situated under a canopy of sycamore trees, this peaceful watering hole is the perfect place to cool off after enjoying the hiking trails with the family. Whether you want to have a picnic or take a dip, the kids will surely love the adventure of discovering this hidden gem. There's even a steep gorge with porous rock walls just upstream, but be warned that park rangers are known to give tickets out to overenthusiastic climbers.
For the less adventurous, be sure to take a picture in front of the Planet of the Apes Wall along the trail—so named because the movie was filmed there. The creek winds through the park, and there are several swim spots, so if a spot seems too crowded, keep hiking until you find a less crowded place to cool down.
RELATED: Best Beaches for Kids and Families in Los Angeles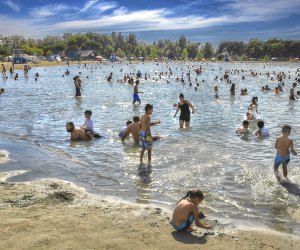 Santa Fe Dam Recreation Area is open for swimming! Photo courtesy of Russ Allison Loar, CC BY-SA 2.0
Distance: 30 miles from Hollywood
Cost: $12 per car
Bathrooms: Yes
Parking: On-site
This 70-acre lake is perfect for the family that wants to pull up, unpack, and hit the water. With lifeguards monitoring the five-acre chlorinated swimming beach (and a separate Water Play Area), you can be sure the family is safe and satisfied. Expect crowds, though, because this favorite swimming lake draws them on hot summer days for boating, swimming, and its gargantuan picnic area.
The earlier you start your day, the better. The swim beach opens Memorial Day weekend and will be open weekends only through June 17. Hours and dates are then expanded in the summer to weekdays through September 4.
Distance: 33 miles from Hollywood
Cost: $12 per car
Bathrooms: Yes
Parking: On-site
This is another spot that takes the fuss out of your swim-cation. Clean, with a full complement of lifeguards and miles of public beaches, this regional park ensures the only thing you have to do is enjoy the water. And unlike some other SoCal swimming lakes, this one is open daily from June 20 to September 5. If you have a boat, bring it along because you can motor it right up to the swimming area and take a dip.
Distance: 82 miles from Hollywood
Cost: $10 per vehicle - $20 Fri-Sun and holiday weekends Memorial Day Weekend through Labor Day Weekend
Bathrooms: Yes
Parking: On-site
This modest beach offers a healthy mix of everything you want from a lake outing. From wildlife to lifeguards, clean bathrooms to sandy beaches, you can enjoy nature here without having to rough it. With camping nearby, you can even take the whole weekend to enjoy all this lake has to offer.
Note: There have been issues with some toxic algae in the past, so be sure to check that the beach is open before you pack up the whole family.
RELATED: Best Water Parks in Los Angeles for Wet and Wild Family Fun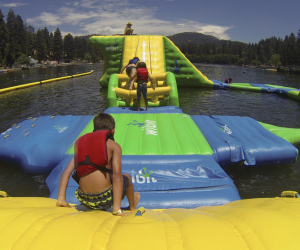 Lake Gregory even has a water park. Photo courtesy of Lake Gregory
Distance: 86 miles from Hollywood
Cost: $10 parking, $10 per person for beach area (kids under 3 are free and seniors are $6), additional fees for water park
Bathrooms: Yes
Parking: On-site
Lake Gregory is where you go to mix all the fun of a raucous water park with the natural beauty of lake life. The big draw is an inflated water park, plus float-a-boats by the hour, a splash pad, and a full beach—there's something for everyone here. But be warned, with separate fees for most of the activities, it's not cheap.
Still, for the family that wants a little taste of theme park in their lake excursion, this is the place for you. Kids must be 48" to ride the water slides. Keep an eye out for the new inflatable water park!
Distance: 75 miles from Hollywood
Cost: Free
Bathrooms: Yes
Parking: On-site
While most of these swimming spots on our list are found at reservoirs or creek pools, Lake Elsinore is a natural lake. It's not far from Riverside (and the Perris Reservoir) and has a beach right next to the city of Lake Elsinore. Elm Grove Beach features shade structures, picnic tables, volleyball courts, barbecues, and even fire rings in the summer.
Parking at this beach is limited, but it's free! There's another beach at the Launch Pointe Recreation Destination & RV Park, but it has parking fees.
7. Perris Reservoir—Lake Perris State Recreation Area
Distance: 77 miles from Hollywood
Cost: $10 per vehicle; $20 on summer weekends and holidays
Bathrooms: Yes
Parking: On-site
Just southeast of Riverside, the Perris Reservoir offers beaches, picnic and bbq areas, boating, and more. The beaches are sandy and perfect for getting a respite from the Inland Empire heat, plus there are grassy areas nearby for your blankets.
There are two swimming areas with lifeguards in the summer and weekends during the spring and fall: Moreno Beach and Perris Beach. If you have kids learning to SCUBA dive, the lake allows diving at the swim beach at lots 1-4.
RELATED: Water Playgrounds, Sprinkler Parks, and Splash Pads in Los Angeles

The natural beauty of Big Bear Lake. Photo courtesy of Big Bear
Swimming Lakes That Are a Weekend Getaway from LA
8. Big Bear Lake—San Bernardino National Forest
Distance: 108 miles from Hollywood
Cost: Varies
Bathrooms: Varies
Parking: Varies
A vacation destination for families statewide, the 7-mile long lake in Big Bear offers an endless supply of water sports that'll keep the whole family busy. With a variety of beaches to choose from, chances are you'll be able to find a stretch of sand to call your own. If you tire of wading in the water, there's everything from paddle boarding and kayaking to boating and fishing. With top-notch cabins and hotels nearby, this is an ideal large swimming lake to visit for several days.
Local officials ask that we remind everyone that there is only one small beach (Swim Beach, which is adjacent to Meadow Park on the South Shoreline) where lifeguards are on duty. Also, remember that the lake is very cold, and hypothermia is very real, so don't stay in the lake for too long and have lots of towels on hand to dry off and warm up!
Distance: 161 miles from Hollywood
Cost: Permit is $10.00
Bathrooms: No
Parking: A dozen spots, or street parking at entrance to 5-mile hike
This former San Diego party spot has thankfully been tamed by a newly-instituted demand for permits before you can enter, leaving it less crowded and more tranquil. (It also means weekend permits are reserved early, so you may have to plan ahead a bit for a visit.) A five-mile hike, round trip, will connect you to the flowing waterfall of Cedar Creek with a crystal clear pool at its base.
If you're hiking in summer, be sure to bring lots of water and sunscreen, as it can get very hot, and the hike out is mostly uphill. This is a great excursion for a little adventure, combining a solid workout, beautiful nature, and a pristine spot for a dip. It's not exactly shocking that this is such a popular spot.
Distance: 250 miles from Hollywood
Cost: Free
Bathrooms: Pit toilet
Parking: Parking lot
No motorized boats are allowed on this popular swimming lake, leaving it clean and serene for some family fun. With various sandy beaches and coves, there's sure to be a spot to enjoy some lounging, a picnic, or a dip in the water. And if swimming isn't your thing, kayaking, fishing, hiking, and camping are also available in the area. The day-use area opens in mid-May as the peak season begins at Hume Lake.
11. Bass Lake—Sierra National Forest
Distance: 270 miles from Hollywood
Cost: Free
Bathrooms: Yes
Parking: Parking lot
A short drive from Yosemite National Park, Bass Lake is teeming with activities​ for the fam. From local markets to boat rentals, popular restaurants to water skiing, you could spend a week on its sandy shores and still not do everything this swimming lake has to offer. Still, for the swimming inclined, park at The Pines Resort and enjoy the public beach in the back. And when you get hungry, there's a whole town mere steps away to explore.
This post was first published on August 8, 2018 and is updated annually.
Additional reporting by Matt Matasci
Sign up for the Mommy Poppins Newsletter today!
i