Santa Anita Park Spring Carnival
Santa Anita Park

KidStock
Pretend City Children's Museum

Artificial Intelligence with Scratch Online Camp
Young Gates - Kids Online Personalized Classes
Sign up for our free newsletters.
Splash Parks, Sprinklers, and Water Playgrounds in Orange County Parks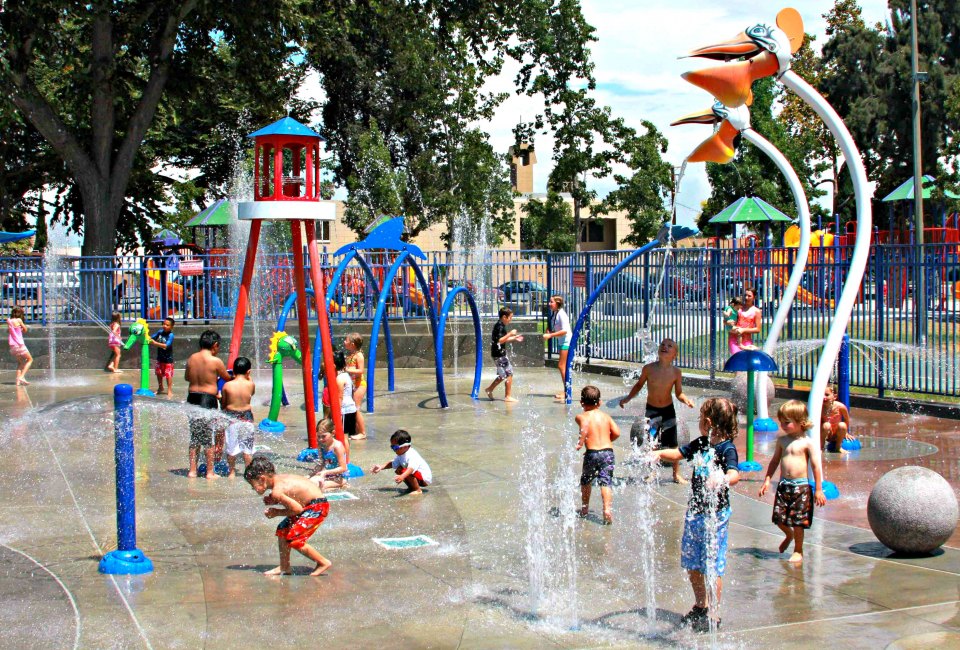 5/14/19
- By
Phylicia Q
When summer finally hits, Southland families are looking for water, water everywhere. There's hanging at the beach or playing in a pool, but fun places with splash pads and water features rank pretty high on a summer bucket list. Little kids, bigger kids, and even the occasional parent (yes, you!) can cool off on a hot day without tons of planning or tons of waste. Let's face it: playing in the water is just plain fun—and if you keep an extra towel in the car, you're always ready.
Check out some of these free water play parks and sprinklers around Orange County. Most are open Memorial Day to Labor Day, though we recommend calling to confirm before heading out, as water conservation efforts may sometimes be in effect.
Free Splash Pads
• Heritage Park – Irvine
(949) 724-6750
Heritage Park has quite a few great highlights such as a beautiful lake, areas to picnic, clean bathrooms (inside the Community Center), and a pretty elaborate, two age group playground. This park gets even better when summer hits, because the water fountain is added to the list of things to do. The feature is a little more than a sprinkler, so plan for your kids to get pretty wet here.
• The District – Tustin
(714) 259-9090
This quaint pop-up sprinkler is nice when you're willing to let your kids get just a little wet. There's just enough water to play without getting too drenched. Grab a snack in The District Mall, and take a seat in the extra comfy chairs. The play area is between Tilly's and Five Guys.
• Pioneer Road Park – Tustin
(714) 573-3000
Like its name, this park was designed to transport you back to the pioneer days, with its log cabin and covered wagons augmenting its large playground area. Pioneer Park is probably best known for its water play features in the summer. The water area is pretty spacious, with several pop-up fountains and water cannons to spray. Plan to spend some time getting soaked here. The water play area is open 10am-4pm Memorial Day through Labor Day weekend.
RELATED: Water Parks and Water Slides for SoCal Kids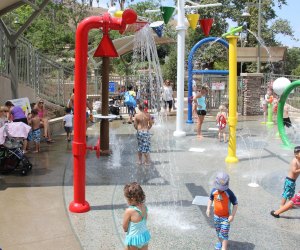 With summer comes the water at Crown Valley. Photo courtesy of Crown Valley Sprayground/City of Laguna Niguel
• Frontier Park – Tustin
(714) 573-3000
Tustin built the water-play splash pad at this park in 2014 but had to shut it down soon after opening because of drought restrictions. Now it is up and operating from 10am-4pm daily Memorial Day to Labor Day weekend.
• Lemon Park Spray Pool – Fullerton
(714) 738-6575
Lemon Park houses a slash pad with multiple features and endless opportunities to get completely wet. The water area is gated with high-shooting fountains to cover the entire pad. The park also has playground and picnic areas to hang out in after all the water fun. Stop by during water play hours (May 31-Aug. 7 and weekends only through Sept. 25 plus Labor Day) from 1pm–5pm. Bathing suits are required at this one.

• Fullerton Downtown Fountain - Fullerton
Located next to the Fullerton Museum Center, this playful and interactive fountain operates daily from 10:30am-8pm, weather permitting. Wander around to appreciate the colorful banners, outdoor stage, and decorative paving while your little one gets wet.
• Sigler Park Splash Pad – Westminster
(714) 895-2860
This splash pad is set to reopen May 25, 2019 and has continuous fountains that sprinkle, shoot, pour, and spray for a soaking water fun day. The adorable features are designed in bright colors and funny characters to add extra appeal. This park also has a playground for young and older kids. Water play hours are noon–5pm daily June 22-Sept. 2, and weekends May 25-June 16.
• Stanton Central Park Splash Pad – Stanton
(714) 890-4268
The splash pad operates seasonally and reopens Memorial Day weekend. It has a train theme, like the rest of the park, and there's a train engine that has a slide and sprinkles water out its sides, as well as several other water features, The park itself, which opened in 2016, has a skate park, butterfly garden and large playground area. Water play areas are noon-5pm Memorial Day weekend through Labor Day.
• Harry M. Dotson Park - Stanton
(714)379-9222 ext. 270
This splash pad is open from Memorial Day to Labor Day noon-5pm daily. The park has a pirate ship theme, and there are two playgrounds for different age groups. While parking is limited, it's free.
• Adlena Park - Fullerton
This low-key neighborhood park (it takes some sleuthing to find it, as it's tucked into the neighborhood) turns on the splash pad each summer and it runs daily noon-five. Bring a picnic and maybe a basketball, since there are two courts, if you're so inclined.

Buccaneer Cove. Photo by Mommy Poppins
If you want to pay for water play:
Atlantis Play Center – Garden Grove
(714) 892-6015
The cost is minimal at this ocean-themed park with a fun splash pad. It opens for the 2019 season June 4.
$2 per child (2 and under free)
Hours:
Tuesday–Friday 10am–2pm
Saturday 10am–4pm
Sunday noon–4pm
Castle Park Buccaneer Cove – Irvine
(949) 785-3000
A pirate's treasure trove five levels high houses slides, sprays, and buckets of water.
Tickets start at $14.99 and can include mini-golf or rides for an extra fee.
Opens on May 11
Check the website for hours.
Newport Dunes Water Playground – Newport Beach
(949) 729-3863
A different kind of water park, this resort has a day use area featuring inflatable play structures on the waters of the Back Bay lagoon, no waves.
Summer rate: $25/2 hours
Check the website for hours, which vary.
Originally published August 1, 2014