Santa Anita Park Spring Carnival
Santa Anita Park

KidStock
Pretend City Children's Museum

Online Robotics Camp
Young Gates - Kids Online Personalized Classes
Sign up for our free newsletters.
59 Things To Do with Orange County Kids Before They Grow Up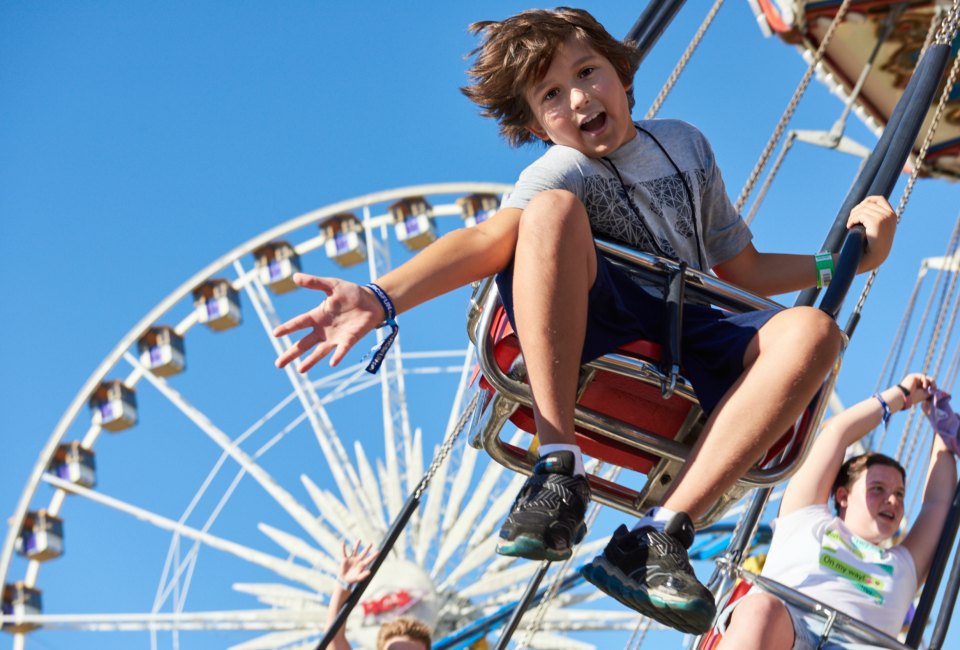 6/16/19
- By
Li Starr
Orange County may sometimes be considered second fiddle compared to Los Angeles for fun eats, kid-friendly parks, family outings, and outdoor adventures; but the OC has plenty of all of these—with the benefits of better air and less traffic (sorry, Angelenos!). If your kids are growing up the OC way, here are some key places to take them for the ultimate childhood experience behind the Orange curtain.
1. Explore the little-kid versions of grown-up stuff at Pretend City in Irvine.
2. Celebrate Summerfest in Fountain Valley.
3. Shop for fresh produce near the water at the Huntington Beach Farmers Market.
4. See the pros hit some gnarly waves at the US Open of Surfing in Huntington Beach.
5. Take preschool kids to Adventure City in Anaheim for a theme park experience that's just their size.
6. Have splash paaarrr-ty at Irvine's Buccaneer Cove water park.
7. Skip the sunscreen and enjoy the wet indoors at Great Wolf Lodge water park.
8. Get kids excited about STEM and nature at the Discovery Cube OC.
9. Roam through the exhibits at the Children's Museum in La Habra.
10. Disneyland. Need we say more?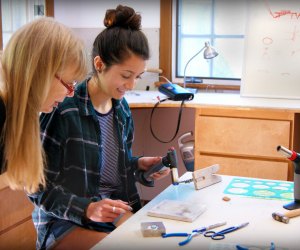 Get crafty in an art class. Photo courtesy of the Sawdust Art & Craft Festival
11. Let kids get in touch with their inner Picassos at the Sawdust Art & Craft Festival in Laguna Beach.
12. Eat some weird fair foods at the Orange County Fair.
13. Get fried chicken, boysenberry pie, and super soggy at Knott's Berry Farm and Soak City.
14. Bet you didn't know the OC has not one but two zoos: The Santa Ana Zoo and The Orange County Zoo.
15. Give your kids hard proof fairies exist on the Oso Creek Fairy Trail.
16. Climb up to the treehouse and have fun in the sensory garden at Adventure Playground in Irvine.
17. Heritage Park Play Island mixes history with play space for free.
18. Learn about what you're eating in an interactive, all-ages, outdoor classroom at Farm + Food Lab in Irvine.
19. Take a ride in the orange Great Park Balloon at Orange County Great Park.
20. It's all aboard a mini-train for a ride on the Irvine Park Railroad.
21. Discover the Bowers Museum impressive Native American art collection.
22. See knights joust, and eat with your hands at Medieval Times in Buena Park.
23. Make some new friends at the Zoomars Petting Zoo in San Juan Capistrano.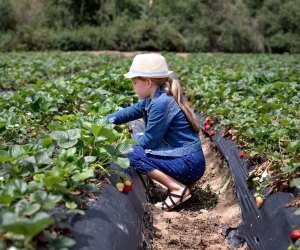 Pick your own strawberries at Tanaka Farms. Photo by Michelle McCoy Photography courtesy of Destination Irvine
24. Pick strawberries and take a wagon ride at Tanaka Farms.
25. Discover some scaley, wriggling critters at Prehistoric Pets in San Juan Capistrano.
26. Visit a real working farm complete with animals at Centennial Farm.
27. Enjoy a retro boardwalk experience at the Balboa Fun Zone in Newport Beach.
28. Climb a wall at Sender One in Santa Ana.
29. Have a relaxing day at Balboa Beach and take the ferry to Balboa Island.
30. Get your bounce on at Frogg's Bounce House in Fountain Valley.
31. Let your little historian get the lowdown on Watergate at the Richard Nixon Presidential Library and Museum in Yorba Linda.
32. Make time for open play at Scooter's Jungle in Placentia.
33. Have a foam ball shoot out at Seascape Kids Fun in Anaheim Hills.
34. Take a kid (adults aren't allowed in without them) to the aquatic-themed Atlantis Play Center in Garden Grove.
35. Take a gander at (and check your reflection in) the iconic Crystal Cathedral.
36. Catch a live show at the open-air, all-ages Garden Amp in Garden Grove.
37. Show your budding artist the collection of Impressionist works by California artists at the Irvine Museum.
38. Want to see some swashbuckling while you eat? Try the Pirate's Dinner Adventure in Buena Park.
39. Take a view of prehistoric Orange County at the Ralph B. Clark Interpretive Center.
40. Not into knights or pirates? Try a circus-themed dinner show at The Cirque Magique.
41. Stay cool at the Lemon Park Spray Pool in Fullerton.
42. Discover life underwater and the state's maritime history at the Ocean Institute in Dana Point.
43. Strap on some ice skates and take a spin around the rink at Yorba Linda Ice.
44. Got teens? Impress them with a Radiant Ride (13 and older), a night ride on a light-up paddleboard, at Newport Dunes Water Park.
45. Learn new ways to save the earth at The Ecology Center in San Juan Capistrano.
46. Walk the trails and do some bird watching at Shipley Nature Center.
47. Let your kids enjoy acres of botanical gardens at the Fullerton Arboretum.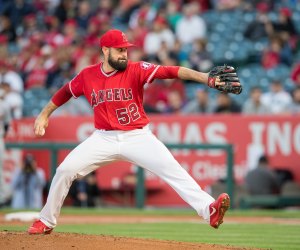 The Angels are OC's home team. Photo courtesy of Angels Baseball
48. Catch a baseball game at Angels Stadium in Anaheim.
49. Learn about 240 years of history at the Mission at San Juan Capistrano (and maybe spot the swallows returning).
50. Bowl a strike at Concourse Lanes in Anaheim.
51. Sign up for a kids' ceramics class at The Ceramics Studio in San Juan Capistrano.
52. Take a ride on the carousel or the Big Wheel at Irvine Spectrum.
53. Rummage for antiques and take a scenic stroll in Old Towne Orange.
54. Enjoy the flora and fauna at the cozy Pitcher Park — and in summer, visit the beehouse and the Firehouse Museum.
55. Got a car-loving kid? Stop in at the Marconi Museum in Tustin.
56. See the fossil exhibit in Laguna Hills Community Center, and take the audio tour, too.
57. Search for T. Rex at one of Orange County's 5 dinosaur hot spots.
58. Grab a ticket for the OC Night Market when it happens, and try foods from around the world in Costa Mesa.
59. Visit the Tessman Planetarium to take in the stars at Santa Ana College.