Dinosaurs in Orange County: 5 Spots for Dino-Loving Kids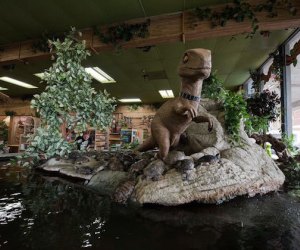 Are Jurassic World, Dinosaur Train, and Dino Dan playing on an endless loop in your home? Does your 4-year-old frequently reference the differences between a Stegosaurus and a Brachiosaurus without batting an eye? Have you often found yourself in heated discussions at the dinner table about whether or not an Apatosaurus would, in fact, eat all of his vegetables?
If this sounds like your family, why not encourage your budding paleontologist to embrace his current obsession by walking (or playing!) with dinosaurs? Orange County has a plethora of places to take Cretaceous-crazed kids to fuel all of their prehistoric passions.
Here are five of our favorites:
Discovery Cube Orange County
2500 N. Main Street
Santa Ana, CA 92705
Head outside to Dino Quest Headquarters, where you'll walk right into the belly of the beast – a two-story tall Argentinosaurus – to complete challenge quests using infrared electronic transmitters to garner information for the "scientists" back at Dino Quest Headquarters. Kids will love playing explorer at this elaborate dino dig, which also features a life-size replica of a real T-Rex spanning 40 feet long and 15 feet tall.
Wonder of Dinosaurs
Laguna Hills Mall
24155 Laguna Hills Mall
Laguna Hills, CA 92653
This traveling indoor playground offers something for everyone. Toddlers adore the Jurassic-themed jumpers, while big kids "ooh" and "aah" over the impressive display of animatronic dinosaurs. There are also several giant slides, fossil excavation sites, and a free, robotic T-Rex ride.
Dinosaur Park (Laguna Hills Community Park)
25555 Alicia Parkway
Laguna Hills, CA 92653
Prepare to be amazed by this local haunt tucked discreetly behind the nondescript Laguna Hills Community Center. Kids love climbing the enormous rock walls (which are literally brimming with "prehistoric" fossils!), riding tot-sized dino bouncers, and exploring enormous statues on display throughout the two-story playground.
RELATED: 25 Things To Do with Kids in Laguna Beach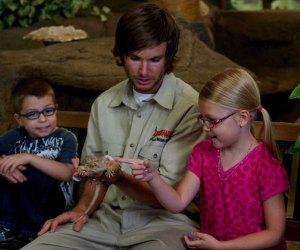 The Reptile Zoo
18822 Brookhurst St.
Fountain Valley, CA 92708
This 10,000-square foot menagerie does its best to answer the question, "What ever happened to the dinosaurs?" From the moment you walk through the door, your family can interact with a variety of snakes, geckos, alligators, tortoises, and iguanas. There are also two giant dinosaur replicas guarding the entrance to this prehistoric strip mall zoo right off the 405 freeway.
Dino Days at the Nature Park
26215 Dimension Drive
Lake Forest, CA 92630
This highly anticipated event, hosted annually by the City of Lake Forest Department of Parks & Recreation, will be held on June 11 and 12 in 2016, at Nature Park. The whole family can enjoy crafts, face painting, balloon artists, and fossil digs. Still not entirely sold? There is also a self-guided tour to meet-and-greet five different animatronic dinosaurs, including a Velociraptor, T-Rex, Brachiosaurus, Dilophasaurus, and Procomsognathus.
RELATED: 30 Things To Do in Irvine with Kids
Photos by the author