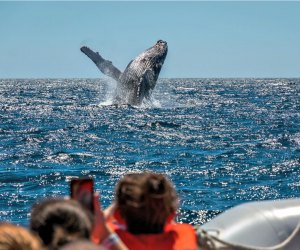 Where To Go Whale Watching in LA: Whale Cruises, Festivals, and Viewpoints
Winter is prime whale watching season in Southern California, and there are several ways to spy on the giant mammals as they pass through on their 6,000-mile quest for Mexican romance. Each year, between December and April, roughly 20,000 Pacific gray whales migrate past our beaches, and March brings particularly high traffic because that's when the underwater procession starts to turn around. Pregnant, south-bound she-whales still trying to make it to Baja before the contractions start are blasted past by upwardly mobile young he-whales, finished with romance and headed for an appointment in the Arctic Circle. All that toing and froing is the inspiration for many a whale cruise and festival. With a little luck and clear skies, even a hike or sand sledding can turn into a whale watching activity.

Photo courtesy of Dana Wharf Whale Watch
Whale Watching Boat Trips
Cabrillo Marine Aquarium's Whalewatch Landings
December-April
San Pedro, Marina del Rey, Redondo, Long Beach, San Diego
Group pricing starts at $12 up to $35 for individuals.
The Aquarium's whale adventure starts with an educational slide show about the life of the Pacific gray whale and continues with a two-hour voyage in search of whales, dolphins, sea lions, and seabirds.
Aquarium of the Pacific
Daily, November-April
Long Beach
Adults $25-$55; Children $15-$41
The Aquarium of the Pacific offers two whale watching excursions daily (12pm & 3pm) throughout the whale season. Taking a ride with an Aquarium on-board educator is a great way to meet the mammals (as we found when we reviewed one of these cruises), and so is the blog the Aquarium keeps of its journeys.
Newport Landing
Daily, year round
Newport Beach
Adults $37.50; Children (under 13) $31.50
Newport Landing offers daily whale watching trips departing from Newport Beach throughout the year, providing close-up peeks at dolphins, sea lions, marine birds, sharks, and whales up to 80 feet in length.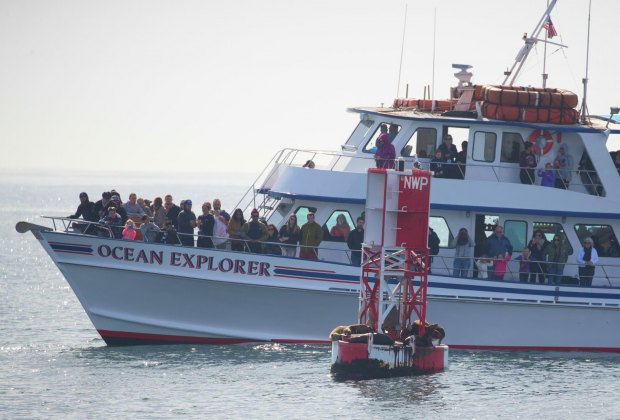 Photo courtesy of Newport Landing
Redondo Beach Whale Watch and Nature Cruise
Daily, year round
Redondo Beach
Adults $35; Children (4-12) $25, (under 4) $5
The Indian departs daily at 10am (and on some days also at 1:30pm) throughout the season for a 2.5 hour cruise. Reservations are essential. There is inside and outside seating on the 65-foot, 45 passenger boat.
Spirit Cruises
Weekends, December-April
San Pedro
Adults $15; Children free
Spirit Cruises departs from Port o' Call most Saturdays and Sundays throughout the season, with a Cabrillo Aquarium naturalist on board to act as guide. Whale watching trips are available during the week, too, for groups of 50 or more.
Dana Wharf
Daily, year round
Dana Point
Adults $49; Children (3-12) $29, Free (2 and under)
Dana Wharf cruises Dana Point Harbor and the Orange County coastline with whale watching cruises and deep sea fishing adventures. Privately chartered whale watching boats, catamarans, and sailboats are available in addition to scheduled tours. And Dana Wharf actually guarantees a good whale or dolphin spotting — or they give you a free ticket to come back!
Island Packers
Throughout the year
Oxnard
Adults $38; Children (3-12) $28
Island Packers' territory is the Channel Islands National Marine Sanctuary, where gray, humpback, blue, mink, and about 25 other species of whales and dolphins have been identified. The prices above reflect gray whale cruises, which are relatively close to shore; more expensive cruises head farther out in search of blue and humpback whales during the summer months.
Channel Islands Sportfishing Center
January-April
Oxnard
Adults $58; Children (12 & under) $38
Another company heading out into the Channel Islands National Marine Sanctuary, these folks offer daily trips on weekdays, and twice daily on weekends during the season.
The festival season mostly takes place in March during the turn-around season. Here's a selection of places to watch, learn about, and cheer on the whales in 2019: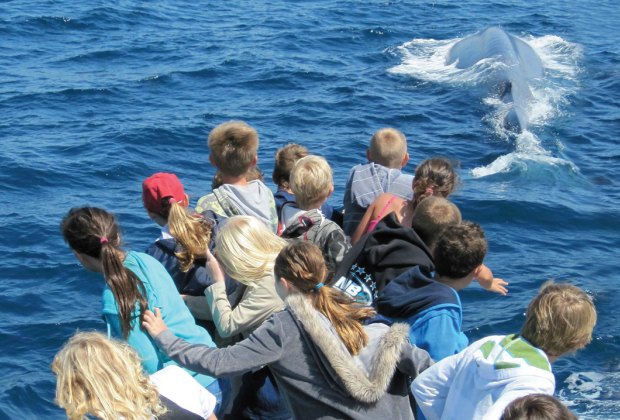 Dana Point Festival of Whales. Photo courtesy of the Ocean Institute
Whale Watching Festivals
Dana Point Festival of Whales
March 7, 8 and March 14, 15, 2020
Dana Point
Free
If you're not sure how to find Dana Point, ask a whale. They use Dana Point's headland as a landmark on their journey southward each year, causing them to come closer to land (and eager whale spotters) there than anywhere else - all of which is why Dana Point needs not one but two weekends to do justice to its annual Festival of Whales. This is the biggest event in the regions, with activities that include a parade, a street fair, a campfire program, environmental education programs, and a much-anticipated rubber ducky race.
Celebration of the Whales Festival
March 22, 2020
Marine Emporium Landing, Oxnard
Free
The Channel Islands Harbor Farmers & Fishermen's Market brings in live entertainment, whale and marine education exhibits, and plenty of children's activities. Whale watching excursions are available during the festival from Island Packers.
Whale of a Day
April 18, 2020
Point Vicente Interpretive Center, Palos Verdes
Free
The cliffs at Point Vicente offer a perfect vantage point for seeing whatever is happening offshore - which is why there has been a lighthouse here for nearly a century. It's also why whale-watching volunteers sit in a row here all season long, eyes to the sea, counting each whale for the American Cetacean Society annual census. All of this makes it a logical place for a festival. Families can climb to the top of the lighthouse, tour whale exhibits, participate in games and crafts, and never worry about missing a whale with so many volunteers poised to ring the whale bell.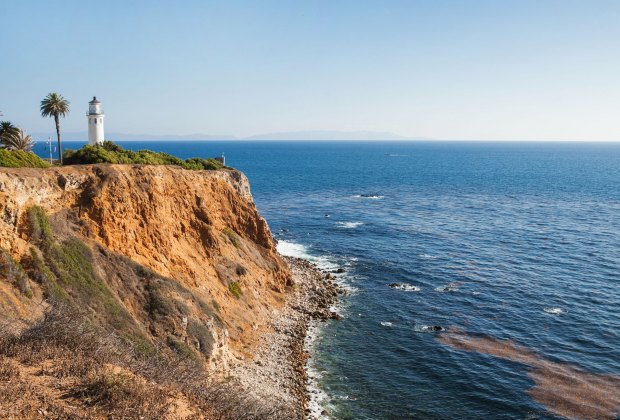 Point Vicente in Rancho Palos Verdes
Best Whale Watching Spots
While whale cruises sound magnificent, some of us don't feel so magnificent rocking back and forth on a boat for two hours. If finding a spot to scan the waves from terra firma sounds more enjoyable, there are definitely scenic spots worth staking out. In theory, you could pick any place with a good view of the sea and wait for a sighting—surfers have been surprised on more than one occasion - but there are vantage points that improve your chances
Dana Point averages 40 to 50 whales passing within view of land per day during the season; chances are good one of them may come up for air while you watch.
Point Vicente has those whale-counting volunteers on site all season, so even when the festival isn't on, there is always someone there to help visitors scan the horizon.
Point Mugu has several hiking trails that look out over the sea, and the water is surprisingly deep quite close to shore at the park's Sycamore Cove Beach. The park has hosted a whale festival in years when funding wasn't tight.
Leo Carrillo in Malibu is another state park that has hosted whale festivals in other years. Pick a spot with a view, and unpack the picnic—you can't go wrong.
If you are creating your own whaling adventure, you might want to check out this whale website; it's a wealth of information on whales.

Originally published March 5, 2012