Whale Watching near Los Angeles: Whale Watching Cruises and Viewpoints for Landlubbers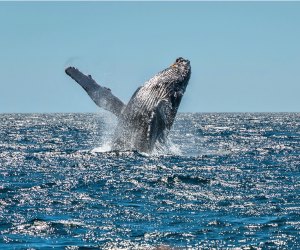 1/24/22
- By
Roberta B
Winter is prime whale watching season in Southern California, and there are several ways to spy on the giant mammals as they pass through on their 6,000-mile quest for Mexican romance. Each year, between December and April, roughly 20,000 Pacific gray whales migrate past our beaches, and March brings particularly high traffic because that's when the underwater procession starts to turn around.
With reduced capacity and ocean breezes, whale watch cruises are a safe outdoor activity, making these tours book up fast—so be sure to make a reservation. If your landlubbers have touchy tummies and like to stay on shore, with a little luck and clear skies, simply Sand Sledding on the Los Angeles Sand Berms or a Day Trip to One of Our Favorite SoCal Beach Towns can turn into a whale watching outing.
Whale Watching Boat Trips: Whale Watching Newport Beach to Long Beach
Prices and information are accurate as of January 2022. However, guidelines are changing rapidly, so please call a cruise line to confirm that it is still operating before making plans to go. All cruises are operating at reduced capacity.
Daily, year-round
Newport Landing offers 3 different daily whale watching trips departing from Newport Beach throughout the year, providing close-up peeks at dolphins, sea lions, marine birds, sharks, and whales up to 80 feet in length. Prices start at under $30 for children, and kids under 3 are $5. If you're feeling fancy, there's a luxury whale watching package that starts at $60 a person.
Daily, year-round
This company runs whale watch tours for the Cabrillo Marine Aquarium, and families can book through the company directly. Reservations are essential for this popular cruise - though you'll pay at the boat and they only accept cash. Tours are daily on weekdays and 5 times a day on weekends for 45 minutes or 2 1/2 hours.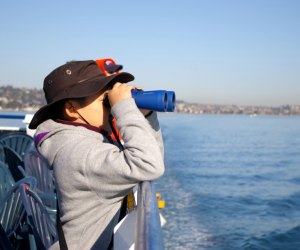 Bring your binoculars! Photo by Yeonsang/CC-BY-2.0
Daily, year-round
Based out of Marina del Rey's Fisherman's Village, this whale watching cruise is one of the more expensive options, but leaving from Marina del Rey is so convenient for Los Angeles area families that it's often worth it. Less time in the car means more time at sea. The company hosts daily cruises which are longer than most at 3 hours and it's available to book online.
Daily, November-April
The Aquarium of the Pacific is booking tours through Harbor Breeze Cruises, right next door. The pass includes admission to the aquarium, too! Tours are 2 hours and run twice a day; tickets are discounted for kids under 12, and those under 3 are free.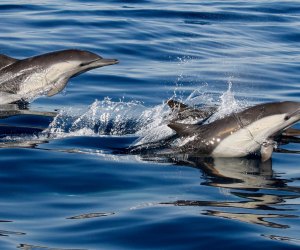 Where there's a will, there's a whale, and often a few dolphins. Photo by Carla Mitroff/Dana Wharf Whale Watch
Daily, year-round
Dana Wharf cruises Dana Point Harbor and the Orange County coastline with whale watching cruises and deep-sea fishing adventures. Privately chartered whale watching boats, catamarans, and sailboats are available in addition to scheduled tours. And Dana Wharf actually guarantees a good whale or dolphin spotting—or they give you a free ticket to come back! Inside tip: take advantage of Half Price Tuesdays, where all tickets are (you guessed it) half off.
Throughout the year
Island Packers' territory is the Channel Islands National Marine Sanctuary, where gray, humpback, blue, mink, and about 25 other species of whales and dolphins have been identified. The prices above reflect the 3.5-hour gray whale cruises, which are relatively close to shore; more expensive cruises head farther out in search of blue and humpback whales during the summer months. Winter trips to see the great whale migration depart from Channel Islands and Ventura Harbors through mid-April.
March & April
Another company heading out into the Channel Islands National Marine Sanctuary, these folks offer daily trips on weekdays, and twice daily on weekends during the season (sometimes they offer a second weekday trip, so check their site). Tours start in mid-December and run through the end of April.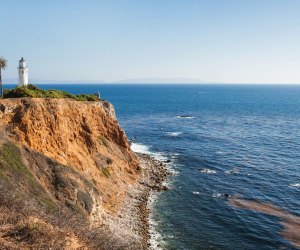 No need to venture out to sea to see whales. Point Vicente in Rancho Palos Verdes
Best Whale Watching Spots on Land
While whale cruises sound magnificent, some of us don't feel so magnificent rocking back and forth on a boat for two hours. If finding a spot to scan the waves from terra firma sounds more enjoyable, there are definitely scenic spots worth staking out. In theory, you could pick any place with a good view of the sea and wait for a sighting—surfers have been surprised on more than one occasion—but there are vantage points that improve your chances. These are our favorites:
Dana Point averages 40 to 50 whales passing within view of land per day during the season; chances are good one of them may come up for air while you watch.
Point Vicente has those whale-counting volunteers on site all season, so even when the festival isn't on, there is always someone there to help visitors scan the horizon.
Point Mugu has several hiking trails that look out over the sea, and the water is surprisingly deep quite close to shore at the park's Sycamore Cove Beach. The park has hosted a whale festival in years when funding wasn't tight.
Leo Carillo in Malibu is another state park that has hosted whale festivals in other years. Pick a spot with a view, and unpack the picnic—you can't go wrong.
If you are creating your own whaling adventure, you might want to check out this whale website; it's a wealth of information on whales.
Almost made it without a "thar she blows" reference. But couldn't quite do it. Photo courtesy of Newport Landing
Annual Free Whale Watching Festivals
If you're not sure how to find Dana Point, ask a whale. They use Dana Point's headland as a landmark on their journey southward each year, causing them to come closer to land (and eager whale spotters) there than anywhere else. This is the biggest event in the regions, with activities that usually include a parade, a street fair, a campfire program, environmental education programs, and a much-anticipated rubber ducky race.
The cliffs at Point Vicente offer a perfect vantage point for seeing whatever is happening offshore, which is why there has been a lighthouse here for nearly a century. It's also why whale-watching volunteers sit in a row here all season long, eyes to the sea, counting each whale for the American Cetacean Society annual census. All of this makes it a logical place for a festival. Families can climb to the top of the lighthouse, tour whale exhibits, participate in games and crafts, and never worry about missing a whale with volunteers poised to ring the whale bell.
Originally published March 5, 2012
Sign up for the Mommy Poppins Newsletter today!