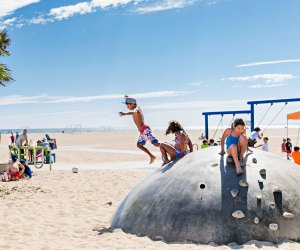 10 Great SoCal Beach Towns for a Classic California Seaside Day
Southern California's balmy beach towns are a treat worth seeking out at any time of year, whether you're an LA family looking for escape, or a visitor wanting to experience the best of our famous California beaches. Right in the heart of LA County we have a few seaside gems; drive an hour or two farther and you'll find towns that feel like they're a world away.
The 10 seaside towns below not only have fabulous sand and surf, there's plenty worth exploring once you head off the beach, too. Find out for yourself why these are our favorite SoCal beach towns.
Los Angeles County
Redondo Beach
Redondo is the place to take any junior marine biologists (or kids who just dig fish and stuff). While it's possible to see underwater critters from the pier, the Looking Glass semi-submarine lets visitors get a scuba-eyed view of life underwater. And while the beach is always worth a visit, if you have small kids (and don't mind spending $8 for adults and $6 for kids 2 and up), there's also the Seaside Lagoon, with a kid's play area, lifeguards, and an enclosed, chlorinated-saltwater playspace. Escape the crowds at Rat (Right at Torrance) Beach to enjoy the area like a local, too.
Hermosa Beach
Hermosa feels like a small town stop, and that's the appeal. Go sand sledding (you'll have to wait for winter for that one), hike the 3.7 mile Hermosa Valley GreenBelt, explore the Hermosa Beach Pier, hit the Farmers Market, and learn about the local history and surf culture at the Hermosa Beach Historical Society & Museum. Who knows? You may get inspired to grab a board and catch a wave.
Santa Monica
It's crowded; parking isn't easy (to say the least); the rides on the pier are expensive —and it's world-famous for a reason. Where else can you ride a Ferris wheel and a historic carousel, swim in Marion Davies' old pool and see her guest house (at the Annenberg Community Beach House), go to an aquarium, watch acrobats at the Original Muscle Beach, and get amazing food at any number of places on 3rd Street or Main? No wonder the Zimmer transformed into the Cayton Children's Museum and moved here. Make a weekend of it and venture into Venice Beach for a gander at the colorful locals and boho scene.
Related: 10 Beach Playgrounds from Santa Barbara to San Diego

Bring your dog for a beach day at Rosie's Dog Beach. Photo courtesy of Long Beach Convention & Visitors Bureau
Long Beach
What sets Long Beach apart besides the Queen Mary? How about a spectacular aquarium, the three-acre Rosie the Riveter Park, gondola rides around Naples Island, and an Aquabus to make getting around more fun? There is an actual beach you can visit, of course — Junipero Beach has free yoga classes on Sundays, and Granada Beach has free moonlight movies in the summer.
Malibu
Malibu has some of the best surfing in SoCal, but access to some revered spots can be tricky (though there's usually free parking available along PCH) if you pick a patch of beach behind the house of someone rich and famous. It can be easier to head to Zuma Beach, Point Dume, or El Matador State Beach, explore the tide pools at Leo Carillo Beach, or hike the Grotto Trail to get some exercise. Want a taste of the Malibu lifestyle? Stop in at the Malibu Country Mart, where your kids can enjoy the playground while you sit at a shaded bench.
Marina del Rey
There's something for everyone between Marina del Rey and Playa Vista. Older kids can try parasailing or paddleboarding around the marina, while younger kids can splash around (but stay safe) at the surf-free Mother's Beach. The Marina del Rey Waterbus ($1 for a one-way ticket) can ferry you around the area, so you can park once and still explore.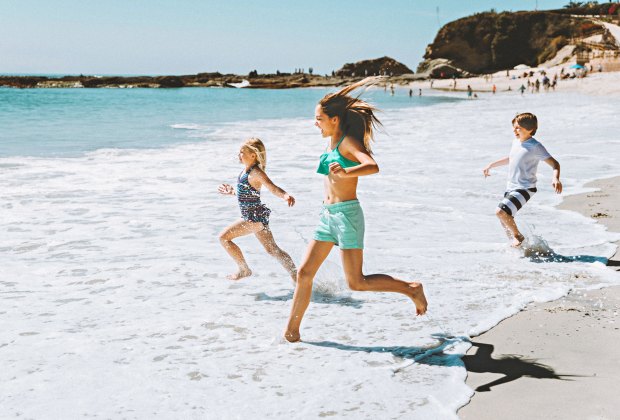 Laguna's Picnic Beach is easily accessible, with nearby parking, bathrooms and a ramp down to the sand. Photo courtesy of VisitLagunaBeach.com
Orange County
Laguna Beach
While this enclave is best known for its art festivals and the amazing, one-of-a-kind Pageant of the Masters, that's not all that's here. There's great hiking, kayaking, and even a full-moon drum circle (perfect for that noisy toddler/future hair-metal drummer in your life). The playgrounds are pretty phenomenal, too, as you might expect from a creative community like this one. Try Crystal Cove State Park or 1,000 Steps Beach (though don't forget anything in your car, cause it's a long trek to go back and get it).
Newport Beach
Sure, the beach is fine, but don't stop there. You can take the ferry to Balboa Island, stay in Newport Beach and go to the Discovery Fun Zone, and where else can you book a makeover with a real Cinderella mermaid (Once Upon an Island)? Newport Dunes beach has an exciting inflatable water park in the cove, as well as paddle boards and kayaks galore. There are a lot of upscale resorts and restaurants (Newport Beach is one of the most expensive communities in the whole country), so throw down a towel and enjoy the multi-million dollar views.
Seal Beach
Don't tell anybody, but Seal Beach is the place to go in the OC if you want a low-key beach outing that's less crowded than other SoCal beach towns. While you're not likely to see seals, there's a pier, and locals praise the clean sand (though small kids should not play in the waves unattended, as the water can be rough). Walk up the quaint Main Street for a bite and window shopping. Arrive early, and not only will you get a parking space, but you may also have the sand to yourself.
Ventura County
Ventura
If you're driving the Ventura Highway in the sunshine, you really ought to stop in Ventura—a coastal town that offers a pier, a harbor village bustling with family activities, memorable beaches, and even a historic mission. Channel Island Harbor is a great launching point to explore Channel Islands National Park, or you can take in the views from the town's iconic Serra Cross Park. Beaches worth a visit include Surfers' Knoll, San Buenaventura State Beach, and the popular Emma Wood State Park, where families can cook up s'mores over a firepit.
Santa Barbara County
Santa Barbara
Sure, it's farther north than the others, but this beach town is so, so worth it. In addition to an amazing zoo, there's a historical mission, a museum of natural history, and a botanical garden—and you can even visit the Channel Islands. Oh, and the restaurants and shops are top-notch as well. Don't miss MOXI, the Museum of Exploration + Innovation to expose your little creatives to next level tech. Got a dog? Take furry family members to Arroyo Burro County Beach Park. Otherwise, little kids will appreciate the playground on the sand at East Beach.