Family Travel Bucket List : Kayaking California's Channel Islands on a Trip from Ventura
Despite its location so close to Los Angeles, Channel Islands National Park is one of the least visited national parks in the country. Accessible only by boat, the Channel Islands' isolation makes them something of a well-kept Southern California secret, where visitors can enjoy a uniquely SoCal ecosystem on an unpopulated island. Make the trip at the right time of year, and you could even spot some whales along the way. Visiting the Channel Islands offers a true getaway, just off the coast of Ventura.
Stretching from nearby Anacapa to distant San Miguel, the islands that make up this national park offer a haven where day trippers and campers can enjoy hiking, picnicking, swimming, snorkeling, and bird watching. As part of a weekend getaway to Ventura, we joined a sea kayaking tour to Santa Cruz Island with the Channel Islands Adventure Company, and it was awesome. Although the kayaking was moderately strenuous, paddling around the coast for over two hours, you don't need any kayaking experience for the sea cave tour we took.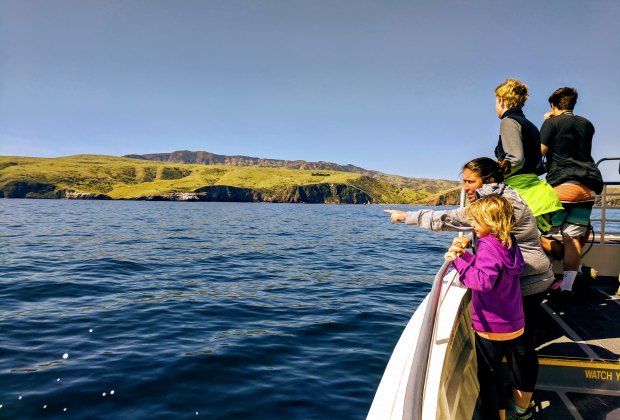 Spotting dolphins from the Island Packers ferry.
When visiting the Channel Islands, getting there can be half the fun. An hour ferry voyage provided by Island Packers is as much a wildlife cruise as a trip from point A to B. The channel is full of sea life, and our boat stopped to watch huge pods of dolphins and to experience humpback whales breaching. It was actually one of the best whale watching trips I've experienced, even though that wasn't the main purpose of the ride.
The folks from Channel Island Adventure Company were knowledgable and friendly. Once we hit the water, our guide taught us about the history and ecology of this special place. The Channel Islands are home to bald eagles, elephant seals and sea lions, pelicans, peregrine falcons, as well as a species of Island Foxes unique to the location. We learned about (and paddled through) a sea kelp forest where sea lions played and navigated into sea caves. My favorite part was paddling into the caves, sometimes riding the surf to shoot through, and finding more sea lions resting in the back.
Santa Cruz Island does have restroom facilities, but there are no concessions or other amenities on any of the islands—what you need you bring, right down to drinking water. I was a little worried about being hungry after all that activity. Luckily, we had meals provided by Channel Island Provisioners, which conveniently delivers to the dock a prepacked breakfast, lunch, and snack into an insulated lunch bag, plus a water bottle. The food was all delicious, artisanal, locally sourced, and filling enough that we even had snacks to eat on the boat ride home.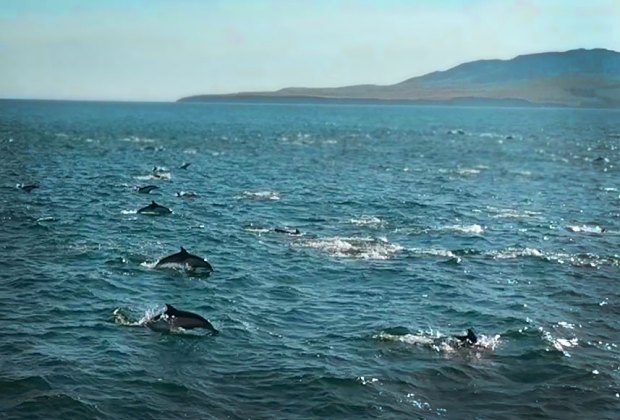 The large pod of dolphins we spotted on the way home.
Back on land, the perfect end to a tiring day was settling into a big plate of seafood at Andria's Seafood Restaurant and Market, a local institution right at the Ventura Harbor Village. We dug into a plate of some the famous fish and chips with a side of harbor views. We were too tired to explore the other shops and restaurants of Ventura Harbor Village, so we headed back to the Four Points by Sheraton in the Harbor Village area.
Ventura is a fun town with a walkable historic downtown and offers some interesting shops and eateries to enjoy. The 50s themed Busy Bee Cafe is a favorite spot for milkshakes. The San Buenaventura Mission is one of the state's historic missions and worth a visit for the pretty garden and interesting history. And although much of the area's parkland is recovering from the Thomas Fire, locals were relieved that the iconic Serra Cross Park above the town has survived to offer its memorable view. Capping your day by chilling at the pier Beach House Fish restaurant and watching the sunset over some fish tacos and a beer is pretty great, too.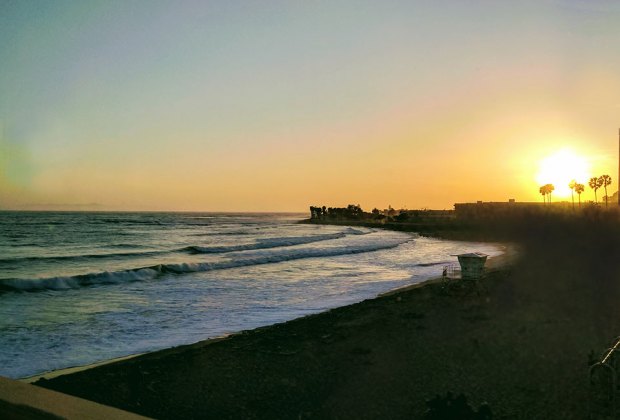 Sunset view from Beach House Fish.
Ventura and the Channel Islands National Park are a great getaway for families with kids of all ages from tots to teens. Unless you have a strong kayaker, the kayaking is probably best for children 10 and up, but younger children can still enjoy these islands for all the wildlife spotting, playing on the beach, hiking, and exploring an island that has no roads. Put this on your bucket list!