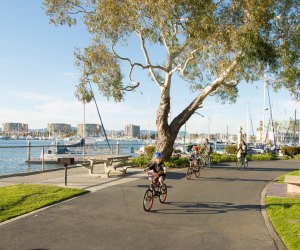 25 Things to Do with Kids in Marina del Rey and Playa del Rey
Turns out, Marina del Rey — "Marina of the King" — is also fit for a kid. So, too, is its neighbor, Playa del Rey. That's right, whether you're seeking food, recreation, an outdoor romp, or a dip in the water, Marina and Playa del Rey are sure to float your boat. Read on for our 25 favorite things to do in the area, perfect for when 100 things to do in LA sound like too many, and Burbank, Hollywood, Redondo Beach, and even Culver City sound too far away.
1. Roll down the grassy hills and watch the boats go by in Burton W. Chace Park
2. Stop by the Marina del Rey Farmer's Market for fresh, local fruits and veggies, prepared food and more.
3. Swing, slide and romp around the recently renovated Glen Alla Park.
4. Have a splash or go kayaking in the gentle waters of Mother's Beach.
5. Take a ride along the Ballona Creek bike path.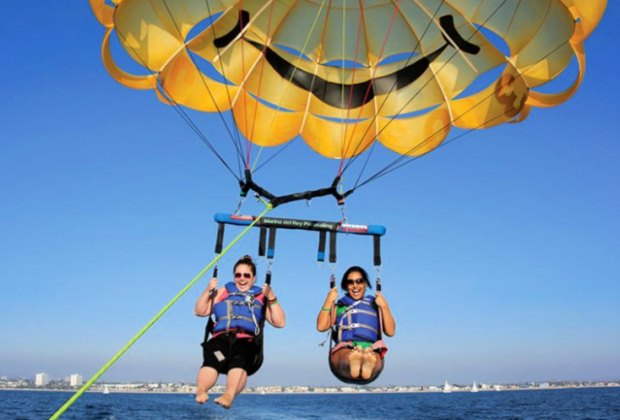 Photo courtesy of Marina Del Rey Parasailing
6. Sail above the waves with Marina Del Rey Parasailing.
7. Walk through the delightful display of plants, bushes and yard decor at the Marina del Rey Garden Center.
8. Browse the kids' books at one of the few remaining Barnes and Noble bookstores (with free parking).
9. Stop by the Waterside Marina Del Rey for weekly Kids' Club activities.
10. This 4th of July, watch fireworks light up over the water from one of many Marina del Rey locations.
11. Rent bikes from Daniel's Bike Rentals and explore the bike paths and marina.
12. Take a stroll through the Yvonne B. Burke Park.
13. Sail the marina at a leisurely pace on a Hornblower Cruise.
14. Visit the quaint and cozy (especially the kids' section) Lloyd Taber-Marina Del Rey Library.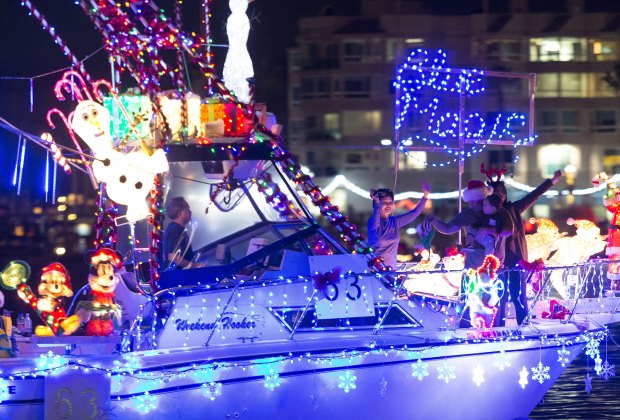 Holiday boat parade
15. Next holiday season, delight in the Marina Del Rey Holiday Boat Parade. Before the parade, kids can enjoy the Snow Wonder festival and the Marina Lights.
16. Try paddle boarding or kayaking at the Pro SUP Shop at Mother's Beach.
17. Ring in the new year with the New Year's Eve Glow Party.
Exploring the Ballona Wetlands. Photo courtesy of Heal the Bay
18. Go on a walking tour of the Ballona Wetlands. Friends of Ballona Wetlands run kid-friendly events and nature camps, too.
19. Head over to Vista del Mar Park and watch the underbellies of departing LAX airplanes.
20. See the large marsh birds that come to wander and wade at Del Rey Lagoon.
21. Enjoy a hot cup of joe and a toddler sing-along at Cow's End Cafe.
22. Steal away to the Inn at Playa del Rey. (And if/when Grandma's in town, feel free to leave the kids with her.)
Youth sailing camp
23. Send the kids to kayaking, paddle board, and surfing camp through the UCLA Marina Aquatics Center.
24. Hop aboard the Marina del Rey WaterBus for transportation around the Marina's many hot spots. Strollers and bikes welcome.
25. Enjoy dinner with a view at Tony P's Dockside Grill.

Photos courtesy of Visit Marina del Rey, unless otherwise noted
Originally published January 15, 2014