25 Things To Do in Laguna Beach with Kids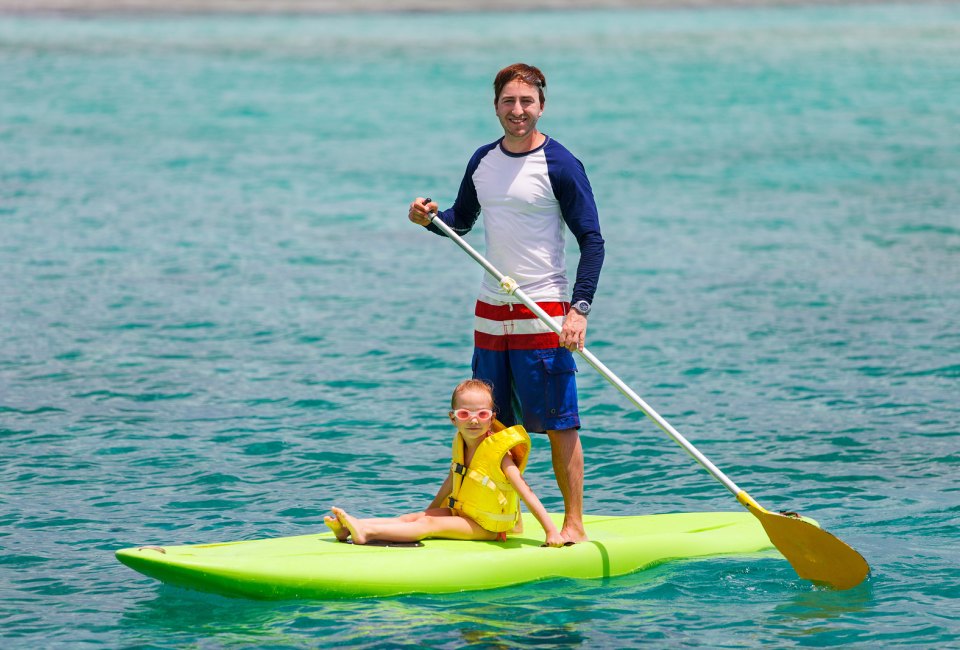 6/28/18
- By
Audrey M
Laguna Beach in Orange County is a beach- and art-lovers paradise, a land of scuba diving and gallery exploring. The town was originally created as an artists' colony, known to this day for its many art festivals, but Laguna has plenty of other great amenities and events, too, that make this town a great place for kids and the whole family. Whether you are a local, a daytripper, or just looking for a SoCal staycation to please all ages, heading to Laguna Beach is a great idea!
3. Visit the Pacific Marine Mammal Rescue Center (free, but donations are welcome).
4. Shop for treats at The Candy Baron; adults will love it too!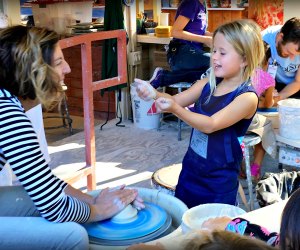 Take part in clay crafts at the ceramic center. Photo courtesy of the Sawdust Art & Craft Festival
5. Join in the daily art projects for all ages at the famous Sawdust Arts and Crafts Festival. (Some may have a materials fee.)
6. Visit Laguna Coast Wilderness Park—check out Nix Nature Center and Barbara's Lake (OC's only natural lake).
7. Attend a free story time or activity at the Laguna Beach Public Library.
8. Main Beach is right downtown and perfect for swimming and bodyboarding.
9. Ride bikes along the beach path. Don't want to bring your own? Laguna Beach Cyclery rents bikes—including kids' push bikes .
10. Catch a show at the Laguna Playhouse; Youth Theatre is for kids, and Theatre for a New Generation is for tweens and teens.
11. Is it a full moon? Check out the full moon drum circle—bring a drum, or just enjoy the evening.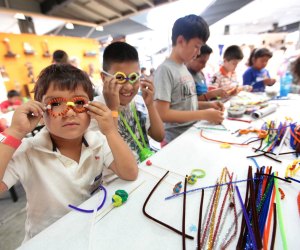 A Festival of Arts workshop. Photo courtesy of www.LagunaFestivalofArts.org
12. Festival of the Arts runs from July until September 1; sign up kids aged 5–12 for classes.
13. Main Beach Toys and Games not only has toys and games; it also offers rentals of umbrellas, chairs, and boogie boards—all just steps from the beach.
14. Take a kayak tour on the ocean with La Vida Laguna. Kids ages 3–7 can ride in the middle of a tandem kayak for free.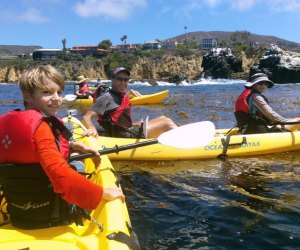 Photo courtesy of La Vida Laguna
15. Enjoy Music in the Park on Sundays in July and August. Free, from 5pm-7pm at Bluebird Park.
16. Spend a day at Crystal Cove State Park, hiking, camping, swimming, surfing, bodyboarding, and tide pooling.
17. Hot and hungry? Get some gelato—or sorbet, or almond milk gelato—at Dolce Gelato. Handmade daily on the premises!
18. Visit the Laguna Art Museum. Kids 12 and under can play the Art Detective game. The Young Artists Society Gallery features work by K-12 students, or come on the third Sunday of the month for the Kids' Art Studio program.
19. Pageant of the Masters—this is live art, but can you tell? Each year has a specific theme, with the show running from July through August (best for older or patient kids).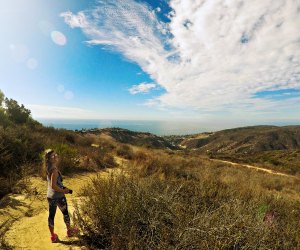 Hike Laguna for some fabulous vistas. Photo courtesy of www.visitlagunabeach.com
20. For a great view, visit Alta Laguna Park (aka Top of the World park) and enjoy hiking trails, shaded play structures, tennis courts, covered picnic tables, and basketball courts.
21. Learn a bit about Laguna Beach history at the Laguna Beach Historical Society's Murphy-Smith Bungalow (open Fri-Sun, 1pm-4pm).
22. Stop by the Laguna College of Art and Design Gallery to see the current exhibit. The exhibitions are always free to the public.
23. Grab an authentic beach taco shack lunch at Papa's Tacos (or breakfast, it is served all day). Yes, they have fish tacos!
24. Attend a Laguna Canyon Foundation family hike or other event at one of the local parks.
25. Learn the local sport at Beach Cities Scuba; kids as young as 8 years old can start to dive.
And when you're finished with all 25 things to do in Laguna Beach, why not head up for 25 things to do in Redondo Beach, or inland for 25 things to do with kids in Anaheim?
Originally published June 17, 2014
Sign up for the Mommy Poppins Newsletter today!