Catalina Island: 28 Fun Things To Do with Kids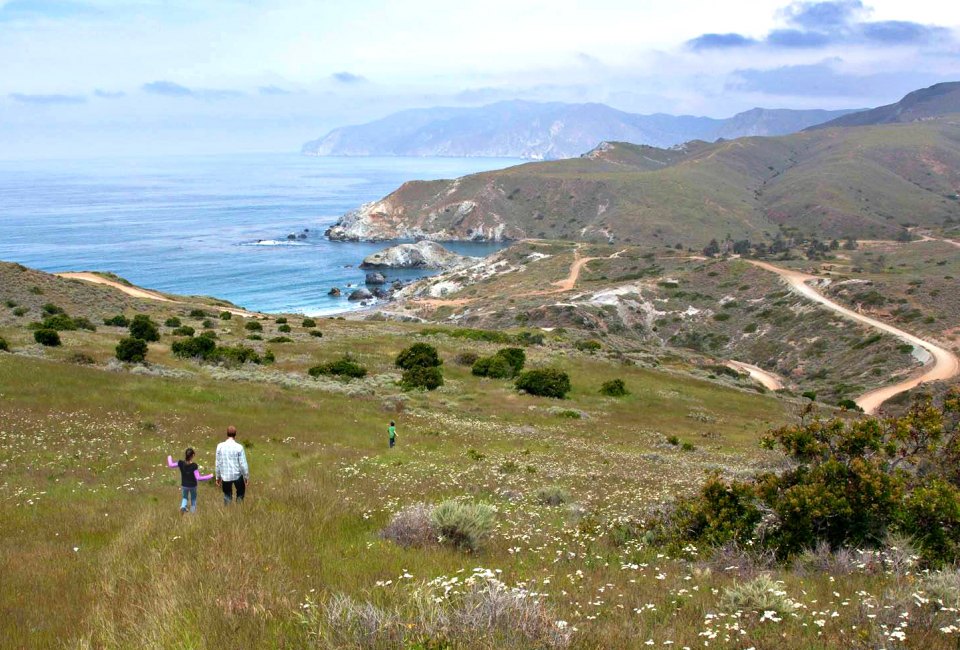 8/24/18
- By
Li Starr
Want to get away from it all—but not too far away—and not in the mood for one of our favorite drives from Los Angeles? Head to Catalina Island. It's about an hour by boat from Long Beach or San Pedro (even faster by helicopter), and there's plenty for kids to do, especially if they're active. From zip lining to hiking to tracking the famous Catalina bison, there's more than enough to keep little ones and grown-ups happy for a day or a weekend trip.
The Catalina Express runs its catamaran style ferry a few times daily from Long Beach, San Pedro, and Dana Point to the town of Avalon and to the more rustic port at Two Harbors. Tickets run about $30-$40 each way. Visitors can day trip or stay over at a hotel or campground; the Catalina Visitors Bureau is a good place to start if you're looking for accommodation or organized tours. But to piece together just a few highlights to create a memorable day on the island, choose a few of these kid favorites:
1. See bison up close (but not too close!) on a Jeep Eco-Tour.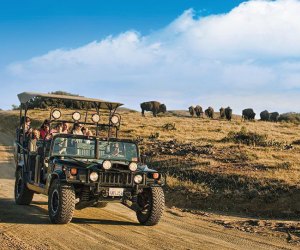 2. Play a round of miniature golf at Golf Gardens.
3. Try scuba diving or snorkeling in the world's healthiest marine environment according to Scuba Diving Magazine.
4. Not itching to dive? See sea life five feet underwater (and in a climate-controlled cabin) aboard the SeaWolf Semi-Submersible.
5. Learn about the history of the island dating all the way back to the 1880s at the Catalina Island Museum.
6. See a movie (but don't try to gamble) at the Catalina Casino.
7. Little ones want to explore but don't want to walk too far? Rent a golf cart.
8. Get to the island faster by grabbing a helicopter, and you might be touching down in Catalina in 15 minutes.
9. Treat the kids to handmade ice cream and gelato at Scoops, then take a stroll by the water with your cones.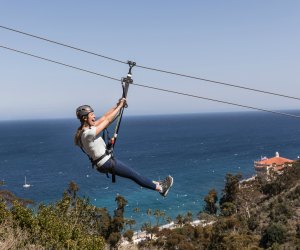 Photo courtesy of Catalina Island Company
10. Try a zip line eco tour—but know that if your kids chicken out there are no refunds.
11. Kids who don't want to zip line may enjoy the rope ladders and log bridges at Catalina Island Aerial Adventure.
12. Visit the Nature Center at Avalon Canyon and learn about the island's wild side for free.
13. See extremely rare plants (some are on the Endangered Species List) at the Wrigley Memorial and Botanic Garden.
14. Explore the sea caves on a kayak or SUP.
15. Want to see a teeny tiny airport? Visit the Airport in the Sky and its 3,250 foot runway.
16. Got a little plant lover? Stop in at the Ackerman Native Plant Nursery and see over 85 plant species.
17. Want to bike? To head inland on wheels you'll have to join the Catalina Island Conservancy for $35, but the membership lasts all year.
18. Need to cool off? The Avalon Public Library has crafts, puppet shows, magic shows, and storytelling.

19. Want to sneak away from the tourist hubbub? Hide out in Two Harbors and go snorkeling or kayaking.
20. Rent a cabana at Descanso Beach, or head to the public (and free) beach at the foot of the pier.
21. Stretch your legs by hiking the Trans-Catalina trail.
22. Go on a Seal Rock Safari to find sea lions and (if you're lucky) other marine mammals.
23. Climb 32 feet straight up on the Catalina Rock Climbing Wall.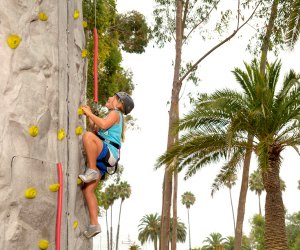 24. Want to fish? Rent a boat or consider a tour.
25. Hungry? Grab a bite at the Lobster Trap.
26. Let kids scoop up candy from the bins at Lloyd's of Avalon Confectionery.
27. Make sure you get your photo taken at the Green Pleasure Pier right in the middle of town.
28. Pitch a tent and stay the night in one of the island's campgrounds!
Photos courtesy of Catalina Island Chamber of Commerce & Visitor's Bureau, unless noted otherwise

Sign up for our free
newsletters.
Mommy Poppins is a family activity website that helps people find things to do with kids.
©
2023
MommyPoppins. All Rights Reserved.
mp-prod4-v4.32.99
Sign up for the Mommy Poppins Newsletter today!
i