Sign up for our free newsletters.
Orange County's Best Kept Secret Is a Water Park Right on the Beach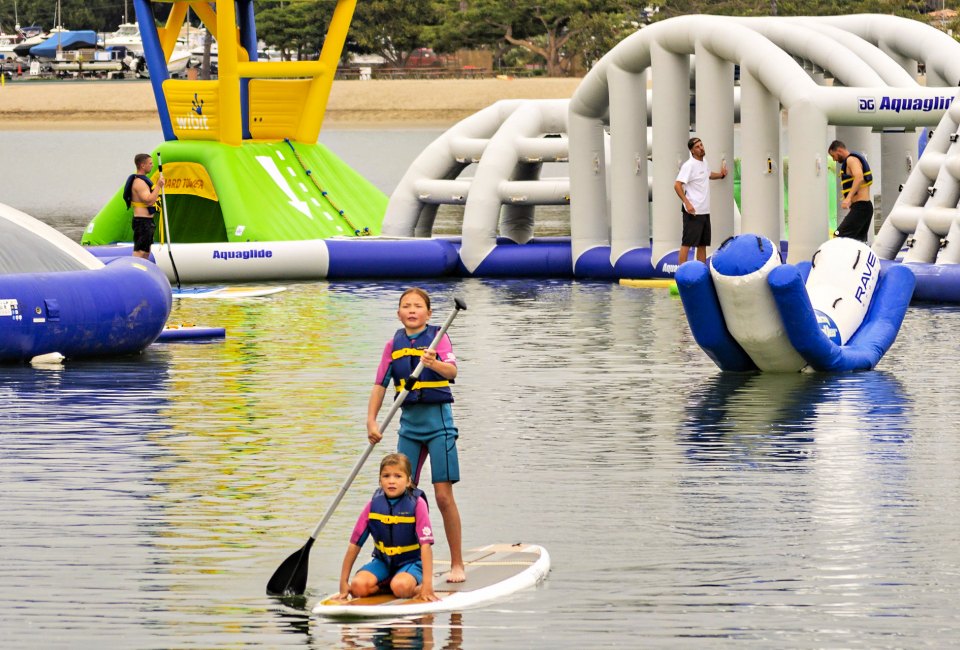 7/2/20
- By
Roberta B
Apologies, but I am about to blow a well kept secret wide open: Newport Beach has a cove hidden in plain sight that may be the best family beach day in the Southland. Of course the definition of "best family beach day" may not be the same for everyone; only continue reading if your ideal beach day would include kayaks, SUP boards, paddle boats, and an inflatable water park in a warm surf-free lagoon surrounded by clean sand, fire rings for s'mores, easy parking, and clean bathrooms. Only head to Newport Dunes if you're prepared for that level of nirvana.

Mmm. s'mores on the beach...
The Newport Dunes lagoon is set back from the coast and home to the Newport Dunes Beach Resort, a glamping and RV resort. Although the beach area is essentially an extension of the resort, it is a public beach and free for anyone to enjoy. The only fees are for indulging in the various a la carte amenities.
The main attraction that makes this cove stand out is the inflatable water park, open from Memorial Day through Labor Day each year, plus weekends into mid October. The inflatables include obstacle courses, climbing walls, and big diving platforms for classic, heart-pumping leaps into the water. Life guards paddle the perimeter, and everyone is required to wear life vests, so safety is well covered. There is easily enough here to keep any kid, big or small, entertained for hours. Admission is in two-hour windows, and while a little pricey ($18 - $25 depending on the week), compared to other nearby water parks it's actually a pretty good deal.
Other entertainment available by the hour includes kayak rentals, paddleboards (SUP), and pedal boats, all available from Newport Dunes Kayak Rentals right on the beach. The lagoon is a great place for beginners to try out any of the above, because the water is so smooth, and there is no other boat traffic to worry about. A foot bridge separates the lagoon from the marina, creating a safe zone for paddling and swimming. This layout also allows the water temperature to get much higher than in the open ocean; the water here feels like a delightful, salty lake. The city tests the water quality weekly—though the large jumping fish visible throughout the lagoon testify to the water's cleanliness as well.

The water is smooth enough for little sailors to try out their skills.
Although all of the extra amenities are great fun and mighty tempting, there is also plenty to keep kids happy without swiping a credit card. Along one side of the cove is a playground, and a year-round whale play structure in the water has been delighting local beach babies for decades. Fire pits beg for s'more toasting, and the beach itself is perfect for little ones not yet ready to brave surf.
Newport Dunes Resort has fabulous glamping cabins available for rental year-round right on the beach, as well as RV hook-ups and tent sites set farther back, and guests of the resort get discounts on water park admission. The resort also organizes various other family activities on the beach, including weekly movie nights and craft activites.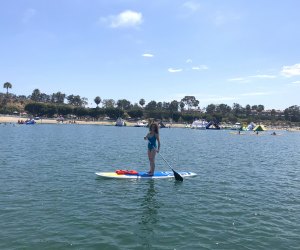 Newport Dunes is my new happy place! Photo by Mommy Poppins
The parking lot adjacent to the beach is run by the resort and isn't cheap. However, a thrifty family can keep the cost down by finding parking along adjacent Back Bay Drive, where there is free two-hour parking.
All told, although a day spent at Newport Dunes could cost a little more than a day at one of the Southland's other public beaches, it's well worth doing at least once per season. Paddling the lagoon and splashing at the water park at Newport Dunes feels like a true vacation, packed into a single day.
Photos are courtesy of Newport Dunes Beach Resort unless otherwise noted.
Originally published August 19, 2019
Places featured in this article: