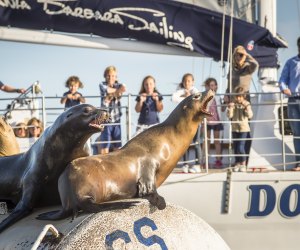 26 Things To Do in Santa Barbara with Kids
There is more to SoCal than just Los Angeles; only slightly farther afield families can explore Ojai, play in Palm Springs, and indulge in Santa Barbara. A 150-mile jaunt up the coast from LA, Santa Barbara is chock full of fun and educational things to delight kids and adults. Day-trippers can make it an extra-special jaunt (or maybe just avoid traffic and parking) by taking Amtrak from any of the LA or OC stations then spending the day or weekend riding Santa Barbara's downtown and waterfront shuttles—or the water taxi—to enjoy the 26 local attractions below.
1. Like zoos? The Santa Barbara Zoo is fun for all.
2. Get some exercise renting kayaks or stand-up paddleboards at Paddle Sports Center.
3. The Santa Barbara Museum of Natural History has changing exhibits, a renovated mammal hall, a planetarium, and a permanent installation on Chumash life.
4. Looking for a free way to tire out the kids? Visit Alameda Park and the recently renovated Kids' World playground.
5. Take a Santa Barbara Trolley Company tour—get your bearings and then hop on and off all day.
6. Fresh fish are available at Fishermen's Market on Saturdays. Buy some, or just look over the variety.
7. Enjoy a harbor or whale-watching cruise with Santa Barbara Sailing.
8. Take a walk along the harbor, or rent bikes or a surrey from Wheel Fun Rentals.
9. Kids like old dolls or teddy bears? Check out the Quinlan Museum.
10. Visit Old Mission Santa Barbara. Have your kids read Island of the Blue Dolphins? The woman the story is based on is buried here.

There's a great whale model hanging in the Museum of Natural History's Sea Center. Photo courtesy of Visit Santa Barbara / David Collier
11. Stearns Wharf is Santa Barbara's most-visited landmark. Go for the food, the shopping, and the Museum of Natural History's Sea Center.
12. Go on a half-day deep sea fishing trip.
13. Grab some ice cream at Rori's Artisanal Creamery—locations in Carpinteria, Montecito, and the Santa Barbara Public Market.
14. Take a hike. Head over to Cachuma Lake and the Neal Taylor Nature Center.
15. Explore the Santa Barbara Botanic Garden.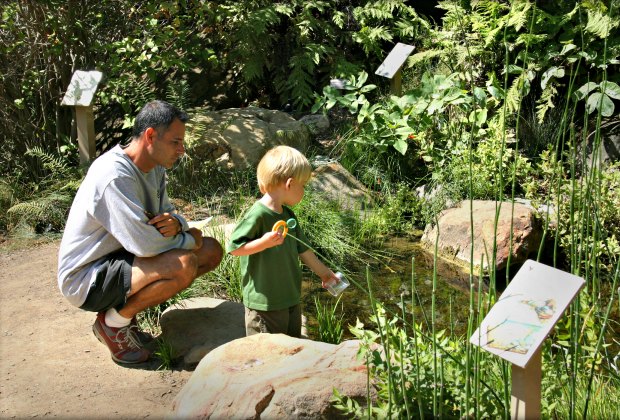 There's lots to see in The Discovery Garden at Santa Barbara Botanic Garden. Photo by Don Matsumoto
16. Learn about the history of the Santa Barbara Channel at the Santa Barbara Maritime Museum.
17. Enjoy a big breakfast at Cajun Kitchen. Yes, it serves beignets!
18. Take a day trip to Channel Islands National Park and visit Santa Cruz Island. Multi-day trips and other islands also available for advanced divers.
19. Use the Lil Toot water taxi to travel between Santa Barbara Harbor and Stearns Wharf. The 15-minute trips are narrated.
20. Visit El Paseo, California's first shopping center, to check out the shops and restaurants.
21. See the Carriage and Western Art Museum of Santa Barbara's collection of carriages, saddles, and western art. This museum is free.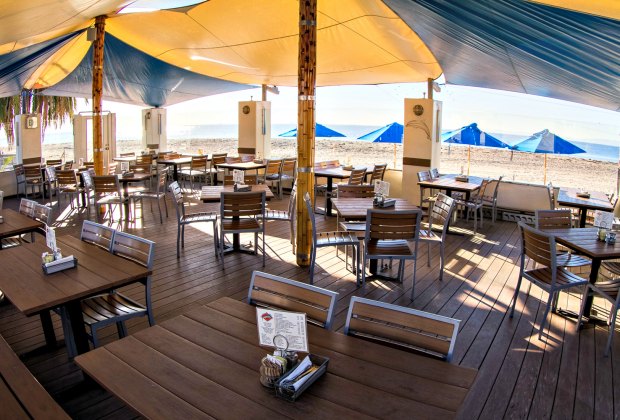 Photo courtesy of the Shoreline Beach Cafe
22. Enjoy some fish tacos by the beach at Shoreline Beef Cafe. Have a picky eater? The kids' menu covers all bases.
23. Take the young kids to Tomol Interpetive Play Area in Carpinteria.
24. Visit the Santa Barbara Museum of Art; admission is half-off during the renovation. The Family Resource Center Drawing Room has scheduled activities twice daily Tuesday to Saturday.
25. Check out the different food vendors at the Santa Barbara Public Market.
26. Get hands-on with the many interactive exhibits at MOXI, The Wolf Museum of Exploration + Innovation.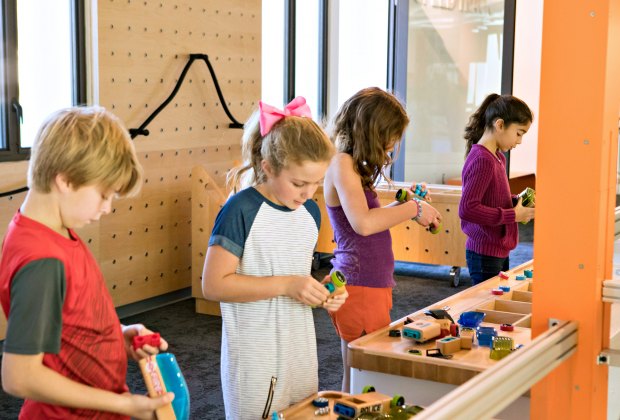 Build it, test it, race it on the MOXI Speed Track. Photo courtesy of Visit Santa Barbara / MOXI