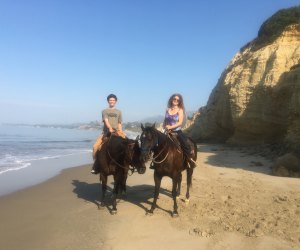 30+ Things To Do in Santa Barbara with Kids
There is more to SoCal than just Los Angeles; only slightly farther afield families can indulge in the balmy breezes of Santa Barbara. A hundred or so easy miles away, the seaside community is equally convenient for a day trip or weekend getaway. Santa Barbara is chock full of educational outings for kids and adults and a great option for a vacation in our back yard. Day-trippers can make it even easier by taking the Amtrak train from any of the LA or OC stations then riding Santa Barbara's downtown and waterfront shuttles—or the water taxi—to enjoy the local attractions below.
The perfect size for younger kids, Santa Barbara Zoo offers families a welcome distraction that can be covered in an afternoon.
Los Padres Outfitters leads one of the few beach rides in Southern California, kicking up a little sea and sand before riding into the nearby hills.
3. Rent kayaks or stand-up paddleboards
Explore the shore along the Gaviota coastline or in the harbor with Santa Barbara Sailing Center or Paddle Sports Center.
Get your bearings with the local trolley, then hop on and off all day.
Fresh fish are available at this local market every Saturday; buy some, or just look over the variety.
From whale watching to sailing concert to sunset rides, there are several ways to enjoy sailing the waters off Santa Barbara.
This is the museum for kids who like old dolls or teddy bears; it's got the largest collection of both of these in the world.
Tire the kids out for free at Santa Barbara's most popular playground and park.
The museum's outdoor exhibits and Sea Center are open for visits when the indoor exhibits need to be closed.
There's a great whale model hanging in the Museum of Natural History's Sea Center. Photo courtesy of Visit Santa Barbara / David Collier
Santa Barbara's most visited landmark is its wharf with food, shopping, and beautiful views.
Take half a day on the high seas in search of a great photo op.
The many food vendors at the public market offer great opportunities to eat outdoors.
This Santa Barbara original has some of the best flavors of ice cream you'll ever taste, with locations in Carpinteria, Montecito, and the Public Market.
This nature center at the Cachuma Lake Recreation Center is a great spot to launch a hike and learn about local wildlife.
Walking the garden is a treat at any time of year.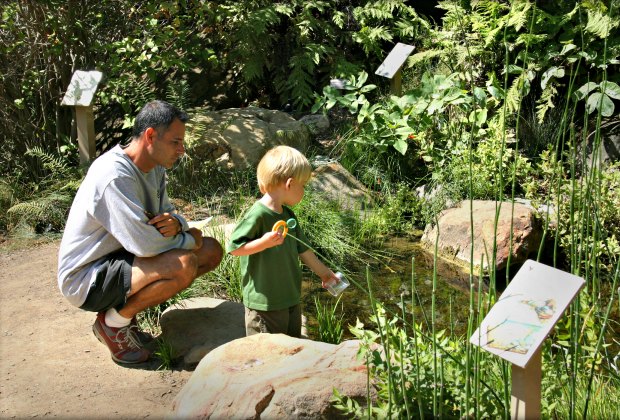 There's lots to see in The Discovery Garden at Santa Barbara Botanic Garden. Photo by Don Matsumoto
16. Ride bikes or a surrey along the trails
Santa Barbara is a great town for biking; if you don't have your own, your hotel may lend you some, or you can rent bikes and surreys from Wheel Fun Rentals.
17. Channel Islands National Park
Visit Santa Cruz Island or Anacapa on an easy day trip. Wander the islands or kayak the perimeters.
Use this little gem to travel between Santa Barbara Harbor and Stearns Wharf. The 15-minute trips are narrated.
Visit California's first shopping center and check out the shops and restaurants of this pedestrian-friendly zone.
Santa Barbara's collection of carriages, saddles, and western art is always free to visit.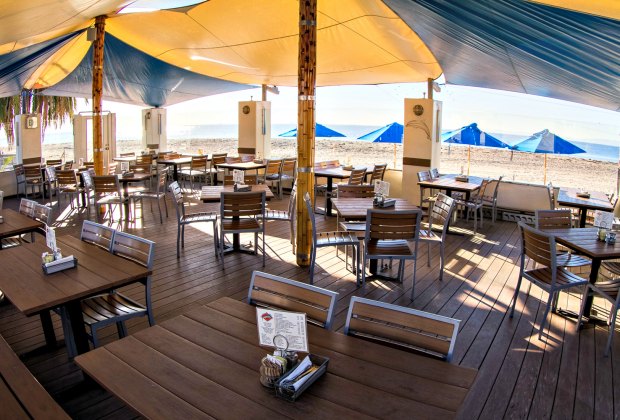 Photo courtesy of the Shoreline Beach Cafe
Kids can get creative at this unique, Chumash-inspired play area in Carpinteria.
Some Kid-friendly restaurants:
Enjoy some fish tacos by the beach. Have a picky eater? The kids' menu covers all bases.
Kids love the cinnamon rolls and lemon pancakes; parents love the happy hour and banh mi. Everyone loves the outdoor seating.
One word tells why to have breakfast here: beignets
Some Kid-friendly Hotels:
Walking distance to the shore or the main downtown area, Las Brisas is an affordable motel-style spot that wins kids over with the pool, and parents with the free champagne.
Staying outside the town in a glamping cabin gives you the best of both worlds: nature and shopping, without no one in your path but the wildlife.
If you're ready for some serious pampering, check out this property that's high on luxury and entertainment.
Great Santa Barbara Destinations Temporarily Closed for COVID:

While we are trying to promote safer activities that occur outdoors or with social distancing guidelines in place, please keep your family and others safe by always wearing a mask and maintaining appropriate distance. If you are traveling to an activity outside of your local area, check if COVID cases are on the rise in the area when you plan to travel, as well as any travel restrictions, advisories, or quarantine orders.