Camping Shmamping – Let's Go Glamping at El Capitan Canyon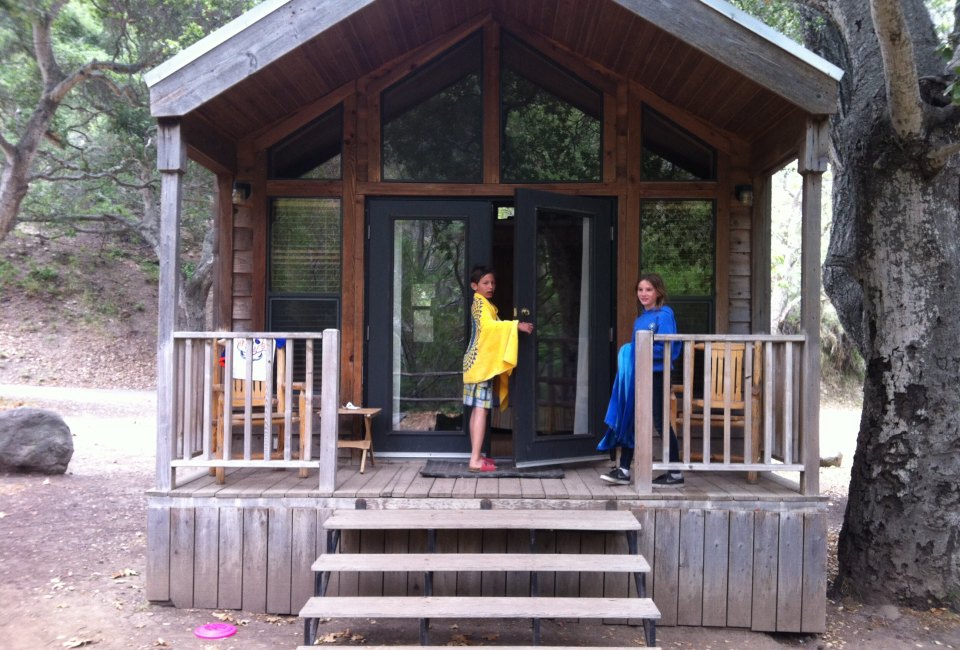 6/24/14
- By
Roberta B
You know who you are. You think you might like camping; you swear you used to like camping; you love the idea of camping – but taking it on with kids? That thought sends you running to the Days Inn every time. It's OK – you don't have to pretend for us. We understand. That's why we bravely ventured into the glamping experience to test the waters on your behalf. And we have returned with the good news: yes, you definitely want to do this.
In case you haven't heard the term, glamping is millennial jargon for luxury camping. Forget that funky smelling tent in the garage and the air mattress that probably has a hole in it. Forget washing the sleeping bags and filling a cooler with ice. Glamping involves moving into a cabin (or yurt) with freshly made beds for everyone, towels, and a heater. Glamping, in short, requires no more skills or prep work than going to a Holiday Inn, but it holds so much more fascination for kids.
We got our introduction to the glamp life when we were invited to spend a night at El Capitan Canyon – a camping resort (yes, I said resort) on the shore just north of Santa Barbara. El Capitan offers three styles of housing to accommodate all levels of comfort and budget: cabins, yurts, and industrial-strength tents. All of the above have beds w/ linens, electricity, heat, and fridges. Cabins have private bathrooms with showers; yurts and tents use communal bathrooms – but all with real plumbing. And if you're thinking it takes more than just plumbing to make you use the word "resort," El Capitan also offers spa treatments, concerts, family movie nights, and a heated pool.
Our family actually does plenty of tent camping, so I was really curious to have a go at glamping and see how the other half camps. Our cabin was a Creekside Queen, which included one heavenly queen-sized bed and a loft overhead with two twin mattresses (not to mention two ecstatic kids). I managed a nosy peek into a king-sized version, too, which differed in bed size and loft size; the king lofts are accessible by stairs instead of a ladder and have much higher ceilings. Other cabin styles include bunk beds with room for a family of 6, and one-story cabins for families with toddlers.
The property is a short hike away from El Capitan Beach (or a quick drive), nestled along the banks of a wooded creek that ambles down from the hills. Access to the private trails is only for people camping on property (or at El Capitan's sister property, Ocean Mesa, a cushy tent and RV campground down the road). We found plenty to do without even getting to the beach, making use of the playground, the heated pool, and – most thrilling of all to these kids – a llama farm. A 20 minute hike up the hill leads to an organic farm owned and run by the campground (used, in part, to stock the on-site store), and adjacent to the fields of fruit, vegetables, and sunflowers are fields of heritage sheep, goats, and llamas. Larry, the friendly breeder, leads a hike there every Saturday at 10am, but if you catch him at feeding time any other morning (generally around 9am) he is happy to let kids in to pet and romp with the livestock. And boy does this livestock love to be pet!
The property also has a shop stocked with everything you forgot to pack, as well as a deli-style food counter to take the pain out of breakfast. You'll want to bring firewood, s'mores fixings, cups and plates, but if you forget any of the above it's no crisis. You can even borrow bikes to ride to the beach - though bringing kids' bikes and other wheeled fun is a good idea for tooling around the glampground.
Overall, this family of seasoned campers found the low-impact glamping version of getting away to nature to be a real treat. In fact, while the kids investigated the creek, I was inspired to lounge by the fire and make two lists, summing up the joys of glamping. These should offer some insights, whichever camp you're in:
How Glamping Is Better than a Hotel
• Walk out the door and you're in the woods
• Wake to birdsong
• Snuggle by a campfire and roll into bed
• Kids wake up and are instantly entertained (just remind them not to let the door hit them on their way out!)
• More privacy - no shared walls
• A weekend away from TV
How Glamping Is Better than Camping
• 2 words: coffee maker!
• Real beds instead of sleeping bags and air mattresses (i.e. no waking up to camping back)
• Fridge (No food floating in melting ice)
• Who cares if it rains?
• Electricity
• Heated swimming pool
• Much less prep time (and packing up) required!
El Capitan is an easy two-hour drive up the 101 from Los Angeles. Looking for more SoCal weekend getaway ideas? We've got 'em!
Places featured in this article:
Sign up for the Mommy Poppins Newsletter today!