Best Glamping Near Los Angeles for Family Fun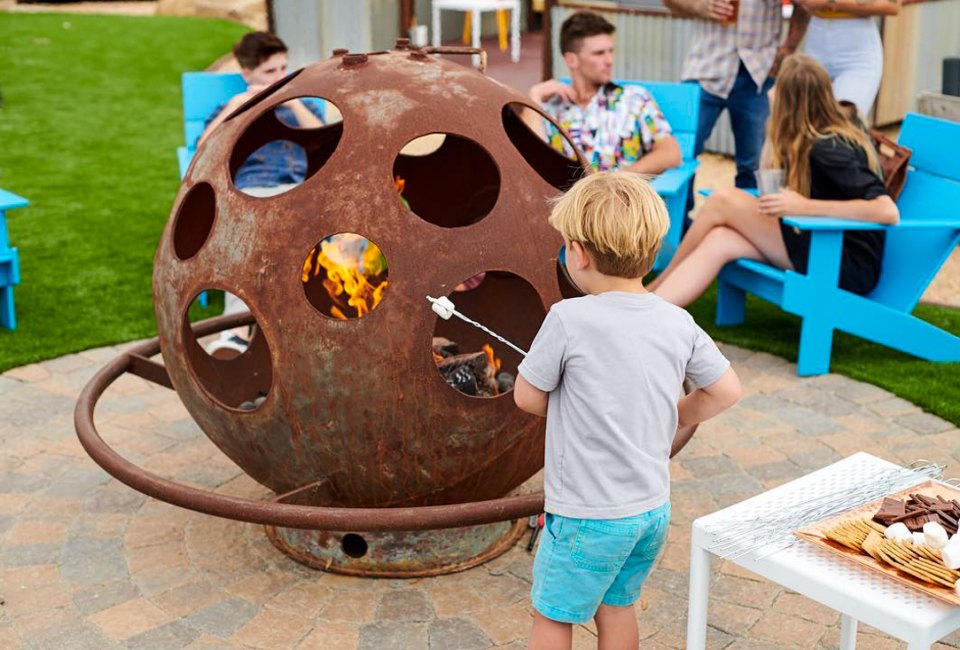 6/16/23
- By
Matt Matasci
Glamping near Los Angeles offers all the benefits of camping outdoors without giving up those comfortable amenities.
From the fresh air to the clear starry skies, for many Angelenos, spending time in the great outdoors is a welcome reprieve from the congestion, pollution, and hustle-bustle of the city. But for other families, packing up the car, setting up the campsite in the dirt and dust, and maybe even purchasing all of the supplies you need is so much of a hassle that it offsets the joy of the experience. Whether the former or latter describes your family, glamping is the perfect halfway point between roughing it and booking a hotel room.

The beautiful thing about Southern California is its array of glamping options. The city is bounded by towering mountains, providing an abundance of pine-laden wilderness retreats—drive a little further, and you're in one of the most unique desert landscapes in the world. And, of course, we're famous for our beaches. No matter your preference, there are dozens of opportunities for glamping near Los Angeles. Here are some of our favorites.
If you're feeling more adventurous and want to transition from glamping to camping, try these SoCal campgrounds with extra entertainment for Kids, or test out tent camping with kids. Explore more outdoor recreational fun in our Hiking and Camping Guide for Los Angeles Families.
Desert Glamping Near Los Angeles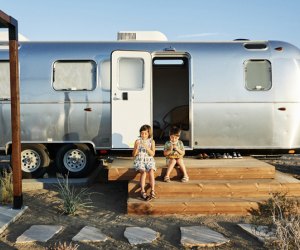 Step out of the AC, and into the desert at AutoCamp Joshua Tree. Photo by Josh Franer
Drive time—2 hours
If you're heading out to Joshua Tree but aren't up for a stay at the primitive campgrounds within the National Park, there are dozens of options for glamping. One of the best in the area is Autocamp Joshua Tree. This "glamp-ground" features a variety of Airstream accommodations along with more spacious X-suites and accessible suites.
The grounds include curated food and beverages at the General Store, community fire pits, a hybrid spa and plunge pool, free yoga classes, and mountain bikes for use on the property. There is complimentary Wi-Fi on-site, which is either a blessing or a curse if you're trying to limit screen time in the great outdoors.
Drive time—2 hours, 30 minutes
Looking for a desert glamping experience that's not quite as luxurious as Airstreams? 28 Palms Ranch offers slightly more-rugged yurts that include a bed, seating, dining table, sink, dresser, and side tables.
While it's closer to camping than staying in a trailer, the yurts at 28 Palms Ranch have private outdoor showers and flush toilets, an ice chest, heating and air conditioning (a must in the desert), an outdoor sink and barbeque pit, private fire pit, and a shaded picnic table. What's most impressive about the ranch is that all of the yurts are hand-crafted by a Mongolian family using sustainable materials and fair-trade practices.
Drive time—6 hours, 30 minutes
A bit further out than most of the entries on our list and in a different time zone, Autocamp Zion in Utah is your chance to experience the luxury of Airstreams with the breathtaking natural beauty of the iconic National Park. Zion National Park is a few hours east of Las Vegas, so it's within driving distance from Southern California. You can purchase prepared food from the general store, or for camp cooks, you can buy a grill kit that includes chicken or beef.
Glamping in the Mountains Near Los Angeles
Drive time—1 hour, 30 minutes
The tiny house trend has made its way to the mountains! At Getaway House in Running Springs, just outside of Big Bear, you'll have your choice of tiny houses in which to stay. Each tiny house is on a generously-sized lot, with plenty of space between you and your neighbors — so your noisy kids won't disturb the neighbors when they invariably wake up at 6:30am. The trailers include a queen-size bed with another queen-size loft bunk bed, and one of the best features is a private bathroom and shower.
RELATED: Best Things To Do with Kids in Lake Arrowhead Any Time of Year

Glamp in a forested oasis at Huttopia. Photo by Amanda Schutte for Mommy Poppins
Drive time—1 hour, 30 minutes
On the north side of the San Gabriel Mountains, right where the desert starts to become a piney forest, is Paradise Springs. Huttopia Paradise Springs is a little oasis in the foothills with tent-cabin hybrid accommodations called Trappeur tents. These tents have electricity and include a small kitchenette, an enclosed patio and spacious outdoor area, and a BBQ pit. The bathrooms are shared but are just a few feet from most cabins and have hot showers. Pets are welcome at Huttopia too!
Beach Glamping Near Los Angeles
Drive time—2 hours
El Capitan Canyon has a wide range of accommodations on the Santa Barbara coast, from townhouse-like cabins to primitive yurts. No matter what structure you sleep in, there is electricity, provided bedding, heat, and air conditioning. The cabins have private bathrooms, while the industrial-strength tents and yurts are close to shared bathrooms.
One of our favorite things about El Capitan Canyon is its general store, where you can purchase grill kits to bring back to your private barbeque pit. The store also includes prepared foods if you don't trust your camp cooking skills and is well-stocked with local wines and beers for the grown-ups. The beach is just across the 101, but you don't need to leave the resort to have a great time. Be sure to take the small hike up to the goat farm, where you can pet and even hold baby goats!
RELATED: Ventura with Kids: Great Things To Do in Ventura County

Waypoint Ventura puts the "glam" in glamping. Photo courtesy of Waypoint Ventura
Drive time—1 hour, 30 minutes
Who doesn't love vintage trailers? At Waypoint Ventura, you can rent a classic, restored trailer right next to the beach. If vintage isn't your thing, there are modern trailers too! Waypoint is a short walk or bike ride from the Ventura Pier and the state beach.
Don't have your bikes? The resort offers complimentary bikes for guests. Plus, communal fire pits, barbeques, and lawn games like cornhole. Compared with some other options on this list, Waypoint leans towards the "glamour" end of glamping, with Wi-Fi and even televisions in the trailers.
Drive time—2 hours, 15 minutes
If you're not interested in getting away from it all and something a little less rugged is your cup of tea, Campland on the Bay is the perfect place to glamp. Located on Mission Bay in San Diego, this camping resort has tent and RV sites—but you'll have to bring your own lodging accomodations.
If you're feeling very fancy, there's one "supersite" at the resort, which is privately gated and has its own hot tub, fire pit, BBQ, bathroom, and laundry. The resort has programming for children, like dodgeball, wiffleball, and life-size games throughout the year.
Drive time—1 hour, 30 minutes
Rent a vintage trailer at The Holidays on San Clemente State Beach. Each trailer is unique and arranged in such a way as to create a central community area with games and activities.
One thing to note is that the trailers don't have private working bathrooms—they were converted into storage areas. There are shared bathrooms a short walk from the trailers. The trailers have a sink with running water, a stovetop, and a refrigerator, plus there's a BBQ and fire pit at each site. The beach is a quick hike down the bluffs, and The Holidays provides beach toys that kiddos can bring down to the water!
Glamping Near Los Angeles in Valleys
Drive time—2 hours, 30 minutes
In the heart of Santa Barbara County's wine country is Flying Flags Buellton. This Santa Ynez Valley RV resort and campground have charming cabins and trailers. Plus, there are tons of recreational amenities like bocce ball courts, two pools and jacuzzis, and a playground with a splash pad.
If you don't feel like cooking your meals, there's a restaurant called Feather & Fire on-site, serving chicken, pizza, and more. The resort is pet-friendly, and there's even a dog park.
RELATED: Santa Ynez Valley: a California Paradise of Kid-Friendly Wineries

Go Glamping in the middle of Ojai. Photo courtesy of Caravan Outpost
Drive time—1 hour, 40 minutes
Caravan Outpost is a compact Airstream resort located just outside the main commercial center of Ojai. For better or worse (depending on your tastes), staying at Caravan Outpost won't feel as isolated as other places on this list. But how many other glamping spots let you glamp and walk right to one of Southern California's most charming shopping districts? The grounds have lush landscaping, and the vintage Airstreams add a touch of chic style to your glamping experience.
Drive time—1 hour, 30 minutes
For whatever reason, KOAs have always been stigmatized by campers — but when it comes to glamping with the family, there are few better choices than Ventura Ranch. While it was devastated by fires a few years ago, the campground has made an incredible comeback, and most of its amenities have been re-opened. There is a wide range of accommodations, from cabins to teepees to safari tents. There are also tent and RV sites available if you want to bring your own lodging accommodations.
When we stayed, we rented a Conestoga Wagon—that's right, a covered wagon straight out of the Oregon Trail. These wagons are rugged but surprisingly spacious, with enough sleeping space for a family of four. The pool, with its beach-like entrance, was a definite favorite for kids and grown-ups alike. There are other exciting activities like a ropes course, a climbing wall, a labyrinth, and a watering hole at the adjacent Santa Paula Creek.
Private Glamping
While we've featured larger glamping near Los Angeles, there are hundreds of other options on sites like Airbnb, VRBO, Glamping Hub, HipCamp, and many others. If you're looking for a more private experience, many of these glamping rentals only have one or two units, so you won't have to bump into neighbors or wait in line at the bathroom to brush your teeth in the morning!
Note that drive time may vary depending on traffic.
Sign up for the Mommy Poppins Newsletter today!
i