Best Things To Do with Kids in Lake Arrowhead Any Time of Year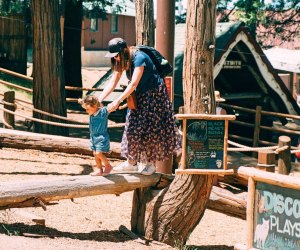 7/2/21
- By
Melissa Bean Sterzick
Lake Arrowhead is a favorite destination for skiers and sledders, but it's pretty fantastic in the summer, too. Oh, and it's gorgeous when the leaves start to turn in the fall. Basically, Lake Arrowhead is a fantastic (easy) mountain getaway year-round. Just a few hours from LA (depending on traffic, but that's true of everywhere!), this mountain town is a perfect escape from city life. Ski or swim, shop or hike, explore, see animals, and play all day—read on to discover why you should bring the family to Lake Arrowhead this weekend. And come back next season, too.

Sour through the trees on the zip line. Photo courtesy of SkyPark at Santa's Village
Best Places To Play in Lake Arrowhead
There are so many activities to choose from at Santa's Village – and they aren't all about Christmas! While you can ice skate and visit Santa in the winter, when the snow melts, families can enjoy the bike park, archery, train rides, zip line, and climbing tower. Restaurants at the park offer burgers, BBQ, coffee, lunch boxes, desserts, and more, so you can easily spend the whole day.
Live like a local and stop and play at this charming playground. A fire station theme and several play structures give kids lots to play on. The playground is right next door to the Saturday morning farmers market.
Purchase tickets at LeRoy's Boardshop, located in Lake Arrowhead Village near the boarding area, for 45-minute Lake Arrowhead Queen boat tours. The tour guide entertains with jokes and stories, points out celebrity homes, and shares fun facts about the area. Tours run year-round.
RELATED: 25 Road Trips From Los Angeles for a Weekend Family Getaway

The Mineshaft Coaster at Alpine Slide Big Bear. Photo by Dan McKernan / Big Bear Guide
Big Bear is about half an hour from Lake Arrowhead and has a ton of great restaurants and shopping. But the real reason to venture from one charming mountain town to another is this: the Alpine Slide at Magic Mountain Recreation Area. Choose from the alpine slide, water slides, a ride on the ski lift, go-carts, and mini golf. For the bravest in your party, try the Soaring Eagle "human catapult" or the new Mineshaft Coaster—the only Mountain Coaster in California.
This is a small park and getting there is an adventure in its own right. But sometimes when you've spent the day with kids at crowded tourist spots, everyone needs a minute of peace and quiet, to just run around. This little park provides that perfectly.
Open your kids' eyes to the beauty of rocks and fossils at this shop in Lake Arrowhead Village. Eager hands will need help with the "no touching" section, but there's a small room at the back where they can pick out a sweet little bag of colorful stones. This is a can't-miss stop for kids every time you stop in town.
Visiting in the summer? Don't miss this free summer concert series that takes place on Center Stage, in the middle of the shopping center, from May through September. Beer garden and check-in open at 6pm, concerts start at 7pm. It might be a little late for younger children, especially after a day of playing outside, but older members of the family will love the music and ambiance, and it's a great way to unwind after a long day of hiking.
RELATED: 10 Gorgeous Fall Drives To See Autumn Colors near Los Angeles

While winter is a wonderland, fall is pretty picture perfect, too. Photo courtesy of Lake Arrowhead Chamber of Commerce
Explore the Great Outdoors in Lake Arrowhead
There's one reason to make this drive in the winter: for the winter sports. Just remember to bring tire chains (as they're required if snow starts to fall), or if you have little ones prone to getting carsick. In addition to skiing and tubing options in Lake Arrowhead, there are also opportunities to go snowshoeing, cross-country skiing, or snowmobiling. If you get up early for a day of fun in the snow, you can still be home for dinner by the beach. And this is why we love LA.
While Lake Arrowhead is a great spot to visit any time of year, autumn might be the best. It's not too cold yet, the tourists have gone home, and the region offers stunning views of some of the best fall foliage. Route 173 follows a path around most of the lake up through the mountains and back into the village. Worth a visit is the town's famous and all ages Lake Arrowhead Oktoberfest, which runs until the end of October.
Access to Lake Arrowhead is for homeowners only, but Lake Gregory is open to the public and just a short drive away. There you'll find fishing, an Inflatable Water Park, and a skate park. If you're here in the summer, the 4th of July fireworks over the lake are a treat.
RELATED: Where to Find Snow in LA: 13 Places LA Families Can Drive to Pretend It's Winter

Photo courtesy of Wildhaven Ranch Animal Sanctuary
The sanctuary is not a zoo, so reservations are required for a visit—but it's well worth it to plan ahead. Weather permitting, the Ranch is open to the public year-round on Saturdays for Wings 'N Things and Paws N' Claws programs. Wildhaven's mission is to preserve the wildlife indigenous to the San Bernardino Mountains and provide a protective environment where non-releasable wild animals can live out their lives in safety and peace.
Who could resist taking a drive up the Rim of the World Highway? Upon arrival, there are free on-site tours of the research-grade telescope mounted in a custom 22' astronomical observatory. The Star Gazer's Gift Shop is packed with goodies your little star-gazer will love.
Trail of the Phoenix, Seeley Creek Trail, and Heaps Peak Arboretum Trail are all a mile or less and easy for all ages, making them great hikes for little kids, or to get moving in between other activities. An Adventure Pass (available in the Chamber Visitor Center) is required to park at most trailheads; be sure to check websites before visiting. If you only have time for one hike, we recommend Seeley Creek Trail, which ends at Heart Rock – a sweet destination and photo opportunity.
Kids under 14 can ride as a passenger in a 4-seater Side-by-Side, while teens get a thrill driving their own ATV. Reservations are required for this memorable adventure.

Feed the ducks outside of the Belgian Waffle Works. Photo courtesy of Lake Arrowhead Chamber of Commerce
Where To Eat in Lake Arrowhead with Kids
The farmers market is held at 2645 Whispering Pines Road in Running Springs next to the Running Springs Library every Saturday morning from June to October. It's a small market, but offerings include microgreens, avocados, fresh-picked fruit and vegetables, pasture-raised eggs, honey, spices, jams, juices, salsas, and more. And you're right next door to the Firehouse Playground... It's a perfect stop if you're staying in a vacation rental, or to stock up on snacks to fuel a hike.
Everything is good at Lou Eddie's! Kids usually go for plain cheese or 'build your own," and anybody with a more diverse taste in pizza has to try the Deer Meadow for vegetarians or the Meatball Mogul for meat-eaters. Soups and salads are decent; garlic knots are delish. The restaurant has a few seats inside and lots of family-friendly outdoor seating. Word to the wise: the outdoor seating is family-friendly, but not stroller-friendly, so be prepared for a few stairs.
The food is your standard snack shack fare: burgers, wraps, fries, and a kids' menu of hot dogs, quesadillas, or chicken fingers. It's not gourmet, but you can't beat the location or the convenience. You can sit near the shack or take food to the park.
Don't skip breakfast (or lunch) at Belgian Waffle Works in Lake Arrowhead Village. It has been serving waffles dockside since 1982. The restaurant is homey and great for families. The kids' menu offers grilled cheese, sliders, PB&J, and more options for the under-2 crew. Everybody else can go for the Brussels Belgian (a Monte Cristo style waffle), biscuits and gravy, or the dessert-for-breakfast Mud Pie Belgian. Sandwiches at lunchtime come with addictive giant, crispy waffle fries.
Sometimes a grocery store is the perfect lunch spot – there's something good to eat for everyone and no changing clothes or waiting around for a server. Soft bread, sliced ham, a bag of chips, a bunch of bananas, and something fun to drink is a nice change of pace from eating out. Kids love picking out their own food (and treats). Grab sunblock, Gatorade, Gummi Bears, and whatever else you need while you're there.
This homey local spot serves breakfast classics like pancakes and eggs, plus giant cinnamon rolls and create-your-own omelets. Lunch and dinner options include American comfort food classics like meatloaf, burgers with curly fries, and fried chicken. The restaurant defines itself as "unfussy," so you can feel good about bringing the whole family. Don't skip the Kuffel Canyon French dip sandwich.
RELATED: The Coolest (Affordable) California Vacation Rentals for Families

Lake Arrowhead has resorts, campgrounds, and vacation rentals. Photo courtesy of Arrowhead Lake Association
Where To Stay in Lake Arrowhead
Pick your type of stay: from Lake Arrowhead resorts to family-friendly hotels to campgrounds there are plenty of choices for where to sleep in Lake Arrowhead. Lake Arrowhead Resort and Spa has a private beach and boat as well as a pool. The rustic Saddleback Inn & Grill offers rooms and cottages in a historical landmark. Or for camping-light, Dogwood Campground outside of the village ranks high with visitors. But honestly, the best choice is to find just the right vacation rental for your family. Some of the coolest family vacation rentals in all of California are right here in the mountains. You can get a house big enough to host your whole extended family or a cute little cabin for a quick (and inexpensive) getaway.