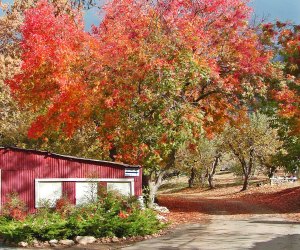 10 Gorgeous Fall Drives To See Autumn Colors near Los Angeles
Ready for some cool, crisp autumn air and a bright expanse of colored leaves within a short drive from Los Angeles? There are lots of options in the city to get your pumpkin picking, haunted train riding, corn maze fix, but if a relaxing fall drive is more your speed, pack some pumpkin spiced snacks and hit the road.
The best window in which to see fall colors in SoCal is the middle of October to early November. You can find more exact dates in the area you plan to visit by checking out this handy fall foliage predictor. Most locales offer ways to explore beyond driving—e.g. hiking, picnicking, apple picking, and more.
Under Three Hours from LA
1. Malibu Creek State Park
A relatively short drive into the Santa Monica Mountains, Malibu Creek State Park in Calabasas yields a delightful surprise come autumn. The winding roads are surrounded by golden-hued sycamore trees. Continue into adjacent Tapia County Park for a fun picnic and leaf-piling party under a canopy of old oak trees. Parking is currently $12 for the day, $9 for 3 hours, $6 for 2 hours, or $3 for 1 hour.
2. Mount Wilson and the Mount Wilson Observatory
Located up the 2 Freeway through La Cañada Flintridge and into the San Gabriel Mountains, this drive boasts some lovely colors as you gain elevation. Pay a visit to the famous Mount Wilson Observatory to see more beautiful foliage and to please the budding family astronomer. The Observatory website has information on tours, special events, and exhibits. A US Forest Service Adventure Pass is required to park at the Observatory. (NOTE: Angels Crest Highway is open to Red Box Junction, the turn off to the Observatory. The rest of Angeles Crest Highway is closed due to a landslide. Check the website for updates on the re-opening of the highway above the Observatory.)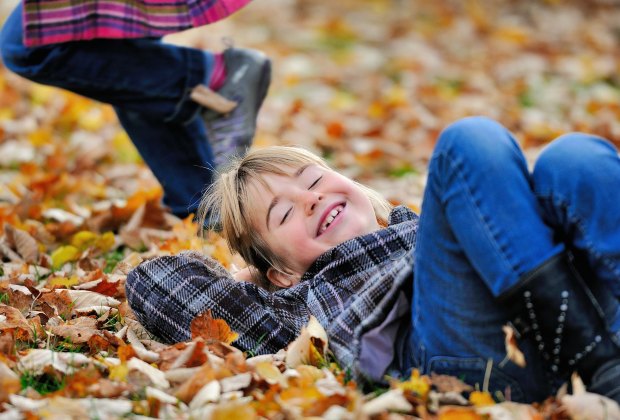 Sit, back, relax and take in the refreshing autumn air. Photo by Pezibear/Pixabay
3. Oak Glen
A quaint little town located 1.5 hours east of Los Angeles, Oak Glen is known for its apple picking, historic buildings, and shops that step back in time. The mile-high locale offers all the cool weather joys of fall and colors to parallel even New England. Snow-Line Orchard has all the kid-friendly classics (cider, doughnuts, and an apple orchard), with a great winery/cidery for the adults.

4. Ortega Highway
Begin 1.5 hours south of LA in the lovely Orange County town of San Juan Capistrano, and from there pick up the Ortega Highway (also known as historic route 74) and head northeast to Lake Elsinore. This scenic fall route through the Ortega Mountains will take your breath away. Equally breathless are the hairpin twists and turns on the road. Rumor has it this highway is a haunted one: a colorful and spooky Halloween treat.
5. Lake Arrowhead
Situated in the San Bernardino National Forest, Lake Arrowhead is a great spot to visit any time of year. Autumn, however, offers stunning views of some of the best fall foliage. Route 173 follows a path around most of the lake up through the mountains and back into the village (to recharge). Worth a visit is the town's famous and all ages Lake Arrowhead Oktoberfest, which runs until the end of October.
6. Big Bear Lake
If you have yet to check off Big Bear from your SoCal bucket list, now is the time. The area is full of cottonwood, aspen, and oak trees, plus bright red maples in the town village. The Aspen Grove has had some temporary closures (check listing here) but Pine Knot Trail and Castle Rock Trail also offer exceptional hues. If you're feeling really adventurous, we recommend trying part of the Rim of The World Scenic Byway, which winds through the San Bernardino mountains between Lake Arrowhead, Big Bear, and beyond.
7. Idyllwild
This adorable town is a perennial favorite for some peace and quiet away from the bustling city. Surrounded by majestic pines and cedars in the San Jacinto Mountains, Idyllwild is close enough to make a day trip, but you may want to stay longer. The Idyllwild Nature Center has a few nice family-friendly hikes where a person can breathe in the fresh air and get that autumn experience.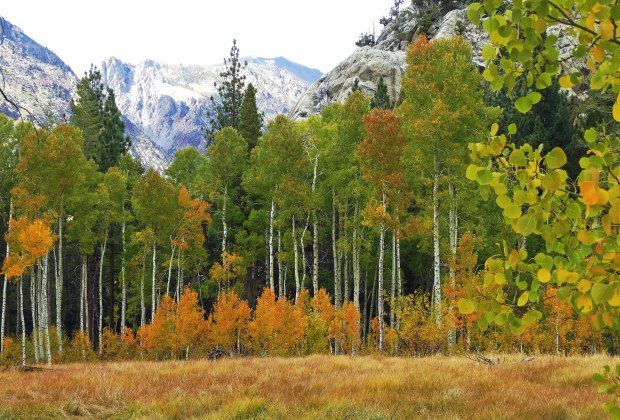 Gorgeous Fall Aspens on the June Lake Loop. Photo by Don Graham/CC BY 2.0

More than Three Hours from LA
8. Sequoia and King's Canyon National Park
The fall off-peak season in this area is much less crowded, which means less traffic and more free campgrounds. Marvel at the Giant Sequoias at the famous Trail of a 100 Giants, and travel along the Western Divide Highway or The Majestic Mountain Loop to admire Mother Nature's change of seasons.
9. Bishop Creek Canyon
You may have driven through the small mountain town of Bishop en route to Mammoth Lakes, but it's worth exploring it for its beautiful landscape. Come October, Bishop Creek and its surrounding lake basins are spectacular. Take CA Highway 168 from Bishop and head west into the mountains for about 20 minutes. Some of the hikes surrounding the scenic South Lake can be strenuous, but it's not necessary to do the toughest hikes to experience the incredible views.
10. June Lake Loop
Mammoth Lakes and Yosemite are both famously worthwhile trips, but nearby June Lake has none of the crowds and all the small mountain town charm. The 16-mile loop deserves a slow drive. It offers the best of Southern California's topography and dazzling autumn hues set against the backdrop of the giant Eastern Sierra Mountains, plus June, Silver, Gull, and George Lakes. The area offers a few cute restaurants and world-class camping, fishing, boating, and hiking, too.