Fall Bucket List for Kids: 35 Fun Things To Do in Los Angeles This Fall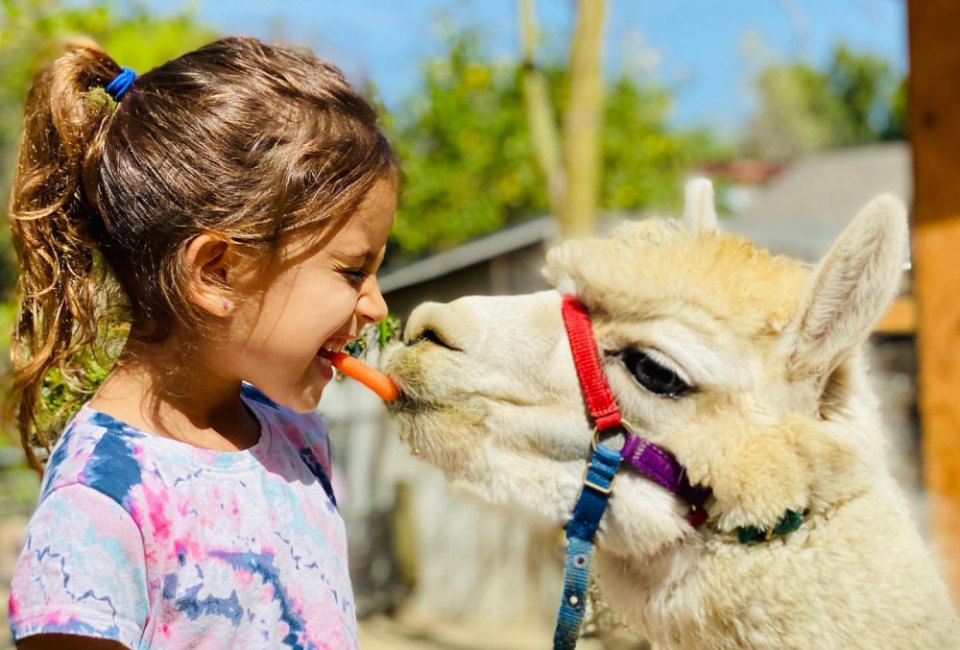 9/9/22
- By
Meghan Rose
Here's the fall bucket list for kids, jam-packed with fun things to do in Los Angeles this fall!
It's easy to buy into the notion that Los Angeles doesn't have seasons. LA's pendulum only swings from summer heat to a more temperate 70ish as fall falls. But that doesn't mean Angelenos don't look forward to fall activities and autumn adventures! Fall means we can start to do the things that it was too hot for in the summer (like hiking, camping, and taking trips to the desert) while still hitting the beach. We can even get our fill of fall fun like fall festivals, apple picking, pumpkin patching, and foliage seeking.
Without further ado, here are 35 fabulous fall activities near Los Angeles. For more seasonal fun, be sure to bookmark our Fall Fun Guide for Los Angeles and OC Kids.
Fall Bucket List for Kids: Outdoor Fall Activities in Los Angeles
1. Meet the rescue animals at Kfar Saba Urban Farm
All the furry and feathered babies at Kfar Saba Urban Farm were lovingly rescued, and kids can take a tour and learn about each and every animal while meeting the goats, chickens, dogs, tortoises, alpacas, horse, and birds.
2. Find fall leaves
No airfare needed to find some stunning foliage; just hop in your car and head to one of these beautiful SoCal spots where the trees turn bright colors.
3. Go apple picking
Everyone's favorite fall activity returns. After apple picking, don't forget to press your own cider and sample apple pie, cider donuts, and caramel apples.
4. Navigate a corn maze
Can you find your way out of the spooky fields of your local corn maze? (They're spookiest for Gen X parents with terrifying memories of the original Children of the Corn.)
Pick a peck of perfect pumpkins at Tanaka Farms. Photo courtesy of Tanaka Farms
5. Visit a pumpkin patch with something extra
Irvine Park, Underwood Farm, and Tanaka Farms are all back with hayrides or train rides, pumpkins galore, and more harvest fun.
6. Visit the Oasis Camel Dairy
Take a day trip from Los Angeles to visit a camel dairy and hop up on a hump.
7. Go camping
Fall has the best camping weather when you live in Los Angeles—you won't suffocate from heat in the tent.
8. Go glamping
Even better, go glamping, which is camping with all the fun and none of the work! We've got mountain glamping, desert glamping, and beachside glamping near LA. What's your pick?
9. Going ziplining
As the leaves begin to turn, it's the perfect time to whoosh through the trees on a zipline course near LA.
Fall in love with seafood served seaside this fall. Photo by Meghan Rose
10. Tide Pools and Neptune's Net
Take a short spin up the coast where you can marry the unlikely combination of tidepooling at Leo Carillo Beach with watching the motorcycles rip up the PCH while you have incredible seafood right by the beach. The weather's not too hot and not too cold; it's just right!
11. Find your favorite fall festival
We've got dozens of fabulous fall festivals; find the perfect one for your family.
12. Visit the Gibbon Conservation Center
It's pretty darn hot in Santa Clarita in the summer, so we save visiting these hooting, hollering human kin for fall when it's a bit cooler.
13. Plan a day trip from Los Angeles
Sure, LA is lovely right now. But so is Ojai. And Santa Barbara. And Dana Point. And…
14. Head to Lake Arrowhead
It's a bit too far for a day trip, but nothing beats that autumn mountain air in Lake Arrowhead.
Fall is the best (and coolest) time to catch a chukker at the polo fields. Photo by Meghan Rose
15. Pinkies up, it's (still) polo time
Polo matches take place at Will Rogers Park through October, so bring a picnic, blanket—and hiking shoes for a hike that includes ocean views.
16. See what's in bloom
The Huntington, Descanso Gardens, The Arboretum & South Coast Botanic Gardens all have fabulous fall activities and you can see what's blooming—something is always in bloom! This is LA. (Can't you just hear Sheryl Crow singing that?)
17. Jazz at LACMA
While summer concerts and movies are mostly over, Jazz at LACMA on Friday nights keeps going until almost Thanksgiving. It's the perfect way to end the weekend, just pack a picnic and listen to some music while kids run and play.

Fall isn't just for picking pumpkins! Photo courtesy of Underwood Family Farms
18. PYO blackberries and raspberries
Pumpkins are not the only thing you can pick a peck of in the fall. Underwood Farms has berry picking well into autumn.
Fall Bucket List for Kids: Indoor Fall Activities in Los Angeles
19. See an outdoor movie
Remember how a second ago we said outdoor concerts and movies are mostly over for the year? Well, mostly doesn't include the movies at Street Food Cinema, where movies are shown in the parks after dark through October. (Including some fun Halloween movies, like Beetlejuice and The Nightmare Before Christmas.)
20. The Academy Museum of Motion Pictures
See the ruby slippers, practice your acceptance speech, and explore the Death Star-shaped theater—all at the newest museum in LA and the only museum in the world dedicated to the art of Hollywood movie-making.
21. See some pint-sized dinner theater
Dinner and a show, or dinner in a space where the restaurant decor is the show: from pirates to magic and more, get a side of entertainment with your entree.
22. Catch an IMAX movie
We're all so used to watching movies at home on our huge TVs, where we can pause for bathroom and snack breaks, that it's easy to forget how fun seeing a movie is on the big screen. So see a movie on the bigger than big screen at the California Science Center, which is something we still can't do at home.
See the spiders at NHM. Photo courtesy of the Natural History Museum of LA County
23. See creepy crawlies at the Spider Pavilion
The Natural History Museum's annual eight-legged affair is back.
24. Take your kids to the city where kids rule
Pretend City lets kids set the rules, and offers a host of fall events that make a visit extra fun, like Talk Like a Pirate Day, Grandparent's Day, Family Autism Night, and a Rosh Hashanah celebration.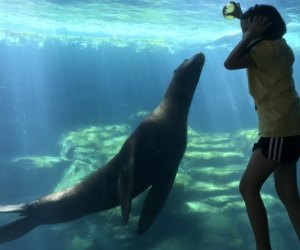 Meet Chase the sea lion at the Aquarium of the Pacific. Photo by Roberta Brown
25. Visit the Aquarium of the Pacific
Activities and special events at the Long Beach aquarium are back, including fall favorites like the Moompetam Festival and the Baja Splash Cultural Festival.
26. See a classic kid flick at Kiddee Matinees
While we wait for The Vista movie theater to reopen, you can visit Quentin Tarantino's other theater, The New Beverly. On the weekends, families can catch a matinee screening of a classic kid-friendly movie on the big screen.
27. Strut your stuff at Tyra Banks' new ModelLand
After much anticipation, Tyra Banks' ModelLand is finally open! Little fashionistas who want the first Insta pics can learn how to smize and celebrate inner and outer beauty. Did we mention there's ice cream?
Fall Bucket List for Kids: Fall Events in Los Angeles
28. Playoff baseball at Dodger Stadium
The way the boys in blue are playing, they should (knock wood!) finish the season with the best record in baseball, so Angelenos are in for some October baseball action!
29. Reyes Adobe Days
Reyes Adobe Days in Agoura Hills is a fall favorite, taking place this year on October 7 - 9 (mark your calendars!).
Dig into spectacular food and drink at a local Oktoberfest. Photo by Dan McKernan / Big Bear Guide
30. Brews and brats at Oktoberfests
What's not to like? Fabulous food, great beers, dancing, lederhosen, and oompah-pah music. There are fests near (Enegren Oktoberfest), far (Lake Arrowhead and Big Bear Lake), and everywhere in between.
31. Carved comes back
Stroll through Descanso's beautiful gardens and woods, viewing hundreds of jack-o'-lanterns carved from real pumpkins along the trail.
32. An immersive experience for dino lovers
Move over Van Gogh, Monet, Banksy, Michelangelo, Klimt, et al.—the immersive experience kids are raving about is in town through October 30 in Montebello. Don't miss visiting Dinos Alive: Immersive Exhibit with your budding paleontologist.

If you haven't seen this LA Photo courtesy of the Bob Baker Marionette Theater
33. Bob Baker's Halloween Spooktacular
This beloved Bob Baker fall tradition, a family-friendly musical revue set to haunting and jazzy holiday-themed tunes, is back.
34. Just a taste of Halloween
And we've been trying to save Halloween activities for October, but honestly, with Halloween tickets selling out already, we have to mention that Halloween is coming and you need to get tickets now and start dipping a toe in the Halloween waters, so you have time for all of these awesome events! Stay tuned for all our Halloween activities, haunted happenings, and Halloween trains!
And one more that starts in LA!
​
Get an insider view of the best things to do in the Bay Area with kids. Photo courtesy of the Bay Area Discovery Museum in San Francisco
35. Hit the road to San Francisco
Fall is one of the best times of the year to visit our neighbor to the north, San Francisco. The weather is perfect and there's always an endless amount of activities to do in the Bay Area. Take a few days and travel up the coast using our PCH road trip guide. We just launched a new Mommy Poppins site in San Francisco and it's full of guides from your favorite parenting website, with recommendations on where to eat, where to go, and what to do!