Ten Things My Tween and Teen Love about the California Science Center
2/17/16
- By
Jacqueline Stansbury
I have a son and a daughter with four years between them, which means they don't always want to do the same thing in the same place at the same time. Siblings! That said, one destination they can always agree on is the California Science Center in Exposition Park. This immersive, interactive exhibition space engages all ages, preschool to high school, and we rarely leave without the feeling that there was more to see and to do. As a parent I love this museum, because, while science is a universal topic, the California Science Center finds many ways to connect us with our own state of California and has exhibits highlighting our ecosystems, earthquakes, and industry.
Space belongs to everyone, but much of the Aerospace Industry is housed here in California. LA's free science museum recently acquired the Space Shuttle Endeavor, currently displayed in a temporary location but ultimately planned as the centerpiece of the new Samuel Oschin Air and Space Center. As thrilling as that big ticket item is, there are many smaller permanent installations that my kids love to revisit—and believe you me they know how to find them. Rotating exhibits also capture their attention: my daughter was so eager to get to last year's Pompeii that she ended up going without me. I won't make that mistake again!
Here is a too short list of ten things you gotta love about the California Science Center.
1. The California Science Center is free. While some special exhibits or events and all IMAX movies are ticketed, most of the museum and its contents can be enjoyed gratis. Take the kids for the day; but if you only have time for a few hours, why not? It's free.
2. Experience a flash flood while staying (fairly) dry! El Niño delivers about every ten minutes in the Desert section of the Ecosystems exhibit. While this spectacular drenching never disappoints, there are many more things to explore here, including an infrared camera that shows the difference between ectothermic (cold-blooded) and endothermic (warm-blooded) creatures.
3. Investigate the physics behind arches by building one yourself with large foam blocks in the Creative World.
4. Take a popcorn break in the IMAX theater. This one isn't free, but tickets are reasonably priced compared with other IMAX theaters. Often the movies showing connect to and augment the experience of current exhibits. Journey to Space 3D, with footage from NASA is screening in conjunction with Journey to Space: the Exhibition. For kids interested in the natural world, National Parks Adventure recently opened. Show times and ticket availability vary, so best to plan ahead, though often it is also possible to make this a spur of the moment decision.
Photo by Didgeplayer/CC BY 2.0
5. Let someone find his or her center of gravity on the high wire bike, where souls braver than I pedal across a one inch cable 43 feet above the ground! This thrill of a lifetime costs $2 and is well worth it.
6. Drop, duck, and cover! This museum has earthquakes. I am still asking myself how my daughter talked me into standing on line for 20 minutes so we could shake, rattle, and roll in an earthquake simulator. I was surprised to find parents in there with some very young children, who I thought would surely be terrified, but I guess it is practice for the Big One (which the accompanying video assures us is on its way). While many of the simulated events in the museum require an additional charge, this one is free…gee thanks. The good news is we know it's coming. Young engineers plan for the Big One by building structures on a "shake table," to see whether or not their designs can withstand a geological episode.
7. Dining at the museum is a pleasant surprise. If you bring a picnic, the rose garden in Exhibition Park is the perfect place to enjoy it. Sometimes, though, we find ourselves hungry and have to take what is offered. Not long ago, this meant chain fast food. No more. My daughter and I got pizza and tacos which were fresh, healthy, and reasonably priced. There is also a place to buy snacks, sandwiches, and grilled food. This is a huge improvement from days of yore.
8. What child (inner or actual) doesn't enjoy playing in the mud? The River Zone has a large, elongated sand table with a constant drip of water. My kids and I can spend hours moving mud around and watching how that redirects the current. Almost as relaxing as an adult coloring book.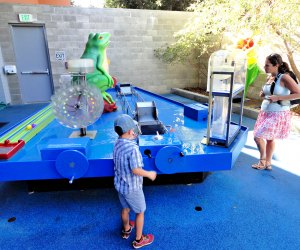 The River Zone. Photo by Fabio Achilli/CC BY 2.0
9. Rotating exhibits: Whether it's mummies or Pompeii, space exploration or the tiny house we checked out that closed this week, the Science Center always has something new to investigate.
10. The only thing better than going to the museum once is going every day. 2016 summer camp covers a variety of subjects including space, chemistry, physics, and 3D animation for kids in preschool through tenth grade. Online enrollment begins February 16.
These are just a few highlights; there are of course many more things to love about the Science Center. The one thing we don't love is the price of parking, which has been raised to a whoppin' $12. Looking for street parking—or even better taking the Expo line—is well worth the effort.
A much visited museum becomes a home away from home. My kids and I never leave the Science Center without passing through the L.A. Zone and locating our house on the giant Google Map. And then we always find our way back to the California Science Center.
Places featured in this article:
---
California Science Center
Sign up for the Mommy Poppins Newsletter today!