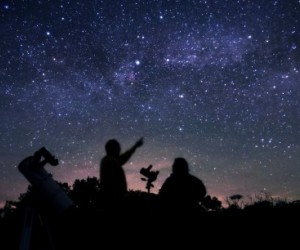 Space and Astronomy: Where LA Kids Can Get Their Outer Space Fix
Space exploration is a big topic these days, with the Rosetta Mission comet landing and Space X's International Space Station resupply missions. Many kids eat up these news stories, read books about astronomy and exploration, and dream of being an astronaut or working on rockets and satellites. Here in Southern California, we are especially lucky to have many options for the space-loving kid. Museums, businesses, observatories, and even a space camp all open their doors to our budding astrophysicists.
Astrocamp
Located near Idyllwild
1.800.645.1423
This is summer camp with a space twist! Telescopes, lights and lasers, atmospheres and gases, digital photography, rocket building and launching, and other science activities make this the sleepaway camp for any space kid. Of course, the camp also has plenty of must-have camp activities such as arts and crafts, blacksmithing, welding, hay rides, archery, and geocaching. One- (age 8 to 14) and 2- (age 12 to 17) week sessions available.

California Science Center
700 Exposition Park Drive
Los Angeles 90037
323.724.3623
Open daily
The Science Center is permanent home of the Space Shuttle Endeavour. Visitors learn about the shuttle, its missions, and crew. There is a $2 fee for online purchased timed tickets (required for weekends, holidays, special events, and school breaks). Don't miss the Air and Space Exhibits in the Science Center's main building. And if all of that doesn't wear out your family—there are plenty of other topic areas to explore.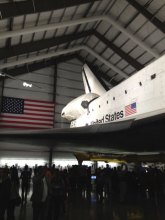 Columbia Memorial Space Center
12400 Columbia Way
Downey 90242
562.231.1200
Open Tuesday thru Saturday
This 20,000 square foot hands-on learning center brings the wonder of space science to kids. A robotics lab, shuttle simulator, robotic arms, and more let kids explore for themselves. The Challenger Learning Center missions are by advance group registration only (grades 5 and up only—great for scouts, school field trips, or homeschool groups). Public mission days are held six times per year. Saturday Science on 4th Saturdays offers special themed presentations and activities, included in the regular admission fee. Monthly Young Explorers workshops for ages 3–6 are available for an additional fee. Regular scout days are held for boys scouts, girl scouts, and cub scouts to earn badges.
Discovery Cube Orange County
2500 N. Main Street
Santa Ana 92705
714.542.2823
Open daily
Discovery Cube's Rocket Lab exhibit introduces younger kids to space, science, and engineering. Hear a rocket launch and see blasts of fog (don't worry—it's not steam). Launch your own rockets in the fuel station, and learn about different types of fuel. Experiment in the nozzle chamber. And, of course, this science museum has a lot of other exhibits too.
Exploring Your Universe
UCLA Astronomy Live!
UCLA Campus
Westwood 90095
outreach@astro.ucla.edu
Astronomy Live! is an outreach branch of UCLA's Department of Physics and Astronomy. Most of its time is spent on outreach events at K-12 schools during the school year. But once a year, on a Sunday in mid-November, Astronomy Live! brings together a variety of UCLA STEM departments for the Exploring Your Universe event. This family-friendly event includes solar telescope viewing, comet making, physics demos, weather tours, workshops, planetarium shows, and more. Check the website as the event approaches for the finalized date, maps, and schedules of events.

Griffith Observatory
2800 East Observatory Rd.
Los Angeles 90027
213.473.0800
Grounds, parking, observatory/museum free.
The Griffith Observatory is more than just an observatory—it has a full museum as well. Check your weight on the different planets, learn about space observation, and more. While outside, don't miss the orbits of our solar system scaled into the front sidewalks. If you make it for a monthly star party, volunteers from the LA Astronomical Society bring telescopes to the lawn to share with the general public. The whole family can see the sun, moon, and stars.

JPL Open House
4800 Oak Grove Drive
La Cañada Flintridge 91011
818.354.4321
Second weekend in October
For one October weekend each year, NASA's Jet Propulsion Lab is open to the public. Families can see a life-size model of the Mars Science Laboratory rover, the machine shop (robotic spacecraft parts built here!), the microdevices lab, videos of Earth and Earth science missions, and a whole lot more. Arrive early and bring money for food; expect a lot of walking and a lot of learning. Don't forget sunscreen and hats! This is a large campus with a lot to see and do, and there is something for every age group to enjoy.

Madrona Marsh Star Parties
with Riverside Astronomical Society
3201 Plaza del Amo
Torrance 90505
310.782.3989
Approximately once every other month, Madrona Marsh hosts a star party led by the Riverside Astronomical Society. These free events last 2 hours and have a theme based on the current night sky.