Halloween Tickets on Sale Now in Los Angeles: Hurry, Some are Selling Out Already!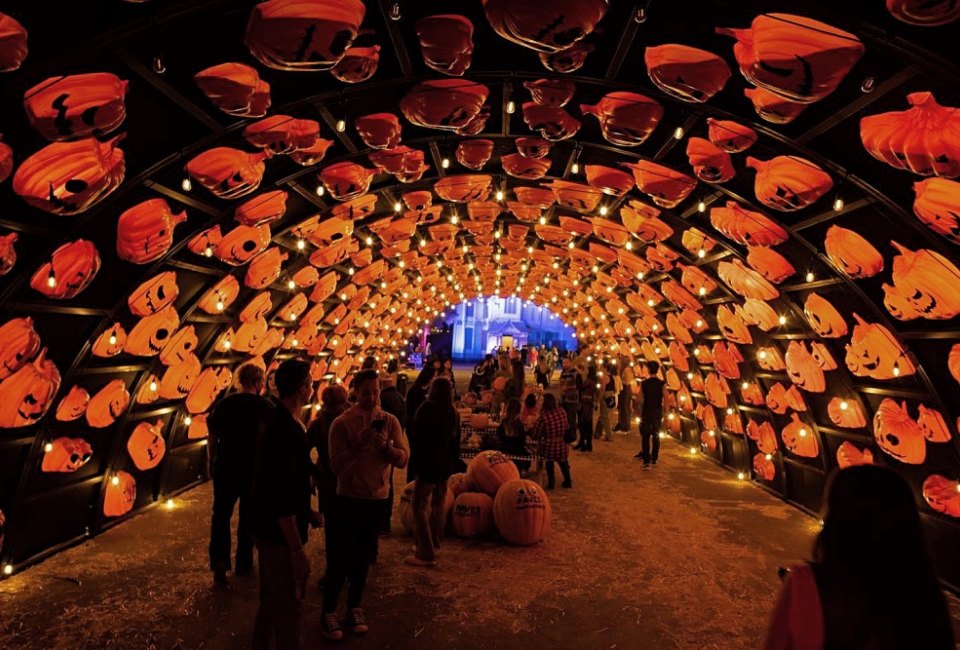 8/30/22
- By
Meghan Rose
Honestly, the kids just started school, and I haven't made our plans yet (note to self: do that today) for a quick getaway or day trip for Labor Day weekend. I am not ready for Halloween! But, with pumpkin spice lattes at coffee shops, Pumpkin Spice Oreos in the stores, and my kids already planning Halloween costumes, I think it's time to start planning. Especially since Disneyland has already announced that Oogie Boogie is fully sold out for 2022... So, I took a look at which beloved Los Angeles Halloween events and attractions are already on sale—almost all of them—so we can all snag some tickets before everything sells out.
From fun for the whole family at Haunt O' Ween to the big kid scares at Haunted Hayride, here are the best Halloween events you just might want to get tickets for today. Keep tabs on all the Halloween fun as it is announced in our Los Angeles Halloween Fun and Activities Guide.
Subscribe to our newsletters to get stories like this delivered directly to your inbox.
Halloween Events in Los Angeles Now on Sale
Boo Bop Halloween Music Party — Glassell Park and Pasadena
Minibop Music hosts Boo Bop Halloween Music Party, a family-friendly outdoor Halloween event. Enjoy costumes, trick-or-treating, games, giveaways, and of course special music performances. Spots are very limited and this event sells out fast so book early. Choose between Glassell Park on Friday, October 28 and Pasadena on Saturday, October 29.
Haunt O'Ween — Woodland Hills
Haunt O'Ween LA began during the pandemic as a drive-thru Halloween event and has evolved into an interactive and immersive Halloween experience. Highlights include thousands of pumpkins, including immersive Halloween-themed tunnels.
Kids can trick-or-treat in the town of Haunt O'Ween, jump in multiple bounce houses, and enjoy rides and games. Tickets are now on sale for the experience, which runs September 30 - October 31, 2022.
RELATED: Halloween Trains near Los Angeles
Pumpkins for miles at Nights of the Jack. Photo by Mandy Schutt
Nights of the Jack — Calabasas
This Halloween-themed show is a walk along a 2/3 mile nature trail filled with thousands of hand-carved jack o'lanterns, and it is a perfect outing for families with kids of a whole range of ages. Tickets are on sale now, and the photo-op heaven is open from September 30 - October 31, 2022. You definitely want to read our review and check out the awesome footage our writer captured, before you go.
Cemetery Lane — Montecito Heights
Kids can trick-or-treat at a neighborhood trapped in the 50s and 60s at Cemetery Lane. This is perfectly, atmospherically spooky, but not too scary for little kids, especially during the daytime! Tickets just went on sale for the experience, which takes place October 19 - 30 at Heritage Square Los Angeles.
Knott's Spooky Halloween — Buena Park
Knott's Scary Farm is too scary for me; Knott's Spooky Farm is way more my speed. Kids can get all dressed up in costumes and go trick-or-treating in the Ghost Town. They can also hang out with Snoopy and friends, who roam the park in their own Halloween costumes. Knott's Spooky Farm is held every Thursday through Sunday from September 29 until October 30, plus on Halloween. Since it's not open daily, it's good to get tickets in advance.
RELATED: Easy Halloween Treats for Kids

Descanso Gardens is aglow at Carved. Photo courtesy of Descanso Gardens
Carved at Descanso — La Cañada
Carved is a family-friendly Halloween event at Descanso Gardens where families can walk through Descanso's beautiful gardens and woods, viewing hundreds of jack-o'-lanterns carved from real pumpkins along the trail. Don't miss the popular Pumpkin House, a hay maze, UV "black light" experiences, artists sculpting pumpkins, and a special Day of the Dead (Día de los Muertos) installation at the Amphitheater. Open October 7-31, tickets sell out on weekends well in advance, so get your tickets now.
Haunted Hayride — Griffith Park
This is not your mama's hayride. In fact, we don't usually mention this one, as the thrills and chills are not for the faint of heart. This is an event best shared with teens and no one younger—but boy will your teens think you're cool. LA's favorite Haunted Hayride is officially returning to Griffith Park beginning Friday, September 23. Open select nights through Halloween, Haunted Hayride general admission tickets are on sale September 1, and prime nights sell out, so in case your kids who have learned to love being scared by Stranger Things and NOPE want to try it this year, plan on getting tickets soon.
RELATED: Easy Pumpkin Carving Ideas and Stencils for Halloween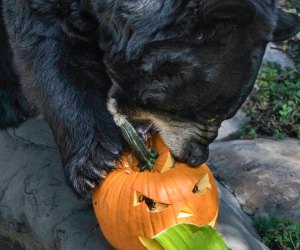 Everyone gets treats at Boo at the Zoo! Photo courtesy of the LA Zoo
Boo at Zoo — Griffith Park
The LA Zoo hosts trick-or-treating fun, pumpkin carving, musical entertainment, and spooky crafts. While Boo at the Zoo takes place every day in October, on weekends there are extra treats, like open-air live shows, animal pumpkin feedings, themed photo ops, education stations, and much more. You can make advance online reservations at any time to guarantee admission on the date you want to go.
Legoland's Brick or Treat — Carlsbad
Legoland offers a festive kid-centric Halloween celebration on Saturdays this fall at Brick or Treat. The fun includes tons of candy, an all-new show lineup, never-before-seen exclusive Lego characters, dance parties, and more. And remember, if you're heading that far south, make use of the Kids Free October deals! Saturdays from September 17 to October 29.
RELATED: 101 Kids' Halloween Costume Ideas
Now we know where Minnie Mouse lives! Photo by Roberta Brown
Already Sold Out Halloween Events
Oogie Boogie Bash — Anaheim
The super-popular Oogie Boogie Bash at California Adventure sells out months in advance, and tickets for this year are already gone. However, tickets for Disneyland and California Adventure, which are all decked out for Halloween, are still available.
Big Scares for Bigger Kids Are Also on Sale
Halloween Horror Nights —Universal City
Yup, this one's scary. When Universal says that they don't recommend this haunt for anyone under the age of 13, take them at their word. If your teens enjoy monsters, zombies, and screaming in unison, this can be a super-fun night of family bonding, as you make your way through scary mazes of different themes, a scream-inducing tram ride, a walk through a zombie apocalypse, and plenty of other rides and scare zones. Tickets to Halloween Horror Nights are already on sale for terrifying nights starting on September 8.
Knott's Scary Farm —Buena Park
Knott's Halloween event strikes a good balance between scary and big-kid-friendly. Would we bring someone younger than 12 years old? Nope. But we might bring a group of 12-year-olds and expect that most of them would love it. Like at Universal, you can find plenty to do and see all night long, and Knott's even offers a buffet dinner included in some ticket prices to kick off the evening. Most of the rides are running, offering breaks from spooks, though some of our favorite bits are the walks between zones, through thick and spooky fog. There is plenty to induce fun screaming—though without quite as many zombies as Universal employs. Be sure to purchase your tickets online in advance, as gate tickets are typically $30-50 more. Knott's Scary Farm is open on select dates from September 22 through Halloween.
Sign up for the Mommy Poppins Newsletter today!