30 Fall Day Trips from Los Angeles— Plus Weekend Getaways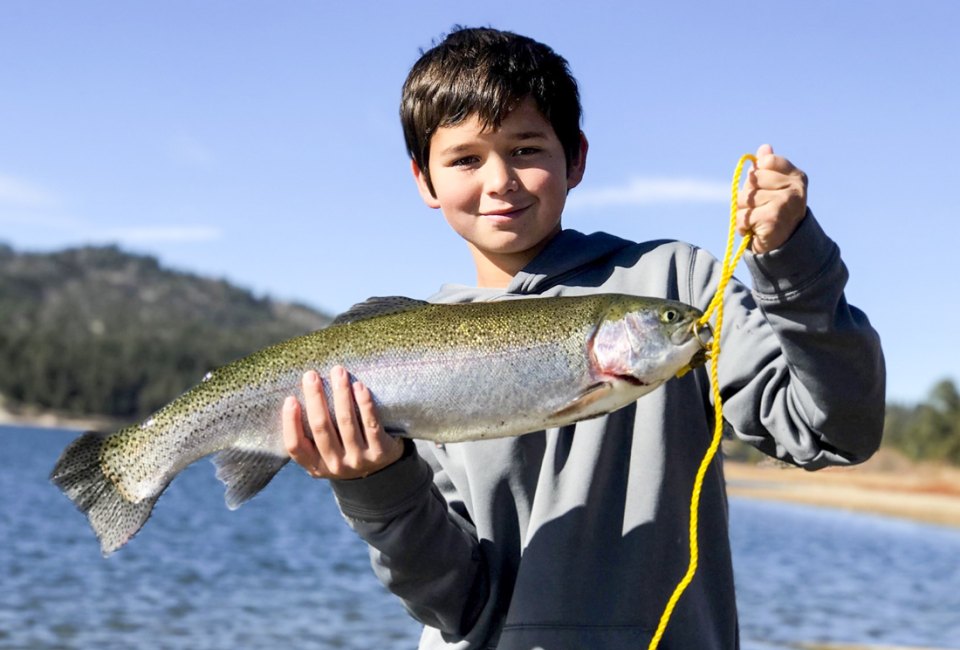 8/26/22
- By
Mike Horelick
Fall is a beautiful time of year to take the kids on day trips from Los Angeles—or if you have time, to get out of town for the whole weekend. Although Los Angeles is known as a city without seasons, we all know that it isn't quite true. Pumpkin patches spring up under palm trees. Multi-million dollar mansions in Santa Monica morph into haunted houses. And when summer winds down you'll find fewer tourists, cooler temperatures, and a greater desire to explore everything California has to offer—not just the beaches!
The next time you have a day with no plans, hop in the car for one of these fall day trips from Los Angeles. Pack a bag, you just might find yourself wanting to stay longer and turn it into a long weekend away... For more ideas for LA getaways that are perfect any time of year, check out these 25 Road Trips from Los Angeles for a Weekend Family Getaway and more ideas for getting out of town in our Weekend Getaway and Day Trip Guide for Los Angeles Families.
Easy Fall Day Trips from Los Angeles
1. The Huntington
When fall arrives, it's a perfect time to head to the Huntington Library and Gardens in San Marino. The weather is cooler, and the fall here is packed with fabulous festivals, like the Mid-Autumn Moon Celebration. If you want to turn this day trip into a weekend away, the Langham Hotel is right around the corner, and it's a beauty.
2. Long Beach
No need to travel far to have a vacation; enjoy a day or weekend sightseeing in Long Beach, where you can hop on the Ferris wheel, boat around the harbor, and (of course!) visit the Aquarium of the Pacific.
3. Manhattan Beach
Sure, you come to the beach in the summer, but Manhattan Beach in the fall is a whole different vibe. With spacious parks and nautical playgrounds, a compact and walkable downtown area, and a historic pier and aquarium, Manhattan Beach is a great city to experience with kids when you're not distracted by the beach.

Zip up the 101 for an easy day trip that feels like a real vacation. Photo courtesy of Santa Barbara Tourism
3. Santa Barbara
If the Los Angeles Zoo is old hat, zip up the coast to take the kids to the intimate Santa Barbara Zoo. And if you have some time left in your day, the MOXI, The Wolf Museum of Exploration and Innovation is a treat for kids of all ages. In fact, there's so much to do in Santa Barbara with kids that you might want to turn your day trip into a weekend getaway.
5. San Pedro
Rainy day? Explore the tunnels of the Fort MacArthur Museum in San Pedro. Sunny day? Go tide pooling and explore the aquarium at Cabrillo Beach and the Cabrillo Marine Aquarium, also in San Pedro. And while you're there, visit the Marine Mammal Care Center to peek in at the seal pups.
6. San Diego Zoo Safari Park
Want to take the kids on an African safari but never had the time or money? Check out the San Diego Zoo Safari Park. You can even have a sleepover there.
7. Ojai
A short drive up the Ventura Freeway feels a long way away in Ojai, a sunny artist community with hiking, biking, horses, and the best outdoor bookstore in the world.
RELATED: Family Road Trip on the PCH
Meet mermaids at the Maritime Festival at Dana Point in the fall. Photo courtesy of the Ocean Institute
8. Dana Point
While summer is gorgeous in Dana Point, the best time of year to visit is fall, when you can catch the Maritime Festival (formerly called the Tall Ships Festival).
9. Newport Beach
Rent an electric boat at Newport Beach and explore the bay.
10. San Juan Capistrano
Learn your California history, and take the kids to Mission San Juan Capistrano.
11. Hike in Los Padres National Forest
Feeling lucky? Hike the trails of Mount Pinos while looking for the rare and endangered California condors.

Visit the sea anemones at the Leo Carrillo tide pools in Malibu. Photo courtesy of California Tide Pools
12. Malibu
Head up to Malibu and enjoy one of the world's finest beach towns when the tourists have decamped. Follow that up with a dinner at Neptune's Net, and run across the PCH to check out the tide pools at Leo Carrillo State Park.
RELATED: 60 Awesome Things To Do in San Diego With Kids
13. Take a train up the coast
Take the Pacific Surfliner train from downtown Los Angeles up the coast and get off wherever the spirit moves you!
15. Oak Glen
Go apple picking in the mile-high town of Oak Glen. Don't forget to press your own cider and bring home some fall leaves to press, too.
RELATED: Road Trips from Los Angeles for Long Weekends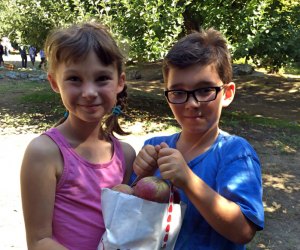 You can head to Oak Glen or Julian for a day or weekend of apple picking.
Perfect Weekend Getaways for Families in the Fall
14. Julian
Want a whole weekend of apple picking? Spend the weekend in Julian, picking organic apples and sampling some fresh apple pie. It's a bit far for a day trip, but there's so much to do in this historic little town, you won't mind spending the night.
16. Coronado Island
Want to get away but Hawaii is just a bit too far for a weekend? San Diego's peaceful Coronado Island might be the answer. Side fun fact: The Hotel del Coronado is said to have been L. Frank Baum's inspiration for the Emerald City in The Wizard of Oz.
17. Sequoia National Park
Experience the world's largest trees–the giant sequoia—at Sequoia National Park.
18. Calico Ghost Town
Step back in time with the children at Calico Ghost Town.
RELATED: Kids Free October in San Diego

There's a really big shoe waiting for you in Solvang. Photo by the author
19. Solvang
They might not be low-cal, but if you're going to eat Danish pastry, they might as well be authentic. The Danish village of Solvang, California, is perfect for a day trip.
20. Joshua Tree
U2 loves it and so will your children. Only a couple of hours from Los Angeles, you are in the spectacular desert landscapes of Joshua Tree. If you want to turn this into a wonderful weekend stay, try booking a spot at the AutoCamp in Joshua Tree.
RELATED: California Family Vacation Ideas Kids Love
This is what vacation looks like. Photo courtesy of Splashtopia in Palm Springs
21. Palm Springs
Enjoy the view of a lifetime from Palm Springs Aerial Tramway, where it's fall in real life, but summer at the base of the mountain and winter at the top! Then stay in Palm Springs for the weekend.
22. Death Valley
Take advantage of the cooling fall weather by heading to America's hottest spot, the aptly named Death Valley.

Kayaking in the La Jolla Cove is a spectacular adventure. Photo courtesy of La Jolla Kayak
23. La Jolla
What better way to combine exercise and nature than kayaking in La Jolla, California? You can visit with the seals and sea lions before enjoying dinner in the village and then a bonfire on the beach.
24. Lake Arrowhead
We may not be a land of a thousand lakes, but we still have a few great ones. Enjoy Lake Arrowhead for the weekend, which is beautiful any time of year, but less crowded in the fall. Plus, you can see a little fall foliage right here in California!
25. Lake Tahoe
Ski bunnies love Tahoe in the winter, but fall just might be the best time of year to visit. This is peak foliage season, and you just might be able to see the Great Reno Balloon Race, if you visit on the right weekend in September. Driving up to Tahoe? This route is our favorite road trip along the Eastern Sierra, along with everywhere to stop.
26. Santa Ynez
Just two hours away from LA, Santa Ynez Valley feels a world away—it features a cluster of picturesque towns with distinctive charm and hills that stretch for days. Not only is the area full of family-friendly wineries, but there are also museums, farms, and ranches to entertain the kids between winery visits.
RELATED: The Coolest (Affordable) California Vacation Rentals for Families
Explore Dinosaur Caves Park in Pismo Beach. Photo by Sammy Katta/CC BY-NC 2.0
27. Pismo Beach
Take a trip up the PCH to this little seaside town that is packed with history and character. Fall is our favorite time to come because starting in October you can take a trip to the Pismo Beach Monarch Butterfly Grove where thousands of butterflies gather. Kids love the downtown area of Pismo Beach by the pier where Pismo Bowl has an old-school alley and arcade, and be sure to visit the nearby Dinosaur Caves Park.
28. San Luis Obispo
Visiting SLO in the fall means there won't be any crowds when you visit Avila Valley Barn and Avila Hot Springs. Downtown SLO is a vibrant place; take a stroll around the city's core (don't miss Bubblegum Alley!) and make a stop at the San Luis Obispo Children's Museum. Then you gotta spend at least one night at the fabulous Madonna Inn.
29. Monterey
Monterey is famous for its world-class Monterey Bay Aquarium as well as the more touristy Cannery Row and Fisherman's Wharf. Nearby, the quaint village of Carmel-by-the-Sea is a great place to get lunch. The hiking by this stretch of coast can't be beat.
30. Big Bear Lake
You can hike, mountain bike, canoe, simply take a break from the hectic pace of Los Angeles, all in the mountain resort of Big Bear Lake.
Top photo of Santa Barbara Zoo by Upsilon Andromedae/CC BY 2.0
Originally published October 9, 2016
Sign up for the Mommy Poppins Newsletter today!
i