Road Trip Along the Eastern Sierra in California with Kids: Explore the Wild Inland Beauty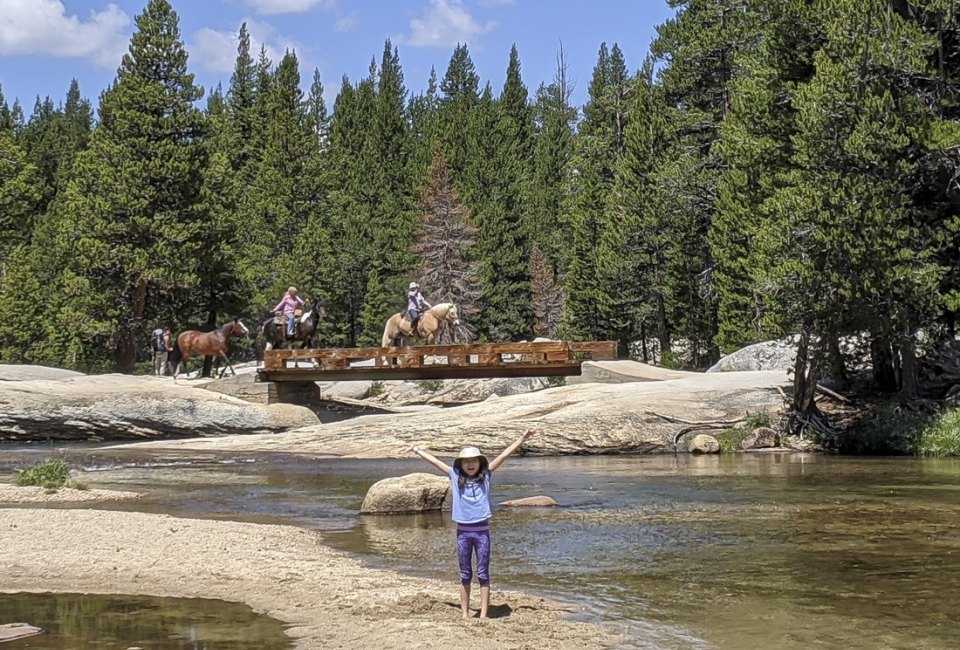 5/10/22
- By
Jean Kuo Lee
Raise your hand if you've never explored the Eastern Sierra region. It's most of us, right? On our personal quest to visit all the National Parks in our state, my family and I have explored the otherworldly Joshua Tree, sailed to the Channel Islands, hiked through Sequoia and Kings Canyon, spotted California condors at Pinnacles, and of course, been mesmerized by the majesty of Yosemite. But all this traveling had been done on the west side of the Sierra Nevada, never on the east. We didn't try the eastern route until recently, and now I want everyone to know how gorgeous this part of California is, and what a fun road trip the Eastern Sierras region is for the whole family.
Need more ideas for gorgeous family road trips in California? We've rounded up 25 Epic California Road Trip Ideas for Families, and have detailed guides to some of our favorite stops, like Lake Tahoe and Death Valley National Park.
The Eastern Sierra road trip takes you from Los Angeles to Lake Tahoe, along Highway 395. While it is a lot of driving, California road trips like this are memorable experiences for the whole family. If you haven't taken a trip up the beautiful coast on the PCH, that's a great road trip. But a close competitor is the Eastern Sierra drive with its stark beauty, history-filled museums, and outdoor adventures. Pack up the car games, audiobooks, iPads, and snacks – and prepare to take your family on the road less traveled to visit the gorgeous Eastern Sierra landscape!

The scenery is stunning, everywhere you look. Photo courtesy of the author
When To Go to Eastern Sierra: Anytime!
Before you take off, you'll want to check weather forecasts and road conditions, as the Eastern Sierra route can be a place of extremes. Road closures in the mountains are expected in winter time and in the summer, the heat of desert destinations means that extra precautions and planning are necessary. While the fall foliage and the spring wildflowers make those gorgeous times of the year to visit, honestly, pretty much any season is a beautiful time to take this trip.
Where To Stop along Highway 395 in Eastern Sierra
Randsburg
Located five minutes off Highway 395, this town isn't a Hollywood Old West set, it's a living ghost town, straight from the pages of California gold mining history! Visit a historic jail, saloon, and antique shops from a bygone era. Be sure to check out Randsburg General Store for the old-fashioned soda fountain where you can get floats for the kids. It's a fun stop along the way and lets kids stretch their legs after the long drive to this first stop. (It's inland from Bakersfield, so you know about where in the state we're talking!)
RELATED: 25 Epic California Road Trip Ideas for Families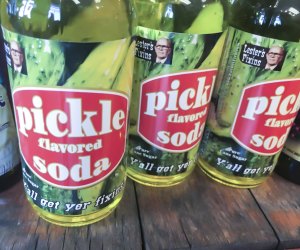 Stop in at the Indian Wells Brewing Company in Inyokern and try a wacky soda flavor. Photo courtesy of Rocket Fizz
Inyokern
Just north of Randsburg you'll find Inyokern, and one of our favorite pit stops, the Indian Wells Brewing Company. At the junction where the two highways connect, this little soda and beer shop is in the middle of a long stretch of desert, a much-appreciated oasis after a long drive. The kids can enjoy browsing over 120 types of sodas that are made here for Rocket Fizz, with a viewing window to see how beers and sodas are bottled. We all got a kick out of seeing wacky flavors like Chocolate Soda and Blueberry Pie. Plus, there's an old-school Zoltar Fortune Telling machine! If it's lunchtime, you can also stop by the restaurant for delish burgers.
Death Valley National Park
About an hour north of the Indian Wells Brewing Company, you'll come to the 190, a stretch of highway that leads to Death Valley National Park. This arid, sublime landscape offers a sight the kids may have never seen before (except in Star Wars). While it's true that Death Valley is the hottest place on Earth, with a little preparation, a trip to Death Valley can be unforgettable. Kids can roll down sand dunes, play in a kid-sized canyon, and have their photos taken at the lowest place in all of North America (282 feet below sea level). It's a destination worth exploring, if even for just a half day. If you come in the winter or spring, consider one of the many campgrounds available.
RELATED: 25 Things To Do in Lake Tahoe With Kids

Alabama Hills is a stunning place to explore the rock formations. Photo courtesy of the Bureau of Land Management in California
Lone Pine
Heading back onto the 395 North, you'll pass right through the small and rather insignificant town of Lone Pine. But don't let its looks deceive you, because about 13 miles away is Mt. Whitney Portal, the entrance to the hike up to the peak of the highest mountain in the contiguous United States. Tell your kids that you are standing in one of the most extreme places in the world, where the lowest and the highest place in America are right next to each other. While a hike up to Mt. Whitney may be out of reach without serious training and preparation, exploring the rock formations at Alabama Hills is more accessible and just as inspiring. Consider dropping by the Eastern Sierra Visitor Center with the family for gorgeous views of Mt. Whitney, and visiting the Lone Pine Film History Museum for a fun foray into the movies that have been filmed in this incredible backdrop. For lunch, Alabama Hills Café has good diner food.
Independence
Just north of Lone Pine, you'll come across a sobering but historically valuable site. For a real look into US history, consider stopping by Manzanar. This National Historic Site is one of the places where thousands of Japanese Americans were imprisoned during World War II. While it's a tough stop, it's also an eye-opening and worthwhile educational experience. Entry is free and guided programs are available seasonally. You can also visit the Eastern California Museum, in the little town of Independence, and learn about the Native American and local history of the region.
RELATED: Zion National Park, a Guide for Families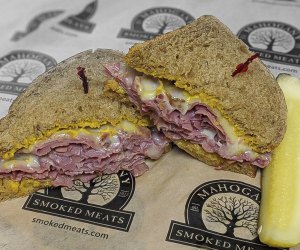 For when you've worked up an appetite! Photo courtesy of Mahogany Smoked Meats
Bishop
Arguably the best location for rock climbing and bouldering in California, Bishop is a climber's paradise! It's known for being a small town with a big backyard. For bouldering with kids (ages 7 and up), try Happy Boulders. Even if you don't bring crash pads and climbing shoes, there are fun places to play hide and seek in this outdoor playground. While you're in town, you must visit the Laws Railroad Museum. Walk through a recreated village of life in the Owens Valley over a hundred years ago. See a gold mining exhibit, a miner's shack, the historic train & original train depot from 1883, recreated shops, and more. Pick up lunch at the Great Basin Bakery or Mahogany Smoked Meats for some of the tastiest sandwiches in the Eastern Sierra.
Mammoth Lakes
From Bishop, it's just another 45 minutes to Mammoth Lakes! Some families love Mammoth so much they visit annually (booking stays well ahead of time), and it's no wonder. It's a mecca for outdoor activities year-round, from skiing and snowboarding in the winter to horseback riding, biking, swimming, fishing, and rock climbing in the summer. You may very well decide to spend a few days here with the family to enjoy all of these activities. If you visit in the winter, the Devils Postpile National Monument and the 101-foot Rainbow Falls will be off-limits due to road closures. If you're there in the summer, you might want to check out Mammoth Adventure Center for the kids. There's a ropes course, climbing wall, zip line, bike park, and gondola ride at this portal to fun outdoor activities.
RELATED: Yosemite, A Family-Friendly Getaway at California's Favorite National Park

Mono Lake seems eerily otherworldly. Photo courtesy of the author
Yosemite National Park
If Mammoth wasn't your end destination for this road trip up the Eastern Sierra, then perhaps Yosemite is. If you've never driven into Yosemite from the eastern entrance, you are completely missing out! First off, let me just say that if you can only drive up the 395, you will already be witness to the stunning beauty of the mountains. A short detour along June Lake Loop will have the whole family gasping at the beauty of the lakes and mountains. A trip to Mono Lake, with its totally unique tufas and flies, is also a treat to behold. But if you have not driven into Yosemite National Park through Tioga Pass (Route 120) on the eastern side, you are missing out on an incredible experience traveling through California's highest highway pass. The vistas are jaw-dropping, whether you choose to stop at North Dome, Olmstead Point, or Tuolumne Meadows. Tenaya Lake, where the water is breathtakingly clear (and cold), is one of my favorite places on earth. Please beware that Yosemite National Park requires reservations just for entry and that Tioga Road is only open in the summer.
RELATED: Explore the Stunning Redwood Sky Walk

Lake Tahoe provides fun in the sun (and in the snow, too!). Photo by Alex Proimos via Flickr (CC BY-NC-SA 2.0)
Lake Tahoe
After experiencing the majestic beauty of Yosemite, you may feel that nothing could ever top it. But just two and a half hours north of the Yosemite entrance, there's still Lake Tahoe! The blue pristine water is crystal clear. Check out 25 Things to Do in Lake Tahoe with Kids to fully explore this gorgeous lake and all the activities it has to offer. Or mark it down as a destination for the next road trip up the Eastern Sierra route. Take note of Bodie State Historic Park, a well-preserved ghost town, as well as the less-traveled Lost Sierra.
RELATED: The Best California Family Vacation Ideas Kids Love

See a real ghost town at Bodie State Historic Park. Photo courtesy of parks.ca.gov
Coming back, you can either pass through the Sierra Nevada mountains via Hwy 80 (North of Lake Tahoe) or Hwy 120 (Tioga Road), heading back to LA on the 5 Fwy from Sacramento. Or simply turn around and enjoy the scenic route down the 395, hitting all the points you missed on your way up!
Click Here to Sign Up!
i