Zion National Park: A Guide for Families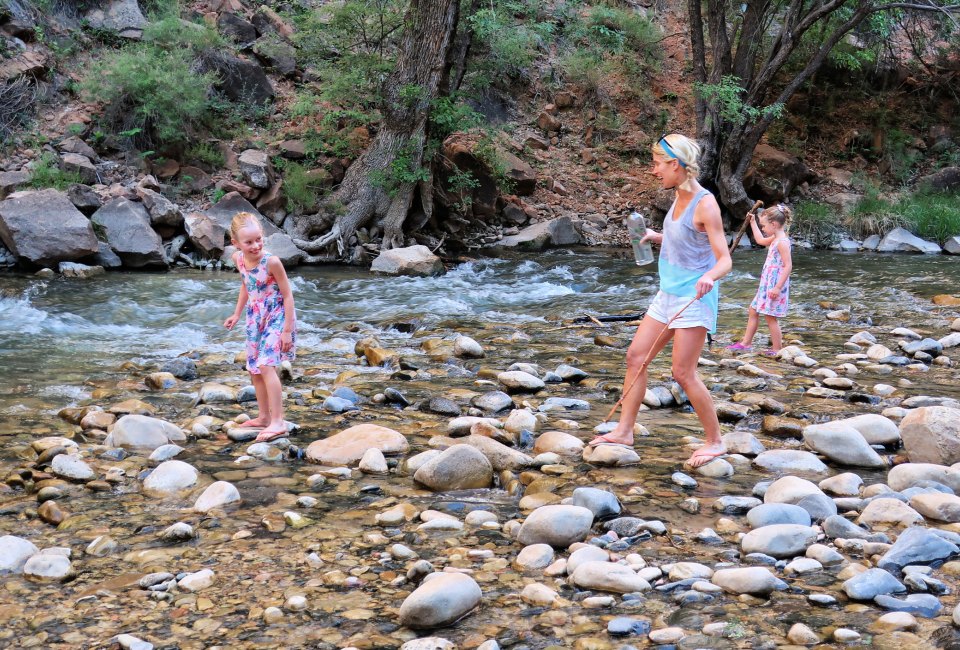 7/4/20
- By
Jackie Jones
No question about it: Zion National Park in southern Utah is a spectacular spot. Just the sight of its red and orange sandstone cliffs and unique rock formations can inspire and soothe the soul—and that's before you consider the park's amazing hiking trails, water play opportunities, and wildlife.
After weeks of feeling worn down and worn out, our family planned a road trip to Zion, not really knowing what to expect. Like most other national parks, Zion is open for the 2020 summer season but with limited operations. Don't let this deter you though; we had an epic trip—the journey to Zion being half of the adventure.

Here are our top tips for getting the most out of your family vacation to Zion National Park, including where to stay and where to hike.
What's Open and Kid-Friendly at Zion National Park
Perhaps most important to note when visiting Zion National Park this summer is that parking on the Scenic Drive (which leads to some of the most popular trail heads) is very limited. When capacity is full, the Scenic Drive is closed off to cars for intermittent periods of time throughout the day. During our trip, the park's shuttle was not operating, though it is scheduled to resume service in July. This means that visitors can hop on and ride to their preferred trail. Daily shuttle tickets are $1 and can be purchased in advance. At last check, entrance fees into the park were still being waived (we didn't pay to enter Zion), but be sure to check the park's website for updates as conditions are constantly changing.
Catching a frog in the Virgin River in Zion National Park
We heard crazy stories about visitors showing up at Zion at 4am to be guaranteed a parking spot on the Scenic Drive. Since we are just not that kind of family, we decided to gamble and try our luck showing up to Zion at 9am. On one weekday morning, it worked out in our favor, and we were able to take the Scenic Drive and park just outside of the Riverside Walk. This two-mile paved trail is an excellent hike for kids. Following the Virgin River along a narrow canyon, the trail features lush vegetation, plenty of shade in the morning, and natural trickling water features that look like tiny waterfalls. (My daughters were enchanted and called it the perfect home for fairies.) Plus, the trail ends with a rocky beach where kids can play in the water, building boats out of sticks and leaves and letting their imaginations run wild. Park rangers also recommended to us The Grotto Trail, which is easy on the kiddos, clocking in at just a mile long.
Visitors unable to get on the Scenic Drive can look for parking along the Mount Carmel Highway, which is the main road going through the entire park. Yes, this does mean that you may have to hike to get to your hike, though we saw plenty of families who brought along bikes to ride to their trail heads. According to the park website, there are also local commercial shuttles that can take you up the Scenic Drive, if you don't mind paying. And there is usually easy parking at the Zion Visitors Center, which is a starting point for the Watchman Trail and the Pa'Rus Trail. While older kids and teens may enjoy the more strenuous Watchman Trail, my kids were up to the challenge of the 3.5-mile Pa'Rus Trail (okay, okay, my husband did have to carry my 5 year-old on his back for the last half mile.) Still, the Pa'Rus Trail is especially family-friendly. Bikes, strollers, and pets are all allowed on this paved path, which follows the Virgin River and is a great place to spot wildlife. Never before have I seen so many lizards or been face to face with a mule deer! While playing in the river (there are many water access points along the Pa'Rus Trail) we also saw fish, beautiful herons, and tons of butterflies.
Amenities at Zion National Park
There are restrooms open throughout the park, as well as stations where you can fill up your water bottle. Zion gets busier (as well as hotter) in the afternoon, so aim to get out the door early if you can. While the park's museum remains closed, the Zion Forever Store is open for business. We found some excellent kids' nature books there, as well as other fun souvenirs.
There are some take-out food options available at the Zion Lodge, but parents will definitely want to pack snacks and drinks. Looking for a hearty lunch after all of that hiking? Oscar's Cafe in the neighboring city of Springdale has excellent Mexican food, and Cafe Soleil offers up fresh salads and sandwiches.
We visited Zion three days in a row, which is probably an adequate amount of time for a family with young kids. As my 8 year-old put it at the end of day three, "Mom, I am all hiked out."
The Coral Pink Sand Dunes has sand sledding
Things To Do near Zion National Park
Zion may get all of the glory, but there are other fun adventures to be had in this area. A major highlight for our family was visiting the Coral Pink Sand Dunes State Park in Kanab (about a 30-minute drive from Zion). Not only are the dunes beautiful, like a sea of red sand that would be fitting on Mars or some other far-off world, but the park offers a variety of outdoor activities like camping and off-highway vehicle tours. We rented sleds from the park for $25 a piece and had a blast riding them down the steepest sand slopes. An added bonus was the killer workout my husband and I got carrying our sleds back up to the top. Sand boards are also available to rent for the same price. Parking at the state park costs $10 for the day.
Looking for more water play? The Virgin River runs through Springdale, providing many opportunities to cool off your feet in some of the shallow areas, or even go for a full-on swim. We purchased inner tubes from the Zion Outfitter equipment shop and rode them down the river (which was a combination of both relaxing and adrenaline inducing!).
Even the drive from Los Angeles to Zion National Park has some notable attractions. To break up the six and a half hour drive, we stopped in St. George, Utah at the Thunder Junction All Abilities Park. This dinosaur-themed playground is massive, with several climbing structures, zip lines, spinners, and an awesome splash pad. Be sure to take the train during your visit! It costs $1 and goes around the park, passing by dinosaur statues and quotes from Dr. Seuss.
Zion Mountain Ranch cabins
Where to Stay at Zion National Park
We opted to split our stay between a quiet ranch on the east side of the park and a luxurious Hilton-owned hotel in the town of Springdale. The Zion Mountain Ranch was a wonderful escape for our family of Angelenos. This property features a variety of log cabins and lodges that feel kind of like glamping on a ranch (glanching perhaps?). My kids were delighted by the large number of animals on campus, from roaming buffalo, to ponies, to friendly dogs. Horseback rides are available on site for riders of all abilities, and there are nightly bonfires (the guest shop sells s'mores makings too). Cordwood is the ranch's restaurant, and it has great offerings for breakfast, lunch, and dinner. Be aware that Zion Mountain Ranch is in a fairly remote location, so if you want to eat off campus, you will be in for a significant drive.
If you're looking for a more central spot, you will probably want to stay in Springdale. We were very impressed with the Cliffrose Hotel, which is within walking distance of local shops and restaurants and has the Virgin River basically running through its backyard (there are also two pools on site and a playground). There are many campgrounds in the greater Zion area, too, including limited camping within the park. Wherever you decide to stay, know that reservations fill up quickly in the summer, so be sure to book your trip as soon as possible. Happy trails to you!
Photos by Jackie Jones
Click Here to Sign Up!
i