Rocky Mountain National Park: Guide for Visiting with Kids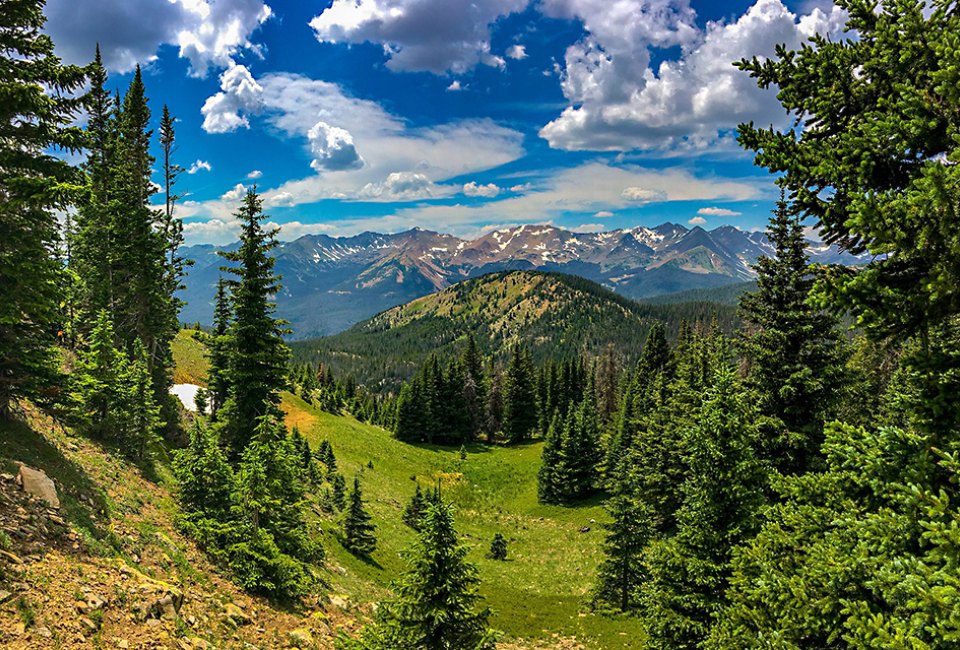 7/27/20
- By
Jody Mercier
Rocky Mountain National Park was my family's summertime playground growing up, and I'm lucky enough to now make the trek to this Colorado natural gem with my kids annually. Spanning 415 miles of Rocky Mountain wilderness, this national park is jam-packed with family-friendly fun. From spectacular wildlife viewing to historical sites to explore, family-friendly hikes, and stunning scenery, there's tons to do and see in Rocky Mountain National Park.
It's also just over an hour away from Denver, so it is possible to day trip there or combine the two into one family vacation. Read on for our favorite ways to explore this national park, including stroller-friendly trails and the best campgrounds. Be sure to check out our other favorite national parks to explore with kids.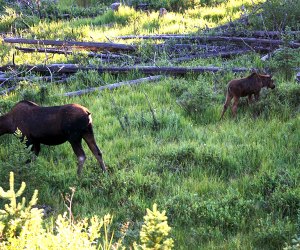 A mama and baby moose graze in a meadow in the park.
Best Things to Do in Rocky Mountain National Park
1. View the Wildlife
Hands down, our favorite way to enjoy Rocky is with an evening drive through its corridors. Proceed with caution and keep your eyes peeled for the wildlife that calls it home. Most frequently spotted are its elk. Female elk and their calves can be seen by the hundreds in herds in the wide-open meadows, while the imposing male bull elk seek shelter from summer's heat near timberline. Other large mammals to keep your eyes peeled for include moose, who dwell in the river bottoms, and munch on the abundant willows. You'll likely spot a few mule deer here and there. Less commonly seen from the road are bighorn sheep, black bears, and mountain lions, though they lurk in the backcountry. More common Rocky critters include beavers, coyotes, squirrels, chipmunk, and hare. Keep your eyes on the sky, too, where you'll spot a wide variety of birds, including birds of prey like bald eagles, osprey, red-tailed hawks, and more.
RELATED: Zion National Park: What to See and Do with Kids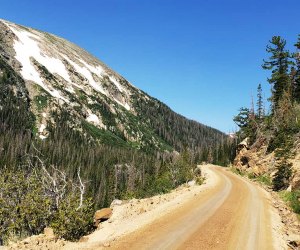 Take a scenic drive on Fall River Road in Rocky Mountain National Park. Photo courtesy of NPS
2. Take a Drive
During the day, wildlife spotting is less frequent, but a daytime drive in Rocky Mountain National Park offers its own splendor. Trail Ridge Road traverses 48 miles through the length of the Park, and more than 11 miles of your journey occurs above timberline. At its highest, you're 12,183 feet above sea level. Sweeping views eclipse mountaintops. On a clear day, you can see to Wyoming. The highest paved road in the national park system, Trail Ridge Road is open to visitors for only a short summer season; brutal Rocky Mountain winters typically bury it in the snow until Memorial Day or longer. In 2020, it didn't open until July 15. It generally closes in late October and isn't plowed at all over the winter. Though it's a mountain pass with plenty of hairpin turns, the paved Trail Ridge Road is a doable drive for experienced drivers. Those wanting a more daring journey might consider the dirt Fall River Road, which begins on the Park's eastern side, and traverses 11 miles into the high country as a one-way gravel road full of switchbacks and scenery. There are no guardrails, and its narrow width means you can often reach out and touch the trees. The top of Fall River Road drops you off at the Alpine Visitor Center where you can pick up Trail Ridge Road for the journey back down.
3. Explore a Visitor Center
While 2020 has seen service changes, including the closure of most buildings in the Park—visitor centers included—there are four visitor centers throughout the Park. The Alpine Visitor Center is the highest in the National Park System at the top of Trail Ridge Road and explores the wilderness above timberline. There's a fun, well-stocked gift shop here, too, and million-dollar views out a picture window that looks down into a glacier-carved valley. You'll find visitor centers at each of the Parks entry points, Beaver Meadows on the east side, which is open year-round; and Kawuneeche on the west side. The Fall River Visitor Center also welcomes visitors to the park.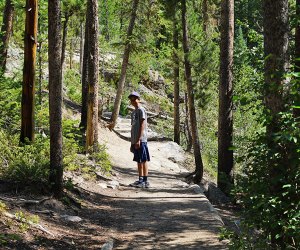 Adams Falls is a perfect family-friendly hike in Rocky Mountain National Park.
4. Take a Hike
There are tons of great hiking trails throughout Rocky Mountain National Park, and the official Park website has a good outline of family-friendly hiking trails. Before staking out, keep in mind that at its lowest points, Rocky Mountain National Park is 7,500 feet above sea level, with hiking paths rising to greater than 12,000 feet. If you're not familiar with high-altitude recreation, it may surprise you how quickly you find yourself breathless. Take it slow and drink plenty of fluids. We love the hike to Adams Falls, which is just over 1/2 a mile. While there are rocky spots on the trail that make bringing a stroller along difficult, there's minimal elevation gain, and spectacular views of the waterfall, plus Mount Baldy in the distance. The Moraine Park Discovery Center, on the east side, offers a family-friendly nature trail. Coyote Valley is another great trail for little legs, with a wide dirt path that easily accommodates a stroller. It runs along the river bottom, offers beautiful views of the Kawuneeche Valley and Never Summer range, and if you're lucky, you might spot a moose in the willows. Like all wildlife encounters, keep your distance if you do! Older kids may get a kick out of the moderate Lulu City hike, which is lengthy at 6.2 miles and takes visitors to a 19th-century mining village, which was short on treasure but rich in views.
RELATED: RV Camping and RV Campgrounds: A Beginner's Guide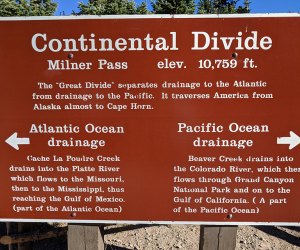 The continental divide passes right through the Rocky Mountains. Photo courtesy of NPS
5. Explore Natural Wonders
While the mountains and valleys are spectacular, Rocky Mountain National Park is also home to the headwaters of the mighty Colorado River. If you've been fortunate enough to see its force (way) downstream at Grand Canyon National Park, you'll likely be surprised at the bubbling, clear waters from which it originates. Another spot worth exploring is the Continental Divide, which bisects not only Rocky Mountain National Park but also the nation's water sources. Water on the east side of the Continental Divide flows to the Atlantic Ocean; on the west side, it flows downstream to the Pacific. Taking Trail Ridge Road to Milner Pass is the easiest way to explore it. You'll park on the shores of the lovely Poudre Lake, which also happens to be one of the spots you're likely to see the big bull elk in late summer.
6. Appreciate the Ecosystems
With its winding roads and rapidly rising elevation, Rocky Mountain National Park is uniquely positioned to offer an education in ecology. Three separate ecosystems can be found within the Park. At its lower elevations, you'll see the montane ecosystem, known for its rich in eco-diversity, with meandering rivers, grassy meadows, and wildflowers painting the gentle slopes. From 9,000-11,000 feet, you hit the sub-alpine ecosystem, identifiable by its evergreen forests, lush ground coverings, and crystal-clear lakes. Once you're above 11,000 feet, you hit the alpine tundra, where an ultra-short growing season (just 40 days!), harsh winters, extreme temperatures, and whipping winds limit life. Only the hardiest, ground-dwelling plants survive. As you ascend toward the tree line, pay attention to how the greenery changes, from soaring lodgepole pine to dwarfed evergreen shrubs distorted by nature's fury.

Dress in period costumes and learn the history of the area at the Holzwarth Historic Site.
7. Step Back in History
2020 season update: Unfortunately, like many of the buildings in Rocky, the Holzwarth Historic Site is currently closed, but the 1/2 mile trail to the site is still a lovely, stroller-friendly nature walk to take with kids.
One of our very favorite sites in Rocky Mountain National Park is the Holzwarth Historic Site. Nestled in the forest, along the river at the edge of the Kawuneeche Valley, this preserved homestead tells the story of German immigrant John Holzwarth and his wife, Sophia, who homesteaded on the site in 1917. You'll see the family's cabins and artifacts from their life in the valley and try on sunbonnets or don a bison robe. What's not written in the historical signs are the stories of my family: In later years, the cabins at the Holzwarth site were rented out to vacationers, and my dad always wows his grandkids with tales of summer nights spent in the rented cabin with so many cousins in tow that the youngest, a baby, would sleep in the (open) top dresser drawer.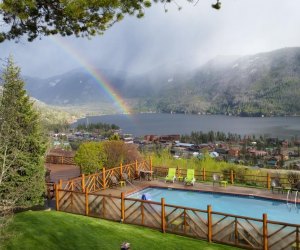 For a serene lodging experience stay at the Grand Lake Lodge. Photo courtesy of the lodge
Where to Stay Near Rocky Mountain National Park
Go camping 2020 update: The Glacier Basin and Moraine Park Campgrounds are currently open, but the other park campgrounds are closed. There are normally five campgrounds in Rocky Mountain National Park and traditionally, three require reservations, while two are first-come, first-served.
The Grand Lake Lodge: This property sits on the western edge of the park. Listed on the National Register of Historic Places, it celebrates its centennial season is in 2020. Stay in one of the 70-onsite cabins, which range from half cabins for two, to full use of the Elk Lodge, which sleeps 25. The main lodge building houses the Huntington House Tavern, which offers stunning views overlooking the cute, kitschy tourist town of Grand Lake (and it's namesake body of water) below. For a more casual meal, visit Sloopy's Grill, which sits just off the highway as you approach the entrance to the Park.
Estes Park: On the Park's east side, the town of Estes Park awaits with plenty of options for overnight accommodations. If you're feeling brave, the most famous of them all is The Stanley Hotel, a historical site in its own right with a rather infamous history. This spot was the setting for Stephen King's The Shining, and it's shrouded in plenty of supernatural lore.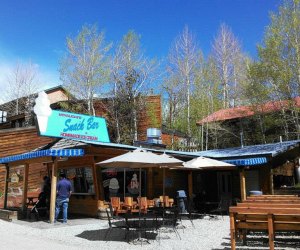 Stop in the small town gem Mayauchi's Snack Bar for a snack or ice cream. Photo courtesy of Western Riviera Lakeside Lodging
What's Near Rocky Mountain National Park?
The mountain towns of Grand Lake and Estes Park flank the park's entrances and provide some fun diversions. Grand Lake is the largest natural lake in Colorado. Boat rentals, from pedal boats to kayaks and speedboats, can all be rented on its shores. A small beach provides a little fun in the sun if your kids are brave enough to bear the icy-cool mountain water. Before you leave, make sure to stop by the lakeside Miyauchi's Snack Bar, which offers homemade ice cream and plenty of kid-friendly eats.
In Estes Park, stroll along The Riverwalk, and explore the quaint downtown area, home to more than 300 shops, with wares ranging from souvenirs to handcrafted home furnishings. Hit up The Munchin House for fuel for your journey. You'll find an espresso bar, plus a fully stocked sweet shop. The wildlife viewing in town can be pretty wild, too. The herds of elk that inhabit Rocky Mountain National Park also frequently wander into town.
Denver is also just a short drive from Rocky Mountain National Park, giving visitors an urban respite with all the traditional comforts and lodging options of a big city.
Know Before You Go
In 2020, reservations are required to enter Rocky Mountain National Park between the hours of 6am and 5pm. Reservations can be booked online. While reservations are free, guests still need to pay park entrance fees.
Rocky Mountain weather can be unpredictable. Locals will often tell you if you don't like the weather, wait 10 minutes. It changes that quickly, so if you're heading out for a hike, dress in layers and pack rain gear. Frequent thunderstorms pop up in the afternoons with little warning, and it snows late into the "summer" season, particularly at higher elevations.
Go slow! Wildlife crossings are frequent and unpredictable, so travel with caution, particularly in the early morning and late evening hours.
Allow any wildlife you encounter plenty of space. Park rangers recommend not getting closer than 75 feet to elk and bighorn sheep and staying 120 feet away from bears and moose.
Photos by the author except where noted
Places featured in this article:
---
Rocky Mountain National Park
Click Here to Sign Up!
i