How to Plan a Kids' Birthday Party At Home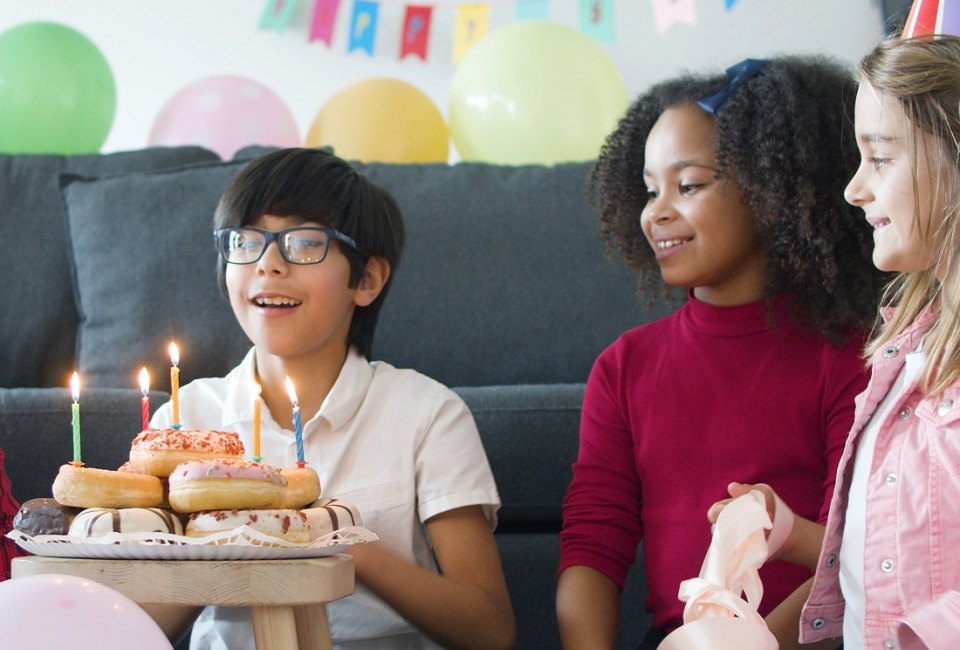 3/15/22
- By
Lauren LaRoche
Planning a kids' birthday party can be as stressful as it is fun. You've got to think about the food, the guest list, the decorations, and so much more. But before you can get to all those details, you have to decide where the party will be. And if you're on a budget—or you just want a more private event—having the birthday party at home can be a great option.
To help you plan the perfect birthday bash, we've rounded up loads of kids' birthday party ideas, from yummy kids' birthday party food and festive decorations to fun party favors and birthday party games for kids. No matter what birthday theme your kiddo is into or how many people you're inviting, we have ideas for every size party and budget. By following our tips and tricks, your next kids' birthday party is sure to be a stress-free success.
For more kids' birthday party ideas and inspiration, check out our ultimate Birthday Party Ideas Guide. Party on!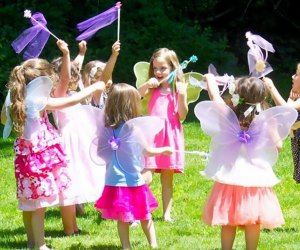 A little magic and wings make for a magical fairy garden party. Photo by Ally Noel
Kids' Birthday Party Themes, Favors, and Decor
1. Choose a Theme
Whether it's rainbow unicorns or Minecraft zombies, the theme is quite possibly the most fun aspect of the party. Plus, it sets the tone for the decorations, cake, and other details. But while some years your child may know exactly what theme they want, other years might be tougher. After all, they may be obsessed with Spider-Man one day and Super Mario the next. For theme inspiration, check out our ideas for birthday party themes for small spaces and for a kid-friendly murder mystery party.
2. Decide on an Indoor or Outdoor Birthday Party
When you're celebrating a child's birthday at home, an outdoor party is a great option if the weather is cooperating. From pool parties in the summer to backyard games, having a party outside can come with some fun benefits. To start, there's less mess in your home and the kids get a little fresh air. But of course, you'll need a backup plan to bring the party indoors if the weather turns bad.
Related: Big Fun, Little Party: 25 Kids' Birthday Party Ideas for Small Groups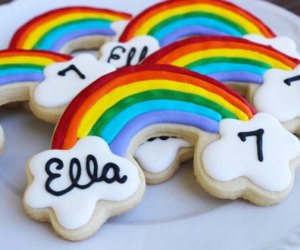 A homemade cookie is always a winner. Photo courtesy of Aunt Bea's Bakery
3. Plan the Goody Bags or Party Favors
While little plastic toys are fun for the kids, we all know where that stuff ends up the day after the birthday party. If you want to send your guests home with something a little more unique, check out this list of fun goody bag alternatives. From LEGO kits to books, these favors are sure to be a hit with both parents and kids.
4. Pick Decorations to Set the Tone
Decorations for a kids' birthday party don't have to be expensive. You can create a magically special day using old baby photos or stuff from your child's favorite movie. You can even make decorations out of cardboard boxes. If you're going big this year, consider a lawn sign, balloon arches, or cut-outs of your child's favorite characters.

Sip on fancy watermelon mocktails. Photo by Jody Mercier
Kids' Birthday Party Food
6. Plan the Menu
Another important part of a kids' birthday party is the food. Sure, you can always order some pizzas and call it a day. But if you want to make your own party food, check out our easy recipe guide for everything from mac and cheese to easy sheet pan recipes. If you're feeling extra creative, try to match the food to the party theme—goldfish crackers and triangle-shaped cheese (a.k.a. shark fins) for a pool party, 7 Leia Dip and Wookie Cookies for a Star Wars party, etc.
7. Kids' Birthday Party Finger Food Ideas
Finger foods are great for a kids' birthday party. They are easy to make and quick for kids and adults to grab and go during the party. Check out these fun and healthy snack ideas that are fun, eye-catching, and easy to incorporate into a party theme.
8. Create a Signature Mocktail
Just like a signature cocktail at a wedding or adult party, kids will love having their own signature drink on their birthday. You can create a fun name using the party theme, your child's age, or even their own name. For some fun inspiration, check out our five fun mocktail recipes for kids' celebrations.
Related: Birthday Freebies for Kids: 60 Places To Get Free Stuff on Your Birthday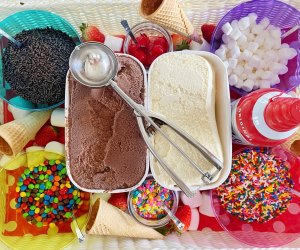 Kids can create their own dessert masterpiece with a dessert board. Photo by Ally Noel
Kids, Birthday Party Cakes and Desserts
9. Choose a Cake
The cake is the centerpiece of a birthday party and can really pull together the theme and decor. For some festive birthday cake inspiration check out these kids' birthday cake ideas.
10. Make a Dessert Board
A dessert board is a fun twist on the traditional cupcake or dessert table. From movie-night snack boards for sleepover birthday parties to a S'mores board for backyard bashes, there's something sweet for every birthday kid on this list of dessert board ideas.
Kids' Birthday Party Entertainment
11. Consider Hiring a Birthday Party Entertainer
An entertainer can be a great way to incorporate more of the theme into the party, and it's also the easiest way to keep the party guests busy and engaged. Whether you want a balloon artist, a face painter, a DJ, or your kid's favorite character to join the party, check your local Mommy Poppins site for our round-up of birthday party entertainers in your city.
12. Book a Party Rental
Party rentals are an awesome way to bring fun to the party. From bounce houses and water slides to carnival games and gaming trucks, party rentals bring the fun of a venue to the comfort of your own home. Your party-goers can game, dance, bounce, and play until their heart's content.
13. Create a Fun Photo Booth
A photo booth is a fun addition to any kids' birthday party. Little ones, tweens, and teens will love a chance to strike a pose with their besties on their special day. A Polaroid camera is a fun addition to snap memories from the day. Check out our guide to creating your own photo booth at home.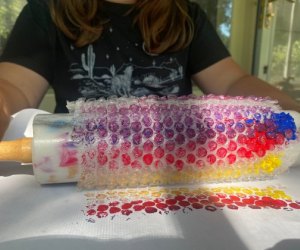 Little artists can make some unique patterns with a bubble wrap craft project. Photo by Ally Noel
Fun Activities and Birthday Party Games for Kids
14. Choose a Fun Craft to Do Together
A craft party is a great idea for little artists and their friends. Between painting, jewelry making, and LEGO crafts, there are so many fun options to match any party theme. Check out our full list of crafts, art, and experiments for kids.
15. Play Some Birthday Games for Kids
From scavenger hunts to relay races, there are so many fun games kids can play at birthday parties. For ideas, check out our list of exercise games and indoor activities to get kids moving, water games for summer parties, and even hilarious bubble wrap games for kids. The possibilities are endless!
Additional reporting by Raven Snook
Click Here to Sign Up!