10 Outdoor Party Games for Kids' Birthdays at Home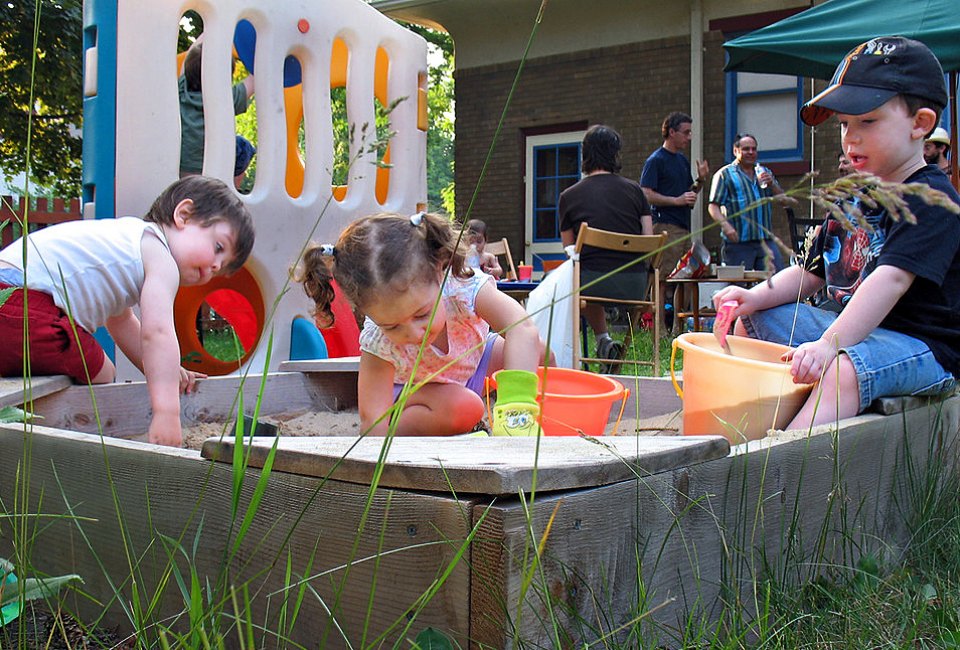 8/20/20
- By
Katie Nave
Attempting to throw a birthday party these days can be downright stressful. Indoor parties involving groups of invited guests may be out the question for some time, but there are options to create outdoor celebrations that are fairly safe and socially distanced. If you are looking to gather a small group, health experts agree that outdoors is best. We've rounded up 10 outdoor party games that can be played at a distance for maximum fun and safety. Sure, it's going to look a little different this year, but you can still host a small birthday party, complete with awesome outdoor party games for kids.
Note that CDC recommendations for small outdoor and in-person gatherings include keeping individuals from different households spaced at least 6 feet apart, wearing masks, and not sharing objects.
1. Treasure Dig
Use an existing sandbox or fill a large bin with sand as the site of your treasure dig. Hide small toys like plastic animals, toy cars, or play jewelry, and give participants plastic shovels so that they can go on a proper treasure hunt. Consider making the "treasure" align with your party theme and use the items that the guests find to fill their goody bags. The little explorer who gets ten items first can be named winner.
2. Duck Pond Matching Game
Looking for an outdoor party game to engage a young crowd? Gather a set of plastic ducks and place them in a baby pool filled with water. Get creative by adding shapes and/or numbers on the bottom of the ducks and encourage kiddos to keep guessing until they find floating duck matches. You can also extend the fun by asking kids to decorate and race their customized ducks.
3. Themed Bingo
Take the opportunity to get extra creative with this one by aligning a Bingo game with your party theme. You can use this free Bingo card generator website to customize your game. Consider using candy or toys as markers and have themed prizes to award the winners.
4. Water Balloon Baseball
Host a competitive baseball game using water balloons instead of balls. Designate two teams; assign each player a position, and set up bases in your yard. You'll likely go through a lot of balloons quickly, so consider getting the rapid-fill balloons.

You can also create a simple water balloon toss by setting up hula hoops and assigning a number of points to each one. The player who makes the most shots and accumulates the most points wins.
RELATED: 25 Outdoor Water Games for Kids
Photo by Melissa Hillier/CC BY 2.0
5. Nature Scavenger Hunt
Encourage your little party animals to explore the backyard by giving them a list of items to find on a nature scavenger hunt. Make a checklist of simple items like rocks, leaves, and flower petals and see who can discover the most items out in nature.
6. Egg and Spoon Race
While this is sometimes an Easter-themed game, there is no reason you can't incorporate the fun into an outdoor birthday party at any time of year. Use either hard-boiled eggs or plastic eggs and hand out a spoon to each party guest. Line guests up (at whatever distance is safe for everyone) and challenge them to get to the finish line while balancing the egg on the spoon, without letting the egg drop. You can add traffic cones or obstacles to make this outdoor game for kids more challenging.
7. Glow in the Dark Capture the Flag
If the party is going past sundown, consider introducing a game of glow in the dark capture the flag. Get creative with glow sticks and use them to light the way, or order a ready-made game pack online. Since it's played in the dark, this game may be best for tweens and teens.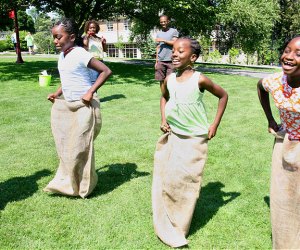 Photo by Nah We Yone Camp Fambul/CC BY 2.0
8. Potato Sack Race
Gather up king-sized pillow cases or invest in burlap sacks for an old-fashioned potato sack race. Ask children to step into bags, pulling the edges up around their waists. Participants then jump their way to the finish line.
9. Frisbee Toss
Finally, a way to reuse those cardboard boxes that are lying around from all of the pandemic Amazon purchases! Cut a rectangular hole in each side of a cardboard box, so that a Frisbee can pass through. Get creative by decorating the boxes with paint, tape, and streamers. Participants try to land the Frisbee in the hole for points.
10. Wet Sponge Dodgeball
If you're looking for a way to cool things down while also creating a healthy competition, try wet sponge dodgeball. This is one of the easiest games to set up, as you only need sponges and a bucket of water. Use the sponges in place of an actual ball, soaking opponents to tag them out.

We know this isn't an ideal time to plan a birthday party, but luckily the warmer months make it a possibility. Get creative and customize these party games to match your theme and add masks and social distancing to keep everyone safe. Most importantly, remember to go easy on yourself and do whatever feels safest for your family.