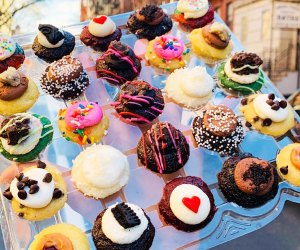 15 Cake, Cupcake, & Cookie Delivery Services To Treat Your Kids and Family
Sometimes (like for the last year or so) you just can't be there in person to celebrate a birthday or other special occasion with loved ones. But there's a very "sweet" way to show your love—with a cake delivery or cookie delivery!
We've made a list of the best companies that help you send all sorts of amazing treats anywhere in the country. Whether it's a cookie delivery to your grandchild, a cupcake delivery to your college scholar during exam week, or a birthday cake delivery on someone's special day, these companies will help you send the perfect treat to your family.
Cookie Delivery Companies for Special Occasions
Whether you're celebrating a birthday, holiday, or other occasion, these customized edible cookie bouquets are a perfect choice for kids and adults. There's a huge variety of fun shapes, characters, and themes to choose from. Same-day cookie delivery is available.
These cut-out cookies are soft and chewy and are known for their delicious butter-cream frosting. Cookies are individually wrapped and delivered in decorative tins, boxes, and baskets. There's even a special birthday tower treat that features an assortment of large and small cookies as well as candies and other goodies.
This popular cookie delivery service offers a wide variety of choices, from a tin of bite-sized cookies to an oversized cookie cake. In addition to the insanely popular chocolate chip cookies, you can also order snickerdoodles, white chocolate macadamia, triple chocolate cookies, and brownies.

Insomnia Cookies ships a decorating kit with the cookies, so kids can play and eat.
In addition to shipping cookie gift boxes, this company also offers a cookie decorating kit. Perfect for little ones, each kit includes 15 cookies (sugar and snickerdoodle), two cups of buttercream or cream cheese frosting, two gel icing tubs, and sprinkles. It's a craft and a dessert, all in one.

Sugarwish makes incredible keto friendly-cookies and gluten-free cookies, for those with dietary restrictions.
In addition to an extensive line of cookies (including gluten-free and keto-friendly cookies), Sugarwish offers classic candy and gourmet popcorn. The best part is that you don't have to guess what people like best. All you have to do is select the size and type of gift box you want to send, then the recipient gets to choose the treats they want from the online store. Perfect for college kids!

Sample a little bit of many sweets with Tate's Bake Shop Birthday Basket.
Thin and crispy chocolate chip cookies are the hallmark of this Long Island cookie delivery service but there are plenty of other flavors, including oatmeal raisin, double chocolate chip, and more. Gift baskets can include the company's other treats such as pies, brownies, and cakes. There's also a full line of gluten-free cookies and other baked goods to choose from.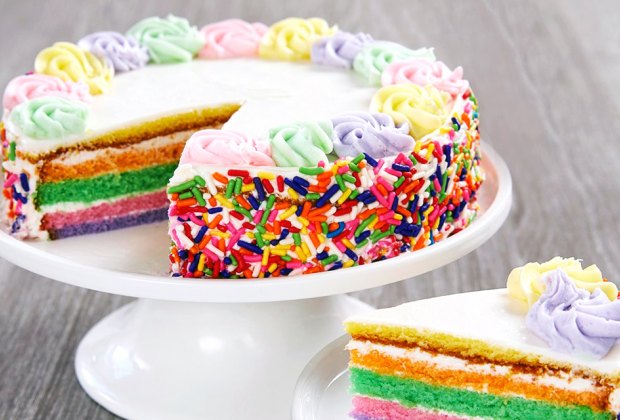 This cake from Bake Me a Wish Birthday Cake is almost as pretty as it is tasty.
Cupcake Delivery and Cake Delivery for Birthdays and More
You can send a birthday cake overnight with this birthday cake delivery service. From red velvet to double chocolate and every flavor in between, all of these special occasion cakes are gift boxed and include a greeting card. If a whole cake is too much, choose from an assortment of mini and jumbo cupcakes, brownies, or pies.
These adorable, bite-sized cupcakes are small but they pack a lot of punch. You can choose from an assortment of flavors such as tie-dye, mint, cookie dough, and so many others. Cupcakes are delivered in gift boxes of 25, 50, or even 100, so there's plenty for family, friends, and dorm mates! Nut-free, vegan, gluten-free, and kosher varieties are available.
As the name implies, this family-run cupcake delivery service is headquartered in Brooklyn, NY. In addition to the classic cupcakes, you'll find diverse flavors such as Tres Leches, Coquito, and Tiramisu, all reflective of the borough's diverse neighborhoods. Gluten-free and vegan varieties are available.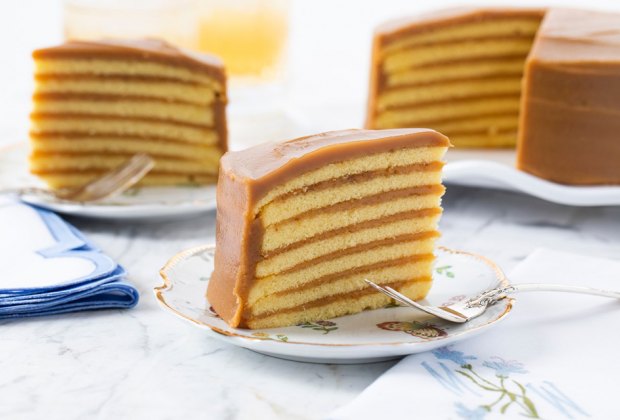 Caroline's Cakes Seven-Layer Caramel Cake is a legend for a reason.
This company was started by a South Carolina woman whose homemade Seven-Layer Caramel Cake became legendary. Now there are plenty of other flavors to choose from, including Devil's Food Cake, carrot cake, and Coconut Raspberry Delight. Four-layer cakes and cake bites also available as are gluten-free varieties.
Although this isn't quite a cupcake delivery service, they do ship "Cupcake Jars," which as the name suggests, are cupcakes in a jar that you eat with a spoon. You can get them in sets of 4, 8, or 12. The company also offers brownie and cookie gift boxes.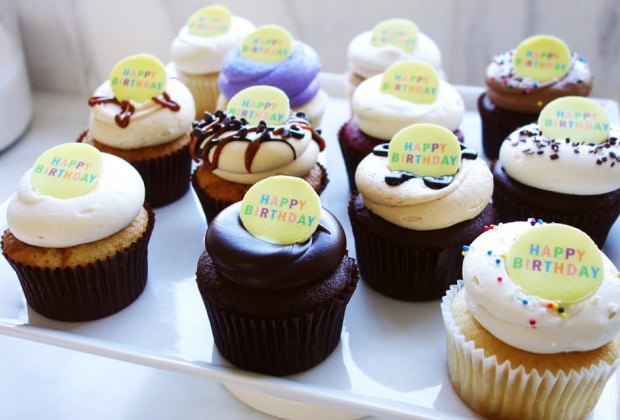 Georgetown Cupcakes make any day brighter (and sweeter!).
Started by two sisters from Washington, DC, there are now a number of locations around the US and they ship cupcakes nationwide. The beautifully decorated treats are almost too pretty to eat! There are daily, monthly, and seasonal specials, as well as everyday classic flavors—and they're all delectable.
This New England company offers everything chocolate, from candies to cakes and even hot chocolate. While their cakes and cookies will be appreciated by all, your child or grandchild will no doubt be thrilled to receive a box of their adorable chocolate-shaped mice or penguins!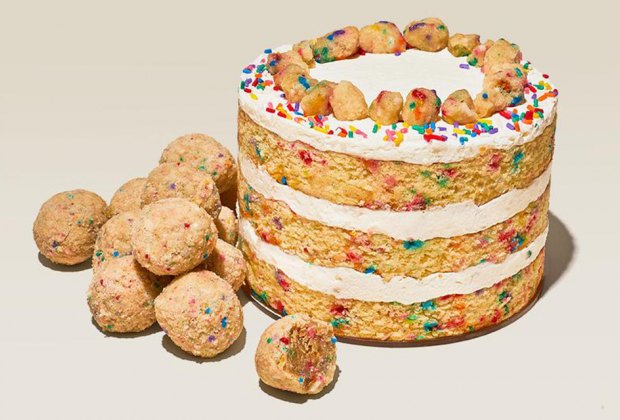 Milk Bar offers up The Birthday Classic as a cake or as truffle bites.
Known for their unique-looking cakes that feature layers of frosting and cake, this is the perfect place to turn to when you need a special birthday cake delivery. Or, choose from a selection of pies, cookies, or cake truffles. There are also combination party packs that include all of the above, and gluten-free cakes are available.
When you want to go for the wow factor, this cake delivery service may be your best choice. In addition to a personalized birthday cake, the Confetti Pop Box features a shower of confetti while the Explosion Box includes special treats such as candy or small toys.
Photos courtesy of the shops