Big Fun, Little Party: 25 Kids' Birthday Party Ideas for Small Groups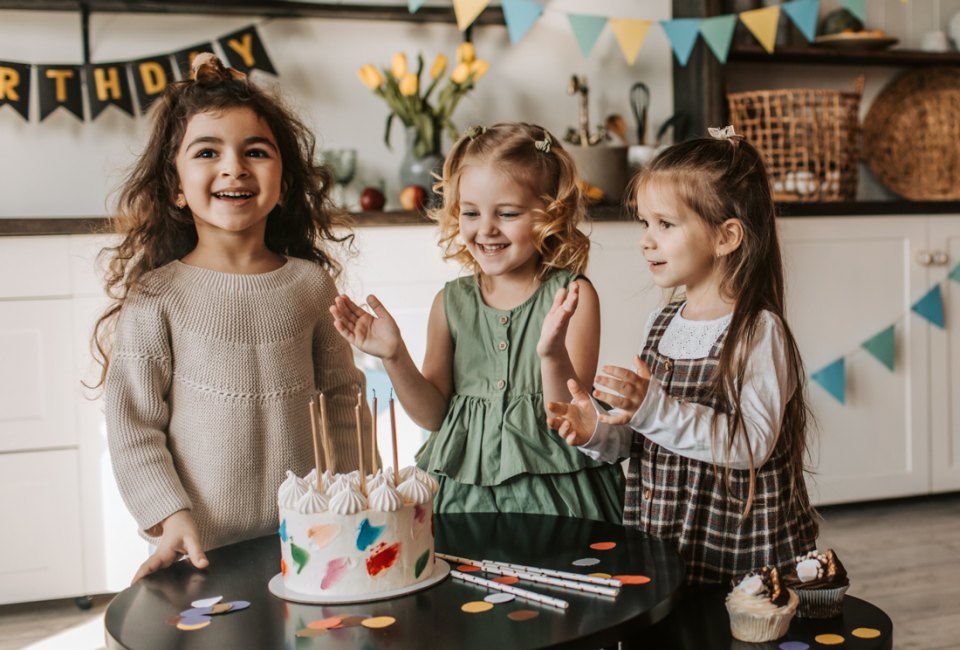 1/27/22
- By
Danielle Smith
For parents in search of kids' birthday party ideas, the thought of a room packed to the brim with children laughing, screaming, and playing can feel overwhelming. Adding to those general anxieties is the stress of trying to minimize germ exposure right now. With all of that in mind, when it comes to the guest list for kids' birthdays, sometimes less is more.
Fewer kids can allow for more room in the budget to splurge, more freedom to travel further distances, and more supervision over rowdy revelers. We've got inspiration for toddler birthday party ideas through teen birthday party ideas that are perfect for just a couple of friends or one bestie.
Now all you need is one of these 10 great birthday cake ideas for a kids' birthday party and a few of these birthday freebies for kids, and you've got birthday fun covered this year!
For more kids' birthday party inspo sent straight to your inbox, subscribe to our newsletters.
Toddler Birthday Party Ideas
1. Group Playdate
Invite a few of your toddler's besties into your home for an easygoing birthday playdate. Pick a fun theme, find a virtual performer, and add some extra treats to the goodie bags—when only a handful of tots are involved, there's more space to get creative (and less mess to clean up)!

Transform your backyard into a personal petting zoo. Photo courtesy of Squeals on Wheels (various locations in Maryland, Virginia, and DC)
2. Home Petting Zoo
Many local farms make some of their animals available for traveling petting zoos that bring cute and furry fun right to your door. It's one of the best toddler birthday party ideas for little animal lovers.
3. Live Kids' Show
Disney on Ice, PAW Patrol Live, Sesame Street Live, and more great kids' shows tour year-round and will eventually come to a city near you. Snag prime seats ahead of time and let your child and their besties watch their favorite characters on stage.
4. Zoo Animal Encounter
A zoo near you likely offers up-close animal encounters for small groups. That means you can book a toddler birthday party where guests can feed penguins, groom goats, or train rhinos and other animals behind the scenes.
Kids' Birthday Party Ideas

Challenge your child and his closest pals to a ropes course. Photo courtesy of Windy City Ninjas in Chicago
5. Adventure Course
Grab a select few daredevils and tackle a local ropes course or adventure park.
6. Backyard Camping
For your nature-loving child and a couple of friends, pitch a tent in the yard and fill it with activities for an outdoor sleepover. Don't forget the s'mores!
7. Amusement Park
Spend a thrilling day riding roller coasters and playing carnival games at a local theme park.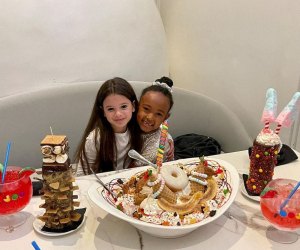 Dive into an over-the-top dessert, like Sugar Factory's famous King Kong Sundae. Photo courtesy of Sugar Factory, Los Angeles
8. Extreme Dessert
There's no birthday without the cake, so why not make sweets the center of attention with a dessert-focused party? Let kids create dessert boards at home, or make reservations for extreme dessert dishes at a novelty restaurant like Sugar Factory.
9. Animal Shelter Party
Your local branch of the SPCA or Animal Humane Society may offer shelter tours and on-site parties for kids to see and interact with the animals—and even adopt if parents are so inclined. It's best to keep these parties small so that the animals aren't overwhelmed by a large group of boisterous kids.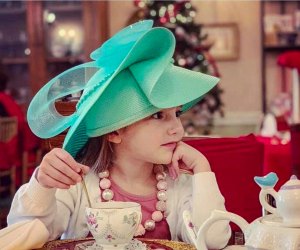 Would your birthday girl fancy a spot of tea? Photo courtesy of The Tea Cart in Berryville, Virginia
10. Fancy Tea Party
Make reservations at an upscale restaurant or hotel to keep those pinkies up for a fancy afternoon tea.
11. Skiing/Snowboarding/Tubing
Hit the slopes for some downhill fun with your little skier, snowboarder, or snow tuber. A local ski resort is one of the best kids' birthday party ideas for a small clan of close-knit pals in the wintertime.
12. Go-Karts
For young speed demons, a few friends and some laps around the track are all that's needed for the perfect birthday outing.

Wow the birthday child and their besties with a hot-air balloon ride. Photo courtesy of Brett Sayles, Pexels
13. Hot-Air Balloon
A bucket-list experience like a hot-air balloon ride is one your children and their friends will always remember. Various companies have different rules for capacity and age limits as well as appropriate weather conditions, but this is one worth looking into for memories that last a lifetime.
14. Horseback Riding
Book an equestrian experience that your child and their friends won't forget. Local horse farms have birthday parties that let kids ride in contained spaces or saddle up for excursions on nearby beaches or trails.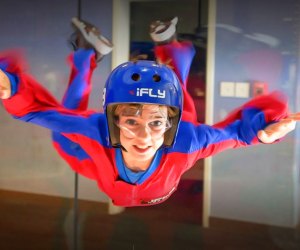 Indoor skydiving makes for an unforgettable birthday experience. Photo courtesy of iFLY Indoor Skydiving
15. Indoor Skydiving
Until they're old enough to jump out of a plane, take your kid and a few pals indoor skydiving for simulated thrills that are nearly as much fun as the real thing. Places like iFLY have locations around the country.
16. Indoor Water Park
The weather's no obstacle at an indoor water park, where the air and water temps are always comfortably maintained. Kids will love splashing and sliding around with a couple of their closest friends.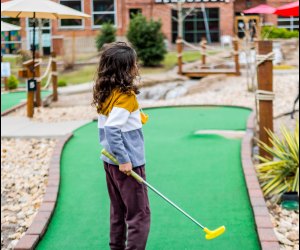 Mini golf is the perfect birthday activity for smaller groups. Photo by Caleb Oquendo, Pexels
17. Mini Golf
Have a putt-putt party for a few kids who love golf.
18. Sporting Event
For many families living near big cities, a group trip with decent seats to see a major sports team would be cost-prohibitive. But with a little planning and just a couple of kids involved, your superfan can cheer on the home team with their best friends in tow.
Tween and Teen Birthday Party Ideas
19. Concert
When your kid's favorite performer is in town, nab tickets for them to rock out with a small crew.
20. Day Trip or Weekend Getaway
Ask your child to pick a place on the map that's not too far away and plan a road trip for a fun getaway to explore a new place.

Give your birthday child the ultimate sleepover by renting their dream hotel room. Photo courtesy of The Pink Hotel in Atlanta
21. Hotel Party
Many hotels have nice restaurants, indoor pools, and spas for kids to enjoy an entire day or even an overnight stay with a few friends. Some hotels offer birthday party packages geared towards the younger set.
22. Photo Shoot
For the Instagram generation, stage permanent memories by hiring a local photographer to create a backdrop they'll love for as many photos as they can share.
23. Spa Day
Manis, pedis, massages, and facials sounds like the type of party any parent would want, but teens need pampering too. Reserve a few spots at the closest spa to melt away all their adolescent angst.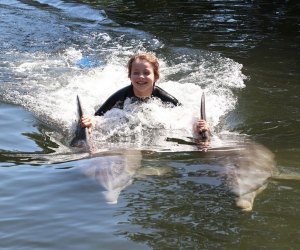 Photo courtesy of Theatre of the Sea in Islamorada, Florida
24. Swimming with Dolphins or Sharks
Another bucket-list activity that can be booked at many theme parks and aquariums, swimming alongside aquatic life is a water experience like no other.
25. Private Chef
Fancy restaurant reservations are great, but your kids can customize the menu—and even participate in the cooking if they choose—with a private chef party in your home.