5 Kid Birthday Party Themes You Can Pull Off in a Small Space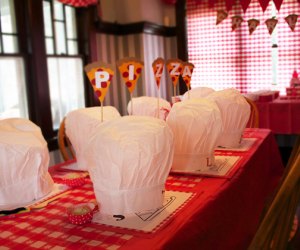 4/21/17
- By
Ally Noel
When it comes to birthday parties, my daughter might want to dream big. However, the reality is our living space is quite small.
Fortunately for her, she has a mom who loves to host creative parties; who likes the challenge of figuring out how to make small spaces work no matter what idea she comes up with. These five themes are big on imagination, even if you are short on space. Most of these activities can take place in one room and be personalized to appeal to boys and girls of a variety of ages.
Find more tips on hosting a kid's birthday party in a small city apartment, from keeping the favors simple to curating the guest list.
Indoor Camping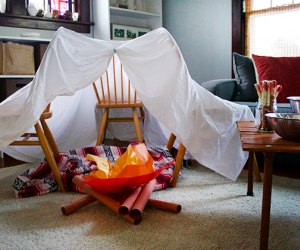 Make a makeshift tent from a bed sheet and chairs.
This party takes all of my favorite aspects of camping—the food, tent, and campfire —and omits those that aren't as appealing—bugs, bad weather, and a lack of indoor plumbing. The beauty of indoor camping is that it is fueled by creativity and imagination.
No matter what time of year it is, it is always the right time for indoor camping. Invite your guests to bring their sleeping bags and pitch a tent in your living room. Or create a tent with a sheet and some chairs. Use plastic chip clips to hold everything together. Go on an indoor bear hunt powered by imagination with these super simple cardboard tube binoculars, create shadow puppets with flashlights, or go on an indoor scavenger hunt around your home.
After the hunt, chill out by the campfire (aka: rolled up brown cardboard and orange tissue paper), and enjoy some oven-baked s'more pie. Or chow down, as we did, on pigs in a blanket and trail mix coleslaw.
RELATED: 10 Amazing Birthday Cake Bakeries for Kids Cakes in NYC
Pizza Party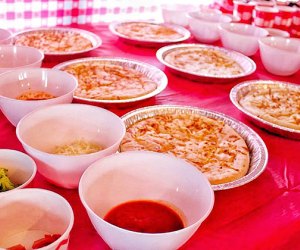 What child would not thrill to a pizza-making party?
Pizza is our go-to Friday meal, so why not make an entire celebration in its honor. The recipe for this party starts with presetting your oven to 375 degrees. Suit up your guests with chef hats and mustaches. Hand out pizza crusts (we used the precooked kind) in individual pie pans and give each guest small containers of sauce, cheese, pepperoni, broccoli, and other toppings.
Any indoor party game played with a ball can be played with a small ball of uncooked pizza dough. Dough toss is the ideal game to play while your personal pizzas are in the oven. Or, create your own pin-the-mustache-on-the-chef game.
Indoor Movie Night
Lights! Popcorn! Action! I spent the better part of my tween years sleeping over friends' houses and watching movies until we couldn't keep our eyes open. An indoor movie night party takes this childhood rite of passage, and ups the ante a smidge.
To make this party more special, create a popcorn bar for your guests. From sushi to cookies n'cream, there is a flavored popcorn recipe to satisfy almost all of your cravings. You can also create a soda bar with a few simple pumps of flavored syrups.
Invite your guests to come in their pajamas, throw pillows on the floor, turn down the lights, and it's show time.
RELATED: NYC Party Directory: Entertainers, Venues, Supplies
Slime Party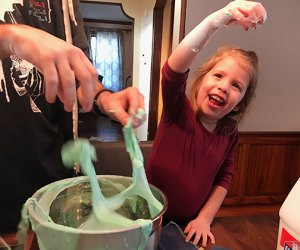 Enjoy some slimy, gooey birthday fun. Photo by Rose Gordon Sala.
A few simple ingredients can go a long way in the hands of the right people. Cover a table (and perhaps your floor) with plastic covering. Set up with containers of glue, a recipe card with a basic slime recipe, and a few Play-Doh style tools and cutters, as well as bowls. Give each kid their own station to mix and mold.
Make sure you have enough plastic to-go containers for everyone to take home their slime. See who can make the fluffiest, gushiest, or most creative slime.
Cupcake Party
Got a cupcake fan? Carry this theme throughout the party. Start with some faux ones. When the kids arrive, give each of them a ball of Play-Doh in a cupcake wrapper and the tools set up for some pretend play and decorating. Later, replace the fake cupcake with the real thing. The blank canvas of a vanilla cupcake is just waiting for your little artist's touch.
Set up cups filled with decorating materials, colored frosting, and an assortment of small candies, and watch creativity in action. There are tons of ways to make this as simple or as complicated as you'd like to get (Just take a peek at Pinterest.) When kids are finished, send each guest home with their cupcake creation that can double as a personalized favor.
Decorations can carry the cupcake theme, too.
To offset the sugar intake, serve fruit kabobs, popcorn, and water to your little guests, just make sure you leave room for cake.
Top photo: Pizza Party. Unless otherwise noted, photos by the author.